The erstwhile Oilers couldn't set the comeback record. Thirty-four points is just too much when you have to get past Micah Hyde.  Josh Allen got benched just like all his draft night critics said he would.  I still feel they didn't quite get the big picture correct.  Matt Milano tied the Titans if you're willing to credit him for giving the kicker a chance to attempt a point after.  Sad Mike Vrabel will always prompt happiness around here.
Buffalo made a statement that turned into an exclamation. I'm old enough to remember a tie after one quarter. I don't think the Bills let Tennessee hang around for a bit in a smirkingly cruel effort to toy with emotions, but crushing possibilities created the same result.
The psychological win is valuable even if it doesn't count directly in the standings. Nashville's non-Predators pro team has been an annoying opponent for long enough to classify them as a nemesis. They're not the primary rival but remain capable of inflicting emotional and professional damage. The Titans are the Romulans to the Kansas City Klingons if you're a nerd for more than football.
Now clubs have to stop Reggie Gilliam.  Enemy defensive coordinators think they have the king protected until the Bills stick a few more dudes on the board.  Buffalo seems to be inventing new pieces.  The ninja shows up on any square he pleases.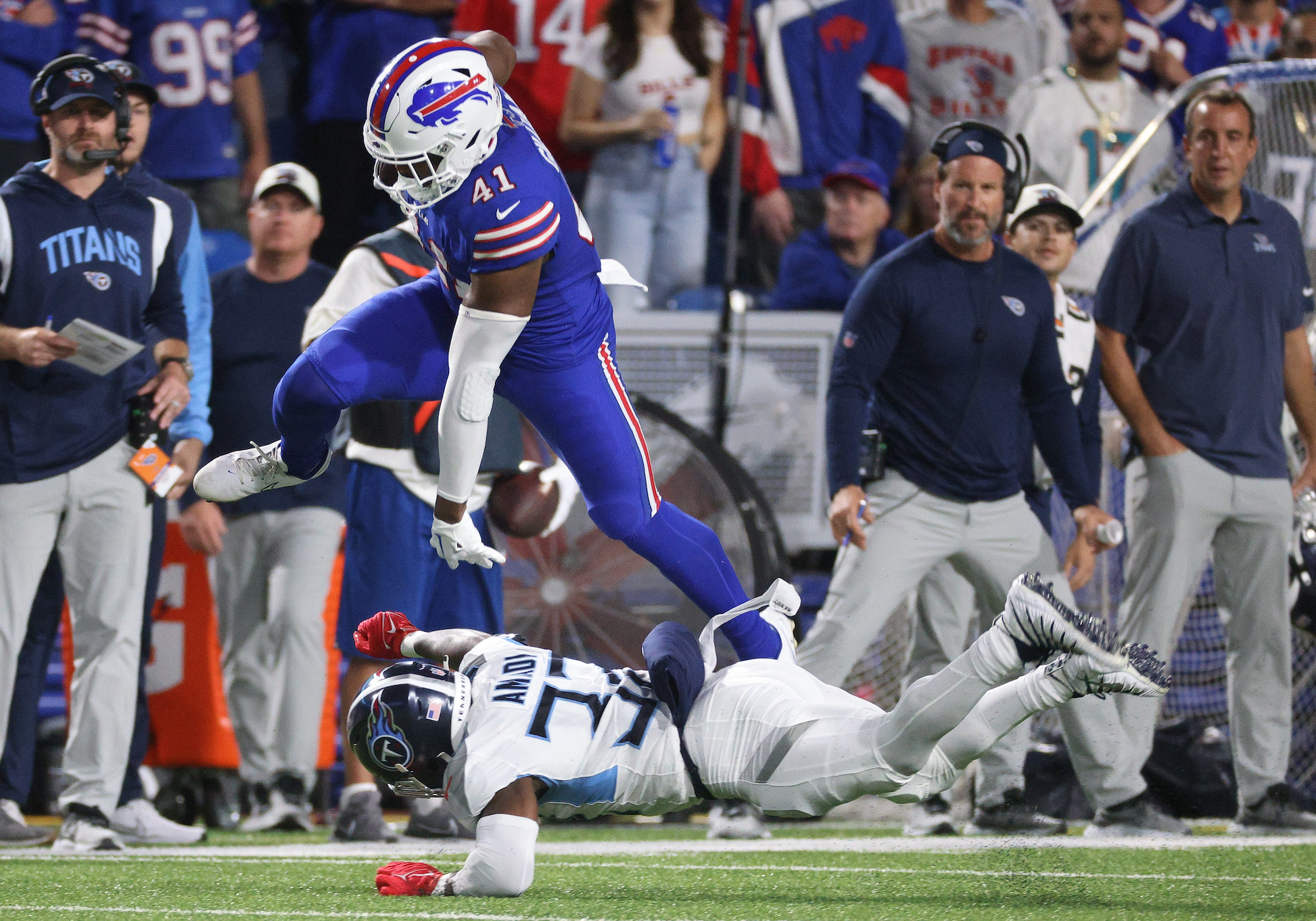 I almost feel bad for corners who have to cover Stefon Diggs. "Almost" is a crucial word. His unstoppable nature indicates approval of single coverage as much as it does zones with any amount of empty space. All a coordinator needs to do to stop Diggs is invent a new defense. Oh, and the new alignment has to somehow contain a legitimate contender for the title of Buffalo's all-time top receiving threat.
The second-biggest loser after the Titans was Odell Beckham Junior. Kevin Durant didn't want to join the Warriors as badly, and yet the employer of the free agent wideout's dreams has so far shown itself to be fully staffed. The exceptional Gabe Davis didn't play in a blowout if you seek something to presently sum up this team.
Noting eight Bills caught passes only sounds like an exaggeration. I'm sorry to wideouts who remain out of work two weeks into the season, but the Bills already have… Jake Kumerow? Yes: the smoothly speedy option Jake Kumerow.
Bills fans are growing accustomed to not feeling unsettled when things go right. That itself may prompt concern upon reflection. But don't let the eternally impending sense that something might go wrong distract from how this club is presently inflicting nightmares on others. Derrick Henry didn't stiff-arm Von Miller like he did Josh Norman for some reason. The Titans couldn't rely on a slip: they didn't have home-A-Turf advantage.
This Bills team is even getting to the point where they steal the ball and souls on intended possession changes.  They managed a huge gain even when they finally punted.  We fretted they forgot how, and meanwhile they turned the rare occasion into the equivalent of another completion to Diggs.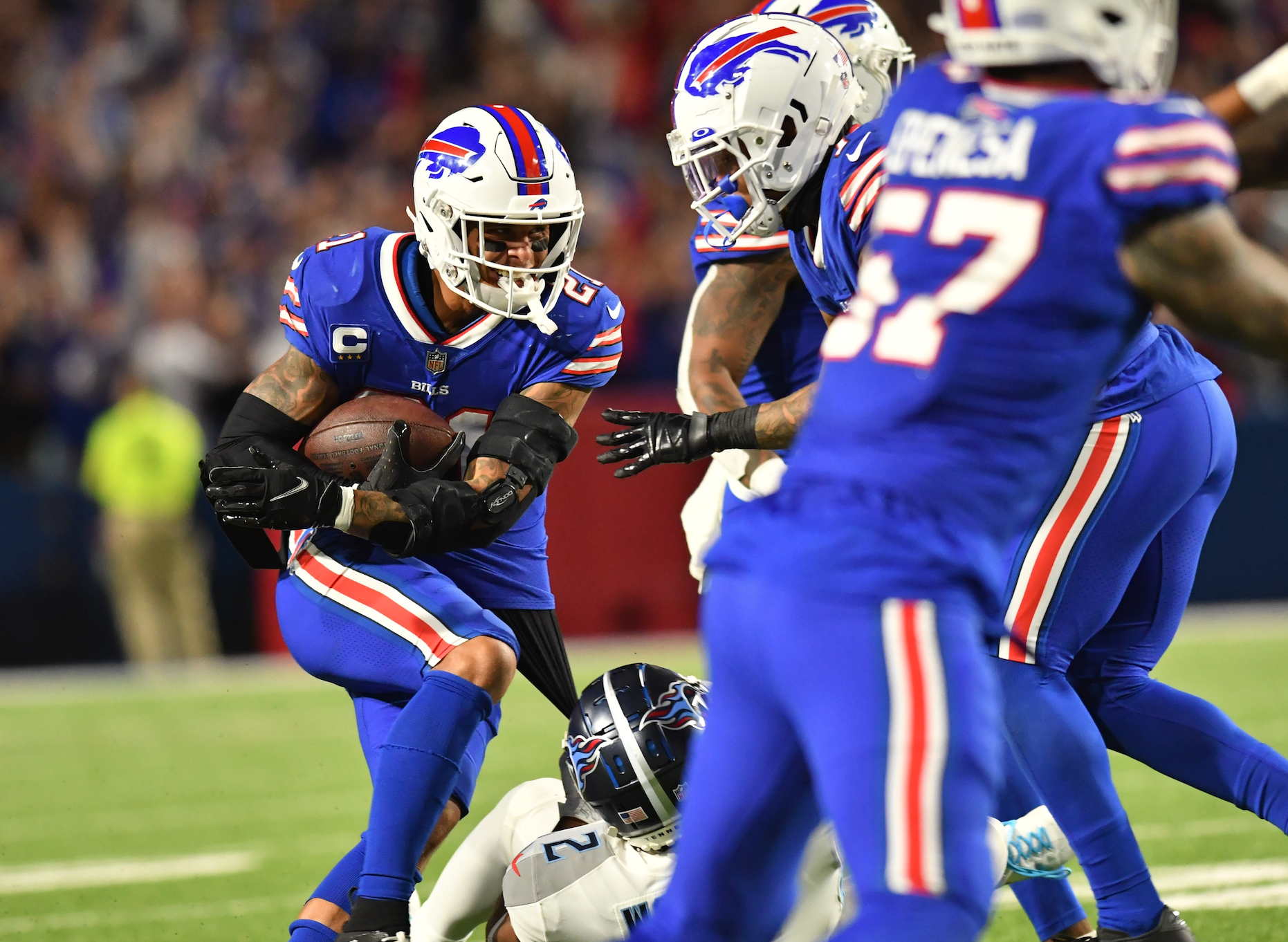 Ryan Tannehill finally connected with a playmaker. Unfortunately for him, it was Jordan Poyer. Milano took his own inverted connection to the next level. Tannehill's night was almost as bad as ESPN keeping the score of the other game onscreen.
Nothing makes the drive for points feel instantly irrelevant like suddenly having to worry about someone's well-being. The only important postgame hope is that Dane Jackson will remain a healthy person and not just a football player. I wish more than anything that we didn't encounter an example of how dangerous this job is.
A blessedly promising update on Jackson makes us feel better about looking forward to the next game while still bearing in mind the risks participants take. Please let us get back to joking about confusing him with the former Sabre.
The schedule dictates it's time for the Bills to slum with the league's dregs. They will finally join boring teams playing around Sunday lunchtime.  I remember when a far less proficient franchise used to always work at that time back a couple iPhones ago.
Fans may have forgotten there were sequels. We managed to endure a nearly bye-length interval that featured two full NFL Sundays between Bills outings. Trying to remember who was kicking whom during the Cobra Kai season before the present one is trickier than retaining the rules of football. At least games have self-contained plots.
Shift work keeps time interesting.  The next scheduled mission involves keeping the Dolphins from getting too cocky.  Miami presumably wouldn't care for being classified as surprisingly undefeated.  But preparing for the traditional rival as a serious threat is a measure of respect.  As Miller noted after the game, this team is focused on not getting ahead of itself beyond the next game.  He's as wise as he is skilled at tackling.  A short week to prepare is the best sort of issue to face.
Editor's babble: We thank Anthony Bialy for his thought provoking contributions to our blog. You can also find Anthony on Twitter @AnthonyBialy.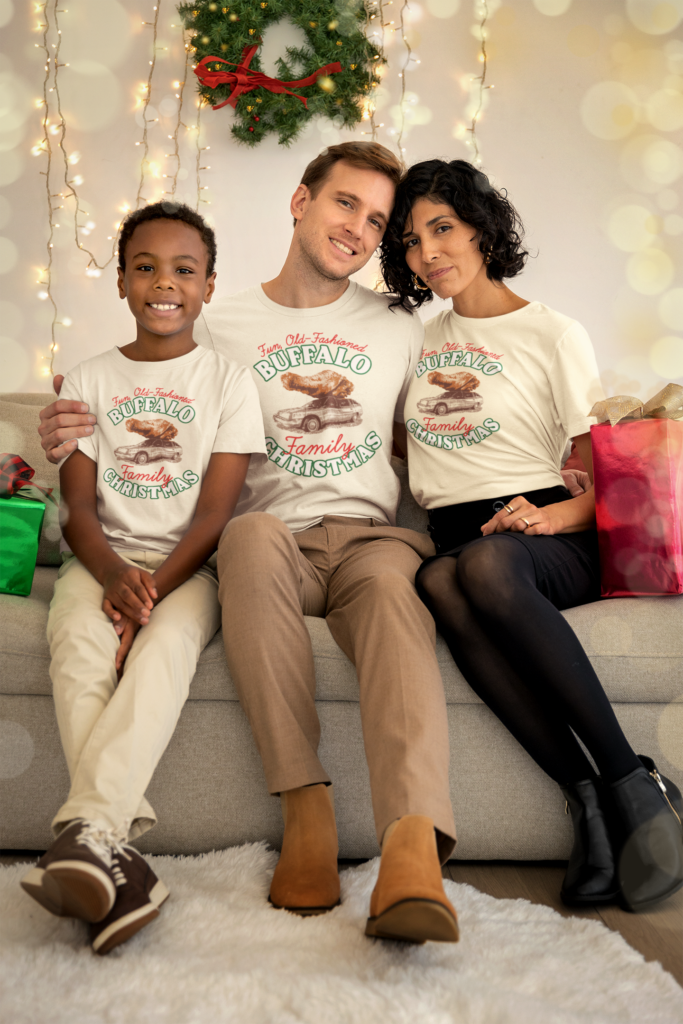 BuffaloFAMbase.com is sponsored by 26 Shirts
Every Monday, we launch a new two-week campaign of a limited edition t-shirt design. Every shirt purchase results in a donation to a local family in need. After the campaign ends, the shirt is retired. A new design is released, and a new family benefits from your fandom!