We are starting to have college games to look at in addition to our Bills on Sundays, Mondays, and Thursdays. Big Baller Beane loves his players from the ACC Conference, and that's the conference I'm reporting on first, as the ACC and SEC comprise over half our roster. What Bills-y player from each school should you focus on, at least when the footballs start to fly in September??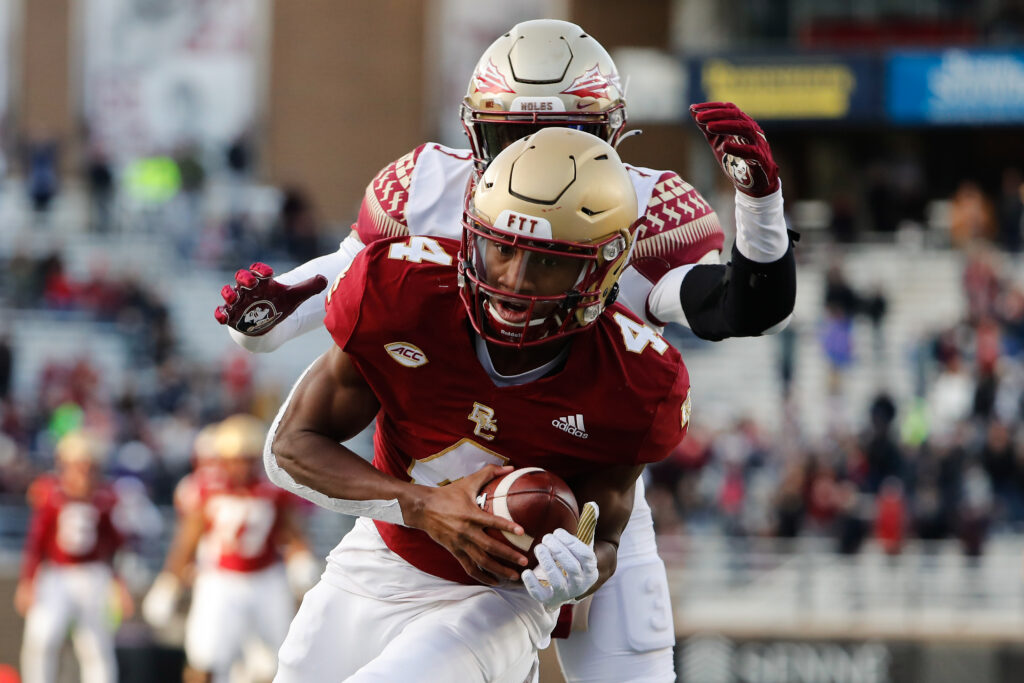 Boston College: Zay Flowers, WR
Watch This #1! Interview
My DraftTek buddy Austin Smith: "Flowers is an explosive player on the perimeter. He's got a great burst off the line, which makes it hard to press him, and he gets to full speed very quickly. Flowers will stay low in his release, allowing him to get in and out of his breaks with ease on short and intermediate routes. Not the strongest/biggest player, and some may limit his involvement solely to the slot. Still, his twitchy athleticism makes him dangerous on screens to the perimeter. His speed also makes him difficult on crossing routes, and he caught the game-winning touchdown in overtime to beat Missouri." I would add Flowers' "Watch This" play cued up above: a catch without a yard of separation between him and #2 Jermaine Waller, for what it's worth. In the scouted game last year, Flowers went 3 for 55 yards, an 18.3 YPR day.
---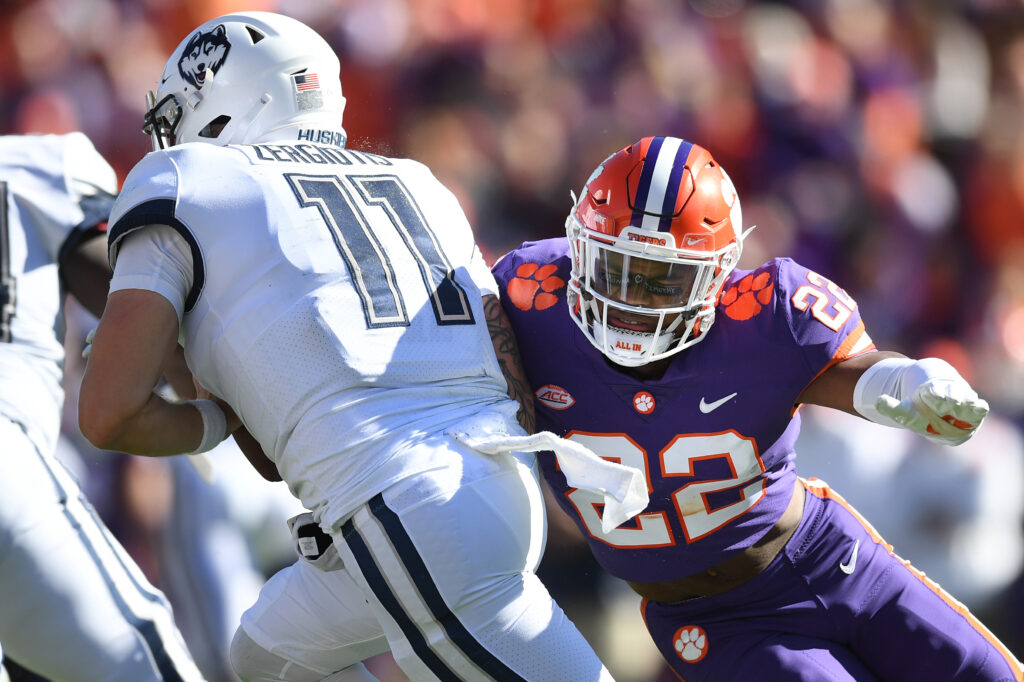 Clemson: Trenton Simpson, OLB
Watch Simpson #22! Interview
From the Clemson team site: "Explosive linebacker and edge rusher who enters 2022 credited with 110 tackles (18.5 for loss), 10.0 sacks, three pass breakups and a forced fumble in 837 snaps over 25 games (15 starts)….2021: Ranked third on the team with 78 tackles and finished second in both tackles for loss (12.0) and sacks (6.0) while also adding three pass breakups over 556 snaps in 13 games (12 starts) … earned all-conference selections from PFF (second team) and Phil Steele (third team) … All-ACC Academic Team". I'd think the Bills might be in the LB market soon, and Simpson is a faster Milano with similar tackles per game.
---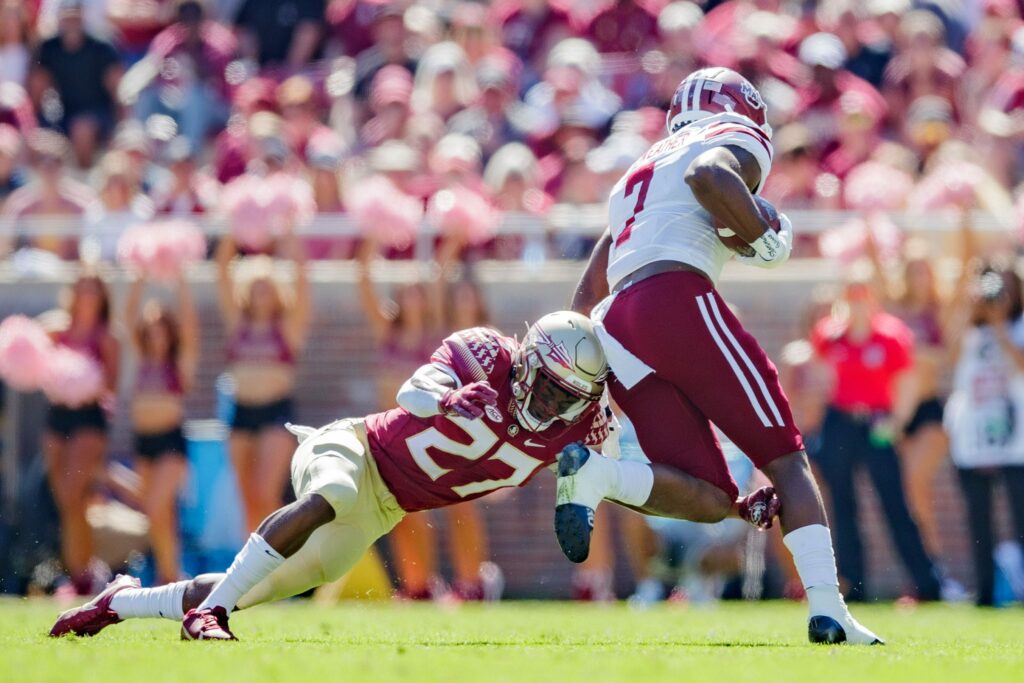 Florida State: SS Akeem Dent and FS Jammie Robinson
Watch Dent #27! Watch Robinson #10! Dent Interview Robinson Interview
While I don't expect Mike Norvell's Seminoles to compete on offense just yet, the defense has a pair of impressive safeties holding down the fort. I love Dent's play (likely a Day 2) and Robinson's personality (Day 3). It's possible that both lines will end up surprising some teams this year, but QB Jordan Travis needs to avoid injury for the team to succeed.
---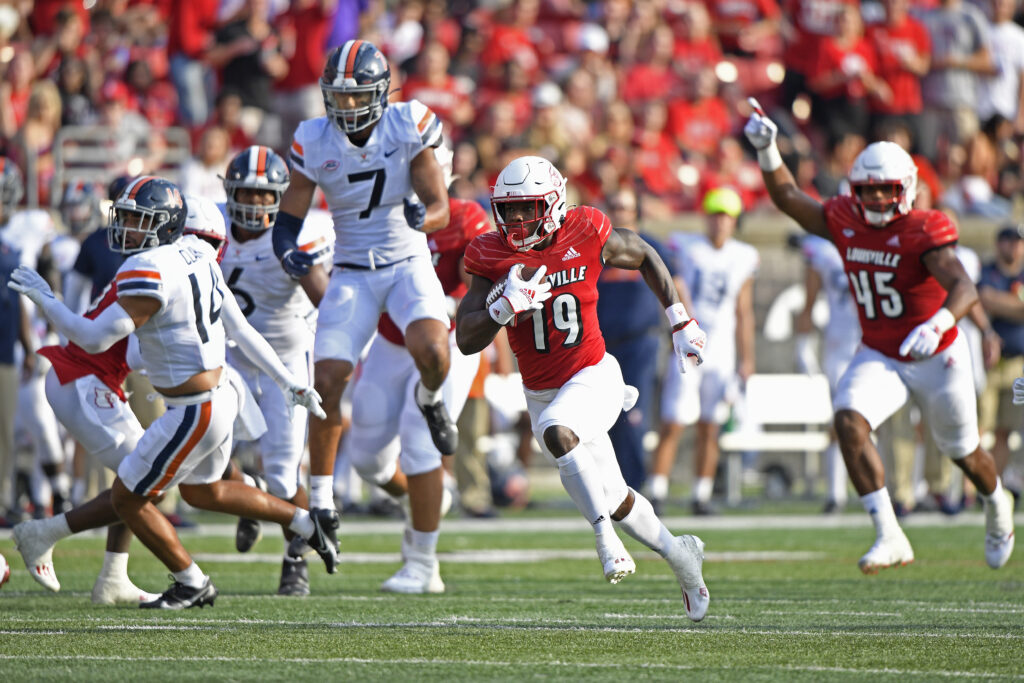 Georgia Tech: RB KR Hassan Hall
Watch Hall! Interview
The Yellowjackets are trying to move on from the triple-option, and it's up to mobile, smart RS sophomore QB Jeff Sims and an extremely-young OL (no juniors or seniors starting). One possible help would be Louisville transfer Hassan Hall, who can give them excellent field position with his kick return game (2367 career KR). While at Louisville, Hall amassed 3,843 all-purpose yards (1,299 rushing, 175 receiving, 2,369 kickoff return) and 13 touchdowns (11 rushing, two kickoff return). The question for Hall will be his playing time, and his OL, with one of Football Outsiders' Poorest Run/block Rating. He'd be a Day 3 diamond who'll be snared for his return chops alone.
---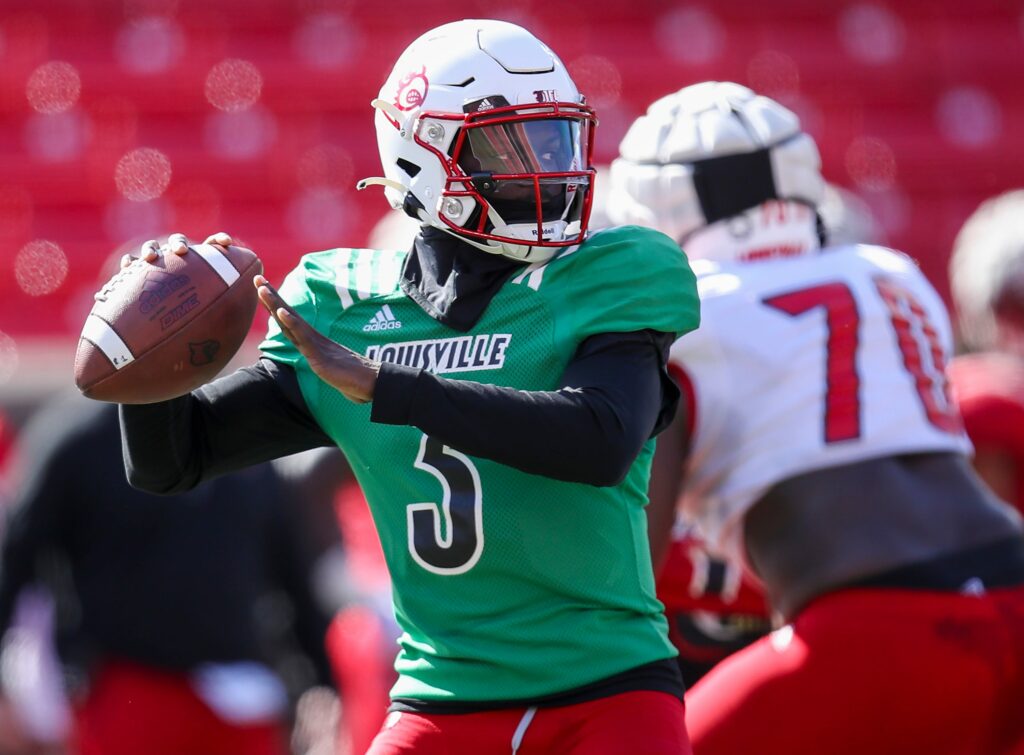 Louisville: QB Malik Cunningham
Watch Cunningham #3! Interview
I'm of the opinion that Case Keenum (age 34) and Matt Barkley (age 31) are mere placeholders for a draft where Beane picks his QB#2 of the future. He'll want an accurate, smart, mobile QB for Josh Allen's understudy, and Malik is a perfect fit. His 73.1% completion rate against AP-ranked teams will lead this draft class, and his speed (likely 4.4-ish) and the smarts that shines through in the interview will make for a seamless transition to Ken Dorsey's QB room. Cunningham has improved his pass yards totals every year, and is one of five ACC passers with >67% vs AP-ranked teams. You may think you're looking at Louisville's Lamar Jackson, but remember Malik's father is Randall Cunningham, QB for 16 seasons with the Eagles and Vikings. Cunningham's goal this year will be to become more of a pocket passer. Sound familiar?
---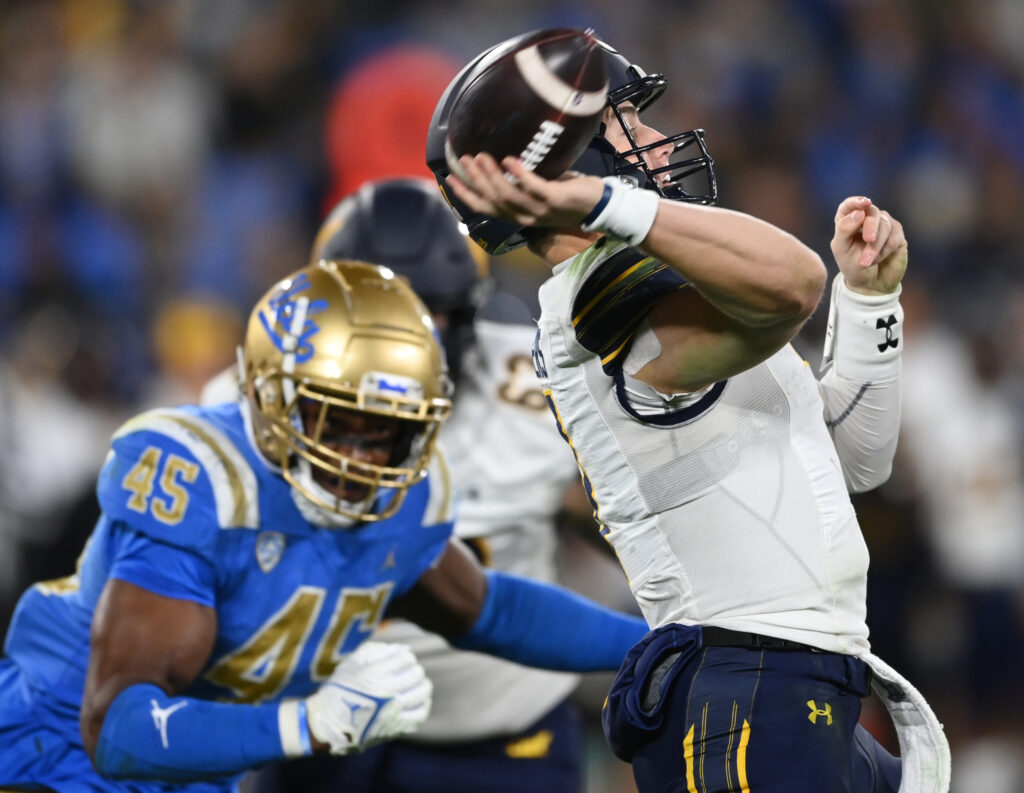 Miami: EDGE Mitchell Agude
Watch Agude! Interview
The lazy viewer will spend far too much time on the Hurricane QB Tyler Van Dyke, then hit the kitchen to make popcorn when the Miami defense runs onto the field. Don't make that mistake. Watch UCLA transfer EDGE Mitchell Agude, and whoever lines up as his bookend (both Jahfari Harvey and Akeem Mesidor are draft-eligible). Agude's incredible story, plus the Beane-Diaz-Dorsey-Rousseau Miami connection, make the Hurricane an attraction for McBeane. Agude has logged 42 pressures in 18 games –more per game than Rousseau or Basham.
---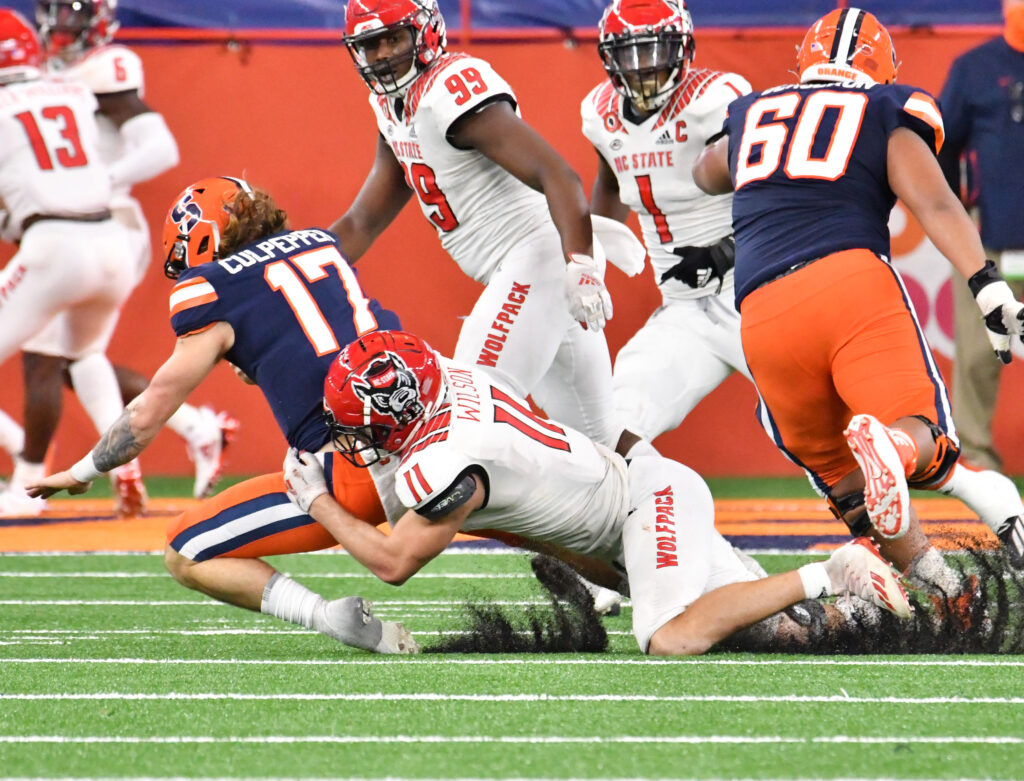 NC State: OLB Payton Wilson
Watch Wilson #11–2 views! Interview
The Bills tend to look at solo tackles per game (TPG) and size-speed ratio when picking linebackers. Payton Wilson's 4.13 TPG puts him in rarified air in this linebacker class. In fact, it's an annual occurrence; in 2020, Payton led the ACC in tackles per game with 10.8 – the first Wolfpack player to do so since 2000. His long arms and Milano-like speed (6-3 240 4.57) make passes difficult, even to tight ends. His mindset is, "the way we practice is the way we're gonna play". He's rehabbing from a shoulder injury, so he'll come as a surprise to some draftniks, but remember the name.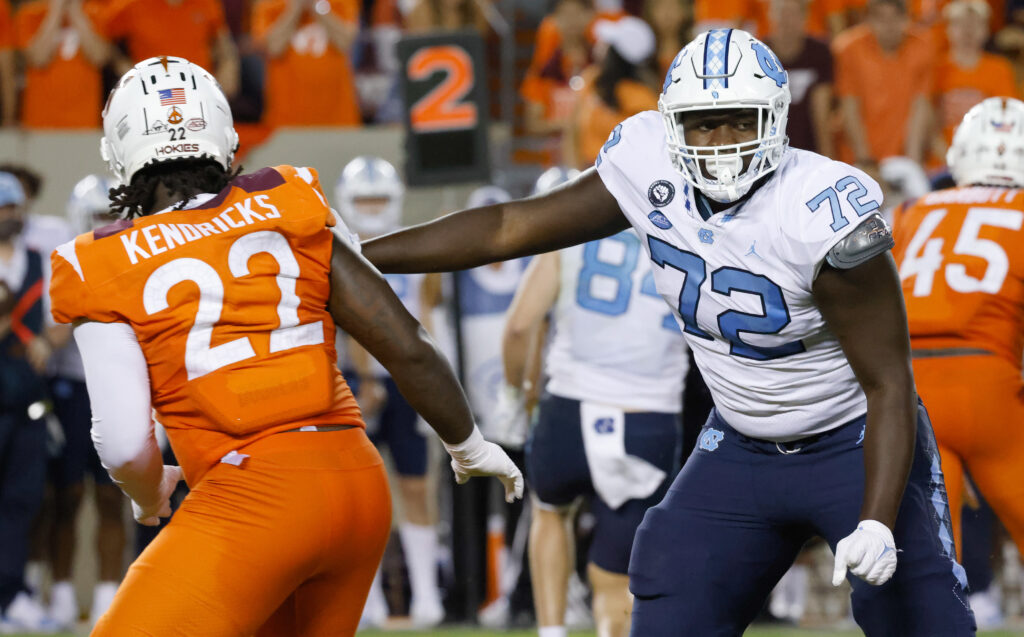 North Carolina: LT Asim Richards
Watch Richards #72! Richards Interview
LT Asim Richards' handwork on the Cued-Up play gives you an idea about whether Kromer would be pounding the table for him in the War Room. His feet are also impressive for a 325-pound dancing bear. I have him on Day Two right now. In his interview, he credits his teammates. Pronounce it "AH-sim", but watch him be "AWEsome" this year.
---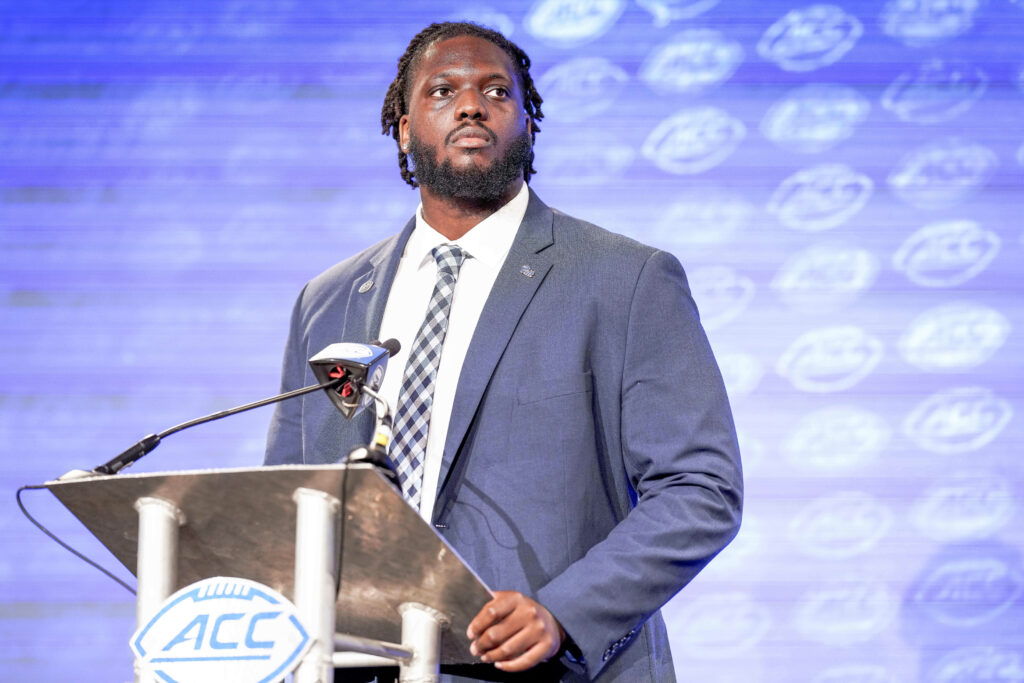 Pittsburgh: LT Carter Warren
Watch Warren #77! Interview
Warren is very nimble for his size. Sports Illustrated evaluates Carter Warren:
"very athletic left tackle prospect who meets the size thresholds for the position. Utilizes an angle set where he displays very good foot quickness in pass protection to cut off defensive ends who try to bend the edge. Redirects with good balance in pass protection when defenders attempt to sell him vertical and cut back underneath. Solid hand placement, does a good job of hitting balance points of the pass rushers and forcing them to round their edge. Good instincts to recognize pass stunts and twists on the defensive line. Explodes out of his stance in the run game when working laterally as a reach blocker who effortlessly works down the line showing the ability to own the angle and drive defenders out with proper leverage. Displays good flexibility to get his hips flipped around when he is used as the backside cut-off block. Warren plays with a smooth and controlled tempo to his game due to his ability to be a nimble athlete".
He needs to stay on his feet and keep his balance when reaching, and he'll be better this year. Kedon Slovis will have a good year in Pittsburgh.
---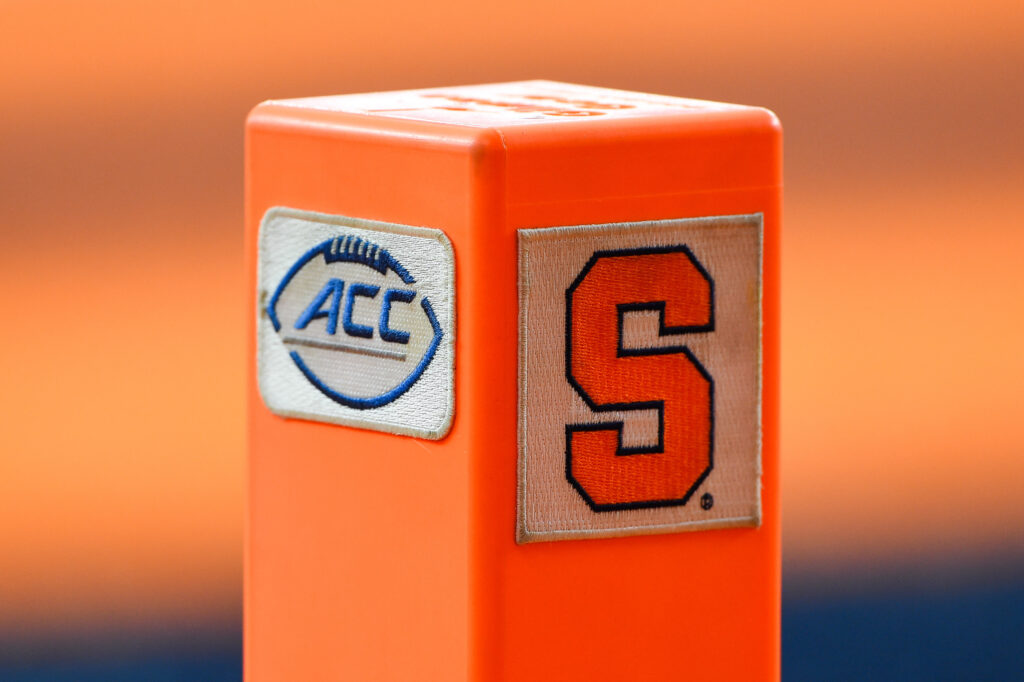 Syracuse: CB Garrett Williams
Watch Williams #8! Interview
There are bigger backs than the 5-11, 190, 4.54 Williams, but that doesn't mean Beane crosses him off his list; just look at the success of 5′ 9″, 183 Cam Lewis. Agility helps both players "play taller" than their listed size. So does a willingness to come up and make solid solo tackles. The interview will give you a Kaiir Elam vibe; both know that focus on learning is at the heart of greatness. I think Williams is a Day Two prospect.
---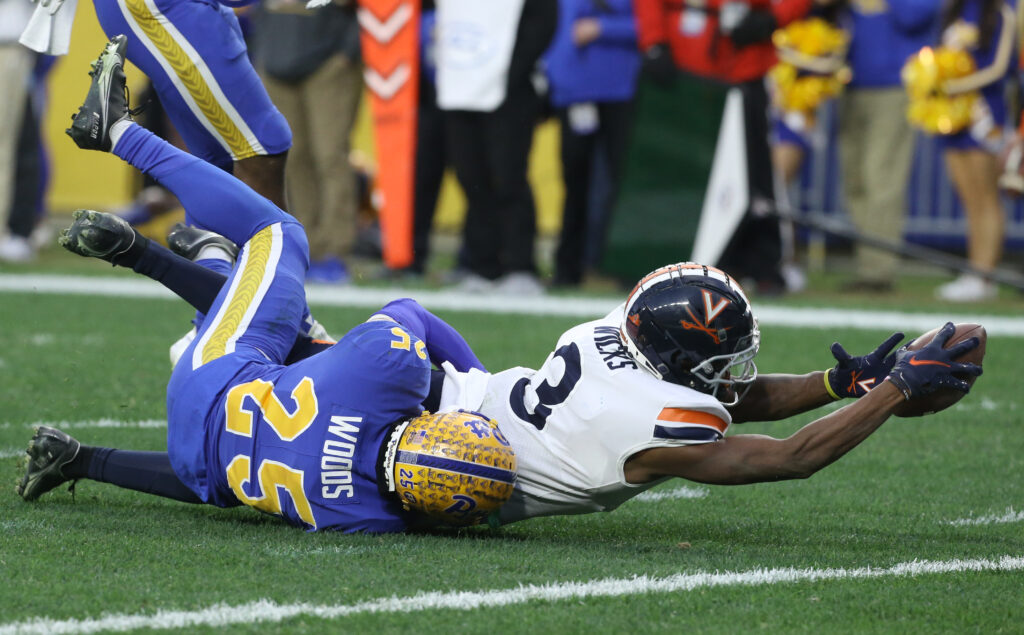 Virginia: WR Dontayvion Wicks
Watch Wicks #3! Interview
If any Quarterback in the ACC is set up for success, it's Brennan Armstrong. He'll have X-wideouts Dontayvion Wicks and Keytaon Thompson, both of whom could end up in my Top 100, but also Top 200 candidate Billy Kemp IV, a smurfy slot receiver whose YAC of 354 yards was the fifth-most in the ACC last season. He's not the sharpest knife in the drawer, and I doubt he ever saw snow in Plaquemine, Louisiana, but he can ball. His vertical game is top 10 in this class, and he's athletic. He'll need to stay healthy and available to be a Buffalo Bill.
---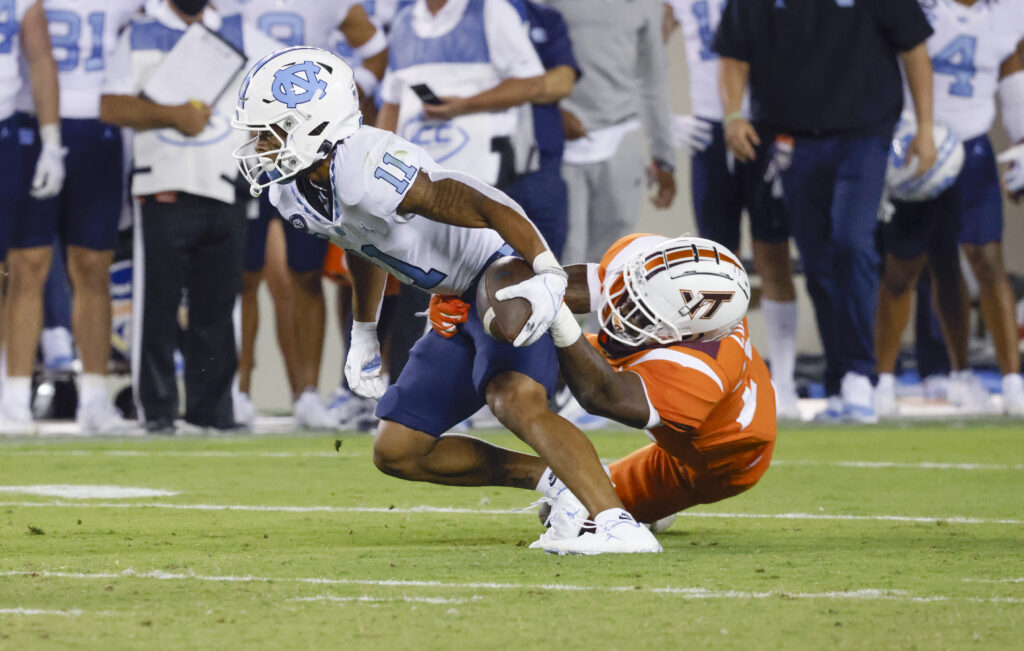 Virginia Tech: CB Chamarri Conner
Watch Conner #22! Interview
Beane has hung around Virginia Tech every season, and Tremaine Edmunds may not even be the best player he ever drafts for the Bills. Chamarri Conner is a solidly-built (6-0 211 4.42), fearless tackling machine. His 169 solo tackles over 40 games (a 4.23 per-game average) is head and shoulders above other DB draftables, and guess which other DBs had strong tackles-per-game numbers? Pick any Bills DB. In the scouted game, he always led the charge, and I'd want that again this year. Conner wore Frank Beamer's No. 25 jersey and recorded an INT in the fourth quarter to seal the rivalry game with UNC last time they played –and we think Beane was there.
---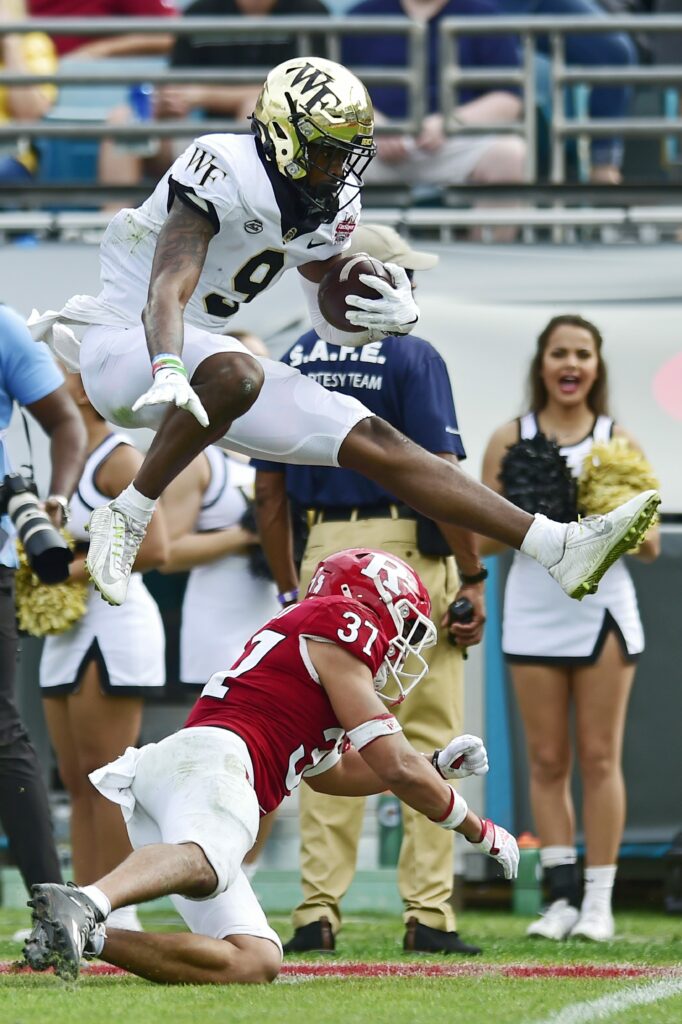 Wake Forest: WR A.T. Perry               
Watch Perry #19!               Interview
Perry's not fast, but at 6'5″, 206, you can box out and bully. AT's 18.2 YPC average this season was beyond impressive, and his 17 TDs tied Jameson Williams for 3rd in the NCAA this year. Watch this one-hander for the TD. His speed didn't hinder him on this play. He's okay in interviews, but Perry says it best in the interview: "When I step on the field, I'm home." Hope that home is Buffalo.
---
Editor's babble: These reviews are how I structure watching college football. We are so blessed for all of Dean Kindig's many contributions to our blog. You can also find Dean on Twitter @TCBILLS_Astro.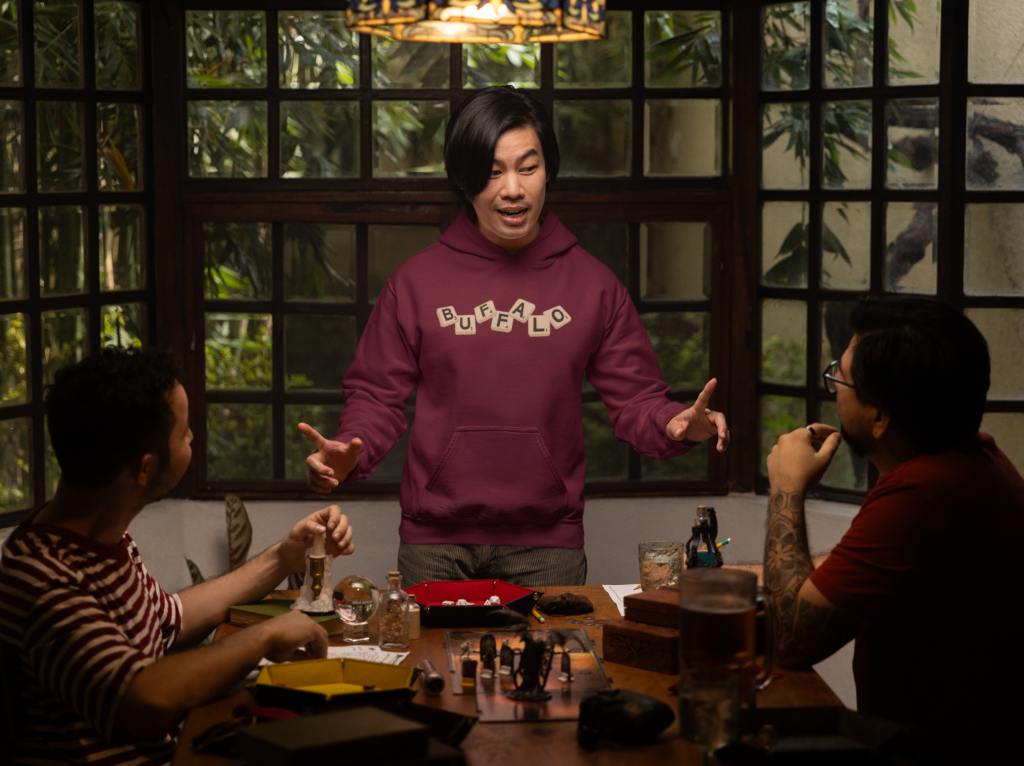 BuffaloFAMbase.com is sponsored by 26 Shirts
Every Monday, we launch a new two-week campaign of a limited edition t-shirt design. Every shirt purchase results in a donation to a local family in need. After the campaign ends, the shirt is retired. A new design is released, and a new family benefits from your fandom!