Has Bills Mafia EVER had a week this much fun in July? From the Garth Brooks concert through Saturday's practice: Six Ticketmaster scans! Dean's Astro-Notes give you the daily happenings in great detail; I want to offer a broader perspective and chronicle the fan experience at Bills Training Camp.
I live about six miles from SJFU, so it has been easy for me to attend camp every year. For nearly two decades, whatever optimism that produced turned into mediocrity by season's end. 2019 flipped the switch, but where the Bills were then and where the Bills are in July 2022 is beyond "the stratosphere of normalcy". (Gonna take a Lombardi Trophy to retire Chris Brown's signature phrase).
The pandemic caused a few changes at camp, most notably removal of the huge merchandise tent that we all used to funnel through. Business is brisk at two trailers, but obviously they can't offer the selection that the previous space did. The weather has been spectacular. Sunshine, 70s, breezes…Bills Mafia earned it sitting through mostly awful weather for most of last season's home schedule.
There are no longer printed camp guides available, so printing a roster at home is recommended; there are a record number of new faces and number changes. Despite a major detour on Rte. 96, the bus service has been outstanding…my longest wait in five sessions was five minutes. The concessions have always been good; Breakfast pizza and Italian Ice are my two favorite new items. I offer my highest praise to the staff at Fisher and the bus drivers! Should you encounter any difficulties on your visit, they are happy to help you resolve the issue.
As for the fans, some demographic groups are far more represented in 2022 than ever before. I would love to see specific numbers, but senior citizens and groups of young women have exploded on the scene. Judging by swag, the merchandise marketing department has enormous untapped potential in the senior market, but is killing it with women 20-35.
At both camp and the concert, it was fantastic to have the Canadian Mafia back in the house. It is hard to imagine a wider range of Jerseys, T-shirts, and hats anywhere else in the NFL. Through five sessions, I have noted over 200 different Bills T-shirts and 100 Bills hats. #17 dominates the jerseys, but I would bet Buffalo #40 jerseys are the fastest riser on the sales charts.
The alumni offerings range from the Hall of Fame to the hall of obscurity. And if you are going to wear the uniform of another team, make it a really good one: props to the Randall Cunningham sighting yesterday. Shout out to the Bills cosplay gang that came the first day….Pancho would be proud you are carrying on his tradition and enhancing our whole game day experience.
No doubt we are not the only hard core life long football fans in attendance, laser focused on who's running with the ones and twos. But the crazy demand for Training Camp and Blue and Red tickets boils down to this: These guys are ROCK STARS!
No team in the NFL matches a marquee trio of Josh Allen, Von Miller, and Stefon Diggs. At least a half dozen more Bills are on the tier just below that or will be. The stands have been full everyday at the start of practice, but the autograph line starts forming as early as 10:15. It might allow more fans the opportunity to attend practice if there were some separate fan friendly events with autographs and activities for those who really aren't there to watch an hour and 45 minutes of summer football practice. A Senior Day would be nice too…call it Hey -ey-R-P Day!
Football takes:
Von Miller is the best athlete on defense for the Bills I've ever seen not named Bruce Smith.
Please sign Jordan Poyer asap! Last year's Blue and Red came on the heels of Josh's extension. Wouldn't it be cool to have that kind of signing and subsequent show of appreciation every year?
Team leadership is championship caliber. No one has outhustled the Bills stars and highest paid players, and beyond that they are setting a fun tone. Josh's pranks, Von's dance moves, Diggs leading the crowd in "Shout"….one can't imagine the miserable Belichick Patriots enjoying such frivolity.
I spent most of last year screaming "Put Gabe Davis in". I hope I don't have to do that with Isaiah McKenzie this season.
He doesn't have Mitch Trubisky's running ability, but Case Keenum is at least a lateral move at backup QB if not an upgrade. Perish the thought, but count me in with those who believe the Bills are talented enough to win the AFC East with Keenum at QB.
Way too early to tell, but it sure looks like Brandon Beane CRUSHED the draft. Kaiir Elam, James Cook, and Khalil Shakir were all under-drafted.
Until we see Rodger Saffold healthy, Guard is the biggest area of concern. No worries at Tackle or Center. Tommy Doyle could be in the running for most improved, and I think Greg Mancz will back up Morse. The biggest wildcard is Cody Ford…maybe Aaron Kromer can unlock his 2nd round potential.
Comparing Gabe Davis to AJ Brown or Julio Jones is not a reach…as good as the Bengals receiving corps is, I'll match Diggs/Davis/Knox/McKenzie/Shakir with any unit in the NFL.
I want to finish with the Garth Brooks concert, which featured lots of Bills Mafia synergy. Most of his band wore Bills Choose Love T-shirts, and Garth quickly addressed the tragedy, the healing, and the Community Spirit of Buffalo that matches the Bills at #1 in the power rankings. Loved when he held up a fan's sign reading "Ain't Goin Down Til The Bills Win Up". Of course "Shout" was the highlight, with 60,000 singing our version over the original lyrics. (Cool note: one of Garth Brooks' backup singers, Robert Bailey, was one of "Otis Day and The Knights" in Animal House. So was Robert Cray!) But the line I'll leave you with comes from Trisha Yearwood's (aka Mrs Garth Brooks) appearance that night, from the song "She's In Love With The Boy":
"What's meant to be will always find a way"
Have a great week Bills Mafia!
Editor's babble: We are so grateful to Joe Reagan for his many contributions to our blog. You can also find Joe on Twitter @joer869.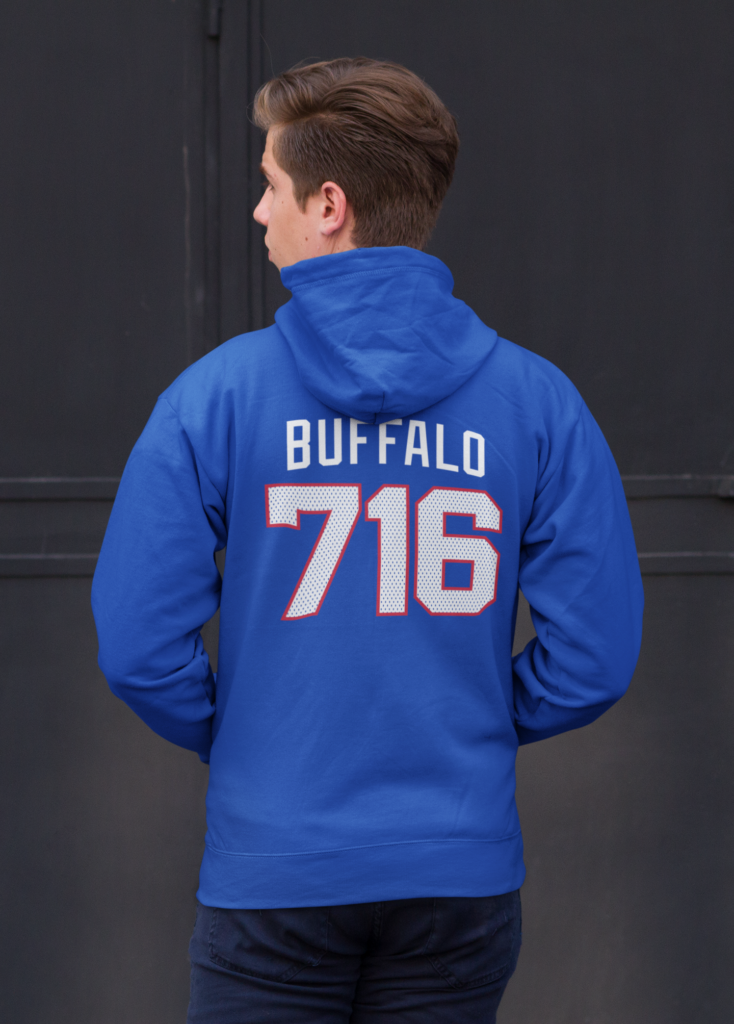 BuffaloFAMbase.com is sponsored by 26 Shirts
Every Monday, we launch a new two-week campaign of a limited edition t-shirt design. Every shirt purchase results in a donation to a local family in need. After the campaign ends, the shirt is retired. A new design is released, and a new family benefits from your fandom!