Practice Friday
Simpsons-like clouds dot the Carolina blue sky. It's 72°, so about 87 on the aluminum bleachers. Kelly Skipper is already walking around the track, and all is right with the world. Where else would you rather be?
It's 9:02, and Assistant OL Coach Wendell has his world-class locks covered with a white bucket hat. He makes his way down to the field. Kromer never accompanies him.
CJ Brewer and Raheem Blackshear are first to emerge, along with vested vet Reid Ferguson. He stopped to sign a Josh Allen jersey on the back of an adoring fan and the hat brim of her son. Blackshear is over at the JUGS machine, and he wants them quick, as if he's in a hurry. Wonder where he's going, and if he gets there.
Christian Benford stops next to Ferguson to stretch, then makes his way to the practice field. Some girls with multiple Josh Allens all over their shirts have made their way down to the front row next to the "No videotaping" sign. The first player to emerge is number 96, Daniel Joseph. He's been out here early almost every day. New jersey of the Day is a Clemson Tigers Shaq Lawson number 90, which Shaq signs, and a 99 Dareus jersey, which Tim Settle autographs. Reid Ferguson is tossing the football midfield with Haack. Araiza comes across the main field alone. I don't know how much to 'Reid' into that.
First song by DJ Milk is Bennie and the Jets. Sean McDermott chats up Cody Ford over on the sidelines ; turns out he's today's starter at LG. They're giving him every chance. Tommy Doyle in Spencer Brown walk out toward the field together. Reid Is hiking to Haack to hold for Bass and he makes the field goal. Meanwhile, Punt God is seen pulling a cart of footballs. Again, what to think?
Biggest cheers today are for Diggs, EdO, Jordan Phillips, Dawson Knox, and Von Miller.
11 on 11s for one play. Tommy Doyle is the left tackle for Dion with a rest day I bet.
Stars at calisthenics include Gilliam, Siran Neal, Quintin Morris, Groot, and Zack Moss. Joe Giles-Harris would also be in there, and Neil Pau'u.
Positional drills are next. Quarterbacks are down to the right end zone and the DBs are at the center of the field. Players with blocking pads are set up for the drill that they did on Wednesday, but both guys in pads try to block one gunner. Jaquan Johnson blasts between the pair of them; he did it best. Mike Love has trouble with it, while Taiwan Jones does an athletic spin move to evade them. Very next drill for most of them is actual kick return practice, to apply what they just learned. We special ed teachers love to see that. I like the jukes that I saw from Marquez Stevenson.
Kick returners back there today include Raheem Blackshear, James Cook, and Marquez Stevenson, but I don't see Khalil Shakir in the line today. DaQuan Jones is off to the side nursing something; he wasn't visible on Wednesday. Bates is on Peloton patrol.
I just saw a Beanecraft T-shirt. I really, really want one. I wonder if it's a 26 shirts. Also spotted a Table Busters, but they missed the mark not going Ghostbusters with it. Licensing issues?
Quarterbacks are practicing fade passes into the end zone corner from the 20, and Josh narrowly misses the pocketed target in the coffin corner. Case Keenam nails it. He's quite accurate. Barkley is short, both literally and figuratively. Keenum has to really try to get it there, and is very accurate. Josh flicks the ball like a bug off his shoulder and it goes in. It's 10:06 am and the first people get into the autograph line for autographs at the end of practice. I put autograph collecting at the bottom of the sports food chain, just above Fantasy and fake wrestling. Sorry. While I'm on my soapbox, the music DJ Milk is playing right now is not my style. It would be music for your "Drink Absinthe and Hang Yourself By" playlist.
One of the Stones' best comes on next, "Start Me Up", then ZZ Top's "Sharp Dressed Man". Far better. I'll have to recommend the "Drink Absinthe and Hang Yourself By" playlist to the Jets' or Panthers' training camp.
The coaches have set up a hurdle about shoulder-high for the wide receivers. They have to run straight on toward it, sink their hips enough to get under it, and then do an out-pattern. They get the pass immediately after coming out of the hurdle. This is repeated with an in-route and with what we old-timers called a buttonhook.
Boras is working with the Tight End group on defeating a spin move with a double block. He seems to be giving the most instruction to Knox and Sweeney, with Quintin Morris likely third. OJ Howard and Wydermyer are further away from the instructor. I guess nobody told them in college about sitting down front in classes.
New Jersey sighting; Anquan Boldin.
OL on DL…
This is a favorite part of training camp, mano-a-mano. It likely means nothing, but it's good fan fun. My impressions only: Ford lost his rep, Bobby Hart got the better of Epenesa, Jacob Capra got the better of CJ Brewer, VanRoten kept his quarterback clean against Prince Emili. Boogie lost his rep. Jordan Phillips looks awesome. EdO just took Tanner Owen to school.
11 on 11
Cody Ford, David Quessenberry, and Tommy Doyle joined the OL for work today. It's Doyle, Mancz, Morse, Ford, and Quessenberry from left to right. I love the cross-training that's going on. One of the first passes by Josh was a tipped ball and Poyer runs it back. After a quick pass to Diggs, EdO is drawn offsides. On the next play, a run left, Singletary picks up his blocks impressively. Cam Lewis and James Cook mix it up a bit during a battle of the twos. Greg Mancz rotates in, but Doyle stays, as does Quessenberry. James Cook gets a turn with the ones, and O.J. Howard comes in.
We have a Mary Wilson sighting! My Amazon Echo show puts her at 78 years of age. She's down in front of the Gatorade containers. Ten days ago, she was at the dedication of the new waterfront park in Buffalo, to be dubbed Ralph Wilson Park.
It's becoming increasingly obvious that Ken Dorsey's and Josh Allen's "hive mind" will play a huge role in the success of this offense. They're likely going to be more creative, inclusive, and turn-on-a-dime than they were last year. A good word is cerebral. The goal is to win the rep before the snap. I think they will.
A second session of 11 on 11 still has it Doyle, Mancz, Morse, Ford, and Quessenberry. McKenzie and Shakir got work in the slot, with Diggs, Gabe Davis, and Knox. The most noteworthy event in this session was Hyde's fall on his right side after making an interception, with him limping to the sideline and getting driven (front seat) in the Gator to the training room. Jaquan Johnson took his place. Some of the threes on the OL went out when you expected to see the twos come in (Alec Anderson, Tanner Owen, Greg VanRoten, Bobby Hart, Cacob Capra). Best catch here was Hodgins' catch, deke, and run after the catch. Barkley got some twos as his OL (Anderson, Kerstetter, Morse, Owen, Tenuta), and best catch was Tavon Austin's, longest catch was Tanner Gentry's. A sneaky good play was Mike Love's would-be sack of Case Keenum.
Tre White's moseying down the fan fence waving and shaking a few hands. You realize he has no shoes or socks on.
The ones trot out the same OL. Highlights:
=> James Cook dodges a Nick McCloud tackle like all the concrete guys dodging my requests to get a stamped concrete patio.
=>Marquez Stevenson drops the easiest ball of the day.
=>Damar Hamlin's jukes after interception made me temporarily forget Hyde.
=>Daniel Joseph and Mike Love's dance moves suggest we'll soon see a reprise of the D-Line Dance from 2019.
=>Knox's catch and run was impressive, but Dane Jackson was giving him too much cushion.
=>Greg Mancz's moves to the second level caught my eye. We see you Mancz. You're this year's Bates.
=>Haack is doing the holding for Bass.
Editor's babble: We are so grateful for Dean Kindig's many contributions to our blog. You can find Dean on Twitter @TCBILLS_Astro.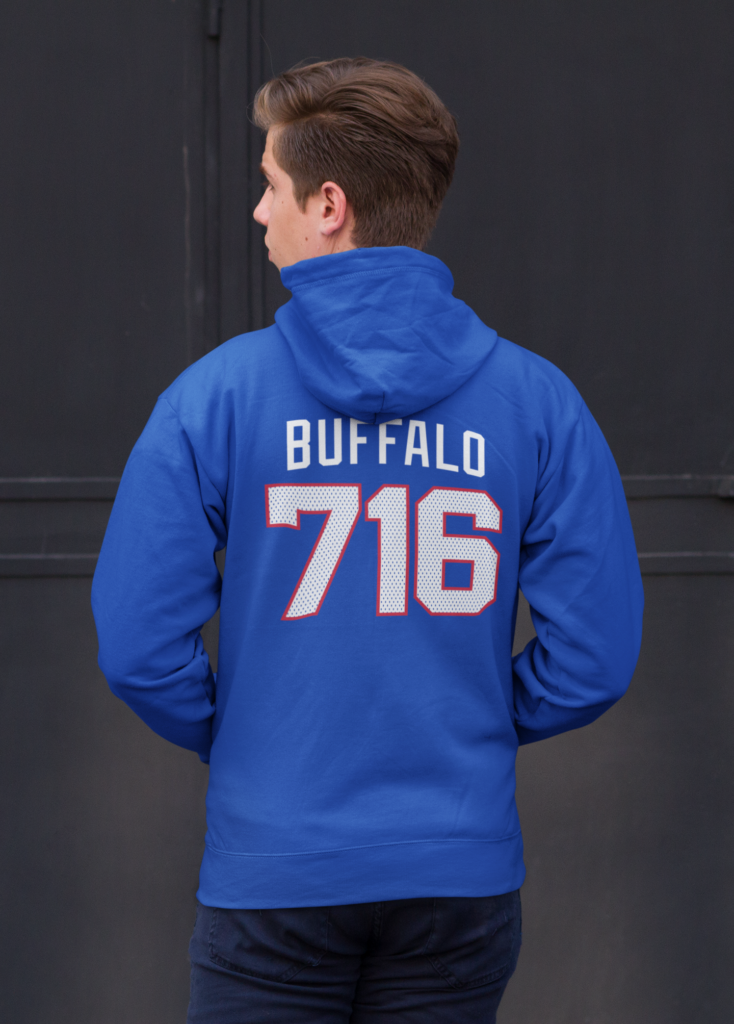 BuffaloFAMbase.com is sponsored by 26 Shirts
Every Monday, we launch a new two-week campaign of a limited edition t-shirt design. Every shirt purchase results in a donation to a local family in need. After the campaign ends, the shirt is retired. A new design is released, and a new family benefits from your fandom!