The mystery is over. We've now had exactly one press conference to check out what the next-era Buffalo Bills offense will look like under newbie Offensive Coordinator Ken Dorsey. This interview alone is not anywhere near a large enough sample size for identifying specific behavioral traits, but there were still plenty of observations to take from this lovely little interview with Mr. Dorsey (on May 31st).
Ken Dorsey is a fascinating study as a football player, but also from a behavioral perspective looking at personality variables associated with exceptional success in life. Dorsey's path leading him to the Buffalo Bills is well described on his wikipedia page.
Dorsey does remind me a bit of newly-retired quarterback Ryan Fitzpatrick in terms of having his brain be the most dominant reason for his extraordinary success. Neither was gifted a Josh Allen rocket arm, but they made up in brains what they lacked in brawn.
That stated, they also have some stark differences as well. While Ryan Fitzpatrick thinks it's no big deal to attend a Bills playoff game in Buffalo naked above the waist in sub-freezing temperatures, I doubt we'd ever see Ken Dorsey pull that off… unless it was in the Metaverse.
In the real world, Dorsey is an enigma. Legend has it he is capable of having a meltdown despite his choir-boy appearance. It makes sense. When you listen to him talk in this interview, you can see how he might lose his mind if something was not rational or didn't fit his paradigm.
Dorsey's reference to the movie 'Talladaga Nights' during the media interview may not have registered with some fans, but I busted a gut laughing about it. Dorsey's conversations with Josh must be hilariously full of Will Ferrell movie references.
It wouldn't surprise me if Josh Allen reciprocates all the 'hand- holding' when Dorsey became his quarterback coach by providing support for him now as his OC. Josh knows how to make people feel at ease and it will be fun to watch how Dorsey and Allen grow together in this next part of the legacy they are building together.
There's a bit of a leap for any position coach when they jump into a role as an offensive coordinator in the NFL. I would expect a few burps from Dorsey along the way during his rookie year as OC. As he reiterated in his interview with the media, Dorsey said he's still working out the logistics about whether he will call plays on the field or upstairs in a suite.
Dorsey doesn't appear to be as tightly wound as Sean McDermott when it comes to having every possible permutation of every detail correctly placed in its proper category… or have his calendar planned out weeks in advance in five-minute intervals.
Ken's gratitude about having preseason games to iron out the wrinkles was noteworthy, especially since the COVID pandemic affected how the NFL approached preseason over the last couple of seasons. Hopefully this NFL season will be uninterrupted and return some sense of normalcy for football players and fans. No doubt it would provide a distinct advantage for a rookie OC learning the ropes.
We all know how histrionic our Bills fan base is, especially about new coordinators. Let's hope fans give Ken Dorsey enough time to settle into new responsibilities he now has as OC. There's so much pressure for him to succeed in putting together a killer offense because this Bills' offense is stacked and ready to roll.
Josh is entering what will hopefully be the most proliferative period of his career. Expectations are off the charts for the Bills in terms of being talented enough to contend for a Super Bowl championship. The table is set. With Ken Dorsey's help, let's hope this season truly is the best season in Buffalo Bills franchise history.
Editor's babble: You can find me on Twitter @RobynMundyWYO.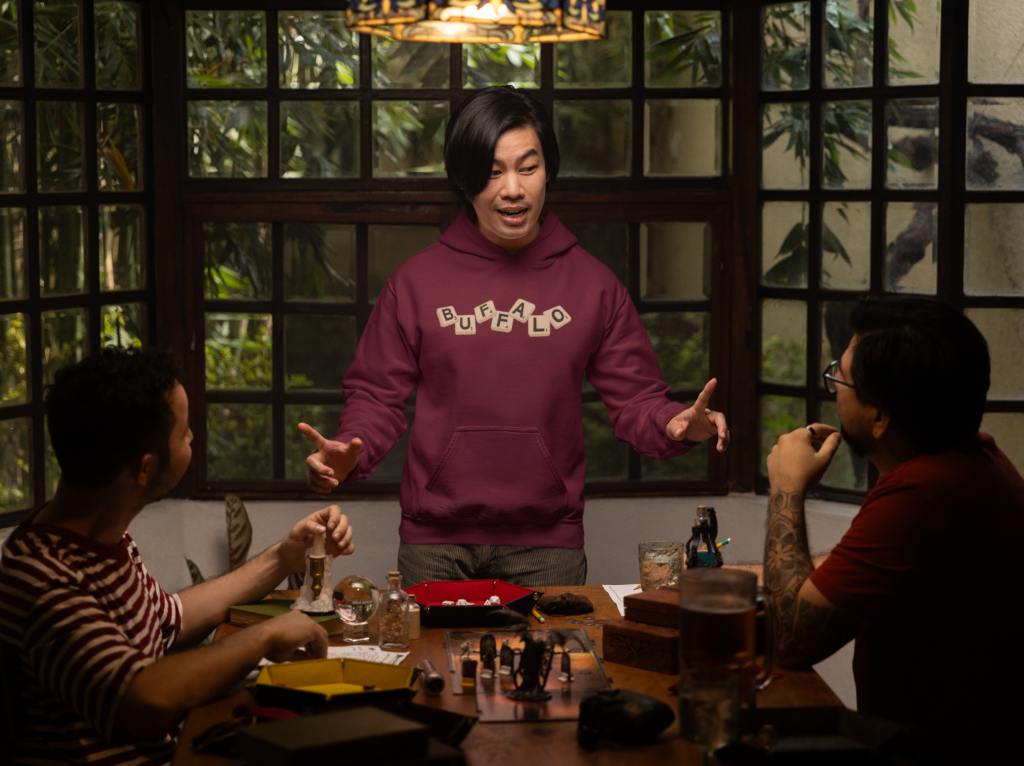 BuffaloFAMbase.com is sponsored by 26 Shirts
Every Monday, we launch a new two-week campaign of a limited edition t-shirt design. Every shirt purchase results in a donation to a local family in need. After the campaign ends, the shirt is retired. A new design is released, and a new family benefits from your fandom!