The leaks and teases have come and gone; we now have the Bills official schedule. Without further ado:
Week 1: Bills at Rams
Thursday, Sept. 8, at 8:20 p.m. ET, NBC
What a compelling game for so many reasons! The "what might have been" angle is a bit painful. Von Miller returns to see the Championship banner raised, and maybe to wreak a little havoc on Matthew Stafford. The Bills are firmly entrenched as one of the most marketable teams in the league, and we deserve to enjoy all the pageantry surrounding the NFL season opener.
Week 2: Titans at Bills
Monday, Sept. 19, at 7 p.m. ET, ESPN
The ready for prime time players make it two national audiences in a row to start the season. FINALLY the Bills get the Titans at home. It should be a good test for the revamped interior defensive line. The Bills home record was a little disappointing last season, and hopefully a point of emphasis this year. Probably way too early for a Malik Willis sighting.
Week 3: Bills at Dolphins
Sunday, Sept. 25, at 1 p.m. ET, CBS
The logic of playing in muggy Miami in September and frosty Buffalo in December escapes me. I like the return of our Sunday routine. First look at Tyreek Hill in aquamarine; we hope Tre is 100%.
Week 4: Bills at Ravens
Sunday, Oct. 2, at 1 p.m. ET, CBS
The Lamar Jackson/Josh Allen duel is the only marquee QB matchup involving the Bills that escaped prime time. Three of the first four, and four of six games are on the road.
Week 5: Steelers at Bills
Sunday, Oct. 9, at 1 p.m. ET, CBS
The first home 1 p.m. ET Sunday game comes in week 5? These tickets flew. I had to settle for the second 1 p.m. ET home game in Week 10! A Kenny Pickett sighting is likely here.
Week 6: Bills at Chiefs
Sunday, Oct. 16, at 4:25 p.m. ET, CBS
Easily the best matchup on the CBS network all season. I am interested in how the ratings compare to the prime time games. One of these years we won't have an October road game in Kansas City, but not 2022. Any road game against an AFC West opponent will be a big challenge this season for any team.
Week 7: Bye
Hate to beat a dead horse, but the early bye is a waste of tolerable weather. On a positive note, the front half of the schedule is tougher, and the break will be a welcome respite.
Week 8: Packers at Bills
Sunday, Oct. 30, at 8:20 p.m. ET, NBC
Of the Bills QB gauntlet (Stafford, Jackson, Mahomes, Rodgers, and Burrow), this is the only home game, and the fourth in the first 7 games. Ouch. This is great TV, even if we have to tune Collinsworth out.
Week 9: Bills at Jets
Sunday, Nov. 6, at 1 p.m. ET, CBS
Only the second AFC East game…we ought to know a lot more about Zach Wilson by then.
Week 10: Vikings at Bills
Sunday, Nov. 13, at 1 p.m. ET, Fox
Only the second Sunday afternoon home game. We get the battle of the Cook brothers, and Diggs vs his old team. Please Lord, give my wife and I a better weather day than our miserable 2021 soggy Sundays vs. the Texans and Colts.
Week 11 Browns at Bills
Sunday, Nov. 20, at 1 p.m. ET, CBS
This looks like the most unpredictable game on the schedule. I don't have the slightest guess on when Deshaun Watson will see the field. Tickets went quickly for this tilt as well, so expect some fun in the parking lots between Bills Mafia and the traveling Dog Pound.
Week 12: Bills at Lions
Thursday, Nov. 24 (Thanksgiving), at 12:30 p.m. ET, CBS
It's a really easy road trip across Southern Ontario from Buffalo to Detroit, so expect Bills Mafia to be there in force. I have a real soft spot for the Lions, and almost always root for them on Turkey Day, but this is business. As of now, it's Jared Goff or bust for Dan Campbell's crew.
Week 13: Bills at Patriots
Thursday, Dec. 1, at 8:15 p.m. ET, Amazon Prime
The fourth of five scheduled prime time games, and the 3rd Thursday game. With the Dolphins and the Jets much closer to (or better than?) New England, the matchup is still big but nowhere the status of year's past.
Week 14: Jets at Bills
Sunday, Dec. 11, at 1 p.m. ET, CBS
The well rested Bills host the Jets in the middle game of a decisive stretch of 3 AFC East games.
Week 15: Dolphins at Bills
Sunday, Dec. 18, TBD
This is probably the game most likely to be affected by lake affect snow, which plays well against the speedy Dolphins. First of two possible "flex" games.
Week 16: Bills at Bears
Saturday, Dec. 24, at 1 p.m. ET, CBS
More incentive to have all your last minute Christmas preparations done by noon on Christmas Eve. Any Chicago advantage of playing on the shores of Lake Michigan in December clearly is negated vs Buffalo.
Week 17 Bills at Bengals
Monday, Jan. 2, at 8:15 p.m. ET, ESPN, ABC
Our first ever Josh Allen/Joe Burrow head to head matchup is my favorite game on the schedule.
Week 18 Patriots at Bills
Sunday, Jan, 8, TBD
Flex game two. I believe the Bills will have the division clinched, but it's hard to imagine in the ultra-competitive AFC that the #1 seed could be wrapped up early.
Overall impressions? First, from a competitive standpoint. Yes, it's a challenging schedule, but the road to a #1 seed in the AFC playoffs is much tougher for our competition in the North and the West. The first half of the schedule is tougher than the second half, with road games at the Rams, Ravens, and Chiefs, as well as the Titans and Packers at home. The 2nd half looks like a real opportunity to put a nice winning streak together headed into the playoffs. Even with all the Bills prime time exposure, I like how many of the other games fall in the 1 p.m. hour… 9 of 10, not counting the two flex games.
The big problem is the impact on Bills fans in terms of weather. I hereby sentence the NFL schedule makers to an afternoon in Orchard Park when the gales of November come early and are accompanied by freezing rain. At worst, half the Bills home schedule should be played in September and October every year. One Sunday afternoon home game in all of September and October is a disgrace. Randy Newman taught us it's money that matters, but SOME consideration for the ticket buying customers health, safety, and comfort is in order.
The outlook? Nothing we learned with the schedule release moves the needle. The crystal ball doesn't foresee a 14 win team in the AFC, but the Bills have the best chance for 13 wins. Sigh… there's that number again. Good luck with your ticket purchases!
Editor's babble: I'm looking forward to the beer recommendations coming in the Fedora Forecast this season, as always :) Many thanks to Joe Reagan for his terrific contributions to our blog. You can find Joe on Twitter @joer869.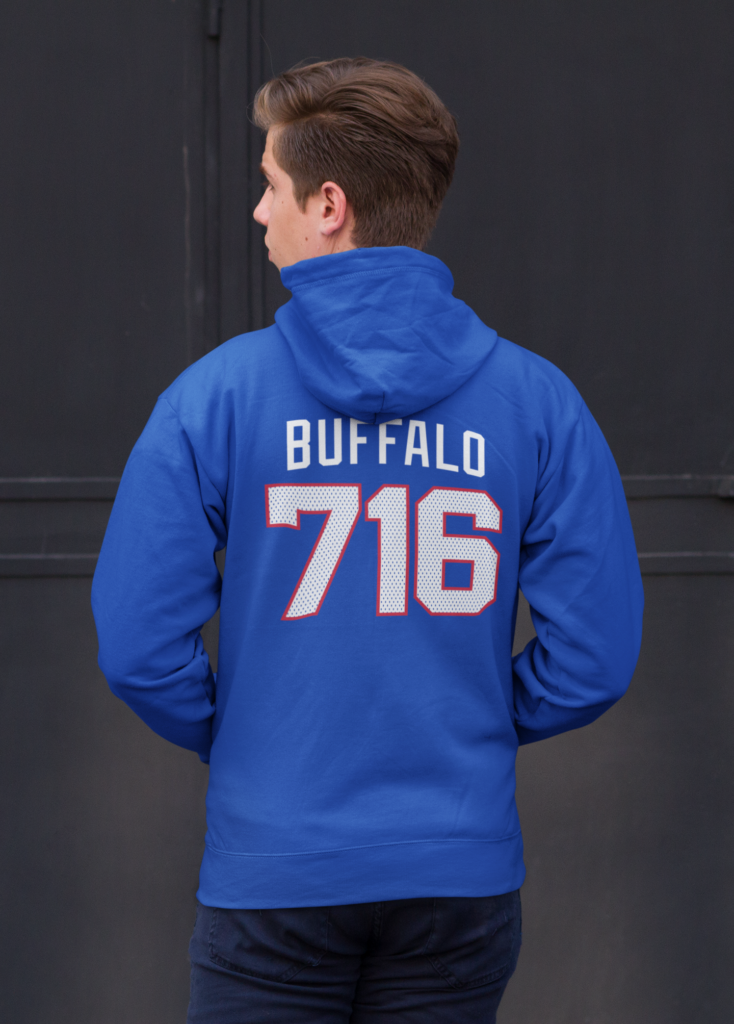 BuffaloFAMbase.com is sponsored by 26 Shirts
Every Monday, we launch a new two-week campaign of a limited edition t-shirt design. Every shirt purchase results in a donation to a local family in need. After the campaign ends, the shirt is retired. A new design is released, and a new family benefits from your fandom!