The most popular pick was dealing them. Quarterbacks weren't treated anywhere near as valuably during this year's draft as sending away slots. Getting something back is a sign of competent management. Teams are off the clock, but only because the timepiece itself turned out to be the one thing that wasn't traded.
The Buffalo Bills got in on hip trends by not staying in their place. Their record assigned them a place they chose not to accept as fate. Shaping their own destiny is an auspicious sign if you like reading into everything. Symbolism is almost as valuable as upgrading the secondary.
Disrupting the order created chaos we can only hope continues through the season. We won't have any fun if predictions come true. Mock drafts resembled NCAA brackets after a MAAC college wins a couple games.
Kaiir Elam is the newest member of Bills Mafia. Tre White's new pass-fighting partner will ideally start alongside him. The Bills established circumstances where either the club's top established cornerback or his newest companion can be eased back into the lineup. A knee is healing right this moment just like a rookie is learning. Elam can cover any of the armada of wide receivers taken before him.
Bills fans are united in hoping the 130th pick of the 2022 draft sucks. It's nothing personal, but a bust would make the deal to slide ahead feel even more worthwhile. Brandon Beane determined a fourth-rounder was less valuable than two spots. It's worth sending away a Wesley to get a Worf.
Convincing ourselves cutting ahead wasn't a panicky maneuver will pass the time until training camp. Baltimore may have chosen center Tyler Linderbaum two spots earlier just like they did when they used Buffalo's erstwhile slot. But 30 other teams are playing, too. Beane could've pre-empted a trade the Ravens would've executed with another Elam pursuer.
Questions are part of the process. Fans are free to scrutinize moves no matter how many previous ones have succeeded by percentage. His winning results so far make moving up two spots seem justified. There's thankfully very little reason to doubt Beane. Those trying to anticipate any performance drop just like the general manager himself presently have precedent to wait.
Genetic ability paired with proper parental instruction combine for a fortuitous advantage. Bills fans have heard by now in every single brief player biography how Kaiir's father Abe played in the NFL. A paternal preview offers a welcome head start. Disregard the unfortunate example set by Alexander Nylander.
When it comes to the eternal debate of drafting for need versus value, the Bills answered with "Yes." Like the Patriots playing the Jets, you don't have to cheer for one side. Elam earned a high grade at a position where they could use a starter. Next, invent light beer with the same alcoholic content instead of just diluting.
Elam joined the right squad if he didn't want to wait to start. It's not like he quite got a choice. But his new employer kept his job category in mind. The impression that he's excited about getting to work creates a welcome sign during the months when we can only dream of his pro play.
His attitude's right, which is all we can ask for at present. Elam's college play displayed an aggressiveness suited for a zone. And fans anticipate eagerly cheering on a cornerback who takes stopping wide receivers literally.
The upside of it still being stupid May is the amount of time our new favorite players have to prepare. The scouting consensus seems to be that Elam could use a little coaching when it comes to diagnosing deep routes, which is not a slight any more than you'd expect the Rolling Stones to have begun recording their own songs. Ease in with covers.
Why didn't more teams didn't select all the awesome quarterbacks? A position where we can safely announce the Bills are set apparently didn't feature many enticing franchise saviors. Passing on passers removed several valuable options. Malik Willis deserved to go on opening night, especially to anyone who drafted a cornerback before Buffalo got their first turn. But blackjack players can't hit or stand for others at the table. They still ended up with a bonafide first-rounder at the most glaring position of need, so maybe some challenges do work out.
It's a particularly welcome time to welcome new Bills. Making rookies feel at home comes just as the Sabres finish early by tradition. Beane traded up to shorten the interval between the end of the penultimate hockey game and selection of the first new football player. If he didn't, the timing sure worked out nicely. There were a sketchy few minutes without a sports update.
Thinking about Elam's chances of starting also starts what feels like the true offseason. The selection keeps us speculating just long enough until training camp opens. Short of adopting a USFL team, spring football has begun.
Editor's babble: I look forward to Anthony's post draft column every year. There is no snark like it in cyberspace. We're grateful for all of Anthony's many contributions to our blog over the years. You can find Anthony on Twitter @AnthonyBialy.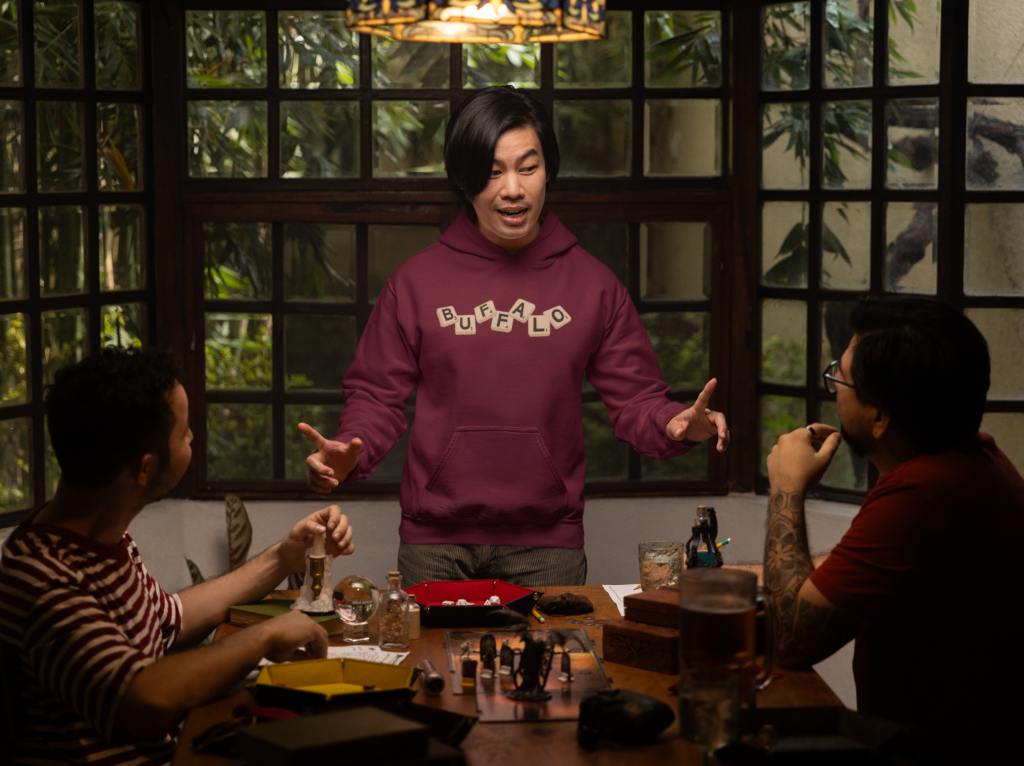 BuffaloFAMbase.com is sponsored by 26 Shirts
Every Monday, we launch a new two-week campaign of a limited edition t-shirt design. Every shirt purchase results in a donation to a local family in need. After the campaign ends, the shirt is retired. A new design is released, and a new family benefits from your fandom!