What did we learn, if anything, about the Buffalo Bills after evaluating their draft selections in the follow up to the 2022 NFL Draft? What I saw (as well as many others) was a draft that was literally about filling one gaping hole & let the draft come to them. And it did.
Having made it through most of the media interviews with the players who were selected, I found myself asking whether or not I was hallucinating or just having one of those fairy tale dreams about the Bills being championship caliber. This draft provided a lot of supporting evidence I am indeed NOT hallucinating and would likely still be able to pass a mental competency test. Or so I tell myself.
Having read many discussions on social media about whether or not Buffalo drafted "all-in" style for winning a championship THIS year, I think a solid case can be made for stating the Bills did BOTH… they filled a gaping hole at CB and put the right asset allocation plan in place by always having a lower priced contract filling one of the two outside CB spots on the team.
You can feel excitement building with every report card proclaiming Buffalo as a top team in the very stacked AFC. Even those of us who have lived through the entire existence of this franchise are beginning to peer out from under our blanket of denial and despair. It may seem like forever until the season starts, but time flies fast, especially as you get older.
There is an entire contingent of aging Bills fans like myself who realize it may be now or never for our life long dream of Buffalo winning an NFL championship. It hits different when you're over 60 and the team you've loved your entire life has that championship window WIDE OPEN. Of course injuries can derail any season, so we pray/hope the team stays healthy so their potential can be realized.
The element of luck is also crucial for any Super Bowl championship season. The Bills will need to have some luck go their way throughout the season. But barring things out of their control, THIS team has the talent to bring a Lombardi Trophy to Buffalo.
After five years of stripping down and completely rebranding the entire organization from the ground up, Brandon Beane and Sean McDermott brought this franchise to this moment. Now the players and coaches have to deliver. In fact, EVERYONE has to deliver, fans included.
The mindset of the past where we survived by reducing our expectations for a championship or even a decent team at times has to be purged from our minds.
Wear the scar tissue from decades of perpetual purgatory with pride, BillsMafia, because those of us who endured relentless losing seasons for decades are at that "now or never" moment. What's the worst that would happen if we treated every single moment of this upcoming NFL season as a moment to treasure?
What happens if they fail to deliver, despite having one of the most talented rosters in the NFL? The hoo hoos will all come out of the closet and rag on us incessantly for failing… again.
And you know what?
We've been down that road so many times over the years, it won't faze most Bills fans to switch off all the best efforts of trolls on social media no matter how bleak our favorite team performed. We are the experts at enduring heart wrenching losses. There is literally NOTHING left that can match what we've already gone through many times.
So, maybe like the players, we need to switch into championship mode as fans. This is our year to shine. Who knew breaking tables would endear us to an entire nation? Our goodwill donation to charities have been duly noted by many, and we have an image to uphold in the NFL fan community. We are the 'Ambassadors of Kindness'… and this makes us able to shine a light on what makes us unique.
Many of us, young and old, have waited a very long time to see the Buffalo Bills bring a Lombardi to One Bills Drive. It's all there for the players and the organization to go out this season and make it their business to bring the best FAMbase in the league a championship we so richly deserve after decades of despair.
No matter what happens or how it all goes down, be sure to cherish every moment, good and bad because teams that are set up like this have a short window to get it done. LFG!!!
Editor's babble: You can find this and more of my blabber on Twitter @RobynMundyWYO.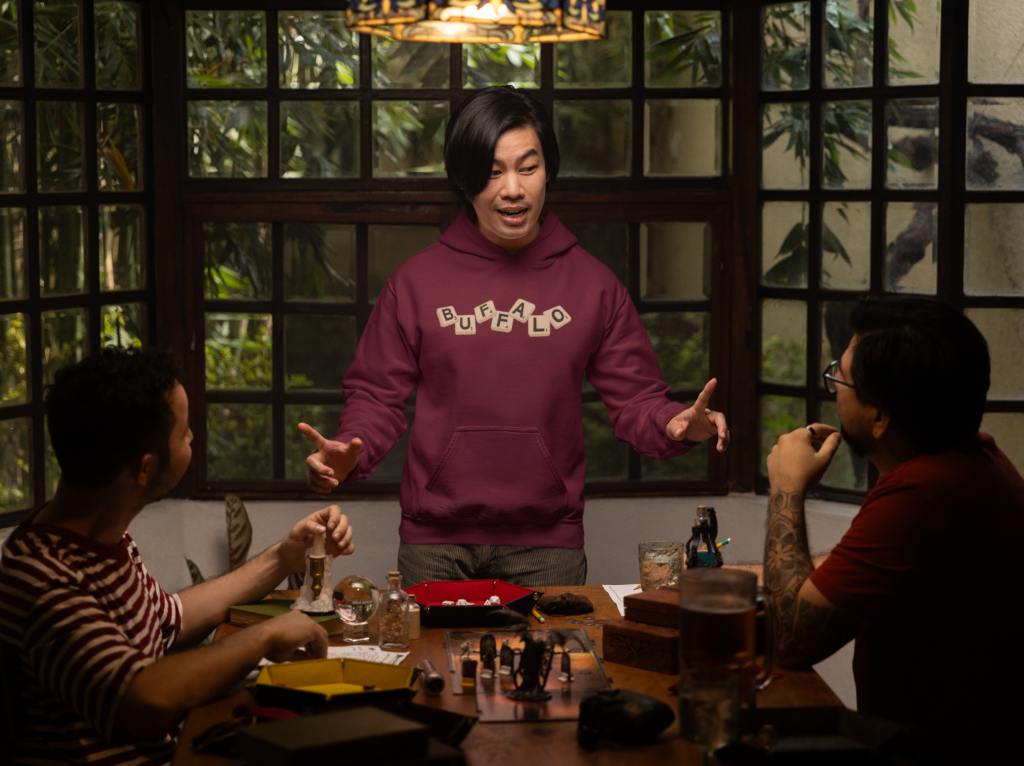 BuffaloFAMbase.com is sponsored by 26 Shirts
Every Monday, we launch a new two-week campaign of a limited edition t-shirt design. Every shirt purchase results in a donation to a local family in need. After the campaign ends, the shirt is retired. A new design is released, and a new family benefits from your fandom!