Good morning, all! My COVID symptoms have subsided, but I am self-quarantining for 5 days and staying out of my wife's way by doing sportswriting. Soooo… nothing new here.
My overall reactions to the Bills' draft:
1st (23): Kaiir Elam (CB)
2nd (63): James Cook (RB)
3rd (89): Terrel Bernard (LB)
5th (148): Khalil Shafir (WR)
6th (180): Matt Araiza (P)
6th (185): Christian Benford (CB)
6th (209): Luke Tenuta (OT)
7th (231): Baylon Spector (LB)
Day-One Grades— In Kaiir Elam, we took the fastest RD1 CB who was also the second-tallest. He was #26 on the BuffaloFAMBase Big Board. I was wrong about his low interview score. The man deeply cares about becoming THE best. He's earnest, eager, aggressive, and will work his hardest to get on the field sooner than later. His hand use at the catch point is elite. Two examples of that here: Example #1 and Example #2. Excluding Nickel backs, all of Beane's drafted Bills CBs have come from the SEC or ACC, and that record is intact. In fact, Beane took 4 ACC players this year alone: Spector, Tenuta, plus PFAs RB Raheem Blackshear and CB Dorian Strong.
Day-Two Grades— Khalil Shakir was actually above James Cook on our BFB board: Shakir was #87 and Cook was #98. If you could fuse the great traits of Beasley's route-runnning and hands with Isaiah's quicks and Josh's ferocity, you'd have Khalil Shakir. He was more than 1/3 of all Boise State offensive yards. His interview is tied for my favorite among all draftable WRs, and worth a listen. Brett Kollman suggests using him in a Deebo Samuel type way, and I'm good with that. James Cook at worst is your passing-downs back. Defenses won't have an answer if the Bills line him up on the line of scrimmage against small or slightly-slow CB3s, giving Stefon and Davis single coverage. Oh, and you have to account for Knox/OJ/Wydermyer and Josh. Good luck, NFL.
Day-Three Grades— Bernard (#160), Araiza (#213), and Spector (#257) all had Day 3 grades. Bernard is the quintessential modern LB: quick, fast, and an excellent tackler — Bernard was #1 in the Big 12. He'll give you a Lorax vibe. He's an excellent blitzer. Araiza was the 3rd kicker drafted, and he'll make everyone pay for that diss for 10 years. Dude is gonna hurt someone on a kick return, too. Spector is one-half of a linebacker tandem (James Skalski) that Dabo Swinney called "The Bruise Brothers." Listen to his interview and you'll want to go out for a beer with him. He's Milano-sized, with Milano's speed. Watch Brett Kollman's assessment. He mentions his ideal fit in a zone scheme that relies on smarts. Hey! That's US!
PFA Grades— Tenuta (#312) is a fun interview, smart, and a nice locker room add, but I don't see him making the 53 –maybe Practice Squad. He does have some nice hands (watch three plays here; he's LT #69)…Tenuta did open some nice holes for Blackshear (#413), who I think will beat out Duke Johnson for a role as a "bench back" and Kick Return backup –or replacement– for Speedy Stevenson.  Benford (#333) could surprise the DB room. He has moxie. He's the FCS's top pass defender despite always going against opponents' top-rated WR.  He's not going to be dumbfounded by the level-ups of play speed. Watch him here; if he doesn't make it as a Bill, he'll succeed as a pickpocket. Wydermer's (#168) injury this year dropped him, and his interview wasn't great, but the draft's youngest TE can make the difficult catch. Remember Kyle Pitts, the first team All-SEC TE in who was 4th overall last year? Guess who was second-team All-SEC TE? Wydermyer. Hard to bring down, especially over the middle. I like his route-running (Nice square-in here)=>https://youtu.be/tKNdn_KkJO0?t=42, his alertness=>https://youtu.be/tKNdn_KkJO0?t=48, and his athleticism (Toe-drag swag=>https://youtu.be/tKNdn_KkJO0?t=25) I'd like to see him in late-developing situations because Wydermyer would be deadly as an underneath option=>https://youtu.be/tKNdn_KkJO0?t=75 . Best of all, he has swagger. Best acquisition in UDFA.
Editor's babble: We all hope you make a speedy recovery, Dean. We're also glad you feel well enough to share your thoughts about the draft. You can find Dean on Twitter @TCBILLS_Astro.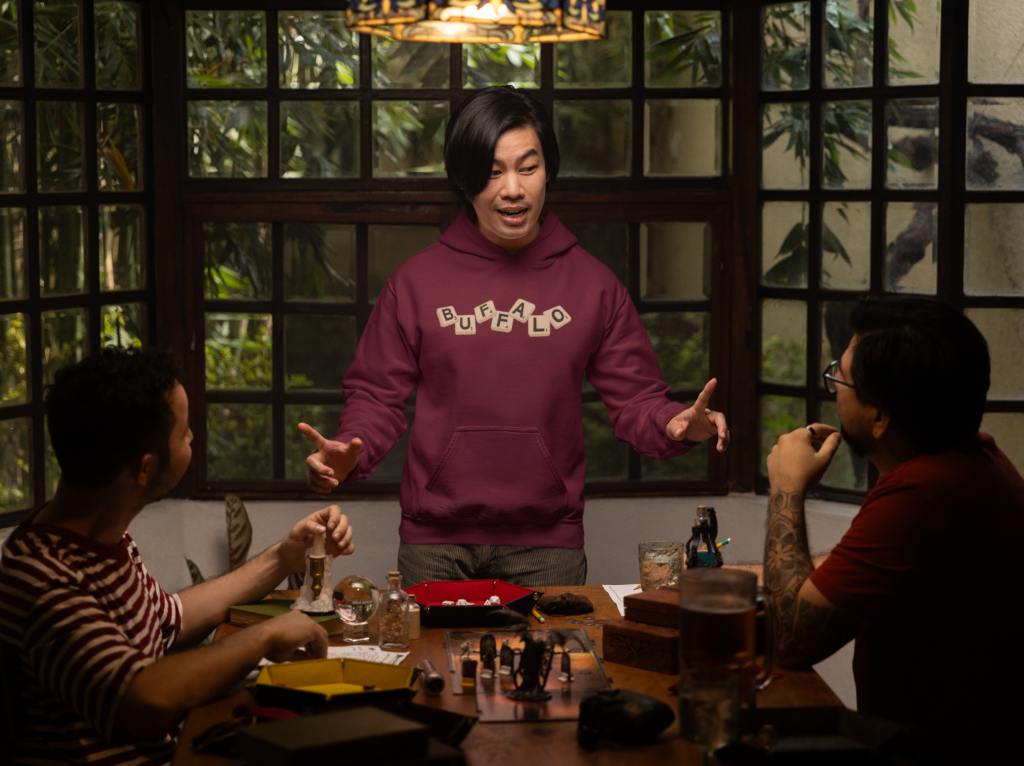 BuffaloFAMbase.com is sponsored by 26 Shirts
Every Monday, we launch a new two-week campaign of a limited edition t-shirt design. Every shirt purchase results in a donation to a local family in need. After the campaign ends, the shirt is retired. A new design is released, and a new family benefits from your fandom!