Good morning Bills Mafia. Welcome to the 2nd Annual Buffalo FAMbase Collaborative Mock Draft! The theory is that more input produces a better result, and my crew did not disappoint. My expert panel included five made BillsMafia members plus representatives of the Ravens, Bengals, Giants and Cowboys.
The email chain travelled to Canada, North Jersey, Maryland, Cincinnati, the lovely Outer Banks of North Carolina, Dallas, as well as Buffalo and Rochester. Two Engineers, an Accountant, a Patent Agent, a Sportswriter, and some gentlemen of leisure with a serious draft habit. We even had alumni of football powerhouses Notre Dame, Penn State, and Cincinnati in the mix.
Thanks Joe, John, Chris, Pat, Dean, Vito, Nick, and Shaun! Well done gentlemen! Of course nothing counts before the final exam, but it's a fun way to cope with some gnarly April weather in WNY, and it gives us a better sense of the options Brandon Beane might have next Thursday.
Without further ado:
1- JAX Kayvon Thibodeaux (EDGE), Oregon More upside than Hutchinson.
2. DET Aidan Hutchinson, DE-Michigan Local fit.
3. HOU   Sauce Gardner, CB-Cincinnati Lovie loves this one.
4. NYJ     Evan Neal, OT-Alabama Probably wanted Sauce.
5. NYG Ikem  Ekwonu,  OT NC State Daboll starts building.
6. CAR     Kenny Pickett, QB-Pitt     Desperate times in Charlotte.
7. NYG   Travon Walker, DE-Ga     Could easily go #1 and Thibodeaux #7.
8. ATL Drake London,  WR-USC   Matter of preference, worthy WR1.

9. SEA Malik Willis, QB-Liberty May have to trade up

10. NYJ Garrett Wilson, WR, Ohio State Another worthy WR1. Let the run begin.
11. WASH Kyle Hamilton-S- ND Maybe too low..a major wild card
12. MIN Derek Stingley Jr., CB-LSU CB2. Sadly, too expensive to trade #25 to #12.
13. HOU Zion Johnson, OL- B.C. A lot of scouts have him as their #1 IOL.
14. BALT Jermaine Johnson II (EDGE), Fl State   Fantastic value here.
15. PHIL Devonte Wyatt, DT-Ga Both Bulldog DTs in this range.
16. NO Charles Cross, OT-Miss St May go top 10.
17. LAC Jordan Davis, DT-Georgia Very rare size/agility combo
18. PHIL Chris Olave-WR-Ohio State WR3 off the board
19. NO Treylon Burks-WR-Arkansas This guy & Alvin Kamara together would be scary.
20. PIT Trevor Penning-OT-Northern Iowa Big need. Give Mitch a chance to succeed.
21. NE Trent McDuffie-CB Washington Bummer for BillsMafia.
22. GB Jameson Williams,  WR Alabama Could be WR1, but his floor is here.
23. ARI Devin Lloyd, LB, Utah Not quite Micah Parsons, but really good.
24. DAL     Bernhard Raimann, OT-Cent. Michigan Jerry surprisingly practical, Aussie fills need.
25. BUF Andrew Booth, CB-Clemson Want to see those medicals though.
26. TEN Kenyon Green, G-Texas A&M Definitely a need, Matt Corral & Des Ridder tempt
27. TB George Karlaftis (EDGE), Purdue Could go in the teens, probably the floor here.
28. GB Nakobe Dean LB, Georgia Second of the 1st round LBs.
29. KC Jahan Dotson, WR- Penn State Bills Mafia doesn't want to see this this..
30. KC Daxton Hill, S-Michigan Reports of Chiefs demise greatly exaggerated.
31. CIN Tyler Linderbaum, C-Iowa Bengals run to podium to pair him w/Burrow.
32. DET Matt Corral-QB, Ole Miss A developmental QB with a 5th year.
Here's the breakdown.
Offense: 3 QB, 0 RB, 6 WR, 0 TE, 5 OT, 3 IOL 17 total
Defense: 5 DE, 2 DT, 2 LB, 4 CB, 2 S 15 total
SEC: 11 ACC: 5 BIG TEN: 7 PAC: 4
*other: Notre Dame, Cincinnati, Liberty, No.Iowa, CMU Georgia 4; Michigan, Ohio State, Alabama two each
I think we did a good job identifying most of the top 32 players, and I will keep score. Some just missed guys include Matt Corrall, Breece Hall, Trey McBride, Christian Watson, David Ojabo, Boye Mafe, Kair Elam, and Kyler Gordon. The overwhelming majority of mock drafts have most of the top 15 in common, and our version was no exception. We went early at QB, but not heavy. Not allowing trades probably kept a 4th QB out of the first round. George Karlaftis may have slipped the most, and Zion Johnson may have risen the most. As far as exact matches, how confident can anyone in their right mind be this year? I will track that too.
What would this mean for the Bills? At #25, they would have a good group of CBs to pick from with only three off the board. If one stands out to the Bills braintrust, make the pick. If the decision is tough between three guys, trading down a few spots would be ideal. Besides CB, the Bills could decide to take a shot at finding their own Jonathan Taylor with Breece Hall. They might be able to trade down a little to draft him as well. No argument from me if Jahan Dotson is the pick. Some heartbreakers for Buffalo include Zion Johnson, Trent McDuffie, and Devin Lloyd.
One week until the Draft! Time to round up some Vegas tunes and brainstorm some food and drink for next week's Fedora Focus Draft Night Preview. See you then.
Editor's babble: We thank Joe Reagan for his terrific contributions to our blog.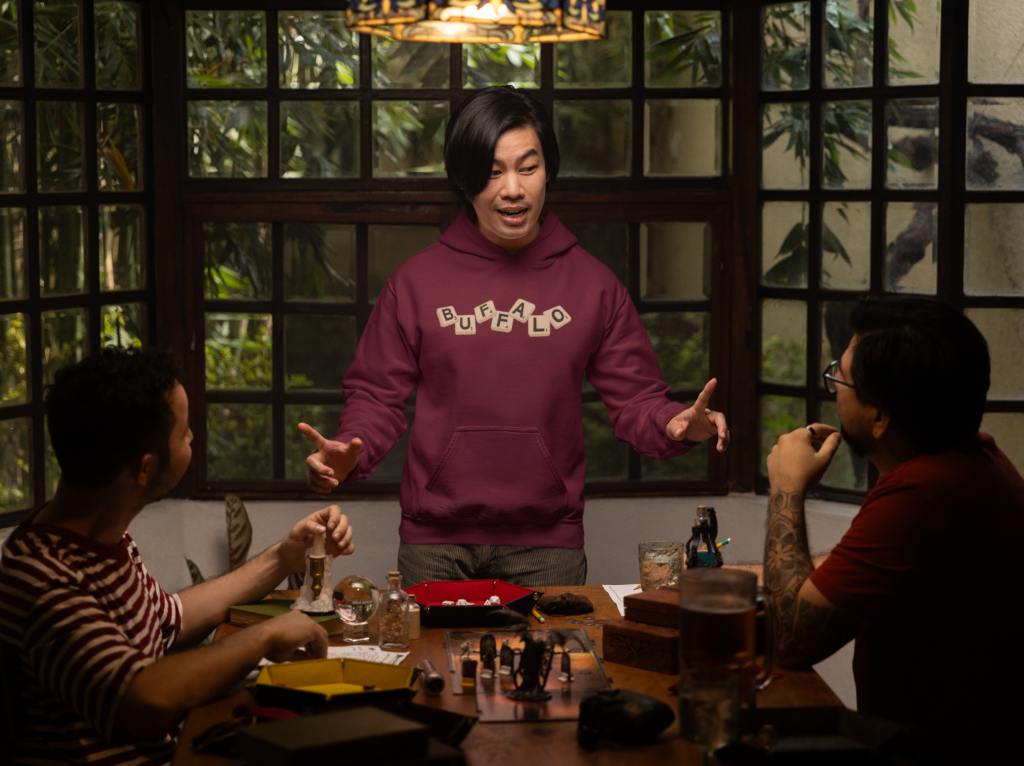 BuffaloFAMbase.com is sponsored by 26 Shirts
Every Monday, we launch a new two-week campaign of a limited edition t-shirt design. Every shirt purchase results in a donation to a local family in need. After the campaign ends, the shirt is retired. A new design is released, and a new family benefits from your fandom!