CB2 is on a lot of your minds as we inch closer to the Draft, and I'd like to take a look at some cornerback prospects that I believe would be excellent fits with the Buffalo Bills. Brandon Beane traditionally does not value CB2 in early rounds so we need to once again prepare ourselves for mid to late round CB draft prospects. Keep in mind that even if the Bills do not select a cornerback early, there are young men out there in later rounds that can absolutely be a foundation in the Bills defense. Here are a few of my favorites.
Martin Emerson, CB Mississippi State:
RAS:9.44*
Pros:
Standing at 6'2″and coming in at 200 lbs., Emerson has the size and length you look for in a modern outside CB. One of the aspects of his game that stands out to me is how he is quick off the ball and also in his stride, despite not having the "coveted" high end speed. His closing speed in pass is very good, which means opposing teams will leave yards on downs on the field more often than not, when targeting Emerson on quick passes into his zone.
His footwork and transition in coverage are solid, though he may initially have problem with route running magician WRs in the NFL. Lining up against Diggs every day at practice can only help him develop this skill. To his credit, Emerson had one play with a net gain of 25+ yards his senior year and that should not be downplayed considering the he played in the Holy Grail Conference of speedy, route running, cyborg wide receivers that is the SEC.
Emerson certainly isn't the stickiest cornerback out there in Man or Press Man coverage, but his athleticism and frame allow him to compete with wide receivers. Thankfully, this means he projects as a Zone CB and he readily displays all the instincts, abilities and football IQ to thrive in a Zone based defense like the Bills run.
Cons:
He can overextend on plays due to his length and speed, and he occasionally whiffs on run plays and check down passes because of it. His tackling is mid-tier, he tends to ankle grab tackle and he uses his size to bully WRs, which hurts him against top tier, big bodied WRs. All of these can and will be coached up in the NFL and who better to do it than McDermott and Co.?
Prediction if the Bills draft him: Everything about him screams Day 1 starter and anchoring the boundary until Tre White returns from injury. I see him as a perennial starter the more snaps he sees. He will have rough games or plays, but he has the potential to be the unquestionable CB2.
Alontae Taylor, University of Tennessee:
RAS:9.79
Pros:
Coming in at 6'0″, 196 lbs. and a 75″ wingspan, Taylor is right on par when looking at your modern era field/boundary corners. He is a very good athlete, has length and range, and isn't afraid to mix it up physically with handsy WRs. He has the requisite skills, ability and coverage speed to excel in Zone and Press coverage. He isn't the fastest, but his speed and reaction are enough to prevent him from getting torched by all but the fastest WRs in Man situations.
He seems to welcome contact in the run or pass, but his tackling can be troublingly inconsistent at times. If you come into his zone, he will make you remember it going forward.
Another SEC corner, he has spent years going against the very best WRs the nation brings and has held his own. His play instincts and closing speed mean he can diagnose and react to run plays quickly and he is an enthusiastic tackler in the run.
The biggest part of his game that stands out to me is how physical he is. He isn't afraid to mix it up with anyone and plays with a mean streak combined with intelligence. He can and will make a WR pay for every yard gained.
Cons:
His biggest con will be the part of his game that I love the most, the physicality. His aggressiveness translated to some bad missed tackles and plays left on the field. He is a headhunter and can miss on tackles trying to make that highlight reel hit.
His willingness to get physical with WRs in their routes can, and will, get him flagged in the NFL.
Prediction if the Bills draft him: Solid depth CB initially that will benefit from a snap rotation with another seasoned CB. After a year or so sitting and learning, he could develop into a fine CB2.
Joshua Williams, Fayetteville State
RAS:8.59
Pros:
Many people weren't exposed to Josh Williams prior to his Senior Bowl invitation because he attended a smaller school, but he blew the doors off in his chance in the national spotlight. He brings an almost 6'3″ and 197 frame with an impressive wingspan and 40 time.
His Man skills are tremendous, calling him "sticky" seems insulting. He made guys completely disappear in Man. Williams swallowed up receivers in man coverage and his ability to pattern match took away many routes and many a QB's safety valve options. I know, I know, you're saying but the Bills don't run Man coverage, why is he a fit? He played some zone and his size, length, speed, instincts and football IQ have him projected as a high quality Zone CB.
Williams's tackling and coverage skills are high, he will tackle correctly and can absolutely bring the lumber in situations. He is extremely dangerous in the route and in the catch point.
You know that part of Josh Allen that plays with a huge chip on his shoulder because of the coaches, colleges and teams that doubted him? The part that we all love and sees Josh continue to excel? I think Josh Williams has that mentality.
My absolute favorite part of his game is his footwork and backpedaling. Even if I were not a Bills fan, Tre White would be the bar I set for a cornerback's footwork and back pedal. Williams isn't there yet, but he could be. That's how smooth I think it is.
Functional Athleticism: Williams has terrific speed once he opens his stride. He has good change of direction skills and the ability to transition. He was the best athlete on the field in every game he played in college.
Cons:
He can bail out early on press coverage and in certain routes which can lead him to give up yardage. His biggest con is going to be him going to a smaller school. I usually don't hold it against a prospect but I can see a team questioning if his skills can transition from a small HBCU to the NFL, I 100% think it can. He's poised to be the first player drafted at Fayetteville State since the 70's which may influence a team's round grade on him.
Prediction if the Bills draft him: My personal opinion is that he is a Day 1 starter that will have a learning curve and probably split reps. But with his potential added in with learning from the Bills coaching staff, Tre White and the rest of our DB room, he is a lock for CB2 and a potential heir to Tre at CB1.
[*denotes RAS score via Kent Lee Platte, creator of RAS.]
Editor's babble: Please welcome Christopher Sampson as a contributor to our blog. You can find Chris on Twitter @TonawandaProud.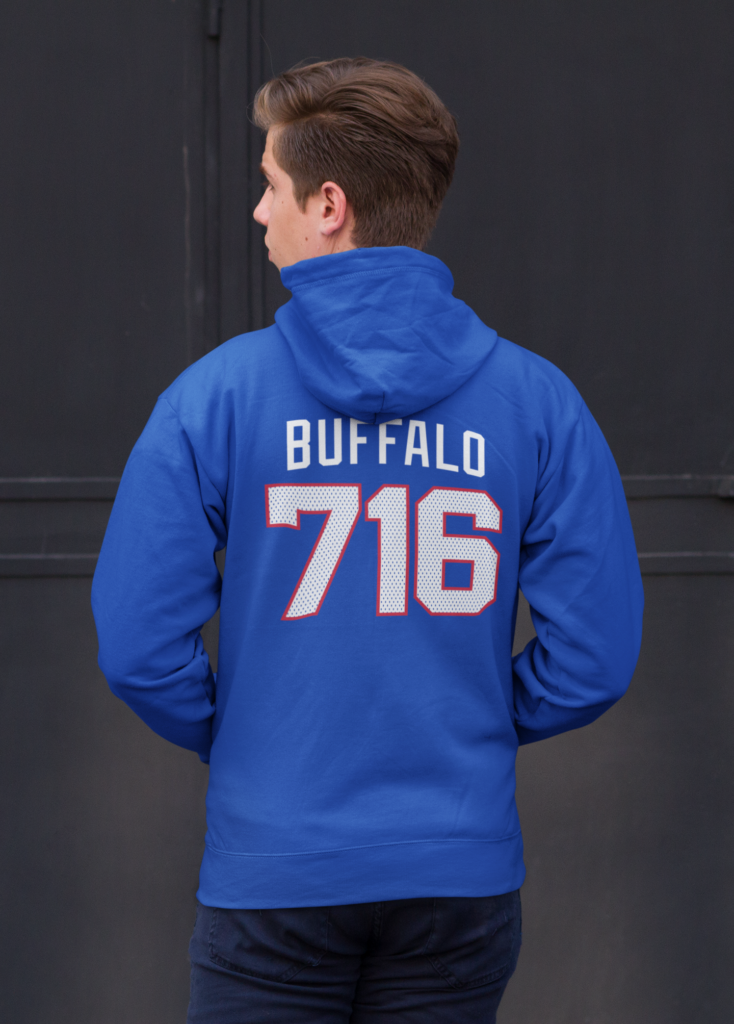 BuffaloFAMbase.com is sponsored by 26 Shirts
Every Monday, we launch a new two-week campaign of a limited edition t-shirt design. Every shirt purchase results in a donation to a local family in need. After the campaign ends, the shirt is retired. A new design is released, and a new family benefits from your fandom!