I needed a week to regroup after the insanity, but enough dust has settled to fully embrace the lead up to the 2022 NFL Draft.
I am a big fan of "Good Morning Football" on the NFL Network. They constantly run a scroll of Daniel Jeremiah's and Bucky Brooks' Mock drafts. I will be eternally grateful for ESPN for all the hours of draft coverage over the years, but I prefer the NFL Network's coverage these days. DJ is my NFL Draft pundit of choice. So his latest mock for the Bills at #25 caught my attention… he selected Iowa State RB Breece Hall. Most of us expect the Bills to draft a RB at some point, but using their first round pick on one is a real outlier. Coming from a trusted source, I wanted to take a good look at the idea of drafting Breece Hall.
Breece Hall RB Iowa State: listed at 6'1′ 220 in his college program, 5′ 11″ 217 on NFL.com -40 time: 4.39 – 2021: 1472 rushing yards, 20 rushing TDs, 302 receiving yards, 3 TDs – His sophomore season was equally as impressive. 2020: 1572 rushing yards, 21 TDs.
Let's look at the recent history of RBs early in the draft. In the past five drafts… only Saquon Barkley ( #2 2018) and Leonard Fournette (#4 in 2017) went in the top 20. Both are good players, but the briefest look at the state of the Giants and Jaguars demonstrates those were not good draft picks.
It may be awhile before we see a RB go in the top 20 again. Of other 1st rounders in that five year period, Josh Jacobs and Najee Harris have justified their draft spots, and of course we can't evaluate Travis Etienne. The others ( Rashaad Penny, Sony Michel, Clyde Edwards-Helaire) are okay, but haven't met expectations. The real studs have been harvested mostly in the 2nd round: Derrick Henry, Jonathan Taylor, Nick Chubb, Dalvin Cook, and Joe Mixon. A whole lot of teams that wouldn't invest a late first rounder in a RB would love a do over. If Breece Hall belongs in a discussion with these caliber of RBs, he would be a solid pick at #25
In terms of draft value, Hall currently is in the 25-35 range on most big boards, so maybe he is a slight reach at #25. But getting the best player at a position that sees the field early (I apply that same idea to Guard if Kenyon Green is on the Board) would override getting a slightly higher rated player. We like Motor, but his ceiling is nowhere near Hall's ceiling. And in terms of salary cap, is there a better bargain to be found than a stud RB on a rookie contract?
The words from McBeane: "We need to protect to protect Josh". There is more work to do on the OL, but Rodger Saffold is already an upgrade. Two TE sets add more protection, and OJ Howard blocks well. But everyone agrees that long term, Josh has to run less than he has thus far in his career. Drafting a RB of Hall's caliber serves that idea well, especially over Motor in short yardage situations.
Running back by committee can make a lot of sense, especially in terms of NFL economics. The Bills 2021 version did not work, and by season's end Zack Moss and Matt Breida were pretty much non-existent. 5'7″ 203 (Motor), 5'9″ 205 (Moss), 5'10" 195 (Breida)….did the braintrust learn anything? Singletary performed well when he turned into a committee of one, but his game has limitations. The Bills offense needs at least a power RB in the mix, if not a RB who can do it all.
Often first round picks are as much about the opportunity cost as the player themselves. If the Bills take a RB with their first round pick, then cornerback and interior offensive line are deferred. Whether the Bills can get an immediate starter at those spots is highly debatable. If you believe they can, I would find it really tough to draft any RB over those spots.
My top 5 Bills needs are CB, G, RB, WR, and LB. I see no difficulty finding nice depth pieces and futures at all those spots on day two and three, but immediate impact is a different story. Apologies to Devin Singletary, who I like very much, but Breece Hall is on a very short list of the most immediately impactful choices the Bills will have at #25. Of course we are all waiting for a pre-draft move at CB, and I expect Daniel Jeremiah factored that in.
If the Bills go in a different direction, which is far more likely, I expect them to take one of the big backs in round 3-4. Isaiah Spiller from Texas A&M and Brian Robinson from Alabama would both be the missing piece from a committee headed up by Singletary. I don't know if there is a trade market for Zack Moss, but I think with him it isn't the player as much as the fit. If Singletary were to go down, Moss is almost as good. He just doesn't fill different roles than Motor.
There was a lot of chatter last draft season about Travis Etienne to Buffalo, and I was glad he was off the board before our pick. There isn't the same level of buzz about Hall and the Bills, but in my opinion the idea is much more solid. Yes, it's a passing league. But how many of last season's narrow defeats would have been impacted by a much better running game? I like the Breece Hall idea.
Next week I will attempt to talk you out of the idea of drafting a WR in the first round. And with a new stadium and 30 year lease, Bills Mafia heads brightly into the future.
Editor's babble: Still not sure I'd go RB in the first round, but I trust Brandon Beane knows what to do. If he selects Breece Hall, I'm good with it. We are grateful for Joe Reagan's contributions to our blog.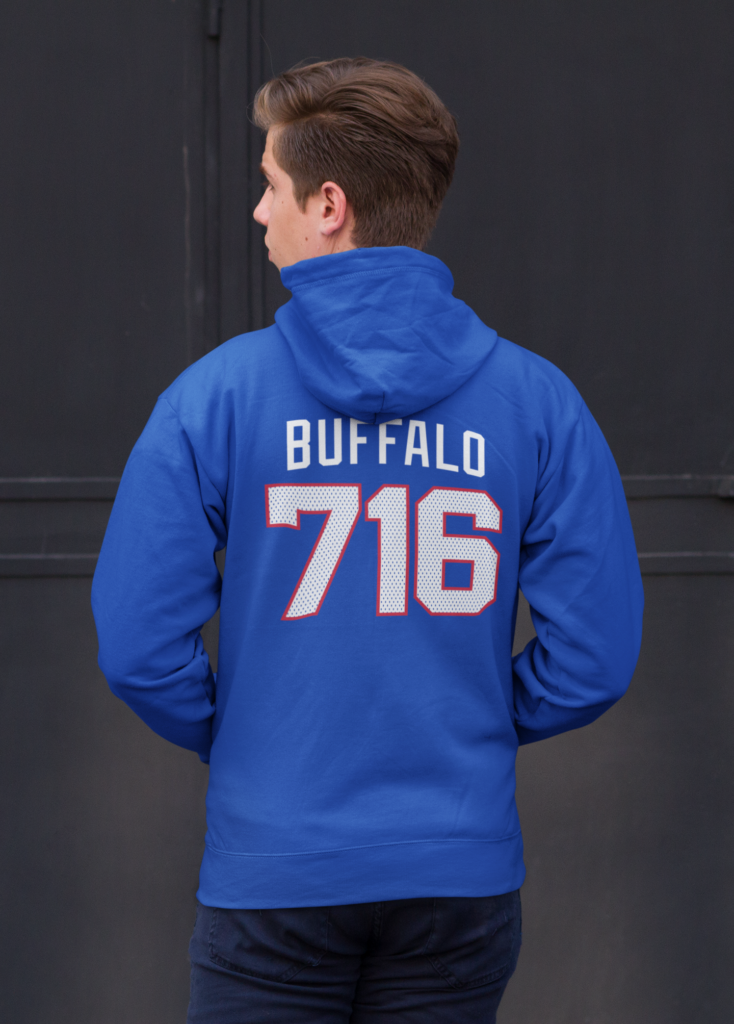 BuffaloFAMbase.com is sponsored by 26 Shirts
Every Monday, we launch a new two-week campaign of a limited edition t-shirt design. Every shirt purchase results in a donation to a local family in need. After the campaign ends, the shirt is retired. A new design is released, and a new family benefits from your fandom!