All of these players can play DT 1-tech (over the Center) and cover 2 gaps. I've queued up the spot in their strong interviews that convinced me one of them will be a Buffalo Bill. These are in no particular order.
Neil Farrell, Jr., LSU
Consensus #133, BuffaloFAMBase #119
Beane, Schoen , 1 Scouted Game
#92 <====Watch; note his hand use and how he frees up tacklers, but makes many on his own.
SEC (Beane's 2nd Favorite)
Stats
6'4″ 328 5.00 forty est.
48 Games Played
29.5 TFL + Sacks, Career; 0.61 Per Game –Top 4 in Pressures Per Game.
DT1T DT3T type.
Farrell was PFF's Top P5 run defender in September. He stepped up big-time when Glen Logan was injured. Shane Coughlin calls Farrell "very ball-aware and sorts first level traffic with power and aggression".
Jayden Peevy, Texas A&M
Consensus #172, BuffaloFAMBase #155
2 Scouted Games
#92 <====Watch Peevy's pressure help to cause an INT vs Alabama
SEC (Beane's 2nd Favorite)
Stats
6'6″ 315 5.13 forty est.
49 Games Played
25.5 TFL + Sacks, Career, 0.52 Per Game
24 starts in last 3 years, More DT3T than DT1T, Peevy has great length. Check his arms. Mr. Dependable award this year, has INT, fumble recovery, etc. so not just a NT plugger type. Jet visit to A&M after the season. Beane would still need to bring in a NT via FA.
Marquan McCall, Kentucky
Consensus #307, BuffaloFAMBase #217
2 Scouted Games
#50<====Watch; he is doubled on almost every play vs South Carolina
SEC (Beane's 2nd Favorite)
Stats 6'2″ 379 5.5 forty est.
31 Games Played
12 TFL + Sacks, Career, 0.39 Per Game
DT1T plugger type. Had an ankle injury, and attacked rehab, worked back to a Shrine Bowl East team captaincy. My friend Otto likes him. He's the only one on the list slower than Lotulelei. But you'd expect that when you're 88 pounds heavier than Star was (Lotulelei was 6-2, 311, 5.41 when drafted RD1).
D.J. Davidson, Arizona State
Consensus #264, BuffaloFAMBase #186
3 Scouted Games
#98 <====Watch, one where he lines up outside, then ragdolls ballcarrier inside. 6 tackles in the first scouted game, Then 1 tackle and 2 assists in the second game.
PAC12 (Beane's 4th Favorite)
Stats
6'3″ 325 5.06 forty est.
34 Games Played
20.5 TFL + Sacks, Career, 0.60 Per Game
DT1T DT3T Top 5 in Pressures Per Game.
Jonathan Ford, Miami
Consensus #425, BuffaloFAMBase #218
Beane scouted Miami, and have ties to Manny Diaz
<===Watch #96 start inside, follow parallel to the LOS and make the stop
ACC (the only one from the ACC, Beane's favorite conference)
Stats
6'5″ 338 5.12
31 Games Played
11 TFL + Sacks, Career, 0.35 Per Game
DT1T DT3T type, frees LBs often to make tackles rather than accumulating stats. Only 1 assisted tackle in the scouted game vs Alabama. Per the local Sun-Sentinel: "Ford had 19 tackles, 1 1/2 for loss, and a forced fumble in 2020. He momentarily lost his starter status in early November to redshirt freshman Jared Harrison-Hunte, but when Harrison-Hunte became unavailable the following week at Virginia Tech, Ford reclaimed his starting post and had a career-high six tackles against the Hokies."
Jordan Davis, Georgia
Consensus #24, BuffaloFAMBase #25
Beane visit, 3 Scouted Games
Excellent Film Analysis of #99 <====Watch
SEC (Beane's 2nd Favorite)
Stats
6'5″ 330 4.98 forty est.
41 Games Played
18.5 TFL + Sacks, Career, 0.45 Per Game
DT1T DT3T could stay in on every down. Owns top 2 speed among all DTs with Christopher Hinton, but Davis is at least 17 pounds heavier. Huge and fast and disruptive for a nose tackle. Using strength, especially in his arms, Davis gets underneath and uproots the OG's forward lean quickly, straightening him right up I was infatuated with Marvin Wilson last year, but Wilson –Cole Cubelic's DT#1– went undrafted due to weight gain, injury, and character concerns. We're still looking for that load in the middle who can collapse the pocket with a low center of gravity and near-forklift strength. I knew who one of my "pet cats" would be this year when Jordan Davis said this about if stats matter: "I really play for the linebackers".
Editor's babble: There are no words to reflect our gratitude for all of Dean Kindig's hard work and incredible contributions to our blog. You can find Dean on Twitter @TCBILLS_Astro.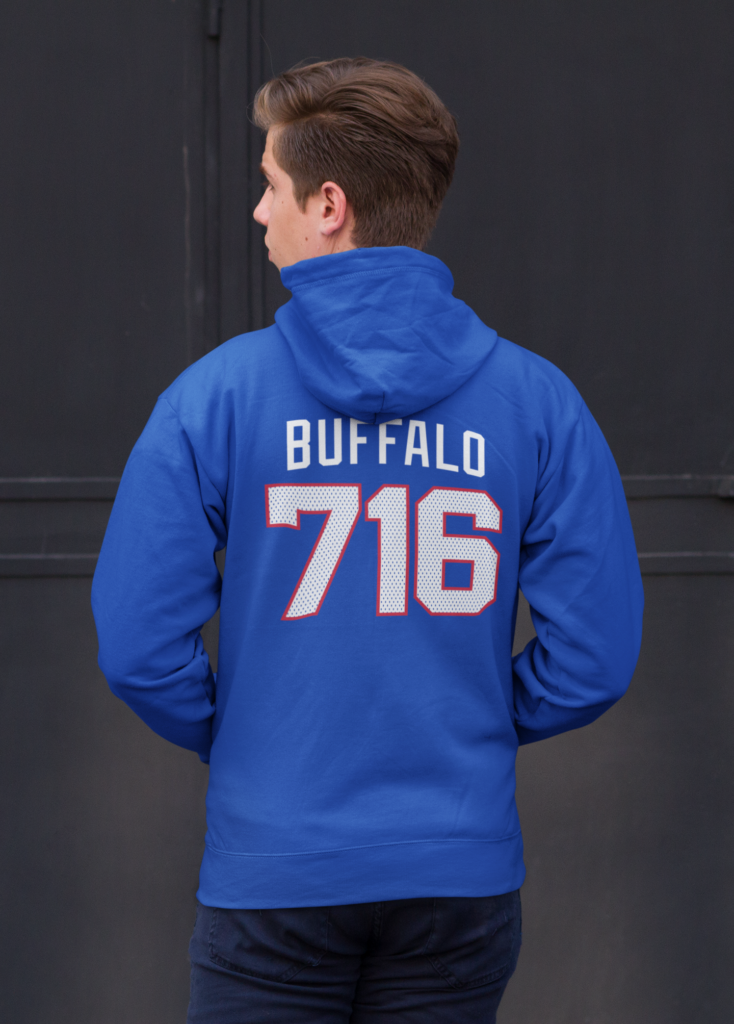 BuffaloFAMbase.com is sponsored by 26 Shirts
Every Monday, we launch a new two-week campaign of a limited edition t-shirt design. Every shirt purchase results in a donation to a local family in need. After the campaign ends, the shirt is retired. A new design is released, and a new family benefits from your fandom!