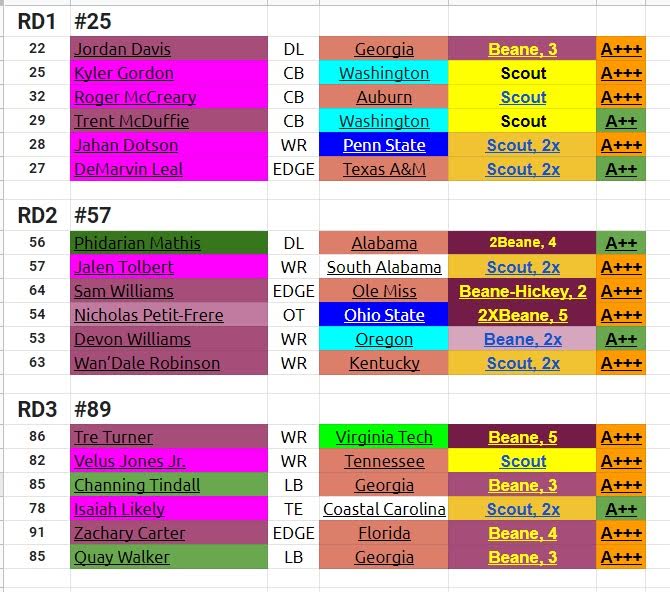 Here's the punultimate "Pick Six" to get you ready for Pro Days.
ROUND 1: Jordan Davis, the behemoth-but-quick nose tackle for Georgia, just might be within range when the Bills ready themselves to make their #25 pick. He's currently #19 on DraftTek's Big Board, and here's a list of teams that have NT as a high priority per their DraftTek team pages: Bills and Raiders. Las Vegas drafts at #22; we draft at #25, so the trade chart shows that Beane could leapfrog Vegas for the cost of a RD3. but I bet Big Baller sits tight. The Raiders need more than NT (WR, CB, DL3T), and a wideout or corner is more likely to tantalize them (and us). The Bills jet made a post-playoffs flight to A&M, and DeMarvin Leal (6'4″ 290 4.78) is the top draftable on the Aggies. Leal would have been be the final piece of a quartet of young, pressuring edge rushers for the post-Jerry Hughes-Mario Addison era, but the Bills signed the best in the business in Von Miller. Jahan Dotson (5'11" 180 4.35) hails from Terry Pegula's PSU alma mater, where the Bills visited three times this year. Dotson has played in 30 career games, making 26 starts. He's caught a pass in 29 straight games, dating back to 10/20/18. The John-Brown-sized waterbug has 26 career receptions of 20 or more yards, and has posted five career touchdown catches of 60 or more yards. Push the envelope downfield with Dotson, and your intermediate passing game –and run game–pick up. Roger McCreary (6'0″ 190 4.34) and Trent McDuffie (5'11" 195 4.38) ought to be available at #25. I like them both, but see McCreary as the higher-floor corner. He's played in a 4-2-5, is longer and faster than McDuffie, and McCreary interviews better. While it isn't a stretch to see him playing Week 1, McDuffie played in a Multiple 2-4-5 and offers some punt-return work (18.7 average). Kyler Gordon (6'0″ 200 4.3), McDuffie's sidekick on the Huskies, is likely gone by the Bills' pick. Last year, Gordon made 52 tackles, 2 TFL, 5 PBUs, 1 forced fumble, 1 fumble recovery, 1 kickoff return, and covered kickoffs like a blanket as Special Teams MVP of the Huskies. Like McCreary, Gordon's taller and faster than McDuffie, has fewer dings, and has a better personality.
ROUND 2: Nicholas Petit-Frere's Buckeyes garnered 2 Beane visits and 5 scouted games, and Petit-Frere (Deep Dive here) is 3rd on the list of OSU draftables after WRs Garrett Wilson and Chris Olave. NP-F is impressive and well-spoken; you get the idea he and Dion would get on super-well. He gained 50 pounds of good weight over the 2018-2020 season, and is now 6′ 5″, 315 lbs, per ESPN, but watch out: He's one of 4 offensive linemen to be selected to the Denny's All-Pancaker Team, allegedly paid in the form of all-you-can-eat pancakes. Three speed-demon WRs, Wan'Dale Robinson (5'11" 185 4.35), Jalen Tolbert (6'3″ 190 4.3), and Devon Williams (6'5″ 205 4.38), ought to go in this round, and all could stretch the field like Dotson. Tolbert doesn't offer return experience, but is the fastest. Williams is tall and solid, and the YAC monster will remind some of 2020 RD2 pick Laviska Shenault –and Beane went to one of Tolbert's games, and sent scouts to the other two. Wan'Dale would fulfill the McKenzie role with jiggle and juke, plus would be a return man [Watch Wan'Dale's impressive touchdown here, shown from 3 angles]. If the Bills didn't get Jordan Davis in RD1, Phidarian "Phil" Mathis would be a nice "fill" option here. DraftDive: "[Mathis] is carving out a role as an interior pass rusher. His ability to change direction and attack from different spots and even stunt is paying dividends." Mathis's hand punch is elite. EDGE Sam Williams got both Beane and Hickey at the Ole Miss game, and he obliged with 4 tackles and a sack against the likes of Neal (LT) and Ekiyor (RT) .
ROUND 3: The WR is so deep that you still have speedy Smurf Velus Jones Jr. (6'0″ 200 4.32) and Tre Turner (6'2″ 187 4.36) possibly ripe for the plucking here. You take Velus if you want to avail yourself of 2,973 yards of kick returns over his career. His 59 games played is the most of all the WRs in the draft. You take Tre Turner for his WR#1 upside. No surprise that his school drew Beane plus a whopping FIVE scout visits, compared to Velus Jones' one scout. Watch Turner's jet sweep, his fight at the catch point, and his sophisticated body and eye movement on outside shoulder catches. I'd worry about Diggs-Davis-Turner if I were a DC. Coastal Carolina's Isaiah Likely posted 5 receptions, 40 yards when they crushed Kansas in September, then 3 receptions for 21 when they beat South Alabama. At one point, Likely was getting RD2 hype, but he's settling in at RD3. The "non-Nakobe Dean" Georgia LBs, Quay Walker (6'3″ 240 4.64) and Channing Tindall (6'2″ 230 4.4), offer skillsets markedly different from Nakobe's incredible sideline-to-sideline speed. Walker's a good-sized team player with self-awareness and production. Tindall caught fire in the Tennessee game, .with a career-best eight tackles, including three QB sacks for a combined -28 yards, and forced a fumble on fourth down. He was named the Walter Camp FBS National Defensive Player of the Week for his effort. Beane has a nice edge rusher in every round, and EDGE Zachary Carter (6'4″ 268 4.86) had a monster game vs FAU as he recorded four tackles, three tackles for loss, three sacks and a forced fumble. Carter was named SEC Co-Defensive Lineman of the Week after his terrific performance. The Bills scouted Carter's very next game. He had 1 tackle, 1 assist, 1 sack.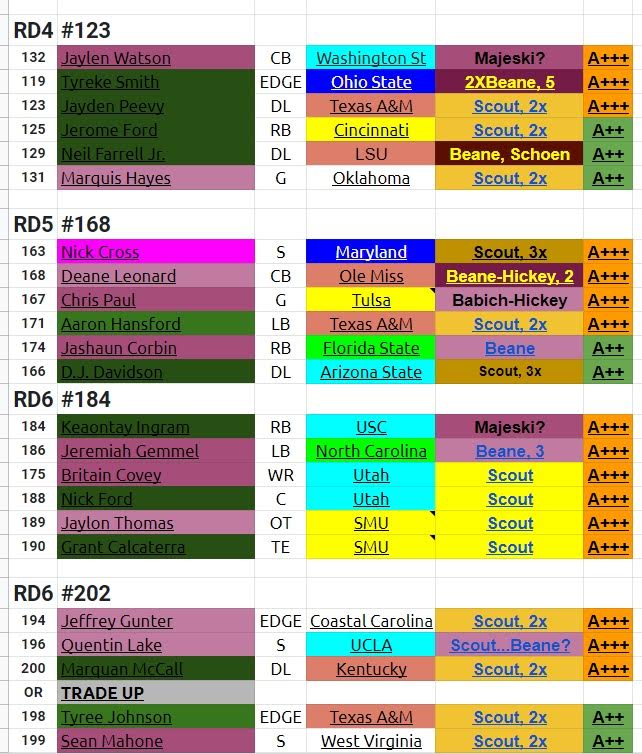 ROUND 4: Jayden Peevy (6'6″ 315 5.13) is getting some DT3T-DT1T-EDGE buzz. My notes: "Has great length. Check his arms. Mr. Dependable award this year, has INT, fumble recovery, etc. so not just a gap plugger type. Jet visit to A&M postseason." Listen to his interview. It shows savvy, confidence, and tongue-in-cheek humor that's sure to win over the locker room. More of a DT1T-DT3T, Neil Farrell (6'4″ 328 5) has more pressures per game than Peevy, and stepped up big-time when Glen Logan was injured. Shane Coughlin: "very ball-aware….sorts first-level traffic with power and aggression." If the Bills wait to select their IDL in the RD3-RD4 area, all is not lost with these guys. Likewise, Jaylen Watson is still a very nice option at CB. His length (6′ 3″, 204), 4.4 speed, strength, attitude, versatility, and tackling chops fit in quite well with the Bills' scheme. Should the Bills surprise us and not bring in a Guard via Free Agency, Marquis Hayes (6'5″ 318 5.3) shows impressive size (although he's down to a trim 318 from 336). He played LG next to Bills draft crush Creed Humphrey. Watch his arm use. He's inconsistent on the pull. Here he's too slow, and while this is better –he just needs to stay on it. This rep shows he can do it. Tyreke Smith is the EDGE to consider in this round. He's just so details-focused, so better coaching will help. Injury drops him, but attitude elevates him. Jerome Ford (5'10" 215 4.46) killed it in front of Bills scouts: 20 carries for 189 yds (9.45 ypc), and 4 TD vs UCF. Ford moves well for 220 lbs. He shows nice patience here, especially in draws up the gut. Ford demonstrates his contact balance and power here, much like Zach Moss (5-9, 223, 4.56) did. Ford has speed, too, and uses his blockers well. Does Ford offer significantly more than Moss? Only the upfront blocking will help decide.
ROUND 5: Strong Safety Nick Cross is the top player in this draft from Maryland and the only one in my top 300, so it's significant that Bills scouts saw 3 Maryland games this year after zero the year before. Cross has been termed "the ultimate glue guy" on a Terrapins team that wasn't great. It'll be his never-say-die, we're-in-this-together personality that will win over Beane. Cornerback Deane Leonard is engaging, too, and Beane-Hickey attended his game. If the Bills bring in a vet cornerback via Free Agency, Deane Leonard's selection as understudy would not surprise me one bit. Tulsa Guard Chris Paul (6'4″ 331 5.24) had some injuries, but those are behind him as he's been invited to the Combine to strut his stuff. Aaron Hansford (6'3″ 240 4.53) is one of the most impressive LBs I've seen that is not named Nakobe. He's bottom right in this interview. He's even more impressive on the field, here as a blitzer and here with his wrap-up tackling (just turn the sound down). To make the choice even harder for you, Arizona State's D.J. Davidson was a force at 1-tech in the scouted game (and occasionally on the outside; watch #98!) with 6 tackles (2 for loss) on the day. Davidson was named the PAC-12 Defensive Lineman of the Week for his performance. Jashaun Corbin, FSU's bellcow (5'11" 220 4.42) RB has one of the highest Yards After Contact per Rush (6.83 YPC/AC). He's excellent catching the ball out of the backfield, too. Corbin averaged an obscene 9.6 ypc against AP-ranked teams this year–a number he matched in the scouted game: 15 carries, 144 yds, and a TD on this play. Not on the list, but Ty Chandler of UNC (5'11" 205 4.32) is going to be a very good change-of-pace back, too. He's Matt Breida, so just re-up Breida.
ROUND 6a : Five offensive players and a LB fill the earlier of two RD6 picks. USC RB Keaontay Ingram (6'0″ 216 4.38) might make it easier for you to pass on Corbin and Chandler. Along with Master Teague III (5'11" 220 4.35), Keaontay is the only 215+ pound back who'll have a shot at a sub-4.4 forty. Formerly with the Texas Longhorns, Ingram has the right Bills-y attitude about practice. Jeremiah Gemmel is a run-stopping, high motor, solid-tackling ILB with 135 solo stops. He's captain, and thrice-scouted North Carolina is Beane's alma mater. Gemmel's Missed Tackle Rate was 3rd-best in the country, and his snaps were higher than the other two. He'll go to a team that schemes its LBs to run free to the ball. Know of any? Britain Covey is another Smurf (5'8″ 172 4.34) who's your KR, too. His 12.3 ypc against AP-ranked teams and his 1092 career KR yards make him a versatile weapon. I like how he turns north instantly here. Covey's drag-route finesse can make him a red-zone terror for a team with accurate QBs. On Day Three, watch for versatile OL guys like C Nick Ford of Utah, who has played all five spots on the Utes' O-Line. His personality and his backstory are worth the examination. Athleticism on O-Line is still available here at #184, with SMU's Jaylon Thomas, the Tackle-eligible on this screen for a 2-point conversion. Jaylon was Athlon Sports' First-Team All-AAC selection (Beane's 3rd-favorite conference thus far), but he also lettered in basketball in HS –hence the tackle-eligible play. His alma mater, SMU, was ninth nationally in 2020 in first downs (251), 14th in passing (318.0), and 14th in red-zone offense (.920). You may also see a TE at this point. TE Grant Calcaterra retired after the 2019 season due to concussions, but announced he would return to the sport in after the 2020 season. Calcaterra impressed in the scouted game: 7 catches, 91 yards and a TD grab. WR Reggie Roberson ("robber-son", not listed) might also be here to keep the chains moving and deepen up your passing game.
ROUND 6b: EDGE Jeffrey Gunter from Coastal Carolina (6'4″ 260 4.68) was scouted twice. He's one of my favorite players in this draft. He's totally a fit with the position room, a guy who you can joke around with off the field, but one who totally has your back on the field. His 55.5 pressures in 47 games is in the Rousseau-Basham stratosphere. I'd take him earlier, but he dropped to this round. Looking for a SS fit here? Another of my faves, Quentin Lake (6'1″ 205 4.46) is your DNA guy. The son of Carnell Lake has the 5th-highest solo tackles per game among safeties, and the Bills scouted all five. See if he sounds like a Bill to you. Steelers will be all over him; his Dad retired as their DB coach in 2018. Another chess piece who'll be rising up draft boards is DL1T Marquan McCall. He's a gap-plugger (6'2″ 379 5.5) who reminds me a little of Tyler Shelvin. McCall commands double teams (impossible with EdO next to you) and allow your LBs to roam free. Watch 2-3 plays. Texas A&M plays a 4-2-5, and EDGE Tyree Johnson is another defensive player on the loaded Aggies defense with Peevy, Leal, Clemons, and Hansford all worth looking at. It's Johnson, not Leal, who leads the team in sacks with eight over a four-game stretch, including two each against Alabama, South Carolina, and Auburn. Tremendous value here. Sean Mahone is the other Safety worth checking out. In the two scouted WVU games, Mahone had 18 solo tackles total. His fundamentals need work (Deked bad here, and not a tackle here), but he gets the job done (2.9 solo tackles per game in his career). My sixth option isn't a player at all. Use this pick and Pick 7A as part of a package to move up and get a player you want.
ROUND 7a and 7b: Wake Forest, the home of Boogie Basham, is where OLB Luke Masterson wreaked his brand of havoc. This is your OLB. Captain. Mild-mannered and articulate off the field, quick closer on the field. He's an excellent tackler (145 career solos averaging 3.37 per game). I like how Masterson waits for the declaration then lowers the boom. Watch this TFL from two angles: TFL, and 2nd view. Watch this little juke to fool the Guard! Wake Forest was 1st in their ACC division with a 7-1 record this year. Let's say you took a free agent WR, and you still want a pass-catcher toy with versatility and/or upside. Trevon Clark, Mike Harley, Nykeim Johnson, and Kevin Austin Jr. are all worth either drafting or bringing in as a Priority Free Agent (I like unscouted Jalen Virgil of App State here, too). Clark only made 1 catch against AP-ranked teams, so he's green, but you can't teach his size-speed ratio (6'4″ 195 4.37). Harley, a Hula Bowl invite, is your late-round chip-on-the-shoulder ACC Smurf (5'10" 180 4.32) who's pumped up: 365-pound bench press, 425-lb squat, and a 37-inch vertical. Nykeim Johnson (5'8″ 170 4.38) was scouted when he played for Syracuse. He ranked second in the ACC in KR average (23.2 yards per return), and his punt-return average was 14.1. Kevin Austin Jr. (6'2″ 215 4.32) led the independents in receiving yards with 888, and reminds me of a faster Robert Woods. Four game-scouted experienced safeties should be on Beane's shortlist: Baylor's speedy J.T. Woods (6'2″ 193 4.38, 46-game career), Iowa's football savant Dane Belton (6'1″ 205 4.46, 30 GP), Stanford's gritty, determined Kendall Williamson (6'1″ 205 4.5, 34 GP), and Michigan's special teams ace Brad Hawkins (6'1″ 218 4.46, 42 GP). Against Nebraska, Hawkins had five tackles (four solo), a forced fumble ( less than five minutes remaining in the fourth quarter) and a fumble recovery in Michigan's 32-29 win. Additionally, the Bills saw Will Adams (6'1″ 186 4.57) at the HBCU Combine and the position-versatile tackling machine Sterling Weatherford (6'3″ 221 4.58). Two QBs, maybe more, could be on Beane's list. Four Day 3 quarterbacks that would surprise me the least would be once-scouted Iowa State's Brock Purdy (66.4% vs AP-ranked teams is top 5 in the draft), Cal's Chase Garbers (also scouted once), and two I listed here: Maryland's Josh Jackson (scouted 3 games), and Aqeel Glass of Alabama A&M, scouted at the HBCU Combine. Glass (6'4″ 233 4.84) threw for 36 TD, 7 INT in 2021, good enough to win the SWAC. He posted 5 games with 400 pass yds, and Glass's 109 passing touchdowns is 11th all time in the FCS (109). He threw a TD at the NFLPA game. Hogmollies should also be considered here. I suggest DT1T-DT3T-EDGE Jordan Williams, a Clemson grad transfer, and OC LG RT Brock Hoffman, a HS wrestler, both from 5x-scouted Virginia Tech. Williams' interview is one of the best. He played NT for Va Tech in a 4-2-5 scheme like the Bills use, and while he's too light for NT in the pros (6'4″ 285 5.05), he's explosive. I describe Hoffman as a nasty Eric Wood. Beane saw both play. You can give me Lecitus Smith and Brock Hoffman to open holes like these; Hoffman's #76. Vincent Gray (6'1″ 190 4.45), the Michigan CB (great interview), and Jordan Stout, the big Nittany Lions' punter and backup kicker, round out the group.
Editor's babble: Inject this directly into my veins if the Bills draft Jordan Davis. There aren't enough words of gratitude to thank Dean Kindig for all his contributions to our blog. You can find Dean on Twitter @TCBILLS_Astro.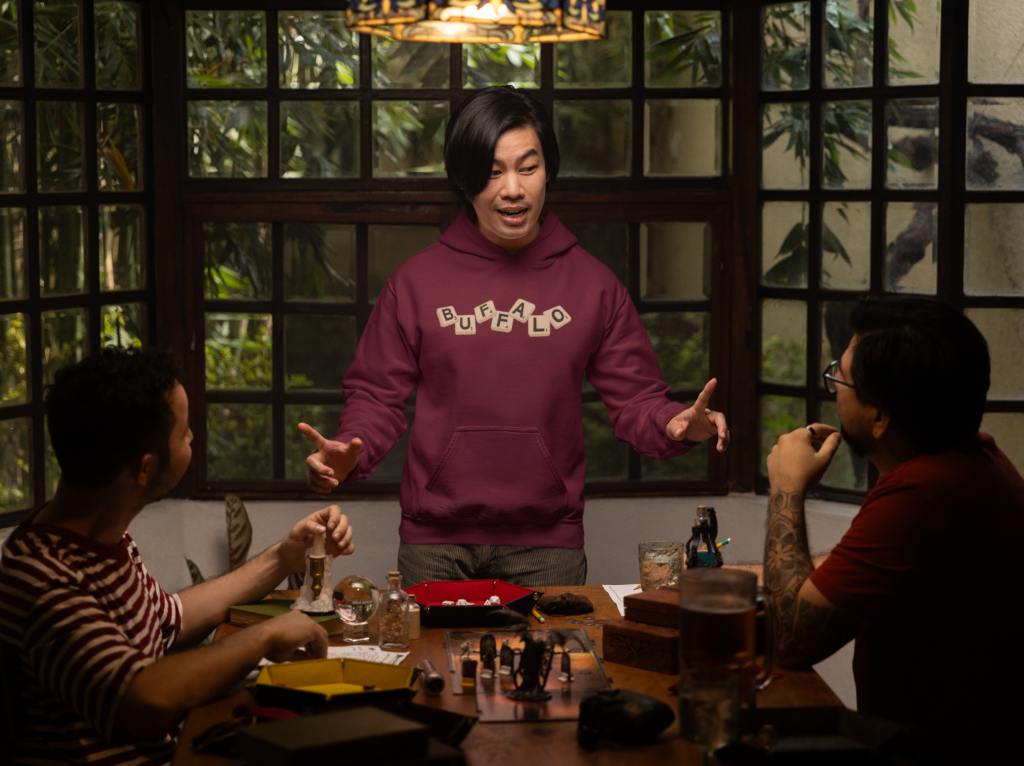 BuffaloFAMbase.com is sponsored by 26 Shirts
Every Monday, we launch a new two-week campaign of a limited edition t-shirt design. Every shirt purchase results in a donation to a local family in need. After the campaign ends, the shirt is retired. A new design is released, and a new family benefits from your fandom!