Malik Cunningham QB Louisville
A+++ Interview — Click to Hear the Best Part!
Stats
ACC
6'1″ 200 4.42
Tied for the most games under his belt (33) in my top 100 draft prospects, Malik (no longer Micale) Cunningham was quick out of the gate in 2020 with 45 pass completions (#1 ACC) and 650 yards (#1 ACC). Humble and hungry, Cunningham became the second Louisville Cardinal to top 1,000 yards rushing (Lamar Jackson). That's a lofty comparison …but is it? Malik is smarter, and turns on a dime faster.
Tim Tebow says of Cunningham: "[Malik] can make plays with [his] legs, won't force the ball into bad situations, can throw it really well." Tebow's comp is D'Eriq King: "I'm going to give the edge to Malik Cunningham because he's been in the system longer. He understands it and the system gives him an opportunity where he is able, in the play action, to run and throw and make a lot of plays. This is a run-first offense that is set up to make plays down the field…he's very dynamic." It doesn't hurt that he got to throw the ball to Tutu Atwell (Rams, RD2#57).
Lamar has proven you can go pretty far on a pair of legs, but Malik shows some nice touch, too. He ranked second only to Tua Tagovailoa in 2019 in Passer Rating when kept clean from pressure. His completion percentage has risen all three years he's played so far. Check out his numbers since his freshman year:
2018: 40/67 | 59.7 comp % | 473 yds | 1 TD/ 1 INT | 11.82 yds per comp
2019: 78/124 | 62.9 comp % | 1,466 yds | 14 TDs/3 INTs | 18.79 yds per comp
2020: 195/304 | 64.1 comp % | 2617 yds | 20 TDs/ 12 INTs | 13.42 yds per comp.
Let's watch 12 plays.
CuedUp plays to watch (#3 Louisville)
=>Master of the jet sweep, quick with his read, 0-60 acceleration
=>Reverses field instantly, shows vision and burst —2nd View
=>Boot-action naked reverse shows great cornering on them tires, LBs overcommit
=>Will go to a team with good stable of 4+ receivers that can widen the field for him –even back with Atwell.
=>Same play, but worth mentioning that Tutu Atwell has to wait for this ball that's underthrown.
=>On this long ball, also to Atwell, Malik does get it out in front of Tutu. I like the willingness of Cunningham to stay in the pocket and throw. I worry about his size if he routinely takes off and runs as a first strategy.
=>Obligatory link to Malik Cunningham throwing long on play-action to someone other than Tutu. This is Dez Fitzpatrick (RD4, Titans, cut Tuesday) vs Asante Samuel (Chargers RD2 #47).
=>Shows touch on his passes, as he drops this 3rd-and-goal corner route perfectly into the basket in front of his receiver (of course it's Tutu), where only he can get it. Superb regard for the sideline.
=>Play-design QB keeper, showing speed, toughness, and just a touch of foolhardy.
=>You'll see off-platform throws like this from Cunningham. They're great if they work like this.
=>You'll also see plays where he looks only at his first read.
=>Finally, you'll see plays where Malik throws essentially a 40-yard jump ball. This needs to be thrown deeper to your vertical threat. If you can.
What NFL Team Needs a QB Like Malik Cunningham?
I mentioned the LA Rams, who would have the WRs and scheme to work in a gadget quarterback now and then behind Stafford. They've run the highest percentage of play-action since 2017, and are my #1 bet.
We should look for teams employing plenty of plays that stretch the defense horizontally and utilizes lots of play-action. Washington is a good bet, too, as the jet motion (with Dyami Brown and Curtis Samuel) is an instant fit with the playstyle of Cunningham. What about Baltimore as a style match with Lamar Jackson? Ouch. The Arizona Cardinals run plenty of 4-wide. Dallas ran the fourth-most triple-WR formations, and Cunningham would be a fit as a better change-of-pace behind Dak than Gilbert, DiNuccci, or Rush. Finally, should I mention the Buffalo Bills? Are we really set at QB with Allen, Trubisky, Webb, and Fromm??? Remember, Trubisky may be a short-term rental, Webb will be a better coach than player, and Fromm removes the deep ball from their Smurfs. Besides, Brandon Beane just adores ACC players.
With Justin Fields' arrival in Chicago, I'd expect to see more of this, and Malik would be a fit as Fields' understudy (Dalton and Foles are just placeholders).
Who won't be in the mobile QB market? If Jalen Hurts stock falls, Philadelphia is likely to look earlier than Malik's draft position for a primary signal-caller (although those with Randall Cunningham jerseys could get an Eagles discount). The same is true for New Orleans and Denver, too. They will likely have a plan at QB before later Day Two. I don't think it's Cleveland. Cleveland isn't going to back off much from its run game, allowing Mayfield to throw out of that scheme, but Baker's not a step-back-and-sling-it QB. Then again, neither is Cunningham.
How about Jacksonville? Schottenheimer's offense in Seattle used more boots for Russell Wilson, and he's now the Jags' quarterbacks coach.
Editor's babble: Cunningham is an intriguing option as a possible backup for Josh Allen. As usual, Dean keeps us aware of who we need to keep an eye on as college football gets underway. We can't thank him enough. You can also find Dean on Twitter @TCBILLS_Astro.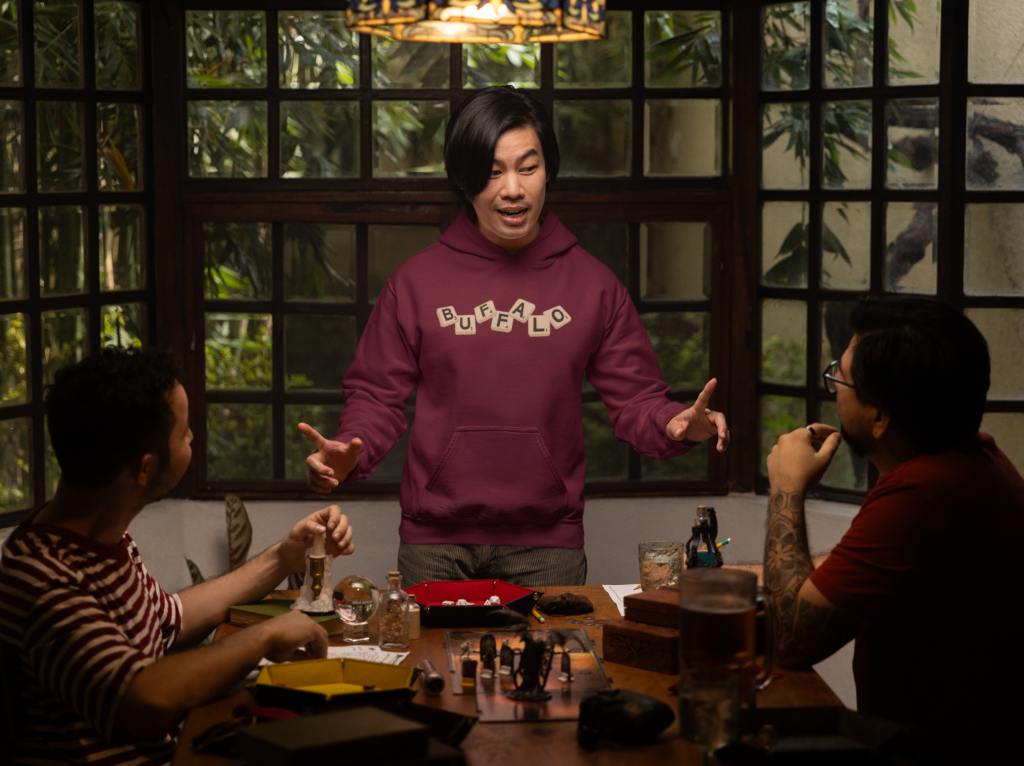 BuffaloFAMbase.com is sponsored by 26 Shirts
Every Monday, we launch a new two-week campaign of a limited edition t-shirt design. Every shirt purchase results in a donation to a local family in need. After the campaign ends, the shirt is retired. A new design is released, and a new family benefits from your fandom!