Tight End veteran Lee Smith is contemplating retirement. A veteran presence in the otherwise-young position room was exactly what the Bills needed, and why GM Beane brought him over from the Raiders. Smith, a very good blocker, added size and heft in the run game and protection for Josh Allen in the passing game. While he was not a receiving threat, his 4 catches led to 2 touchdowns —because he wasn't covered. Smith was the slowest tight end who functioned 95% of the time as a blocker, and due to the other weapons on the field, he received little attention in the red zone. He was schemed open by Daboll. If Lee Smith retires, the TE Room's average age makes it one of the team's youngest at 24.8 years, along with CB (24.4) and EDGE (23.4 if Addison goes, and Murphy/Hughes stay –that's a big if). Tyler Kroft, a free agent in 2021, would be the room's veteran.
What if the Bills actually had a big red-zone-threat TE in the mix? I'd be looking for speed, size, willingness and effectiveness in blocking, and a touchdown monster. I am also interested in which TEs the Bills scouts actually saw in 2019 and 2020. Let's see our existing TE crew, arranged from fast to slow:
Knox——– 6-4, 254, 4.54
R. Gilliam–6-1, 244, 4,62
Kroft——– 6-6, 240, 4.67
Sweeney– 6-5, 260, 4.77
N. Becker– 6-5, 264, 5.00
L.Smith—– 6-6, 265, 5.01
Average—6-5—-257——4.64
(Travis Kelce=6-4, 255, 4.61)
There has been an average of 14.3 TEs drafted over the last 3 years, and it's an above-average class talent-wise. Bet the over. There's diversity in this class, but the Bills know what they want. First, I'll sort all draftable TEs by Forty Time: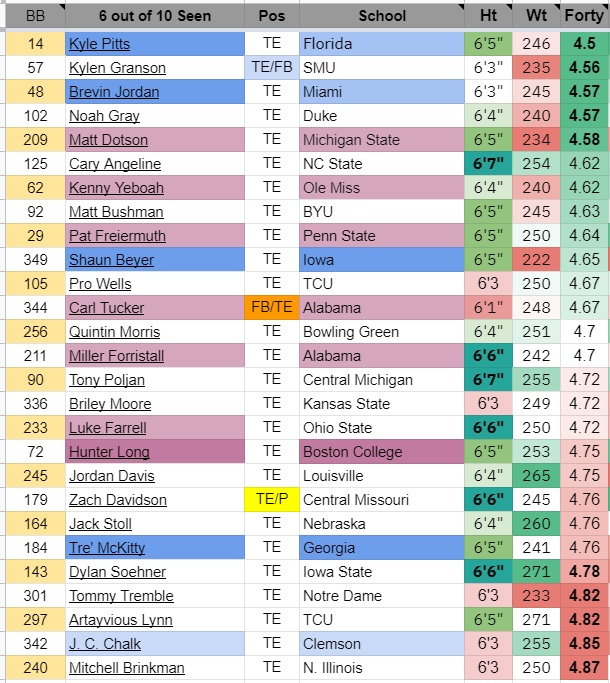 Next, I'll Eliminate TEs who haven't had a Bills scout at their games in 3 years. Purple highlights players scouted this year, and Blue highlights players who were scouted in previous years (darker blue=more recent). I left 3 unscouted players who might have their film broken down for various reasons, explained below.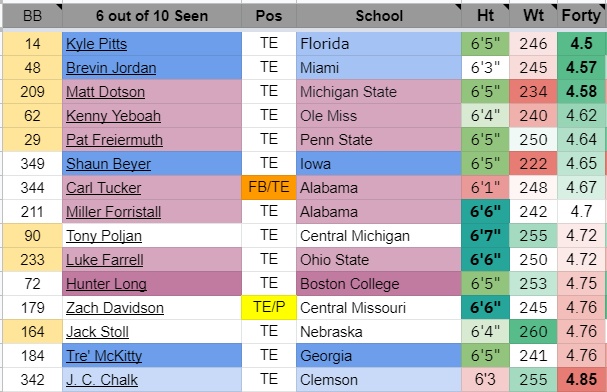 We'll remove the four lightest TEs, as they're likely replacing 265-lb. Lee Smith: Say adieu to Matt Dotson, Shaun Beyer, Kenny Yeboah, and Tre McKitty. I'm also eliminating FB/TE Carl Tucker, partly because he's the shortest TE of the bunch, but also because I still like Reggie Gilliam in that role: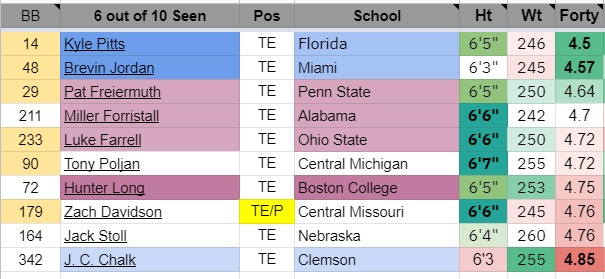 Time to lose the unscouted players, but not without a word about each. The reason I kept Tony Poljan ("POLE-gin") is his 6'7″ size and competitive productivity (12 TDs career). Beane hasn't sent a credentialed scout to the MAC yet, but he could get some looks as early as RD3. Zach Davidson also has great size (6'6″), and he's been a touchdown machine for Central Missouri. A draft-class-high 36% of his receptions have been TDs. He's also CMU's punter, and Beane covets versatility. The trick plays would be endless. Jack Stoll is a good blocker, and this play might look familiar to Brian Daboll. Those are the 3 TEs on whom Beane would be grinding tape, in my estimation. I'm also removing J.C. Chalk, returning to Clemson. He is the grandson of former Alabama coach Gene Stallings, who was Dabo Swinney's college coach. Time for us to pare this list down:

These five TEs are the most likely drafted by the Bills, in my opinion. The numberss before each name are from DraftTek's Big Board in January, plus their rank on my own board.
9 (12 on my board) Kyle Pitts TE Florida SEC
6'5″ 246 4.5
Stats=>https://www.sports-reference.com/cfb/players/kyle-pitts-1/gamelog/ Watch=>https://youtu.be/7ki_zcXIOvQ?t=16 Read=>https://withthefirstpick.com/2020/06/01/florida-football-te-kyle-pitts-extraordinary-talent-2021-nfl-draft-class/
Interview=>https://youtu.be/kSO4SbqCPT4
Pitts would be the Bills' "Whoa" pick for several reasons. First, it'd be amazing if Pitts lasted until Pick #30. My landing spot for him, unfortunately, is the Patriots at #15 or even Niners at #12. However, other pressing needs by both teams could cause him to fall. Pitts is the most athletic, a Funchess piece (pun intended). Pitts is a separation creator who gives Josh a red-zone threat (especially on play action), with "my ball" mentality. He expands the field both horizontally and vertically. Both are necessary, as the Chiefs are the gold (and red) standard. The next Bills TE needs to have Kelce's beast mode (love Pitts' stiff-arm there), speed on slants and be a terror on in-breaking routes, and be the go-to with the game on the line. It's been a while since we've had a TE who can take over a game from that position. Pitts has the most 15+ yard catches vs single coverage, and he leads in Missed Tackles Forced by extending plays (MTF is what brought Singletary and Moss to town). Not only did Pitts make the most 15+ yard catches vs single coverage by TE, his chunk plays were 3rd-most by any pass-catcher! Can he block? Yes, and that will just get better and better. Florida put Pitts in-line nearly 62% in 2019. Why wouldn't Beane pick Pitts if he were there at #30? Ironically, it might be Pitts' concussion on this illegal hit and the resulting surgery and missed games.
Fit For Bills: A+
47 (15 on my board) Pat Freiermuth TE Penn State Big10
6'5″ 250 4.64
Stats=>https://www.sports-reference.com/cfb/players/pat-freiermuth-1/gamelog/ Watch=>https://youtu.be/IrcX0cFVwE0?t=8
Read=>https://www.profootballnetwork.com/penn-state-tight-end-pat-freiermuth-a-top-option-for-2021/
Interview=>https://youtu.be/t5yS903rv9s?t=105
Let's say that you're building a Gronk. I'd start with Pat Freiermuth, whose nickname is …"Baby Gronk". How hard is that? PFF loves Freiermuth's "vise-grip hands, barn-door catch radius, and NFL-caliber inline blocking", and that pops on film. The Nittany Lion posted a TD catch every 4.6 receptions, tops in the scouted class. When watching Baby Gronk, I saw plenty of Billsy plays. Remember our "fake a block and catch a touchdown" play? Penn State lined him up everywhere, not mainly in-line like Pitts. You want your TEs to make themselves available to their quarterback, like Freiermuth does on this slant. Here, the focus at the catch point and YAC tell me that the TE from Pegula's alma mater can be relied upon to move the chains. Pat's 3.68 receptions per game is the highest in our sample. Add in Josh Allen's other weapons, and it wouldn't be fair. PFF has Freiermuth at #30, and Beane will be watching the Niners' and Pats' picks carefully, because depending what they do, Baby Gronk can be a Bill.
Fit For Bills: A+
85 (48 on my board) Brevin Jordan TE Miami ACC
6'3″ 245 4.57
Stats=>https://www.sports-reference.com/cfb/players/brevin-jordan-1/gamelog/ Watch=>https://youtu.be/ww06pCU9H1s?t=31 Read=>https://www.profootballnetwork.com/brevin-jordan-nfl-draft-player-profile-miami-tight-end/
Interview=>https://youtu.be/5PnSqkQQpJw
I have several reasons why I don't think Brevin Jordan is a great fit for the Bills, especially in RD 1-2. First, he offers less heft for blocking, so he's less versatile. He played split out more than Pitts or Freiermuth. While Brevin has speed and strength, and great contact balance, a significantly-lower percentage of his receptions went for TDs (5%), one of the lowest in the draft class, so the lack of blocking and lack of red-zone production may be off-putting. So why is he even on the list? Jordan had a top-5 YPC vs AP-ranked teams, so his level of success against top competition is appealing. It's also a stat that evens the playing field, because comparing career touchdowns can be misleading due to cupcake competition. In a year when teams will be looking at 2019's film carefully, Brevin posted 35 catches for 495 yards (14 ypc), but had a late-season injury, forcing him to miss the final four games. Still, Jordan's 19.4 and 18.2 yards per catch vs AP-ranked teams in 2019 and 2020, respectively, lead the Bills-scouted TE draft class. If he's there at #93, he's good value. Maybe. I think the blocking will be an issue.
Fit For Bills: B-
111 (93 on my board) Hunter Long TE Boston College ACC
6'5″ 253 4.75
Stats=> https://www.sports-reference.com/cfb/players/hunter-long-3/gamelog/ Watch=>https://www.youtube.com/watch?v=CKYZyJpC8hk
Read=>https://www.profootballnetwork.com/hunter-long-nfl-draft-player-profile-boston-college-tight-end/
Interview=>https://youtu.be/dU5EsVOQrFA?t=18
Paired with QB Phil Jurkovec, Hunter Long was 5th in his draft class in career yards with 1297 (Dawson Knox had 605). Tied with Freiermuth for the second-most career touchdowns (16), Long is a smooth route runner with a sophisticated understanding of coverages to be a seam bandit. Talk about chunk plays: A class-leading thirty-four percent of his career receptions accounted for more than 15 yards. Long started to emerge after the graduation of Tommy Sweeney (hello!), then broke out in 2020. Throughout the season, Long has been one of the most consistent targets for BC's new passing offense, and connected so well with Jurkovec. He demonstrates athleticism and focus that makes him a reliable contributor. Said head coach Jeff Hafley: "Hunter has been a terrific ambassador on and off the field for our program".
Fit For Bills: A
233 (198 on my board) Luke Farrell TE Ohio State Big10
6'6″ 250 4.72
Stats=>https://www.sports-reference.com/cfb/players/luke-farrell-1/gamelog/ Watch=>https://youtu.be/AitTx7Cm7ik
Read=>https://thedraftnetwork.com/player/luke-farrell/iIam94CjRa Interview=>https://youtu.be/4L0oFJIVfdw
McBeane, and BillsMafia will be instantly attracted to Luke Farrell's personality. His coaches describe him as "quiet, extremely coachable, driven, hard worker, but not somebody who would brag or be boisterous." The team will enjoy Farrell's good sense of humor, and he gets along well with his teammates. I can't help but say he looks like he could be a brother of Josh Allen's. While Farrell's not fast, he's exhibited top-shelf red-zone production (Second to Freiermuth in career touchdowns per game). His personal-best chunk play is only 44 receiving yards, one of the lower numbers in our sample, so his lack of breakaway speed is a factor., Moreover, Farrell benefits from the team around him, including his quarterback, so there's that.
Fit For Bills: A
312 (201 on my board) Miller Forristall TE Alabama SEC
6'6″ 242 4.7
Stats=>https://www.sports-reference.com/cfb/players/miller-forristall-1/gamelog/ Watch=>https://youtu.be/yamMjtx48XM
Read=>https://draftnastymagazine.com/ncaa-fb/miller-forristall-te-senior-alabama-2021-nfl-draft-preview/
Interview=>https://youtu.be/ToCXRLlYqdM
If you want to be a part of The Process, be sure to honor Christ, your family, and mention your team name in the first sentence of your interview! The humility and affability of Forristall comes through loud and clear. So does his blocking; he's extremely aggressive and packs a powerful punch in his run-game blocking. This is particularly important, as Daboll would be losing a very good blocker in Lee Smith. I'd compare Alabama's use of Forristall to Smith in the way both TEs were used. They lull you to sleep with block after block, then slip behind the defender, like 'Bama did with Forristall in the Citrus Bowl. I also like his toughness: Forristall had unexpected major throat surgery following the Arkansas game Oct. 26, 2019, missed the rest of the regular season, and returned to score a TD in the Citrus Bowl on New Year's Day. He has the height and red-zone effectiveness for Day 3 value. He's above-average athletically, and an underrated pass-catcher. As a FB, he can drag the defender an additional 3-5 yards for a critical first down. I see an Offensive Coordinator like Brian Daboll having fun with Forristall. Here, Forristall #87 lines up in the backfield on a first-and-goal, fakes a block to his left, pivots right, and motors through the Ole Miss Free Safety for the go-ahead touchdown.
Fit For Bills: A+
A footnote about the almost-forgotten 2019 RD7 TE Tommy Sweeney, Hunter Long's predecessor at Boston College. While he had a rough second year with a foot injury, then COVID, and its associated inflammation of the heart muscle known as myocarditis, Sweeney still has a place in the Bills' plans. I said when we drafted Sweeney at /#228 that Sweeney might be the best pure blocking TE in his class, the pure grit-and-perseverence type that Beane and McD are drawn to. If the Bills don't draft a blocking/red-zone playmaker TE, it just may be he's already on the team, a result of the great Day 3 scouting we've seen in the past.
Editor's babble: Let this be the year the Bills finally have a stud-TE on the roster. Many thanks to our dear friend Dean Kindig, draft guru, for his many contributions to our blog. You can find Dean on Twitter @TCBILLS_Astro.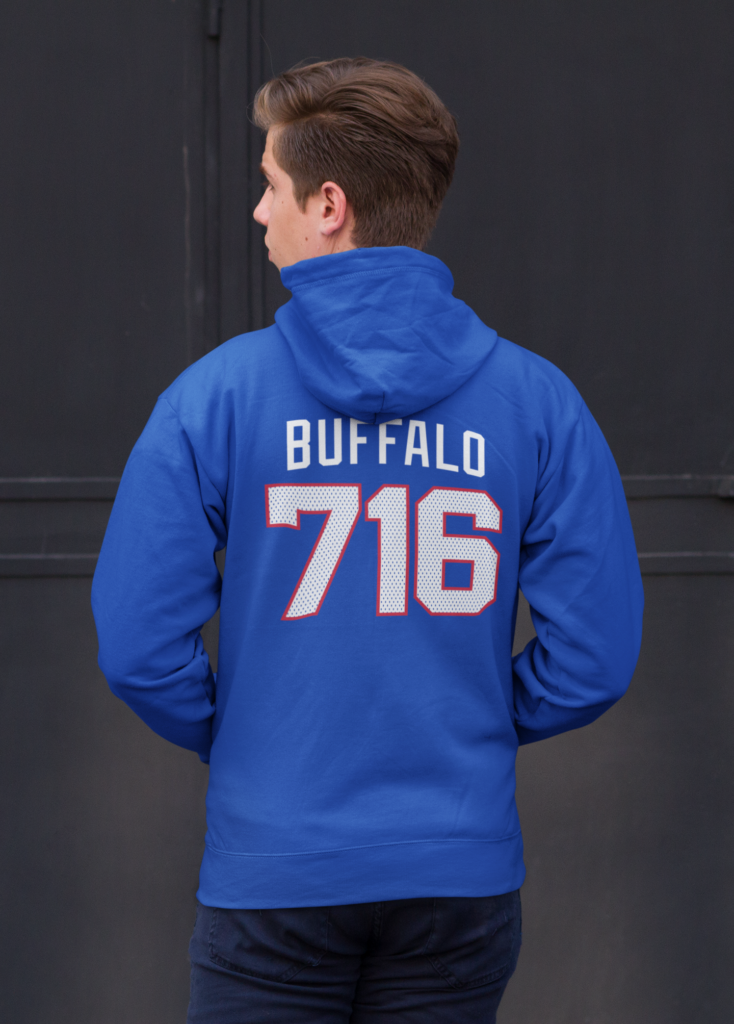 BuffaloFAMbase.com is sponsored by 26 Shirts
Every Monday, we launch a new two-week campaign of a limited edition t-shirt design. Every shirt purchase results in a donation to a local family in need. After the campaign ends, the shirt is retired. A new design is released, and a new family benefits from your fandom!