"We're going to have to draft well, that's first off," Beane said at his end-of-season press conference, warning that a free-agency feeding frenzy was not in the offing: "We'll have to see how many of the guys we can retain…it's really going to be plugging some holes." RD7#239 CB Dane Jackson, the Bills' rookie from Pittsburgh, got plenty of love from the GM: "He'll have every opportunity next year to not only win a spot, we'll see who starts opposite of Tre (White)," Beane said. I swore he winked.
CB Levi Wallace, 26-year-old RFA, was at his best in Week 2 @ Miami (7 tackles), and Week 3 vs the Rams (6 tackles, 1 INT). He then missed 3 weeks on I.R.(ankle), and returned to have the most success Week 13 against the Niners (7 tackles). He nabbed a Week 14 INT vs Pittsburgh, and averaged 3 tackles down the stretch. All told, Levi's 2020 stat line was 34 tkl-1 TFL-8 PBU-2 INT. The former UDFA has quietly built a 3-year career of 124 solo tackles in 3 years, 6 TFLs, and 4 INTs. Wallace will likely battle Jackson for the bookend spot vs Tre White. UFA veteran CB Josh Norman, whose stat line was 21 tkl-2 TFL-4 PBU-1 INT, may be saying goodbye at age 34. NCB Taron Johnson (70 tkl-5 TFL-7 PBU-1 INT) will be a UFA a year from now, as will his backup NCB Siran Neal (4-0-1-0). SS Jordan Poyer (85-14-5-2) signed a well-deserved two year, $19.5M contract extension with the Bills on March 17, 2020, and has a promising but virtually-untried backup in SS Jaquan Johnson. Poyer's sidekick is FS Micah Hyde (48-1-5-1), who becomes a free agent next year. Beane noted that "I didn't see any decline in Micah;, I'm a big fan of Micah Hyde…[he'll] still play for years in this league if he wants to." Unsurprisingly, the Bills released CB E.J. Gaines.
At minimum, you're looking at a CB and a FS drafted by the Bills, and quite likely a hybrid, fast, big, athletic, NCB with Kelce-killer acumen. An average of 49 DBs (including CB, FS, SS, and combo-plate specials) are drafted each year. Bet the over this year.
Let's start with a list of all DBs who have been seen in at least one game by Bills scouts in the last 3 years. They're arranged by DraftScout's "Low" forty time, as these are close to Pro Day times. Purple highlights are used for 2020 games, and darker purple shows more than one game scouted. Blue is for last year and the year before (light blue):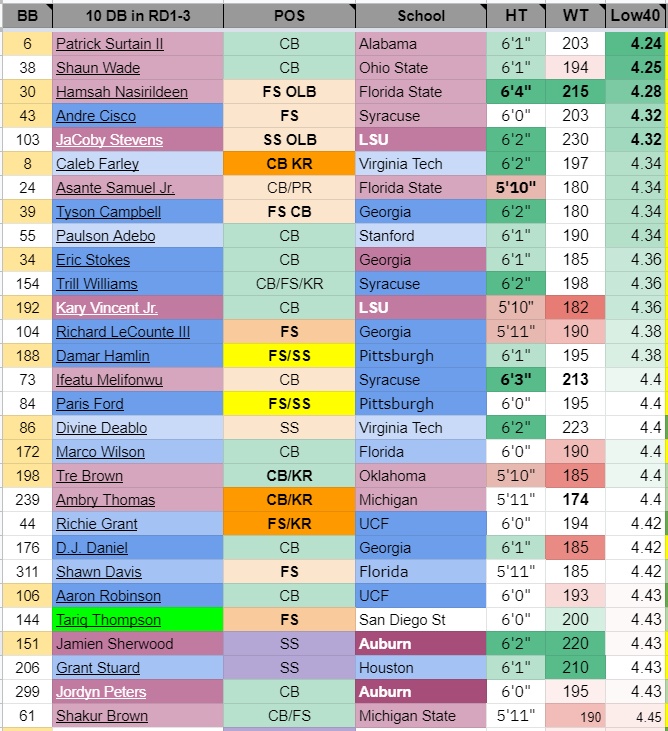 Career Games Played has been a factor in the Bills' selection of defensive backs. For example, Tre White played in 48 games, Dane Jackson in 46, Taron Johnson in 47. What with uneven games played due to COVID, it's not unrealistic to eliminate DBs with under 27 games played, but I'm keeping the 3 local Syracuse kids regardless. It does eliminate Adebo, Ford, DJ Daniel, and others.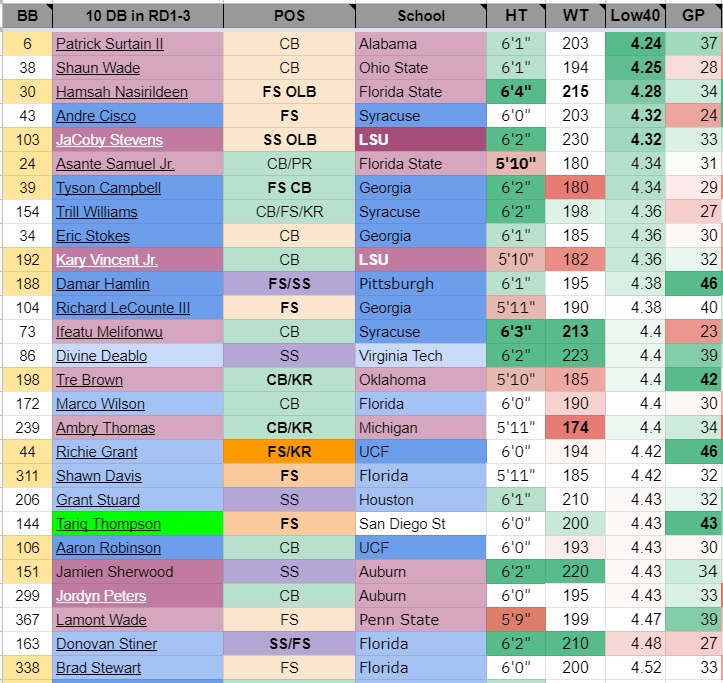 Next, let's eliminate those light-blue, 2018-scouted schools. No scouts returned to those colleges' games in 2019 or 2020 after drafting a player in 2018.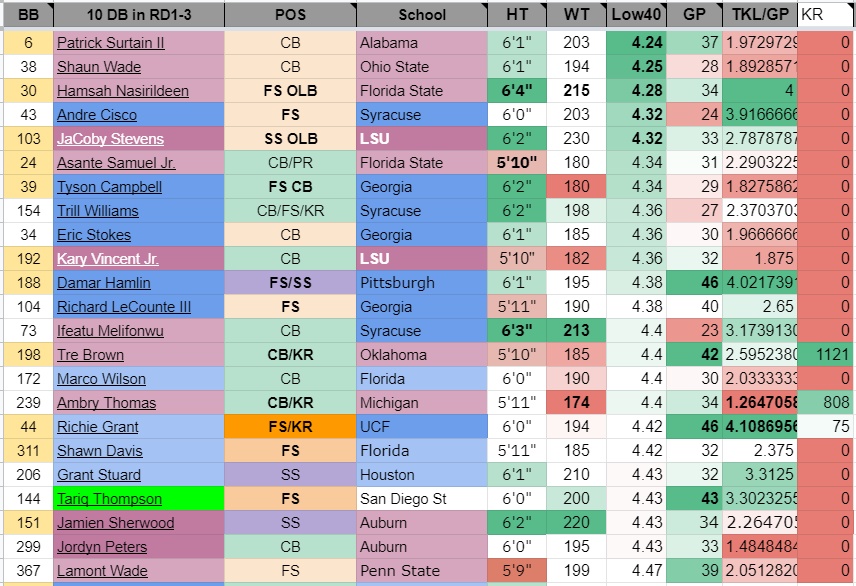 We'll require Career Tackles to be 63 or more. Tackling is more important in the Bills' current scheme, so we'll set a cutoff at 63 or more. The outlier is Shaun Wade, and while he stays on the list, that's a tick against him in our scheme. It does eliminate Tyson Campbell, Eric Stokes, and Kary Vincent Jr., though.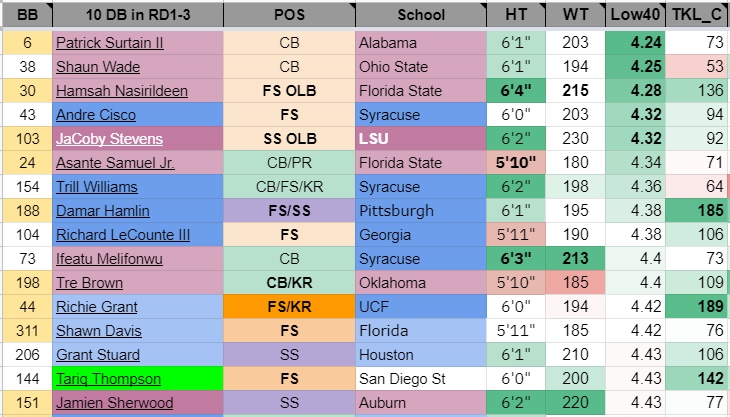 Next, we'll match the Bills' physical archetype for their DBs, which is 5-11 or taller, and about 190 pounds (White, Norman, Poyer, and T. Johnson are all within 2 lbs). I've also eliminated Day 1 and Day 2 SS types, although those are in play in RD 5-7.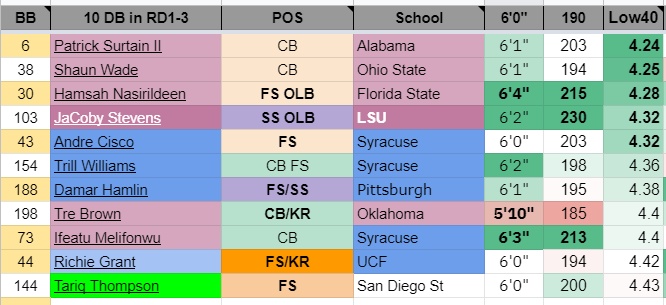 Finally, I'm discarding some players who don't primarily play CB or FS. I'll assume the Bills aren't trading up into the top of RD1 for the 5-10, 180-lb. Surtain, and I'm reluctantly pulling Jacoby Stevens from this list (not my OLB list). I love Stevens, but he's a OLB-SS, more of a Milano than a Poyer. Remember, Milano was that same OLB-S combo plate. I am also reluctantly pulling Tre Brown from the discussion here, as I think he's more of a Kick Returner than a CB. Tre Brown's one of the best kick returners in a while, but we'll leave that for the Special Teamers list.

There you have it. Let's look at the remaining CBs first: Wade, Trill Williams, and Melifonwu. The numbers preceding each name are their position on DraftTek's Big Board and my personal big board. Beane has drafted 7 new Bills from the ACC, more than any other conference, including Jaquan Johnson, Dane Jackson, and Tremaine Edmunds on defense. Other colleges from which Beane has drafted defense include the AAC (Ed Oliver) and the Big Ten (Epenesa). Taron Johnson was from the Big Sky Conference and Siran Neal was from the SWAC, so the Bills scouts get around. The PAC-12 sourced us Horrible Harry, and Doug Whaley's fave, the SEC, gave us only one defender, Vosean Joseph –and he's no longer with the team.
65 (38 my board) Shaun Wade CB Ohio State Big Ten
6'1″ 194 4.25
Highlights=>https://youtu.be/yXJuIOdu0pc
Read This=>https://www.profootballnetwork.com/cb1-in-2021-nfl-draft-shaun-wade-vs-patrick-surtain-jr/
Stats=>https://www.sports-reference.com/cfb/players/shaun-wade-1.html
Wade opted back into the 2020 season after the Big Ten announced their intention to play a season. Comparing Wade with Surtain in their fit for the Bills, Wade is faster, more versatile, an effective blitzer, and is far superior in run support. The nod for length and ball skills goes to Surtain Jr. Now, Wade has fallen from an early #7 on our Big Board to No. 65. Why would the Bills take him in RD2 or in a drop-down scenario? Wade dropped due to some growing pains transitioning to an outside role, but he was aces playing from the slot, the place where he could latch onto the Bills. Wade allowed a passer rating of under 70 in both 2018 and 2019. The Bills could look to DBU's first Big Ten DB of the Year for their next man up. Despite his fall from RD1 grace, Wade still has a ton of upside as an NFL prospect, especially if you need a Nickel Corner, and especially if you draft a Big Ugly in RD1.
Fit For Bills: A
168 (93 my board) Trill Williams CB FS Syracuse ACC
6'2″ 198 4.36
Highlights=>https://youtu.be/sAK4QXFibEg?t=20
Read This=>https://insidetheloudhouse.com/2020/09/19/syracuse-football-trill-williams-andre-cisco-nfl-talents/
Stats=>https://www.sports-reference.com/cfb/players/trill-williams-1/gamelog/
Talk about versatility. Trill Williams has played 7 positions in his football career: slot corner, free safety, OLB, PR, tailback, WR, and QB. I'd put him at tall slot corner for the Bills. Why would the Bills draft Trill Williams (or both Trill and Andre Cisco, reviewed below) off a 1-10 Syracuse team? Syracuse's primary defense is the Cover-2, which is a fit for the Bills, and they play quite a bit of 4-2-5. Second, Williams' first 4 specialties, NCB, FS, OLB, PR are all needs for the Bills. Finally, 'Cuse widens the Bills market further down the Thruway. Trill is physical and confident, bordering on cocky. Swagger won't be a problem. His highlight videos seem to have more posturing than plays, but the INTs are top drawer, and his special teams plays are, too. Williams interviews extremely well. Trill would be a thrill if he made it to the Bills' RD3#93.
Fit For Bills: A
73 (61 my board) Ifeatu Melifonwu CB Syracuse ACC
6'3″ 213 4.4
Highlights=>https://youtu.be/2a0TdPb_e84
Read This=>https://www.profootballnetwork.com/ifeatu-melifonwu-nfl-draft-player-profile-syracuse-cornerback/
Stats=>https://www.sports-reference.com/cfb/players/ifeatu-melifonwu-1.html
The requirements for a Kelce-Killer would be long, rangy, fast, aggressive, and athletic. Melifonwu has those qualities. He begins with that athletic upside (running back, receiver, and cornerback in HS), length for miles (almost 6-3, Wingspan: 80 1/8″), and physicality to dominate on defense (Sr. Bowl with two PBU and three tackles). In 2018, Iffy began where the Bills would start him, on special teams, but an injury gave him his break, and he latched onto it, with four pass breakups as well as a tackle for loss. Melifonwu ramped up in 2019 with 20 tackles, two INTs, and seven PBU in only 9 games as redshirt sophomore. This year, Iffy was a shining star. Despite his Orange going 1-10, Melifonwu had 54 total takedowns, 3 TFL, a sack, an interception, and 6 pass breakups. Iffy's length is a strength, allowing him to blanket TEs and WRs in man, and he has the speed and wingspan to be a dangerous defender in zone. You'll love Melifonwu's disruptive and physical style, but it isn't reckless. He has a good start on savvy play, such as the ability to recognize "tells" pre-snap and during the receiver's route running, and how to anticipate and jump in-breaking routes. Iffy's ceiling isn't iffy; while he's somewhat raw now, he has an extremely high upside. He's remarkably engaging in his interviews.
Fit For Bills: A+
The others are mainly FS. Tariq Thompson I'd play purely at Free Safety, while Grant would add Kick Return abilities. Either Andre Cisco or Damar Hamlin could flip-flop as a disguised FS-SS, and remember, McBeane adores flexibility. Hamsah Nasirildeen is a SS-OLB like Jacoby Stevens, but the reverse: more of a Poyer than a Milano. Trill Williams is a FS who I bet can play CB equally well.
63 (30 my board) Hamsah Nasirildeen FS OLB Florida State ACC
6'4″ 215 4.28
Highlights=>https://youtu.be/qCgGUjcAR54?t=35
Read This=>https://thedraftnetwork.com/player/hamsah-nasirildeen/qJEmQ0CLFV Stats=>https://www.sports-reference.com/cfb/players/hamsah-nasirildeen-1.html
After suffering a season-ending leg injury a year ago, Florida State Safety Hamsah Nasirildeen missed the team's first seven games of the year, suffering an injury in the 2019 regular-season finale against Florida. He attacked his rehab, playing only 2 games in 2020: NC State and Duke. He explains in this part of a Zoom interview how he helped despite not being able to play, and that impressed me. He didn't play in the scouted game. Nasirildeen was Mr. Versatile on FSU's remolded hybrid defense, playing that Milano-esque safety-linebacker role. strong junior season, with much of his success coming from stopping the run, a great fit with what Buffalo does. He was a first-team All-ACC Safety alongside Levonta Taylor. Nasirildeen has speed (4.3), size (6'4″, 215), physicality (one of only 3 FS with a career of over 4 tackles per GP). The advantage of an aggressive, 6'4″ safety in the box is obvious. He has the run game addressed by his position, and the passing lanes closed up by his length. Nasirildeen is a natural run defender, totaling 91 tackles in 2018 and over 100 in 2019, top 3 in this draft class. Any team that takes a chance on the former Seminole will be glad they did.
Fit For Bills: A+
43 (43 my board) Andre Cisco FS Syracuse ACC
6'0″ 203 4.32
Highlights=>https://youtu.be/6kSpUHQivFs
Read This=>https://www.profootballnetwork.com/syracuse-safety-andre-cisco-poised-for-college-football-stardom/
Stats=>https://www.sports-reference.com/cfb/players/andre-cisco-1.html
Long Island guy who goes to 'Cuse…what's not to like? Cisco has ridden a steadily-upward vector since he arrived. In 2018, his 9 passes defensed had him #6 in the ACC. In both 2018 and 2019, he led Beane's favorite conference, the ACC, in INTs –12 INTs over last 2 years. Cisco fits the Bills in that he has demonstrated palpable success both in the box and as a boundary safety. He began his career playing in the box but was asked to cover more ground on the back end as his career progressed. Cisco's interview, along with Melifonwu's, is one of the more impressive of this group. Strength matters more on the D-Line, but Cisco can reportedly bench an entire Mitch Morse — over 300 lbs.
Fit For Bills: A+
247 (my board 188) Damar Hamlin FS/SS Pittsburgh ACC —-DRAFTED BY BILLS
6'1″ 195 4.38
Highlights=>https://youtu.be/497CUlC9mDE?t=23
Read This=>https://www.post-gazette.com/sports/Pitt/2020/01/15/Pitt-safety-Damar-Hamlin-granted-extra-year-of-eligibility-will-return-for-2020-season/stories/202001150150 Stats=>https://www.sports-reference.com/cfb/players/damar-hamlin-1/gamelog/
Versatile Safeties are an advantage in the gamesmanship that Leslie Frazier's defense employs, and communication with your corners is equally important. That's why Damar Hamlin is on my short list. He brings experience (an ACC-most 46 career starts) and stable production against the run and pass (17 games of 5+ tackles, a career 185 tackles and 21 pass breakups). Damar's former teammate, CB Dane Jackson, is already on the Bills. Fierce in the red zone (watch 2 plays), Hamlin is also an effective blitzer with the 2nd-most TFL/GP of all free safeties in this draft. He's quiet and laconic, short answers only in his interviews. Here, he talks about defending WRs and TEs with size. Hamlin speaks softly (I guess he lets Paris Ford do the yacking), but carries a big stick with the safety blitz.
Fit For Bills: A
29 (my board 44) Richie Grant FS/KR UCF AAC
6'0″ 194 4.42
Highlights=>https://youtu.be/EY1Saec0HOk?t=19
Read This=>https://thedraftnetwork.com/player/richie-grant/EHs8bd6C9z
Stats=>https://www.sports-reference.com/cfb/players/richie-grant-1.html
The Bills like to employ their safeties as blitzers, and that's the chief reason Richie Grant would be on the Bills' radar. Grant has the highest Tackles For Loss Per Game Played of all the draftable free safeties (Hamlin's second). Another plus for Grant is that he played opposite our big WR Gabriel Davis in practice every day. His KR skills are also a bonus. The Bills would be getting a ballhawk who in 2018 was 3rd in INTs in the NCAA with 6 snags. He was 2nd in solo tackles that take your breath away –or take the ball away— so you'd get a pass-run balance on your defense. Per his coaches, he was working on speed, strength, proper alignment, and trust (i.e., not getting DPI flags), but all of these are improvable except the speed. He doesn't interview as well as these others.
Fit For Bills: B+
138 (my board 144) Tariq Thompson FS San Diego St Mountain West —SIGNED BY BILLS
6'0″ 200 4.43
Highlights=>https://youtu.be/yvrLQzswDuc?t=31
Read This=>https://www.nfldraftdiamonds.com/2020/06/tariq-thompson/ Stats=>https://www.sports-reference.com/cfb/players/tariq-thompson-2.html
I have to throw an educated guess into the mix, and it's Tariq Thompson. Here's why: Heath Farwell's alma mater, 3000+ Defensive Snaps, 250+ Special Teams Snaps, Punt Returner, Ball Skills/Range/Length, Turnover Machine (12 INTs, 7 Forced Fumbles), First-Team MWC, only 3 Penalties in 3,013 Snaps. Thompson has locked down free safety and slot cornerback roles for SDSU over 3 seasons and 47 starts (0 missed games), offering solid technique as a open-field tackler and run defender. He is a proven ballhawk and playmaker in the secondary while also owning 121 tackles over 3 years. Tariq finished 2019 with 55 tackles, 4 interceptions, three fumble recoveries, and 8 pass breakups. His interview was impressive. Book him at the RD5#144 or #157.
Fit For Bills: A
Editor's babble: This list should please the Cuse fans. Many thanks, as always, to dear friend and draft guru Dean Kindig for his invaluable contributions to our blog. You can find Dean on Twitter @TCBILLS_Astro.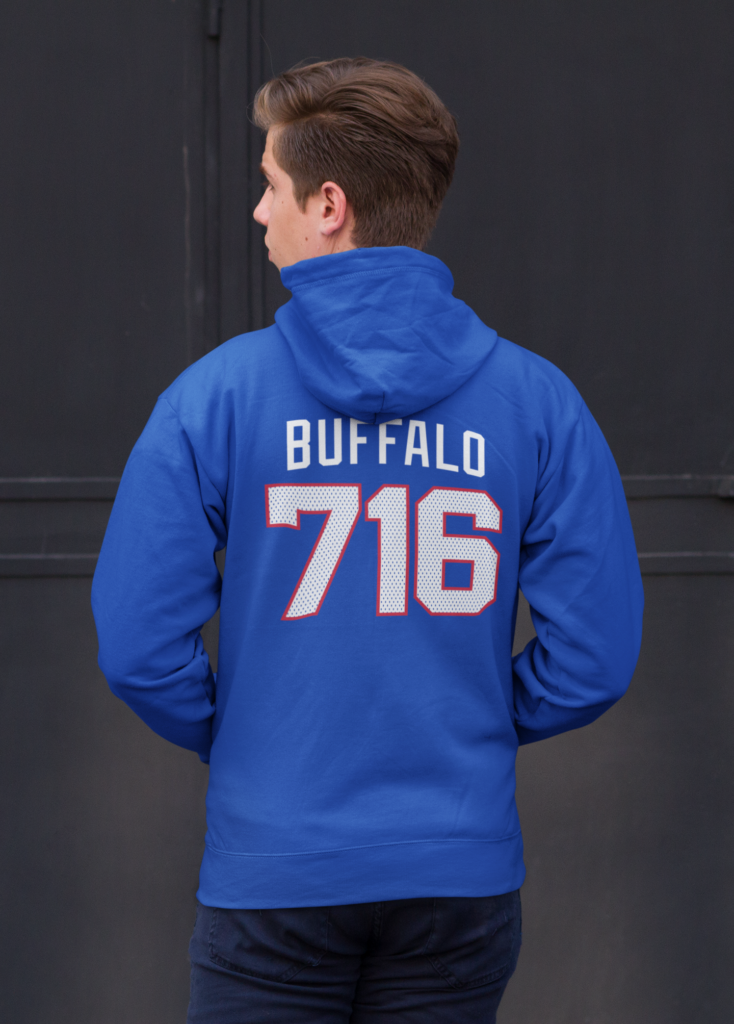 BuffaloFAMbase.com is sponsored by 26 Shirts
Every Monday, we launch a new two-week campaign of a limited edition t-shirt design. Every shirt purchase results in a donation to a local family in need. After the campaign ends, the shirt is retired. A new design is released, and a new family benefits from your fandom!