There were only 17 Wide Receivers whose games were scouted by the Bills scouts this year, lower than last year by a mile, but you get that feeling the WR room is still baking in Brandon Beane's brick oven. Since Brandon Beane mentioned adding speed, let's start our elimination game by sorting this year's WR Draft Class by my anticipated forty times at their upcoming Pro Days: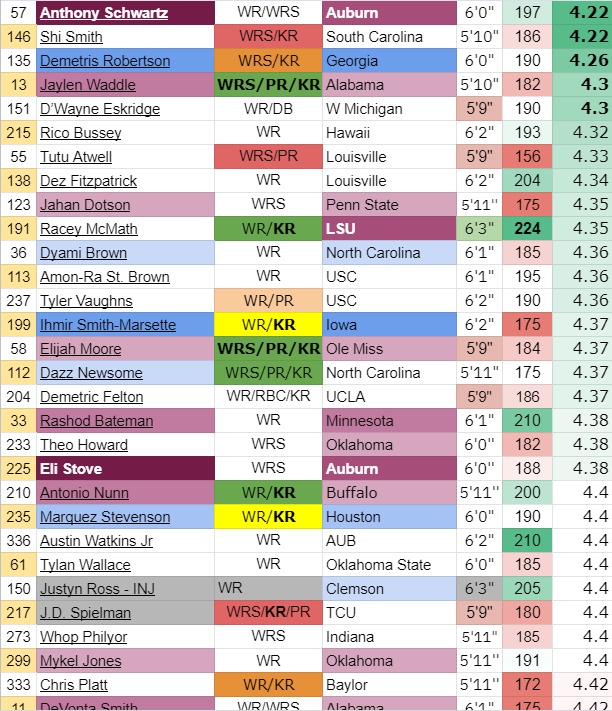 Those WRs highlighted in in purple were scouted this year, and blue-highlighted players were seen within the last 2 years. I'll add two unscouted players that excelled at kick return, since 33-year-old Andre Roberts is getting up there (Who am I kidding? I have socks that old), and you don't want Micah Hyde being the primary kick returner:
Now, let's re-sort that same list by their Yards Per Catch against AP-ranked teams last year. I chose last year because of the pandemic curtailing the 2020 season (altering 2020 stats), plus 2019's performance determines who you send scouts out to evaluate: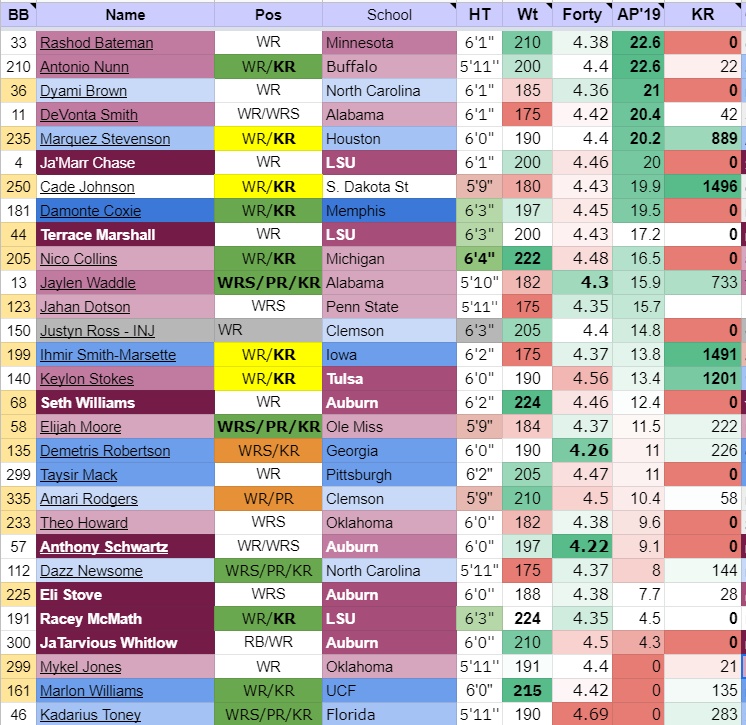 I'll chop the bottom half off that list: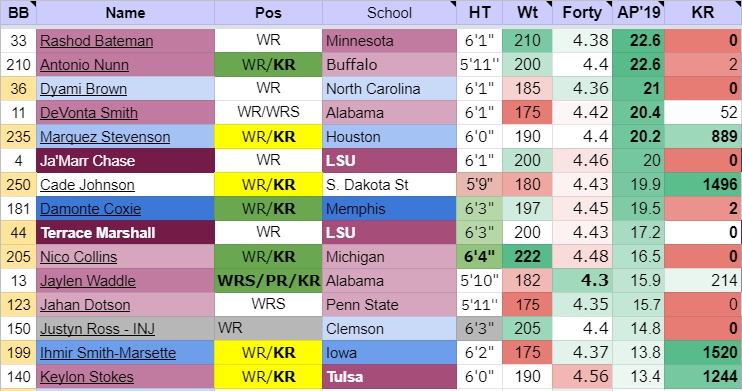 Looking at the wide receivers who've had scouts at their games, you have considerable interest in speed merchants (Bateman, Dotson, Waddle, Smith-Marsette), some guys who played mostly in the slot (Nunn, DeVonta Smith), and some guys with bully red-zone size (Marshall, Collins). Next thing to do is stop dreaming about Top-10 picks Chase and Smith, and just take them off our board. I'm also removing Smith-Marsette, although he'd still be on my board in RD6B-7. His arrest for DWI will drop him into Beane's risk pool, but his draft-class-leading 1520 career return yards will make some GM take a flier on him. Here's the result:

I'm now looking at just the receivers that were seen this year. The pandemic caused the Bills scouts to be called off the road on March 12, but Chase Goodbread and others reported that Bills scouts attended 11 games as early as 9/12/2020 and as late as 12/5/2020. Here's who they saw: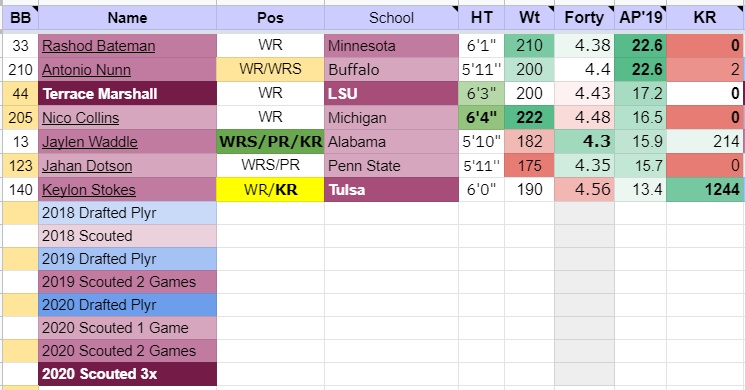 So, let's consider the receivers we have left here, and how they might complement an already-strong WR room:
Jaylen Waddle ( 5'10" 182 4.3), 15.9 YPC vs AP-Ranked Teams in 2019
Alabama
His surgery to repair a fractured ankle drops Waddle a bit. His stats were low in 2019 because Jerry Jeudy, Henry Ruggs III, and Devonta Smith all got touches ahead of him. The loaded WR class takes care of the rest of the drop to #30. Could happen. Cole Beasley (5-8, 175, 4.54) turns 32 before training camp, and the Bills could be looking for a dynamic slot receiver for the long run. Waddle's three best qualities are his explosiveness, open-field elusiveness/separation almost in the Diggs range, and SLOT/PR/KR experience. If you Frankenstein the best qualities of Smoke Brown, Isaiah McKenzie, Andre Roberts, and Cole Beasley together, that YAC monster is Jaylen Waddle. His YPR in 2020 is an obscene 22.3 yards per kick return, which was #1 in the feisty SEC. Moreover, Waddle's career punt-return yards is tops in the entire NCAA, with 733. His yards from the slot among all WRs in the Power Five conferences is the best.
Rashod Bateman (6'1″ 210 4.38), 22.6 YPC vs AP-Ranked Teams in 2019
Minnesota
Bateman opted out early this season, but he's a late first-rounder, with the highest Yards Per Route Run. He was top 4 in Yards Per Catch vs AP-Ranked Teams in 2019 (along with Bills-scouted WRs Osirus Mitchell of Miss State and Antonio Nunn of our own Buffalo Bulls). I've seen comparisons to LSU receiving greats Jarvis Landry and OBJ. His three best qualities are excellent hands, body control, and laser focus at the catch point. While I would welcome Bateman to the Bills with open arms (all 42″), here's the problem with going WR in RD1: no room. Bateman lined up as outside receiver (3.6 yprr) with Olave and Tee Higgins, and who are you going to bench? Yes, I've heard that Smoke Brown may be gone, but that puts Gabriel Davis on the bench if you go and make that mistake. If you use Bateman only in 5-wide, you're missing out on his amazeballs 2019 stat line of 86 catches for 1,318 yards and 13 TD.
Terrace Marshall (6'3″ 200 4.43), 17.2 YPC vs AP-Ranked Teams in 2019
LSU
Marshall did play in 2020, and his Rec Yds on a loaded Tigers team, 731, ranked him #4 in the SEC. Marshall's best three qualities? He uses his size extremely well, he's a deep threat with speed, and he possesses great tracking ability. In fact, if you subtract Smoke Brown and possibly McKenzie (though I'm not recommending either), you need the downfield speed element. Marshall's 69.7% Catching Success Rate led the SEC, as did his First-Down Percentage and TDs Per Catch. An astonishing 10 of his 13 red zone targets resulted in scores. We don't have that. The extremely-good WR class pushes him down a bit, but he'd be gone by our RD2 pick. The same argument applies to Marshall as it did for Bateman. You probably aren't going to fill the Bills' needs with free agents this year, so your RD1-2 picks won't be paid to ride the pine. They need to be playing. Plus, neither Bateman nor Marshall have kick-return experience.
Antonio Nunn (5'11" 200 4.4), 22.6 YPC vs AP-Ranked Teams in 2019
Buffalo
I couldn't stop at three: Nunn's four best qualities are his ability to high-point the ball (helpful when you're a Smurf), explosive playing style, great body control in the air, and strong hands. Nunn's recruiting visit to the Bulls went swimmingly, and just resonates with BillsMafia: "I feel like Buffalo has coaches and people that I could really trust and made me feel comfortable, so that was really all it was. I am glad that I ended up here. As far as what I bring to a team? I think, first and foremost, (I can bring) versatility. I can play outside and beat a man on an island, or I can push inside and it will be a mismatch. Here at Buffalo, we are a run-first team, so you might not have been able to see all I can do, but I feel like I did enough for people to see what I can bring to a team. I am a guy that will not be outworked, or ever be unprepared. I am a guy that prides himself on all the little things that add up to a big play. I can block and help the run game, or catch it from anywhere, I think I have a really good vertical. I am only five-eleven, but I can jump like I am a lot bigger. I just need a shot." Our BillsMafia was all over Anthony Johnson of the Bulls in the 2019 Draft. He went UDFA, signed with the Bucs, got cut in that final week, and is currently on a reserve/futures contract with the Steelers. The Bills are still sniffing around that Bulls camp after his absence. There could be a reason, and it could be Nunn.
Nico Collins (6'4″ 222 4.48), 16.5 YPC vs AP-Ranked Teams in 2019
Michigan
The Bills are likely to move on from fan-fave D'haquille Williams, and the 1-reception, 1-touchdown magic of Jake Kumerow is bound to be short-lived. Yes, and returning from surgery we'll have the untried Isaiah Hodgins, another unknown quantity. All three of these are worthy opponents for arguably the best jump-ball receiver in this class, Nico Collins. His elite D.K. Metcalf size allows him to bully corners and dominate press coverage, and make that first down. Collins fools you with good eye manipulation. Big guy in a class of Smurfs. PFN: "Collins has also shown an arsenal of varied releases, however lacking in terms of natural separation. Collins lacks elite athletic ability and tends to get sloppy at the top of his routes." Collins will be drafted late two or early Day 3 for what he'd add in the YAC department and in the end zone.
Jahan Dotson (5'11" 175 4.35), 15.7 YPC vs AP-Ranked Teams in 2019
Penn State
Jahan Dotson hails from Terry Pegula's alma mater, a college visited three times this year. Dotson has played in 30 career games, making 26 starts. He's caught a pass in 29 straight games, dating back to 10/20/18. The John-Brown-sized waterbug has 26 career receptions of 20 or more yards, and has posted five career touchdown catches of 60 or more yards (75 vs. Illinois, 2020; 70 vs. Illinois, 2020; 68 vs. Iowa, 2020; 60 at Indiana, 2020; 72 vs. Purdue, 2019), six of them for 40+ yards. Dotson's kick-return and one-hander highlight-reel plays (see two here back-to-back) will put your eyelids on stilts, and this catch against Shaun Wade is a thing of beauty. In fact, he owned Ohio State this year, with 3 touchdown receptions on Halloween. Dotson can excel at special teams, too; watch this year's Michigan State game where #5 makes himself available on the 2-point play. Here he attracts the attention of two defenders, allowing his sidekick, Washington, a free ticket to ride. It doesn't show up on his stat sheet, but it's what team players do.
Keylon Stokes WR/KR (6'0″ 190 4.56), 13.4 YPC vs AP-Ranked Teams in 2019
Tulsa
While I bet the Bills scouts were in Tulsa to converse about Zaven Collins, a solid LB choice, no doubt they were also impressed with a young man on the other side of the ball as well. Stokes was second to Tutu Atwell in most receiving yards from the slot in 2019. The Bills didn't visit Atwell, who's 3 inches and 30 pounds smaller than Stokes (5'9″ 156 4.33), and might fit in your carry-on bag. Stokes has good hands, as seen in two plays here. Bob Babich and his son, and Dennis Hickey, Senior National Scout, all have connections to Tulsa.

Not On The List, But Three Other Good Guesses:
Demetris Robertson (6'0″ 190 4.26) 11 YPC vs AP-Ranked Teams in 2019
Georgia
I'm including Robertson on my War Chart because of his connection with Jake Fromm at Georgia. He'll fall in the draft because of two major reasons: teammates Mecole Hardman (RD2#56) and Riley Ridley RD3#126). Those Bulldogs bit into Robertson's snaps and catches. But Robertson will garner close attention at his Pro Day, as he's capable of beating everyone at the forty. It's tempting to have receivers with Robertson's blazing speed (especially if you let all that speed go in McKenzie and/or Smoke Brown), but even better if that receiver can double as your kick returner for a decade. The speed merchants scouted by the Bills who returned kicks this year are Robertson, Waddle, and Elijah Moore. Robertson's speed on screens is impressive, and screens have been suggested as an antidote to QB pressures. The Bills face 6 teams with high sack rates next season– PGH, NOR, MIA, MIA, TB, and IND (see schedule).

Anthony Schwartz (6'0″ 197 4.22) 9.1 YPC vs AP-Ranked Teams in 2019
Auburn
The Bills scouts wen to Auburn twice this year, once for a game, and Schwartz didn't disappoint. In his SEC matchup with Tennessee, Schwartz made 4 catches for 123 yds, a staggering 30.8 ypc average! He would be an ideal slot receiver to take the reins from Cole Beasley some day. Schwartz's three best qualities are speed, speed, and speed. They ran Schwartz on jet sweeps that looked familiar, like McKenzie had been injected into his body. But while he was good at it, Auburn used Schwartz less in the Isaiah McKenzie-type speed-sweep running game or KC Chiefs' eye-candy dazzle-dazzle and more as a downfield receiving threat for Bo Nix –more like an effective Robert Foster or Kolby Listenbee– and the result has been a career high in receptions (49), receiving yards (604), and receiving touchdowns (three) in only 9 games played. As Schwartz was one of the fastest in the world 2 years ago, the threat of that downfield ability really opens up underneath opportunities. Most of his work seemed to be on inside releases and tunnel screens.
Kadarius Toney (5'11" 190 4.69), 0 YPC vs AP-Ranked Teams in 2019, 13.0 in 2020
Florida
We won't know whether Kadarius Toney is on Beane's radar, especially with an expected 4.69 forty time, but Toney's Pro Day will answer questions better about his speed and quickness. Watch this jet sweep and see if it looks familiar. He's expected to easily beat Beasley's 3-cone time, which is really important if you're going to play slot at the next level. Toney's three best qualities are short-area quickness/explosiveness, run after catch, and missed tackles forced. All three are important in the archetype for Beasley's successor. Add to this Toney's effectiveness on 3rd down, and his return skills, and he likely makes the list. His Yards Per Punt Return in 2020 was a 14.0 average, #1 in the SEC. The comparison people are bandying about is Alvin Kamara, but Toney may be even better as a runner. Toney averaged 8.5 YPC on 19 carries. RD1 wouldn't be out of the question if his Pro Day is ideal. The forty and 3-cone will be huge for him, and while I don't expect that they'll be in the top 20, his Beasley-like moves are.
Editor's babble: These "elimination games" are pure gold. Thanks, as always, to our good friend Dean Kindig for his expertise and contributions to our blog. You can find Dean on Twitter @TCBILLS_Astro.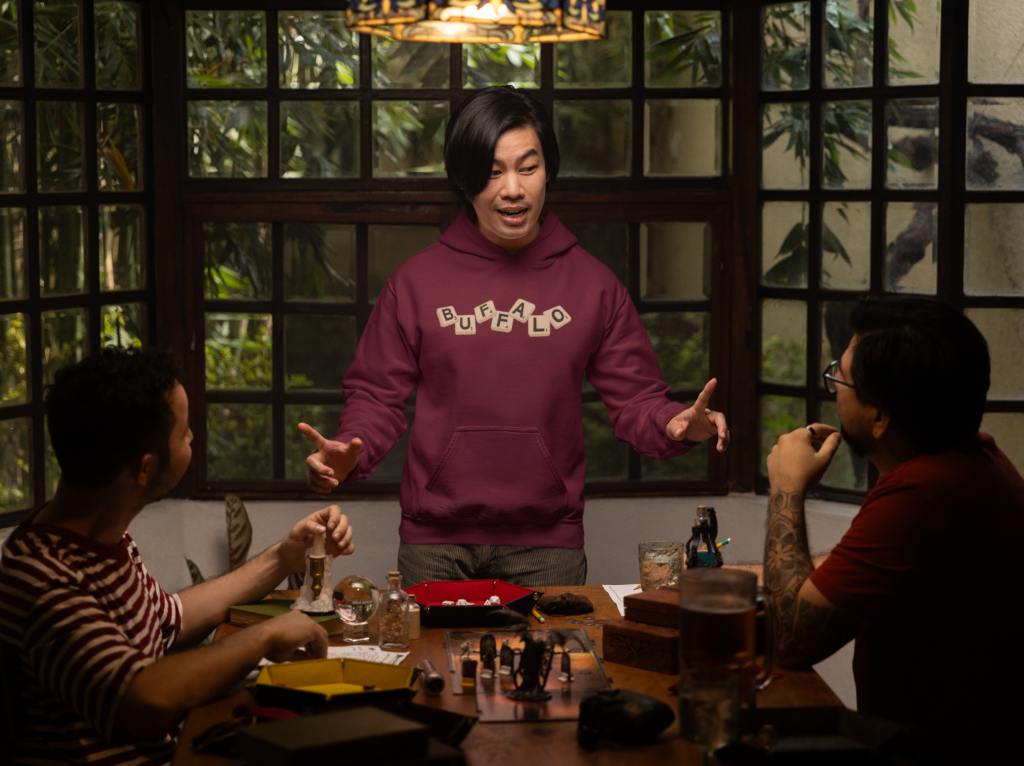 BuffaloFAMbase.com is sponsored by 26 Shirts
Every Monday, we launch a new two-week campaign of a limited edition t-shirt design. Every shirt purchase results in a donation to a local family in need. After the campaign ends, the shirt is retired. A new design is released, and a new family benefits from your fandom!