There were 23 linebackers whose games were scouted by the Bills over the last 2 years. Of the Bills-scouted 14 LBs this year….eight LBs had Milano's 4.58 speed or better. All but 4 played in a 4-3 (Cameron McGrone, Jabril Cox, Erroll Thompson, Joshua Ross played in 3-4s).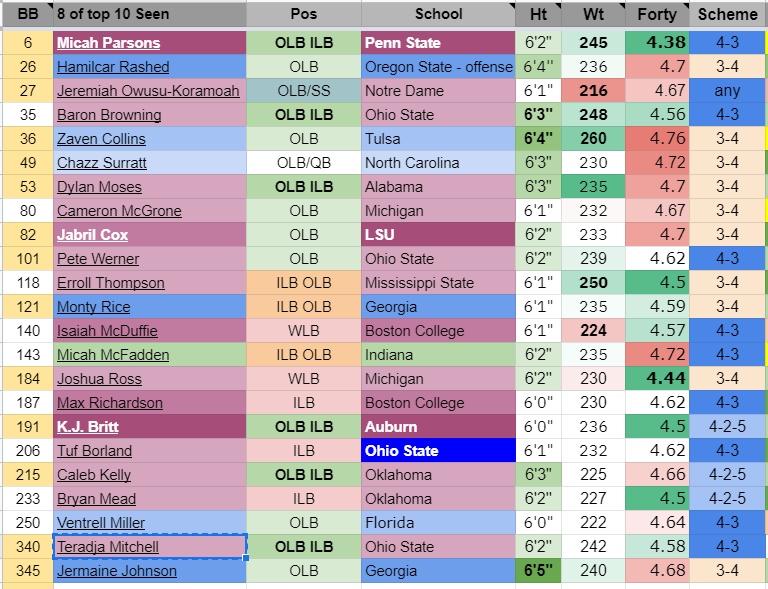 Above, you see the LBs that the Bills scouted this year (purple), or last year (blue). The light blue and green highlight players who were seen in the past because our team drafted a teammate of theirs.
It's time to "cull the herd" a bit.
Some of these linebackers can only play in a 3-4 defense, or can't play the WILL LB position because of speed concerns. Here's who I'm leaving for consideration after we make that first cut: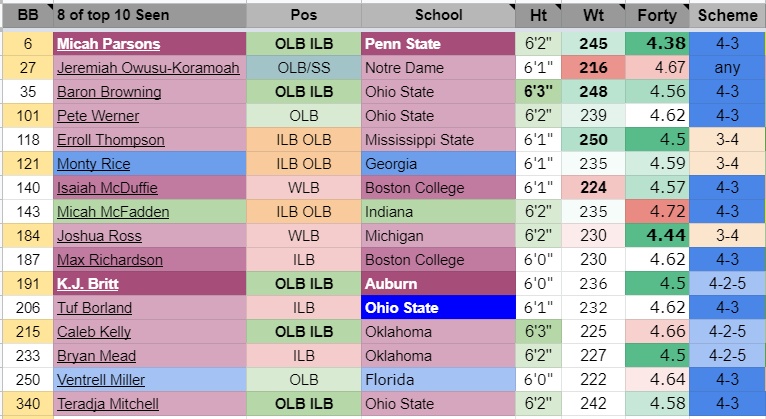 I left three 3-4 linebackers who I do think have enough speed to be a run-and-chase LB in a 4-3 scheme. However, There are still some 4-3 OLBs on this list that don't match our LB prototype.
Milano was 6-0, 223, 4.58 at the time of the draft, Edmunds was 6-5, 234, 4.45. Let's eliminate a few more linebackers with that size-speed range in mind.

I'm still leaving Boston College's WLB Isaiah McDuffie on the list, as he looks like he's gained weight. McDuffie out-produced all of these guys in 2020, and besides, he's from Milano's school. I use a metric of my own making, "SSFI", as a measure of production; it's the sum of Solo Tackles + Sacks + Forced Fumbles + INTs, and McDuffie's SSFI this year is the best.

I've now eliminated Max Richardson and Tuf Borland, as I don't see the Bills taking ILB in the mid-rounds. If either were to drop to our three picks in RD5-6, I'd have very little problem with them.

Then you have to remove players with low games played, and the unattainable Top-10 talent of Micah Parsons (he's this year's unreachable star; you know, like Ed Oliver in 2019).

I've sorted the remaining players by Tackles Per Game Played over their careers. This seems to be a metric that Beane likes. That stat brought "Bam" Johnson in for a 30-Visit in the 2019 draft, and they drafted him in RD7 with their second-to-last pick (Tommy Sweeney was taken 3 picks later). I have nothing against Baron Browning as the Bills' RD1 #32 pick, or Pete Werner if he's the RD3. The Bills went to Auburn twice in 2020, and K.J. Britt plays in a defensive 4-2-5 scheme very similar to the Bills'. It wouldn't surprise me in the least. But I'm looking for a tackler here, and they made fewer of them than McDuffie, Thompson, Rice, and Ross.

Here's my final list, the ones I'll add to my BillsMafia War Chart. Monty Rice won't be on some Bills lists, as he wasn't scouted this year. Georgia runs a 3-4, as do Mississippi State and Michigan. That would seemingly leave Isaiah McDuffie getting "the final rose". After all, McDuffie is a Buffalo native! But make no mistake; all four of these guys can run and cover, with two being an ideal positional fit at WILL (McDuffie, Ross) and 2 being versatile playing pieces who could slide inside (Thompson and Rice).
Editor's babble: This is digital gold. It's time to start making lists and checking them twice… and for mock drafts galore. Thanks, as always, to dear friend and draft guru Dean Kindig for all his contributions to our blog. You can find Dean on Twitter @TCBILLS_Astro.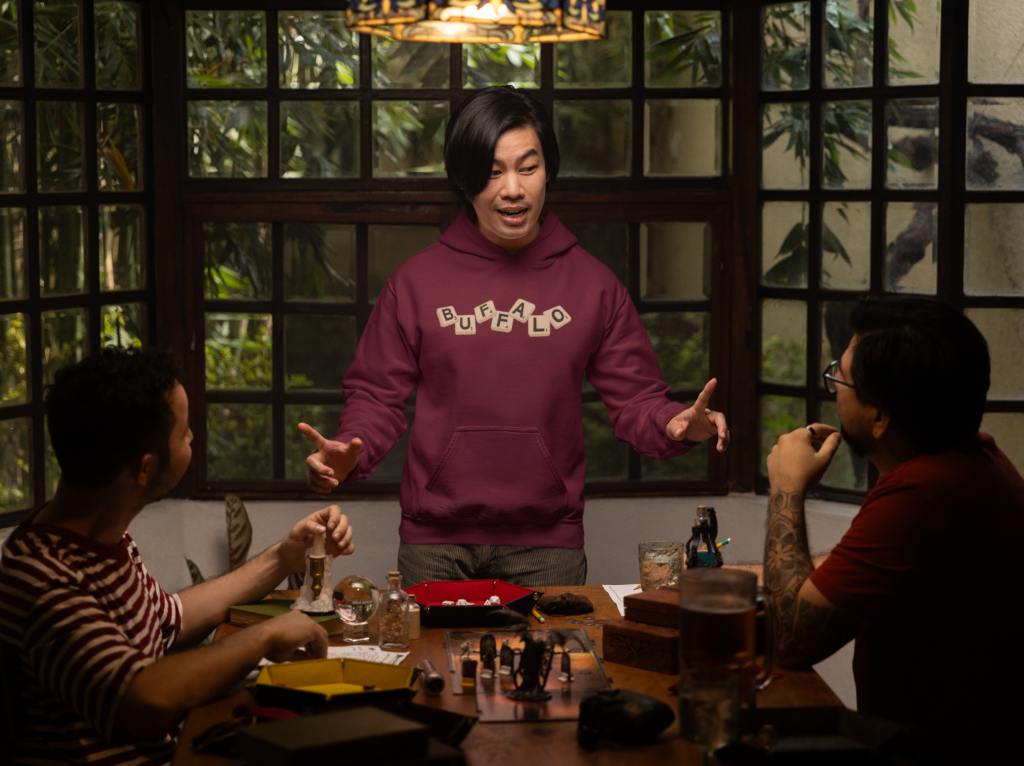 BuffaloFAMbase.com is sponsored by 26 Shirts
Every Monday, we launch a new two-week campaign of a limited edition t-shirt design. Every shirt purchase results in a donation to a local family in need. After the campaign ends, the shirt is retired. A new design is released, and a new family benefits from your fandom!