The Chiefs' defense had their worst game vs the Raiders the first time they played them (10-11-20), a game the Chiefs lost 40-32 I urge you to watch the KC-LV Highlights, and see OC Brian Daboll's and DC Leslie Frasier's blueprint for today.
First, the Raiders didn't give up. KC was up 14-3 and 21-10 in that game.  They didn't stop Mahomes' passing, but they did stop Clyde Edwards-Helaire rushing. He went 10 for only 40 yards, similar to what CE-H will do this time if the Chiefs force the issue with his injury. Las Vegas stopped Tyreek Hill for the most part, and putting Tre White on Hill will be a key to stopping the Chiefs' attack. Hill had one Josh Allen-y jet sweep (37 yds.), a long TD bomb negated by OL holding at the beginning of the game, a nice toe-drag swag, and 2 short ones.
I expect holding called on the Chiefs due to DL pressure (Oliver is my best guess, but also Addison and Hughes). The Chiefs will be penalized more than the Bills in this game, as the Bills are #1 in least penalties vs Chiefs' ~6th-worst. The Raiders' DL hit Mahomes early and often, and it took its toll over the course of the game.
The Raiders' backfield kept everything in front of them, forcing multiple Chiefs field goals, which will also happen. Bend, but don't break. This is how the Bills outpoint the Super Bowl Champs.
On offense, Carr was frequently able to get passes to the sidelines of the KC defense. The Raiders kept the pocket clean for Carr when he threw deep to Ruggs over Henry Fenton, and later threw to Ruggs over the top of Charvarious Ward, and I expect those same deep routes today –multiple times– to Diggs/AJ Brown. This is not a great KC pass defense like the Bills faced vs Indy or Baltimore.
The Chiefs' TE, Kelce (8 for 108, 1 TD), just abused WLB Corey Littleton in this Chiefs-Raiders matchup, but Kelce only went 6 for 35 even without Milano. I expect the Bills to minimize Kelce's damage using Milano and Poyer with a smattering of Taron Johnson.
Mahomes' bootlegs and screens bothered the Raiders, as their motion fooled the Raiders' LBs, but remember, the Bills just played two great "eye candy" teams and stayed disciplined.
The Chiefs' 2 best CBs, Breeland (Concussion/shoulder) and Fenton (Foot), have been injured. While I expect they'll play, Diggs-Brown-Beasley will have their way with the Chiefs' CBs. Anthony Hitchens was the Chiefs' best LB in that Raiders game (6 tackles), but Hitchens' vulnerabilities don't match up very well to the Bills' strengths. His relatively poor drop-and-turn ability and lack of burst after his final move will make Hitchens vulnerable to the quicks and separation abilities of our WRs, particularly those of Diggs and Beasley. Throw in a mobile QB, and #53's worth watching in this game.
The other top tackler for the Chiefs, FS Daniel Sorenson, is a dirty player, and his helmet-to-helmet hit on the Browns' Rashard Higgins needed to be called. Sorenson learned everything he knows from SS Tyrann Mathieu (don't get me started). Those 2 safeties, against our two safeties, are going to make a difference in this game, and I hope for a clean game with no injuries. But I want Tyrann to play, and here's why: Mathieu and CB Charvarious Ward will be vulnerable deep, so expect a Josh Allen bomb or two like this one to Nelson Agholor.
Singletary is going to have a great day if he can get inside blocking like this. LG Feliciano (who didn't play in Week 6 against the Chiefs) will be huge, and Boettger takes the place of Winters on the other side.
The Bills will make use of their own eye candy in the red zone, as the Chiefs won't be able to react quickly enough. I have no idea what the Chiefs would be able to do against 1-0 personnel, 5-wide. It will allow Brian Daboll to pick on Ward and L'Jarius Sneed especially using ball placement. Chiefs say that Sneed has only allowed one 20-yard reception this year, but there's a chance to scheme our WRs open on quick plays, especially crossers and comebacks. Allen needs to get that ball out of there quickly. Or run.
As of this writing, Clyde Edwards-Helaire and LeVeon Bell were questionable all week, and only CEH will make a go of it. Nevertheless, CEH won't be the RB who went 26 for 161 against the Bills in the Week 6 matchup. Bills will hit CEH hard and often. Bell will miss the game after his knee swelled up on Wednesday. With Bell sidelined, expect the Chiefs to primarily use a combination of a dinged-up Edwards-Helaire and Darrel Williams against the Bills. Williams was 6 for 26 (4.3) in our Week 6 game, so he's not a threat.
One of the Bills' old flames, Sammy Watkins, is a game-time decision due to his calf injury suffered over 6 weeks ago (glad he's gone). Bashaud Breeland (concussion) is playing, and his backup, CB Rashad Fenton (ankle), is questionable, putting a motley crew back there to "kickstart my heart" against the Bills' quick quintet. Mahomes' turf toe is a big deal. He had to scramble 7 times on 34 dropbacks in Week 6 against the Bills, including two 3rd down conversions. Watch the Bills bring real and simulated pressure to force that toe. Mahomes was also rushed through concussion protocol in a record 48 hours, possibly because it was a neck stinger –possibly for ratings.
I'll say 34-28 Bills.
Editor's babble: What's not to love here? Dean lays it out for us so we know what to look for. Many thanks, as always, to our dear friend Dean Kindig for his many insightful contributions to our blog. You can find Dean on Twitter @TCBILLS_Astro.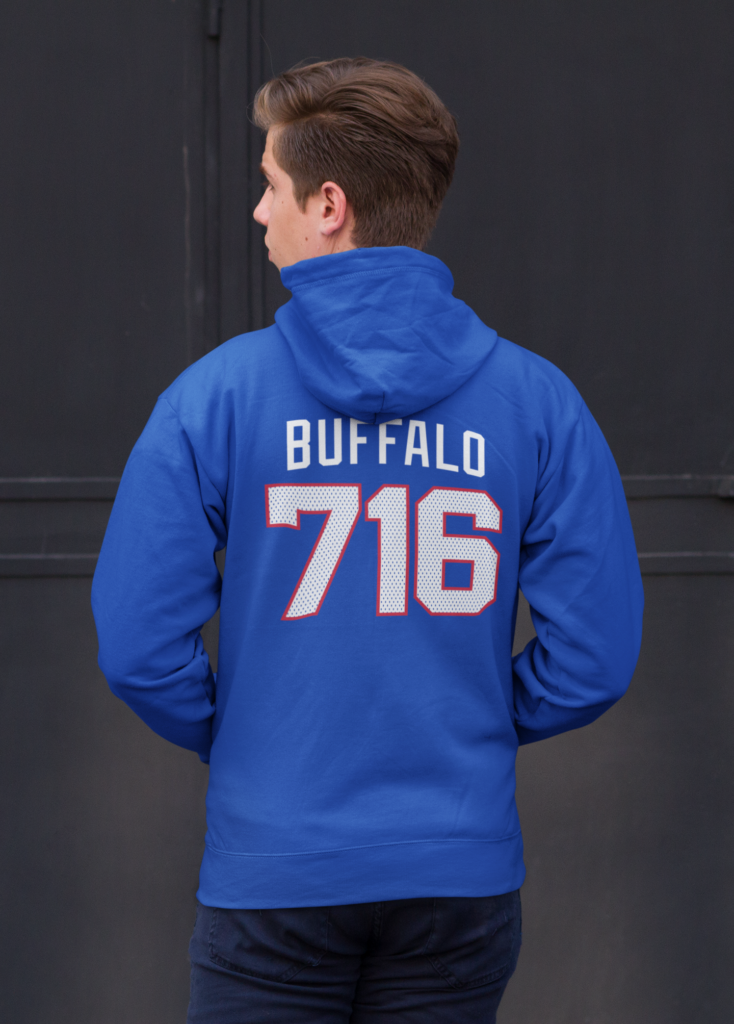 BuffaloFAMbase.com is sponsored by 26 Shirts
Every Monday, we launch a new two-week campaign of a limited edition t-shirt design. Every shirt purchase results in a donation to a local family in need. After the campaign ends, the shirt is retired. A new design is released, and a new family benefits from your fandom!