Lots to do today despite no game tomorrow. Here's a suggestion. All times are EST, and the numbers are from my own big board –not jersey numbers.
Texas A&M vs Auburn
47th-ranked Seth Williams WR Auburn hasn't been removed from my War Chart. I will have my eyes peeled for 90 K.J. Britt ILB OLB Auburn and 91 Anthony Schwartz WRS Auburn instead. Schwartz is one of three ideal heirs-apparent for Cole Beasley when he's done. Britt is one of 6 possibilities to move on from Matt Milano. 180 Roger McCreary CB Auburn is likely too late in the draft for the Bills to select a #2 CB, but he's been impressing. 137 Anthony Hines LB for A&M has opted out of the 2020 season, and has a year of eligibility left in 2021. He's isn't saying if he's declaring yet. 208 Kellen Mond QB, isn't as fun to watch as I thought.
Ohio State vs Michigan State
4 Justin Fields QB Ohio State is gone by our first pick. But he's fun. He has that ability to do everything with his arm — and then he's also going to run a sub-4.4 forty. And then he's 228 pounds; he's built like a rock, and he has a Josh Allen-like ability to quickly process information. Would I take 12 Shaun Wade CB Ohio State if he dropped to us? You bet I would. At worst he's a Pro Bowl nickel corner that plays for you Year 1. After 2 years experience at OLB, 38 Baron Browning OLB ILB Ohio State is now at ILB, likely his natural spot. He'd be tempting as a trade-down target, and his versatility gives you insurance behind Tremaine Edmunds and Milano if you keep him. If the Bills move on, you know they're going OLB early. 208 Kevin Jarvis RG RT Michigan State hasn't been able to stay healthy; pass. However, I'll watch 268 Naquan Jones DT1T Michigan State. He's a Lotu in the Middle at 6'4" 338. Don't call him "Marvin Wilson Lite."
Oklahoma State vs TCU, 12 p.m. ET ESPN2
43 Chuba Hubbard RBC/KR Oklahoma State is not likely playing, 91 Tylan Wallace WR Oklahoma State is a short Gabriel Davis, but I like his fight for the ball, his mentality as a blocker, and the way he contorts his body to make catches from bad quarterbacks. We're not likely in the market for a WR in RD3, though. I'll give you a reason to watch this game: 126 Trevon Moehrig SS OLB TCU. I think he's better than the earlier-round safeties, and could challenge for RD2 by the time the combine is over. 288 J.D. Spielman WRS/KR/PR TCU is versatile enough to make an NFL team on Day 3. I was hoping to see Kolby Harvel-Peel at SS, but he suffered a shoulder injury due to a motorcycle accident.
Syracuse vs Notre Dame,
It's not going to be close for 1-9 Cuse vs Notre Dame, currently ranked #2 in some polls. But it's like driving by a collision on the Thruway; you'll slow down to take a look and see if anyone got hurt. 26 Andre Cisco FS Syracuse has 13 INTs over his 24 games, and the confluence of positional need (FS depth) and where he'll drop (early RD2, #40-54) still makes him a consideration. I'd watch Notre Dame's 65 Jeremiah Owusu-Koramoah SS OLB Notre Dame, as he's that S-OLB combo that Beane-McDermott seem to like. It's how Milano started out. I'd also like to see 44 Liam Eichenberg LT Notre Dame again. He's an elite mover for a player his size with great balance, long arms, and seek-and-destroy at the 2nd level –kind of what we need for pin-and-pull.
West Virginia at Iowa State, 3:30
Watch 59 Dante Stills, DT3T EDGE West Virginia, and his twin, 82 Darius Stills DT3T EDGE West Virginia. Both have quick-twitch athleticism and explosion, and will remind some of Jerry Hughes, our best EDGE rusher. Anyone comfortable with Daryl and A.J. when Hughes is done? For Iowa State, watch 168 Charlie Kolar TE Iowa State. You'll see some vert and athleticism with better catching than Dawson Knox. His QB, Brock Purdy, is part of the reason. Athleticism, vert, grit, leadership on the field. Affable and articulate off the field. 205 JaQuan Bailey EDGE Iowa State is not fast, but he's productive –a RD3 value pick. The Bills under Beane's tenure have stayed away from these schools.
Indiana at Wisconsin
Speaking of avoided schools, here's another game. When the best reason to watch Indiana is a WR named Whop, I understand. Wisconsin's O-Line always intrigues me, but Beane stays away. I trust The Process, I guess. Maybe 203 Cole Van Lanen at OT for Wisconsin is worth the watch.
Florida at Tennessee
7 Kyle Trask QB Florida might drop due to not being named Lawrence or Fields. He's been cool under pressure from SEC rushers, and that impresses me. In fact he had the highest passer rating on 3rd down (power five). His 3 starting receivers from a season ago were all drafted. He does, however, return the top TE in 16 Kyle Pitts TE Florida, the best reason to watch. This would be one of my WOW picks for the Bills. He's the playmaking TE of the draft. Most 15+ yard catches vs single coverage by TE, and 3rd-most by a pass-catcher! In September he was named the highest-graded non-QB in College Football by PFF, the 6-foot-6 giant is athletic and essentially a huge WR (Devin Funchess on steroids). Wasn't Funchess a pick by Asst GM Beane in Carolina? I'll check that. Another reason to consider Pitts? YAC=>https://youtu.be/7ki_zcXIOvQ?t=29 On Tennesse, I adore 33 Trey Smith LG Tennessee. He'd be a wonderful pick at #32.
Iowa at Illinois, 3:30 ET FOX Sports 1
Keep an eye on 148 Ihmir Smith-Marsette WR KR Iowa, as he's the best answer I have for an heir for Andre Roberts when he retires. 157 Alaric Jackson RT RG Iowa, often Epenesa's foe in practice, looks good on pin-and-pull. 280 Daniel Imatorbhebhe TE Illinois isn't a TD machine, but he's great in the middle of the field. A transfer from USC, Imatorbhebhe ("A matter bay-bay") has the TEs' highest average vs AP-ranked teams, but no TDs in 2 yrs, He's the brother of Illinois WR Josh Imatorbhebhe, also in this draft. Nagy on the TE: "one of most springy athletes we've seen on tape. Google his 46" VJ from The Opening!"
Clemson at Virginia Tech, 7:30 p.m. ET ABC
28 Travis Etienne RB Clemson goes to the Jets with their second pick if I'm not mistaken; that's one consideration for scouting him. 47 Derion Kendrick CB is scrappy, a kick returner, and PFF's highest-graded CB in press coverage as of Oct 17. He's sure-handed –he made the switch from WR to DB to start the 2019 season. I'm bullish on 63 Jackson Carman OT Clemson, and think that he works into early RD2. He gets off the ball so freaking fast, he can establish a (legal) hold on his D-Line opponent before they know it. For VaTech, watch their OT, 64 Christian Darrisaw OT Virginia Tech. I like him, too. The Bills have scouted lots of OTs –one in each round, in fact. That's a future article.
Alabama at LSU
6 Patrick Surtain II CB Alabama will be long gone, but that's no reason not to at least DVR the game. Surtain has the "fumbles forced" gene passed down from his pro father, plus his polish, great hands, elite ball skills, prototypical size, unparalleled ability to locate the football, and great hands. High ceiling takes him off the board by pick 4, and certainly by Cincy or Miami's first pick. The Bills' zone doesn't need a trade-up for an elite corner, and who knows? We already may have two great zone corners. WR/KR Jaylen Waddle could slide to the Bills, but he's not playing (Out for year after high ankle sprain & fractured ankle). Barmore plays a position we're stocked in, DL3T, but some question how good we are vs the run at 3-tech. I still watch the game to study 15 Alex Leatherwood OT, who at worst is a Pro Bowl Guard (I know; I said that about Isaiah Ford). I'm not convinced that 26 Dylan Moses OLB Alabama is the right LB for the Bills, but you can talk me into 34 Najee Harris RB Alabama as a thunder back for Singletary's lightning. His measurables (6'2″ 230 4.44) and he's the fastest of the over-230 RBs. His work ethic and determination make him this year's Derrick Henry of the Titans –just faster. He's a good receiver, and he has KR experience. On LSU, I want to see 50 Tyler Shelvin DL1T LSU, who could be a RD2 target, with Lotulelei turning 31 on New Year's Eve. 86 Jabril Cox OLB LSU is solid, but doesn't have the games played resume that Beane usually looks for
Editor's babble: Let's gooooooo <3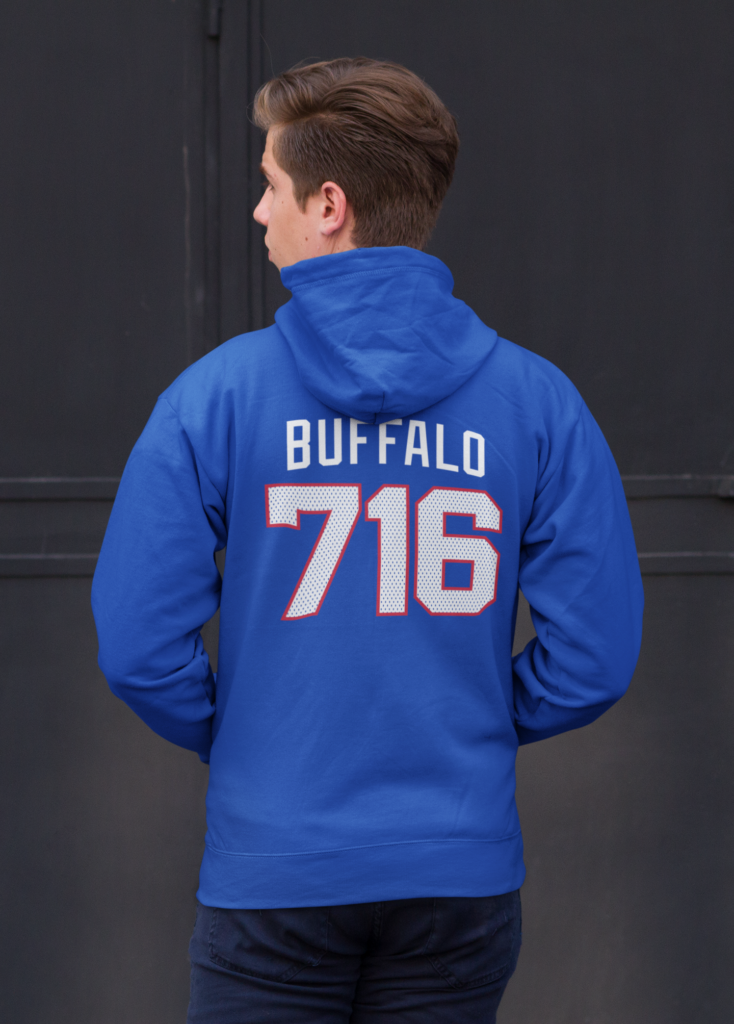 BuffaloFAMbase.com is sponsored by 26 Shirts
Every Monday, we launch a new two-week campaign of a limited edition t-shirt design. Every shirt purchase results in a donation to a local family in need. After the campaign ends, the shirt is retired. A new design is released, and a new family benefits from your fandom!