Don't share this link right here. It's a link to the BillsMafia War Chart that I do every year. Access is free for reading my Pick Six! Thanks for your readership! ==>https://docs.google.com/spreadsheets/d/1dn16TAcH-BzfQP0g53bOMADCztFYQbd-m9cMEuRaBdU/edit?usp=sharing

All of the players I've listed in this article have already had a Bills scout at one of their games within the last 18 months.

ROUND 1
Dylan Moses OLB ILB Alabama Alexandria, LA
Jaylen Waddle WR PR KR Alabama Houston, TX
Seth Williams WR Auburn Cottondale, AL
Creed Humphrey C OG Oklahoma Shawnee, OK
Trey Smith LG Tennessee Jackson, TN
Hamilcar Rashed OLB Oregon State Phoenix, AZ

Comments: I left Micah Parsons, OLB-ILB of Penn State off my Pick Six. He's going in the Top 10, and I don't think Brandon Beane goes up and gets him, despite the fit. I think he finds a way to extend Matt Milano instead. Dylan Moses is a versatile linebacker who was considered one of college football's biggest names before a preseason knee injury cost him the 2019 season. Moses had led the Crimson Tide with 86 tackles in 2018. I can eventually see him in Milano's spot or Tremaine Edmunds' spot. Says Saban: "I see improvements in the front seven just with the leadership that [Dylan Moses] gives us". Waddle's injury might cause the WR to drop near the bottom of RD1, and the appeal is that he's a nice punt and kick returner. The Mitch Morse concussions might lead them to draft his successor in Creed Humphrey. Rashed returned to school because he promised himself RD1, and his play (1.25 tackles for loss per game) warrants it. You can easily talk me into taking a bona fide Guard in Trey Smith, opposite Feliciano. Smith is one of the nation's most dominant offensive guards, TDN cites his functional athleticism as the prototype of the 4 primary traits he looks for at the position: "At 6'6, 320, Trey Smith is like a freight train when he gets moving. He is a dominant run blocker at the point of attack. His elite play strength is on display each time you turn on the tape." Will be sought after as a Guard adept at the pin-and-pull, and guess what the Bills like to do.
My Pick: Trey Smith LG Tennessee
ROUND 2
Tyler Shelvin DL1T LSU Lafayette, LA
JaCoby Stevens SS OLB LSU Conroe, TX
Jabril Cox OLB LSU Kansas City, MO
Erroll Thompson ILB OLB Mississippi St Arlington, TX
Jayson Oweh EDGE Penn State Howell, NJ
Pat Freiermuth TE Penn State Merrimac, MA

Comments: If Shelvin falls into Round 2 due to his slow forty time, Beane pounces. He's exactly what the Bills need in the middle of their porous run defense. Shelvin's comp for me is Star Lotulelei. Superb against the run, isn't much of a pass-rushing specialist, a collapse-the-pocket type, and a massive human with a stout anchor and the ability to 2-gap on the interior. Shelvin plays in a 3-4 (as did Ed Oliver and Harrison Phillips), but he has the length to be effective as a 4-3 NT. Shelvin will occupy 2 O-Line hogmollies and keep our linebackers clean. Lotulelei will be 31 before we're in the AFC Championship. Jayson Oweh is faster and quicker than the Bills' current EDGE rushers (I expect a 4.33 forty), and he's physically the size of Darryl Johnson. He's a RS Sophomore, so it's coin flip whether he'll declare for the 2021 Draft. Pat Freiermuth is a tempting target, too; his nickname is "Baby Gronk". He offers the hands, catch radius, and NFL-caliber inline blocking the Bills are looking for, and he's been uber-productive: 12.7 yards per reception for 875 yards and a whopping 15 touchdowns. That is a touchdown catch every 4.6 receptions and 1.67 games. Make sure to watch the Penn State Freiermuth game. If Beane wants Shelvin and Freiermuth, I could see some Draft Day wheeling and dealing.
My Pick: Tyler Shelvin DL1T LSU
ROUND 3
K.J. Britt ILB OLB Auburn Oxford, AL
Shaka Toney ED OLB Penn State Philadelphia, PA
Delarrin Turner-Yell SS FS Oklahoma Hempstead, TX
Nick Bolton WLB Minnesota Frisco, TX
Rashad Weaver EDGE Pittsburgh Fort Lauderdale, FL
Chazz Surratt OLB North Carolina Denver, NC

Comments: K. J. Britt Injured his hand, had surgery, and is out indefinitely. He'll slip a bit, so PFF's best run-stuffing linebacker (grade of 91.1 and 31 solo run stops) is a treasure here in the third round. He was Auburn's leader, their heart and soul in the middle, and his toughness shines through. He'd be really tempting if he lasts to here. Shaka Toney is faster than Hughes or Alexander, and is that OLB-ED playing piece the Bills lost when Lorenzo Alexander hung 'em up. He's Penn State's returning sack leader and a must-watch. The personality fit is palpable. Says Coach Mustipher: "He's going to have your best interests at heart because he really cares about you and cares about the team as a whole." Leader par excellence. Nick Bolton won't be here in the winter mock drafts, but he would be a very solid WLB to replace Matt Milano if you let Milano walk. As the SEC's top-graded returning LB, Bolton is extremely responsible for his gaps, and responsive with click-and-close tackling. He shows speed, range, athleticism and play recognition. I'd call him the ideal "WILL LB Build" if you're a Frankenstein.
My Pick: Shaka Toney ED OLB Penn State
ROUND 5A
Tre Brown CB/KR Oklahoma Tulsa, OK
Ihmir Smith-Marsette WR KR Iowa Newark, NJ
Tariq Castro-Fields CB Penn St Upper Marlboro, MD
Cameron McGrone OLB Michigan Indianapolis, IN
Tyler Vrabel LT Boston College Bellaire, TX
Tommy Doyle RT Miami (OH) Edina, MN ——DRAFTED

Comments: Tre Brown nails down two positions with one selection: the kick-return specialist for when Andre Roberts hangs 'em up plus a replacement for Taron Johnson. Entering this season at Oklahoma, Brown already had 1121 KR yds, and my estimated 4.41-second draft gives him range at that nickel position. He's an excellent blitzer; watch this. I think Smith-Marsette goes earlier than this; he's going to be drafted for his kick-return abilities. Cameron McGrone has very high upside, and could end up being drafted on Day Two. Tommy Doyle is a hunch. He's from OL Coordinator Bobby Johnson's alma mater.
My Pick: Tre Brown CB/KR Oklahoma
ROUND 5B
Naquan Jones DT1T Michigan State Evanston, IL
Austin Deculus RT LSU Mamou, LA
Ronnie Perkins EDGE Oklahoma St. Louis MO
Marquiss Spencer EDGE Mississippi State Greenwood, MS
Deangelo Malone ED OLB Western Kentucky Atlanta, GA
Cary Angeline TE NC State Chester Springs, PA

Comments: Marquiss Spencer acquitted himself very well in the LSU game, and likely will end up going earlier than the Bills' second RD5 pick. He made 3 solo tackles, and had 2 sacks from his EDGE spot. Deangelo Malone is a very productive Lorax type ED OLB from a smaller school. Cary Angeline is a personal favorite who makes effortless catches, has "make-ya-miss" YAC ability, and offers red-zone size mismatches. His personality is a fit, as he's affable and articulate. As a USC transfer he redshirted his first year with the Trojans, then after 2 games in 2017, wanted to play closer to home. After catching just nine passes overall in 2018 (for a total of 169 yards and the single score), Angeline exploded in 2019 for 25 grabs for 379 yards and 5 TDs. Perhaps most importantly in Daboll's scheme, he's an impressive blocker with a big wingspan. In fact, Cary had a Basketball offer from Davidson after scoring over 1300pts in 3 seasons in HS. Finally, he was #1 vs AP-ranked teams in YPC last year.
My Pick: Marquiss Spencer EDGE Mississippi State
ROUND 6
Ben Petrula RT, OC Boston College Freehold, NJ
Michal Menet C OG Penn State Birdsboro, PA
Ambry Thomas CB KR Michigan Detroit, MI
Damar Hamlin FS/SS Pittsburgh Mckees Rocks, PA ——DRAFTED
Rayshard Ashby ILB Virginia Tech Chesterfield, VA
Isaac Slade-Matautia ILB/OLB Oregon Honolulu, HI

Comments: This far down into the draft, Beane will have a backup plan for drafting value picks earlier. Petrula and Menet offer O-Line depth, Ambry Thomas is a very good kick returner (808 KR yards entering this year) and the senior is a natural leader. He has range, speed and experience. Matautia reminds me of Tanner Vallejo of Boise State, who was drafted and got hurt in training camp, and let go late August. Ashby will fall due to his London Fletcher-like height, but he led the ACC in tackles (120) and tackles per game (9+). Damar Hamlin is Dane Jackson's backfield teammate from Pitt, and is one of the FBS's top tacklers –tied for fourth-most among the draftables last year. He can play either Safety position. Hamlin's savvy and quick on the uptake, and like Dane Jackson, can quickly learn the McFrasier Defense. Then there's this: He hits like Marlowe.
My Pick: Damar Hamlin FS/SS Pittsburgh ——DRAFTED
ROUND 7
Roger McCreary CB Auburn Mobile, AL
Keylon Stokes WR/KR Tulsa Manvel, TX
P.J. Mustipher DT3T ED Penn State Owings Mills, MD
Drew Himmelman LT Illinois State
Jaiden Lars-Woodbey CB/FS Florida State Fontana, CA
Payne Durham TE Purdue Suwanee, GA
Comments: This draft will seem boring because of all the help along the lines and run-stuffers, but those will be the players that would have a fighting chance of surviving cut-down day on a teamful of playmakers. Role-players will get past The Turk. Beane can afford to look for high-ceiling prospects here. Lars-Woodbey redshirted last year after an injury cut his season short. He has size, production, vision, and speed. Again, the Bills lack depth at FS and CB, so there's a fit for that reason. Keep an eye on him. Keylon Stokes has this draft class's 3rd-highest KR yardage, and Andre Roberts is aging. Over the last 18 months, Bills scouts have seen games of 7 of the top 8 returners, and the only KR that I rank higher than Stokes is Ihmir Smith-Marsette WR/KR Iowa, who you'd consider on Day 2. LT Drew Himmelman is a name you may have not seen before; he's one of the best FCS offensive linemen who starts out with great technique. He has long arms, and is a Campbell Trophy nominee. Payne Durham is a super-raw TE who's a redshirt sophomore. He only played 1 year of HS football), but he's already a great blocker. Purdue is looking to replace the production from Brycen Hopkins. A big time red zone target with his great size; he scored 4 TDs last year on only 9 receptions. By my records, he has the highest catch rate in the TE class, and nobody's talking about him yet. P.J. Mustipher gets a lot of his skills from his wrestling past. He's on this list because all his coaches say, "He's a worker", and work ethic and mentality get you on the Bills' watch list. Penn State was #3 in Total QB pressures among power-five defenses in 2019. I like Mustipher's versatility, as he can play EDGE or DL3T, much like Jefferson and Epenesa.
My Pick: Drew Himmelman LT Illinois State
Editor's babble: This is my dream draft… lots of big guys up front. Thanks to Dean Kindig for all his tremendous work and contributions to our blog. You can find Dean on Twitter @TCBILLS_Astro.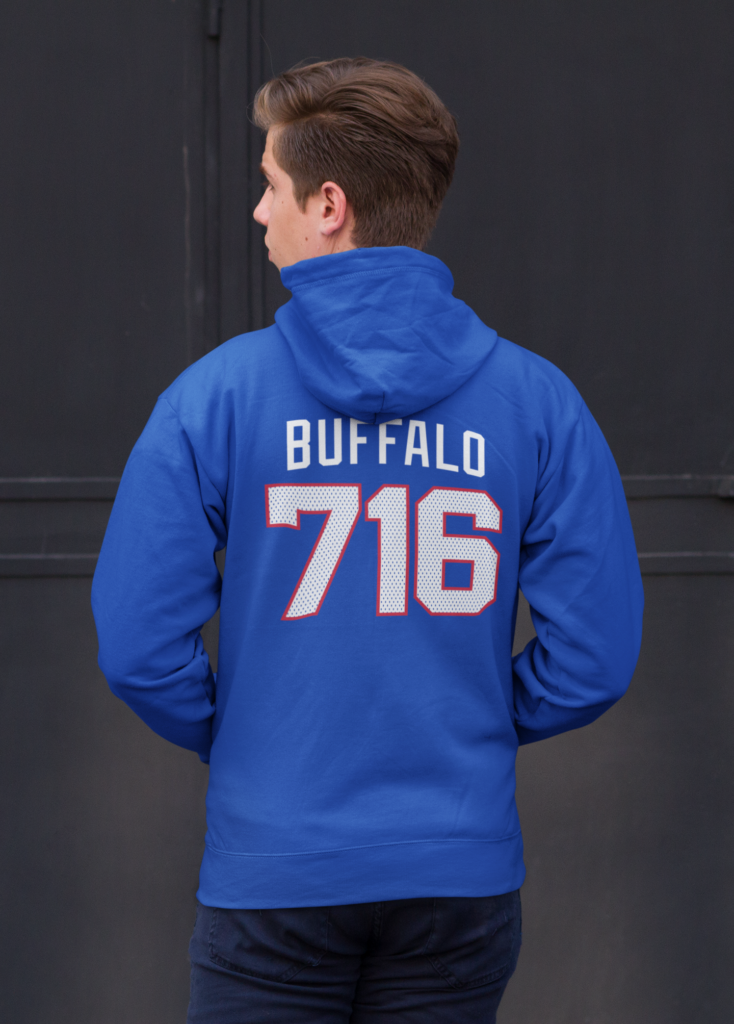 BuffaloFAMbase.com is sponsored by 26 Shirts
Every Monday, we launch a new two-week campaign of a limited edition t-shirt design. Every shirt purchase results in a donation to a local family in need. After the campaign ends, the shirt is retired. A new design is released, and a new family benefits from your fandom!