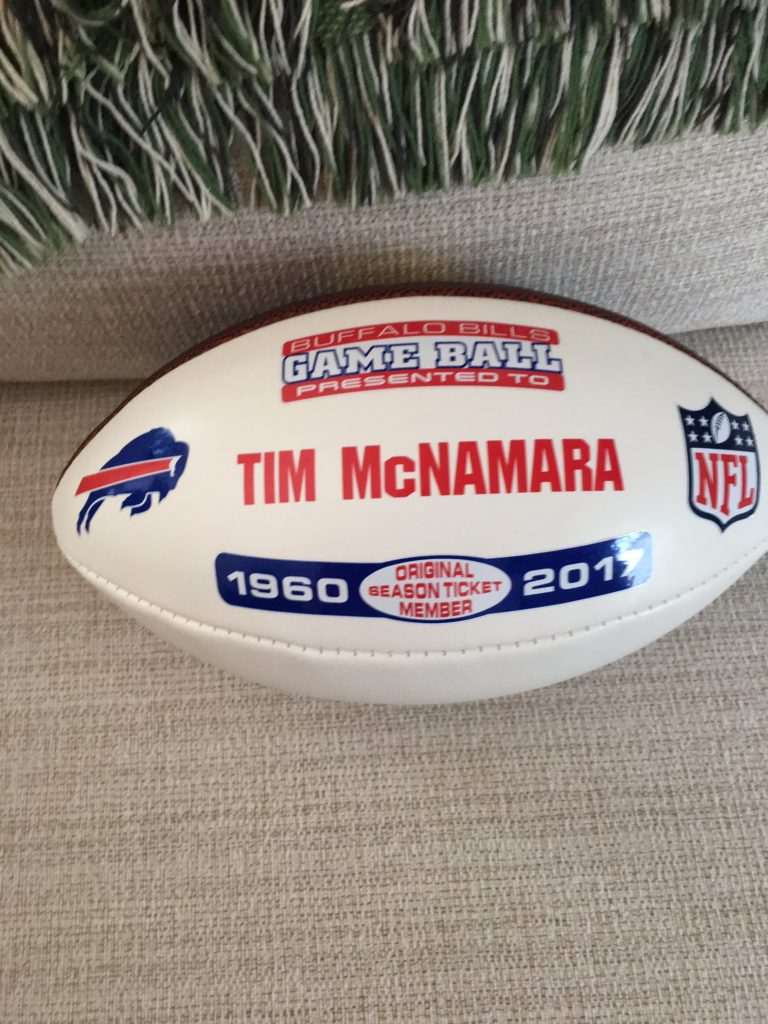 On July 16th, Joe Reagan and I met with Larry Schiro and Tim McNamara for lunch at a local restaurant. Joe is my nephew and a major contributor to the 'Dean's List' group of Buffalo Bills fans, as am I. Larry is an old friend and colleague of mine and Tim's.
As for our interest in interviewing Tim McNamara, we can begin with a number. That number is 000009, the number on his Bills season tickets. Team founder Ralph Wilson's ticket was 000001. By his own estimation, Tim has missed only about 3 home games since the team's inception in 1960.
I've known Tim for about 40 years. We were teaching colleagues and in that field of endeavor, Tim received a certificate of distinction over the signature of President Bill Clinton. Tim was also an excellent athlete, especially in baseball. His AAA Buffalo Muny League team won a national championship in 1974. He was drafted by the Milwaukee Brewers, but for personal reasons declined the contract. Tim has been inducted into the Western New York Baseball Hall of Fame.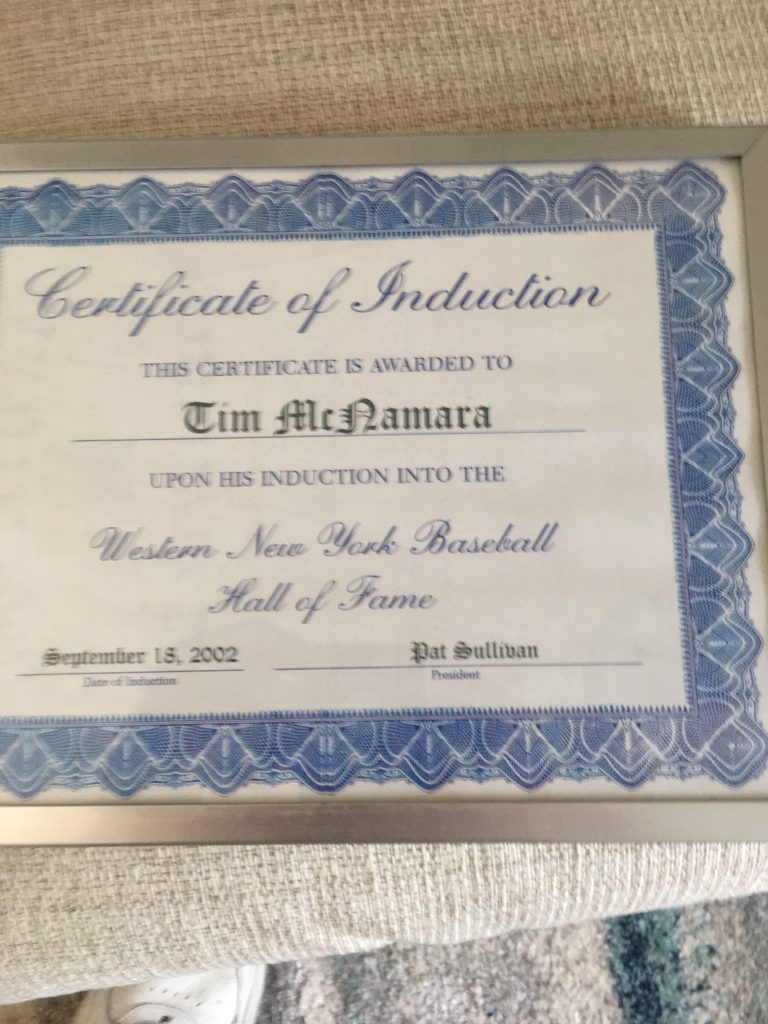 Tim coached baseball at The Nichols School in Buffalo, where one of his pupils was a 6 foot 9 inch shortstop named Christian Laettner. One day Tim got a phone call from someone identifying themselves as Coach K. Tim was skeptical. The caller said he was Coach Mike Krzyzewski. He was concerned that his prize recruit was playing such a physical sport as baseball. Tim consulted with Laettner who was a versatile athlete and didn't seem to mind switching to something less grueling.  Coach. K was grateful.
Tim showed up at our luncheon with an old baseball. Tim's father was at one time the President of the New York-Penn League and one of the divisions was named for him. Vince McNamara knew pretty much everyone in baseball and was a Red Sox fan. 
When Tim was about 10 years old he and his father went to Red Sox training camp in Florida. There he was introduced to Ted Williams, one of the greatest players in the history of the sport. Ted took a ball and using a fungo bat, hit it 400 feet over the outfield wall.  He turned to Tim and said "get that ball and I'll sign it for you". Tim didn't let any grass grow under his feet. He retrieved the ball which he brought with him to the luncheon. It has Williams' signature on it. It's kept under lock and key. He has several pictures of himself and Ted including one with Williams holding that very ball.
Another picture shows Tim and Vince squatting on the sidelines of a football field.  The field is old War Memorial Stadium in Buffalo and Vince has a device in his hand. The device is a timer switch. Vince was the timer for all the Bills games which explains the number on the season tickets. Young Tim is on the right.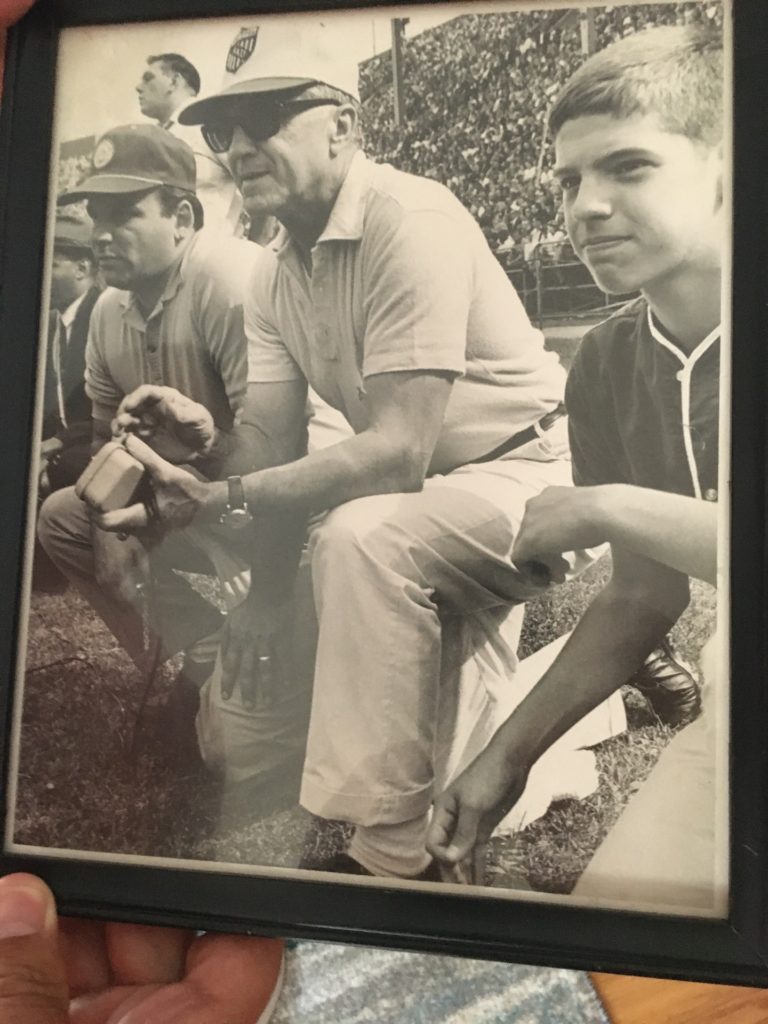 At a Bills game in December of 2017, all the charter members of the club's season ticket holders were invited down to the field at half time. Each of the 130 or so fans (likely fewer than 200 exist) had an I. D. tag with a number. Kyle Williams appeared on the Jumbo iron to announce that anyone with his number, 95, on the back of his tag would go to the Super Bowl in Minnesota with him all expenses paid. Tim won.
It was a league- wide promotion so he was joining every team's representative. At a gathering of the group, it was announced which person had held his tickets for the longest time. Tim won again and received a round of applause.
Everything was first class.
Since Tim was in Florida in February, the Bills flew him to Minneapolis from there and back again. Snacks and all meals were paid for. Even the pizza he went out for. On the way back to his room on the elevator, he ran into Hall of Famer Howie Long of the Raiders.
The following jokingly sarcastic exchange took place:
Long: Oh, wow, a pizza. Can I have a piece?
Tim: Heck, we beat you guys 51 to 3 !! (references to the 1991 blow-out victory by the Bills which Tim attended).
Long: Oh no, you must be from…
Tim: (interrupting). That's right, Buffalo!
Long took the ribbing good naturally along with a piece of pizza.
That wasn't the only Super Bowl Tim attended. He was in Pasadena when the Bills lost their third Super Bowl in a row. Needless to say the concourses afterward held hundreds of disappointed Bills fans. When a couple of Cowboy fans wearing Stetsons approached a Bills fan, Tim observed that one of them tapped the undoubtedly surly Bills fan on the shoulder and said, "you have a lousy team and a lousy city". The Bills fan hauled off and punched him in the jaw laying him out.
His buddy hovered over the 'prostrate punchee' saying, "Joe Bob?, Joe Bob?"  Don't mess with Texas? Hell, don't mess with BUFFALO or in this case Cheektowaga, which is where Tim found out the puncher was from when he complimented him.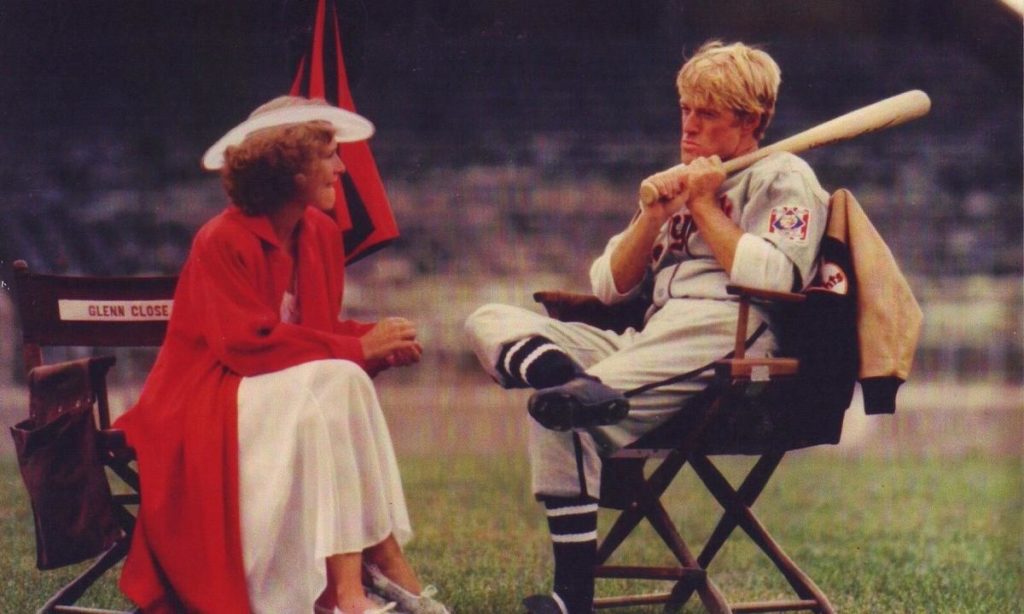 In 1982, a casting call for extras went out for the movie The Natural, which was being filmed largely at the "Rockpile". As Tim would tell you, this area is replete with good ballplayers, many of whom showed up along with Tim. Tim was teaching at the time but he signed a contract to be available from 7 pm to 4 am.
At one in the morning a food truck would show up stocked with veal, steaks, lobster and beer! Every day. There was lots of down time though, so when he was asked to join a pinochle game, he did. The person who asked him was western movie star and award winning actor Wilfred Brimley.
While sitting in the dugout looking at a ball game on television, a woman sat next to him and asked him what the score was. Tim told her and she said, "Good, I have 5 dollars on the winning team."  They chatted for a while and she left. The other extras looked at Tim like he had a firecracker up his nose. What?? he said.  Don't you know, they replied. That was Glenn Close!! 
After showing up for several days, Tim's part in the film takes all of 5 seconds but to this day he marvels at how he could arrive at the notorious Dodge Street tunnel and It would be 1982 when he entered and 1939 on the other side. Every effort was made to be authentic
Joe and Tim agreed that the greatest Bills game was the Frank Reich led comeback game, and the worst weather game was just a couple of years ago. A snowy affair against the Colts.
Tim recalled that the last game ever played at the old War Memorial was a tie game against the Lions. In the early days of the stadium, fans could bring in their own "refreshments".  He saw a fan come into the stadium once with a case of beer on each shoulder and his ticket in his mouth!
Tim's father, Vince, passed away about 20 years ago. Too bad, I would have loved to have met him, even if he was a Red Sox fan. Tim has served as a math consultant in recent years for Georgia school districts. He recently married another old friend and colleague of ours and they are settled in and enjoying life in their beautifully refurbished home.
My thanks to Joe who I asked to join us because as someone who did not know Tim very well, I knew would ask questions that would elicit some interesting answers from him. Larry had many observations and stories of his own which enriched our conversation. Both Joe and Larry are good bloggers in their own right and I trust their assistance in doing this piece.
Editor's babble: We enjoy sharing fan memories on our blog. If you have a special story to share, you can message me on Twitter @RobynMundyWYO and I'll do my best to include it on the blog. Many thanks going out to Vito Perricelli, Joe Reagan, Larry Schiro, and of course Tim McNamara.