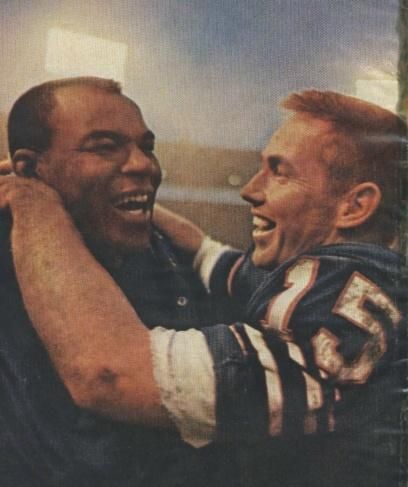 I never took Juneteenth seriously. Now that it is a national holiday I regret my ignorance. It commemorates the end of slavery in the USA and reminds us of our responsibility to fight racism. In that regard two things relating to local sports came to mind.
One was the unanimous vote by the University at Buffalo football team to not play in the Tangerine Bowl in Orlando because their two black players would not be allowed to play. That was in 1958, and it was the team's first bowl bid ever.
The other thing relates to two remarkable Buffalo Bills who took a stance against racism in 1965, at a time when it was rare for actively playing athletes to do so. One of them was white and one was black. Their names were Jack Kemp and Cookie Gilchrist.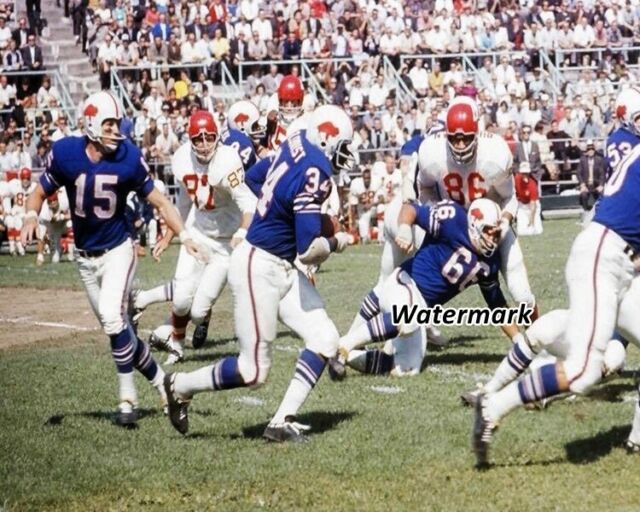 My wife and I attended Super Bowl XXVII between the Dallas Cowboys and the Buffalo Bills in Pasadena. It was a game that never should have happened there because it was originally scheduled for Phoenix, Arizona. Arizona failed to recognize Martin Luther King Day arousing the ire of Black players who insisted that they would boycott the game.
It was moved to Pasadena. Similarly, in 1965, the five year old American Football League moved its All-Star Game from New Orleans to Houston due to a threatened boycott led by Black athletes like the Bills' All- Stars… Butch Byrd, Ernie Warlick and Elbert Dubenion, but the clear leader was Gilchrist.
Carlton Chester "Cookie" Gilchrist was born in Brackenridge, Pa. on May 25th, 1935. Eighteen years later, he was coaxed into turning pro by Paul Brown but was not allowed to play in the NFL directly out of high school. He headed north where he knocked around several Canadian leagues including a a stint at rugby. 
In 1957 as a member of the Canadian Football League's Hamilton Tiger Cats he led them to the Grey Cup Championship. He became one of Canada's all time great players. He had grown into an imposing figure, even for a football player. He was listed as a 6' 3″, 251 pound running back and linebacker who a future teammate (and future Erie County Executive) Ed Rutkowski said could play any position. Reportedly he could run a 4.6 forty.
With his strong leg he was used to kick the ball off and convert field goals and extra points. And punt! Moreover, he was a brutal blocker. Opposing linebackers and defensive backs blitzed the quarterback at their peril. He specialized in dismantling them.
The problem was "Cookie" was a willful individual. He was filled with eccentricities and to say he walked to the beat of a different drummer is like saying Robin Williams had a nice sense of humor.
He was consumed with finding ways to increase his income, he was racially hypersensitive and chafed at being under someone else's control and insisted on having the ball. After six years. he became the only man to be kicked out of the Canadian football League! It became axiomatic that over a short period of time, people could just take so much of him, and he of them. Bills coach Lou Saban would be no exception.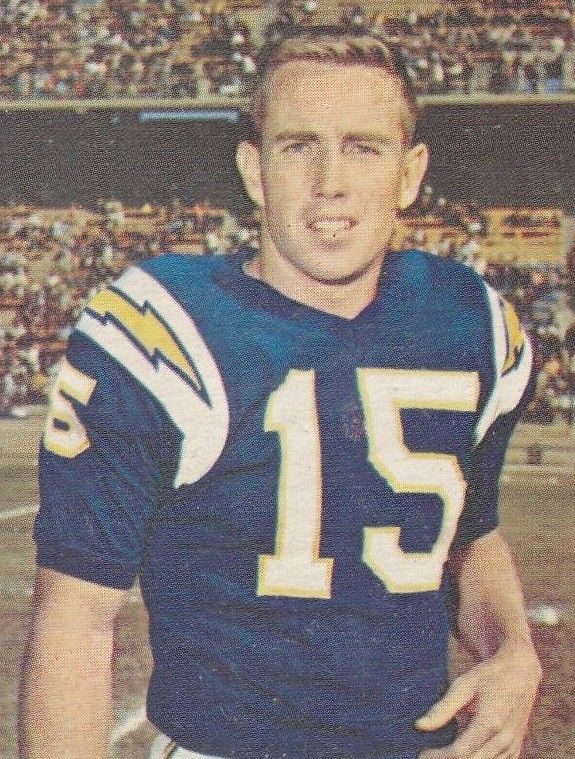 After losing seasons in 1960 and '61, 1962 looked like just another non-playoff year until good fortune struck. Sid Gillman of the Chargers tried to sneak all-AFL Quarterback Jack Kemp through waivers. Teams could only protect 33 men in those days and Kemp had incurred a badly injured finger.
Gilman needed the roster spot. Buffalo claimed the injured QB. Also in 1962, the Bills signed CFL All Star tight end Ernie Warlick and running back Cookie Gilchrist. The Bills already had a tough defense and now they could hurt you running the ball.
Kemp played the last five games making the Bills' offense truly formidable.
Gilchrist showed his quirkiness right off the bat in the first game. In the team dressing room, he stripped down to nothing, even shedding his jock strap and headed for the shower. It was half time. Consternation ran rampant- is he quitting???
No, turns out he likes to be fresh for the second half. It did give his teammates a look at his physique. The 250 pounder had a 32-inch waist and a 51-inch chest. The ladies liked the looks of him as well, and curfew to him was merely a suggestion. One of the issues that got him bounced in Canada was that Cookie would run into coaches returning to the hotel when it was already past curfew. Mostly though, the issue was money.
On the field, Gilchrist drew favorable comparisons to the great Jim Brown. In his second game with the Bills, he set a club record with 131 rushing yards and caught an 18-yard pass for a touchdown, but the Bills lost the game 23-20. The Bills lost five straight, but they bounced back to earn their first winning season with Kemp and Cookie leading the way offensively.
Gilchrist led the league in rushing with almost 1100 yards (the league's first 1000-yard rusher) and finished second in scoring with 128 points, which included 8 field goals. He earned Player of the Year recognition from the Associated Press and United Press International.
In 1963 the Bills again had a winning season, finishing 7-6-1. On December 8th against the Jets, Cookie rushed for a pro record of 243 yards and five touchdowns. He gained almost 1000 yards for the season, but the Bills lost in a playoff game to the Boston Patriots.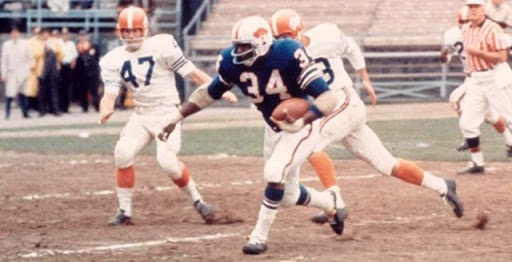 Still, the groundwork had been laid for a truly great season in '64, but you never knew what to expect with Cookie. Gilchrist wanted to play offense, defense, and special teams and have a separate contract for each one! The fact that he could be an all-star at all three positions didn't move owner Ralph Wilson to agree.
"Jackie" Kemp never wanted to leave San Diego He was born in Los Angeles and earned a B.A. from Occidental College, which is located there. But it turned out to be a blessing. All players want to play, and his days as a player in San Diego were probably numbered.
The Chargers had just drafted John Hadl who went on to have a remarkable career. Meanwhile, Kemp solved the major problem that kept the Bills from being a winner. He solidified the quarterback position.
In 1964 the Buffalo Bills did something no other pro team in either league had done that season. They went 9 and 0. On November 15th, the Bills' nemesis, the Patriots, ended the streak 36-28. The team had grown overconfident, but the Boston strategy of blitzing on every down worked.
It kept Cookie in the backfield to block for Kemp who was throwing the ball all over the place. Gilchrist got fed up. He wanted the ball. He stomped off the field prior to half-time and refused to play the rest of the game.
Coach Lou Saban went ballistic (Saban was almost as mercurial as Gilchrist). He'd had enough of the star back. Cookie had a penchant for missing practices, breaking curfew, and getting in trouble with the law. Recently he had been stopped for running a stop sign and was accused of assaulting a police officer. He wound up in jail. And now this. Saban put him on waivers.
A championship season was in jeopardy. The players begged Saban to withdraw the waivers. Cornerback Booker Edgerson said that they could help him. Football is all he's got. Kemp went to visit Cookie and tactfully convinced him to apologize. That ability would serve Kemp well. He was already a founder and President of the AFL Football Players Association and a future nine-term Congressman from the Buffalo area. Gilchrist apologized to the whole team and Saban relented.
Individuals in New Orleans were lobbying the AFL to move a team there –principally, the Dallas Texans, owned by Lamar Hunt, Jr.. Hunt was amenable because he couldn't compete with the NFL Cowboys. The AFL agreed to hold the All-Star game there. The League was promised that the segregated city would pose no "problems".
Instead, the Black players were denied restaurants, cab service, and treated with offensive remarks. Ernie Warlick, the Bills' all-star tight end, was called a "monkey" during dinner at the hotel. To make it worse, they had been encouraged to bring their families. A meeting was called where they discussed leaving. At another meeting with the NAACP present they decided to boycott. The principle speaker was Cookie Gilchrist. Kemp rallied the white players in support (a few objected). A couple of weeks later, the game was played in Houston with Kemp doing the negotiating.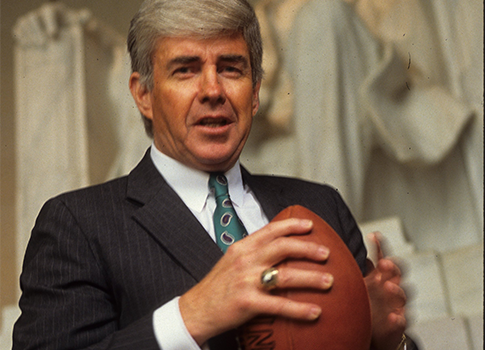 Kemp established a Buffalo area residence, and as a congressman became a strong proponent of a national Martin Luther King Day. Gilchrist and Wilson butted heads over contracts, and Gilchrist was traded to Denver where he lived much of his life. He never returned to Buffalo.
Gilchrist had been beaten down in his life, and one must understand him from that perspective. Once, while riding with a white woman, he was pulled over by a policeman just for that fact. The officer asked the woman what she was doing with that "n-word".
In the early 1990's, Cookie wrote a pamphlet in which he pled with league officials to take care of players health after they retired, and he specifically mentioned concussions. He was 20 years ahead of his time in this regard.
The CFL voted to enshrine Gilchrist in their Hall of Fame, but Cookie refused the honor citing their racism and exploitation. Both he and Kemp were AFL All-Stars at least four times, both were MVP's, and both are on the AFL all-time players list at their position.
They were born the same year and died of cancer within two years of each other. Posthumously, Kemp, the Conservative Republican was granted the Presidential Medal of Freedom by a Black, Democratic President. He and Cookie will always be together on the Bills' Wall of Fame.
Editor's babble: We are blessed to have Vito Perricelli's memories of the Buffalo Bills' past live on with his tremendous contributions to our blog.