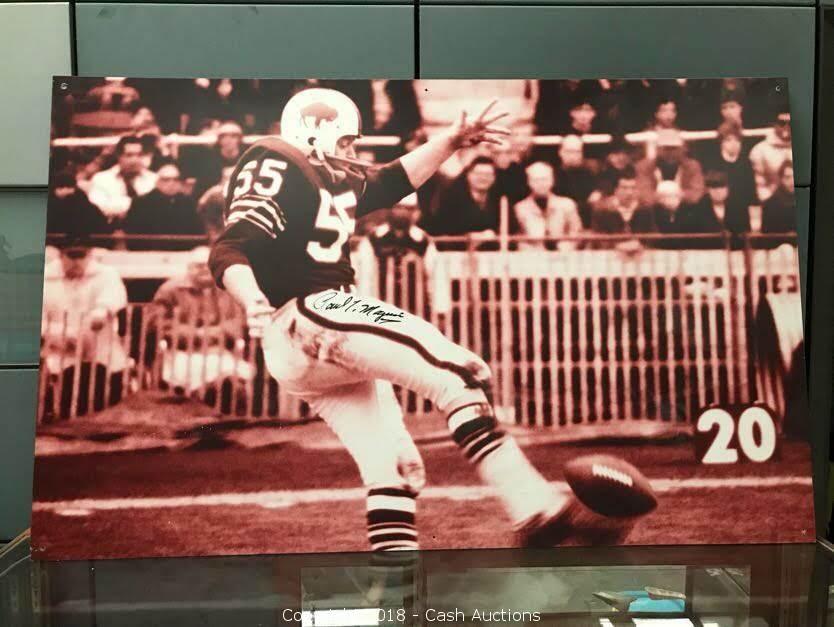 He was one of the greatest special teams players of his era . He had a long career and contributed decisively to some of Buffalo's greatest teams.  While enshrinement in the Hall of Fame is unlikely, his accomplishments are singularly worthy, especially considering he has carved an impressive niche as a color commentator on national broadcasts. 
Most Bills fans would assume I'm referring to Steve Tasker but I submit that another former Bill fits this description equally well and may be even more deserving of consideration for Pro Football Hall of Fame enshrinement.
His name is Paul McGuire, and like so many who achieved greatness in sports, someone took the time to mentor the youngster and teach him the skills that would bring him fame and success.  McGuire's mentor was a black man named Nick Johnson who was in charge of the city park system in their home town of Youngstown, Ohio. 
Johnson noticed the young football player fiddling around trying to punt a football with 30 yards being his maximum effort. Johnson offered that if the 9th grader really wanted to learn he promised he would teach him how to punt. That verbal contract led to a life changing career for McGuire, but it wasn't easy. 
His sensei had a sort of fraternity paddle into which he drove a small nail.  Whenever McGuire used an improper technique, he'd get a rap on the rear end.  Soon, his football pants grew bloody and they were the only ones he owned. 
A fence 56 yards away was his target.  Before he graduated from High School. McGuire could clear the fence on the first or second try every time. He was a good athlete who grew to be a solid six footer and over two hundred pounds. 
A wide receiver, he achieved All City and All State honors. Those accolades were followed by recruitment letters from all over but in Ohio, the preeminent football destination was "The"  Ohio State University and its gruff head coach Woody Hayes. McGuire wasn't moved.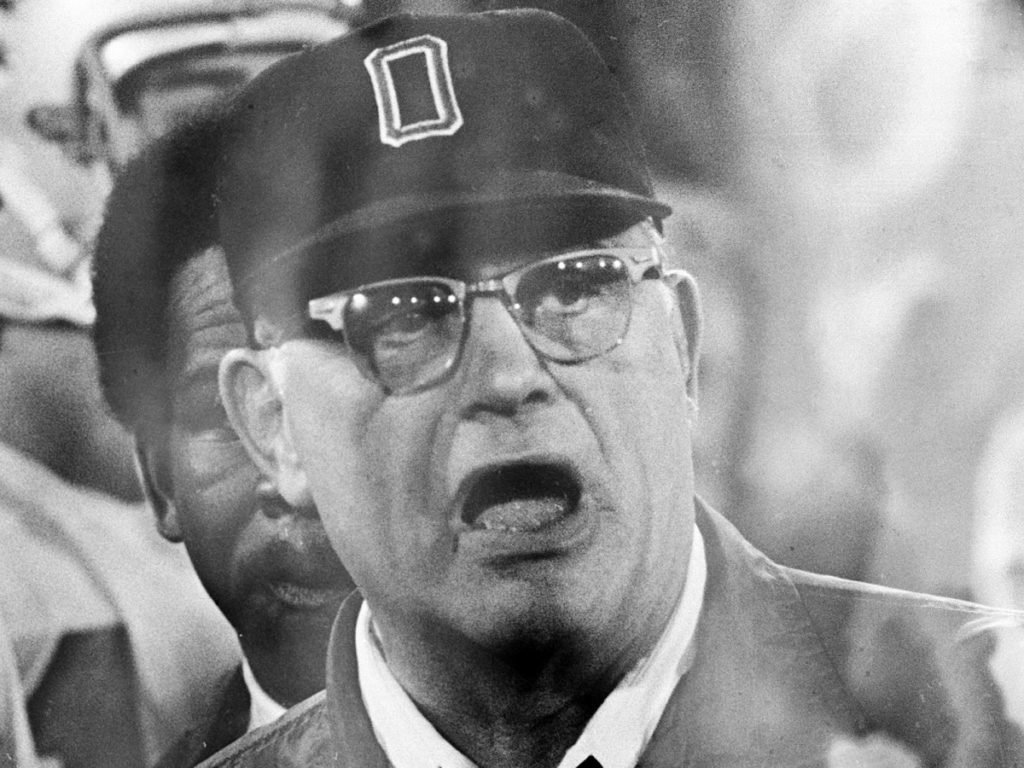 In an account given to writer Vic Carucci, at an all star game a miffed Hayes called him out in front of the  others. Afterwards, from a second story balcony, the young prospect dropped a water balloon that landed squarely on Hayes' head.  McGuire admonished Hayes never to yell at him again. He didn't. 
Eventually,  he was recruited to the only school  in America whose official name starts with "The"-  The Citadel. His recruiter became one of the most important people in professional football history; Al Davis. 
Davis would go on to co- own the Silver and Black- the Oakland Raiders of the AFL. He and Pete Rozelle of the NFL would become bitter rivals, but to Paul he was a mentor, teacher and lifelong friend.
In 1991, when McGuire suffered a heart attack, Davis chartered a private plane to carry him to the Cleveland Clinic. His recruiting tactics, however did not bear close scrutiny. He promised Paul he wouldn't have to wear a uniform or carry a rifle and that he could major in dentistry. The Citadel was a military school and an engineering school.  No exceptions.
Paul was, shall we say, slightly misinformed but he prospered playing linebacker and tight end. In his senior year, he led the nation in touchdown receptions and eventually was sought out by both the AFL and NFL. 
The bigger bribe came from the former so he chose the then Los Angeles ( a year later San Diego) Chargers under innovative head coach Sid Gillman. The two didn't get along.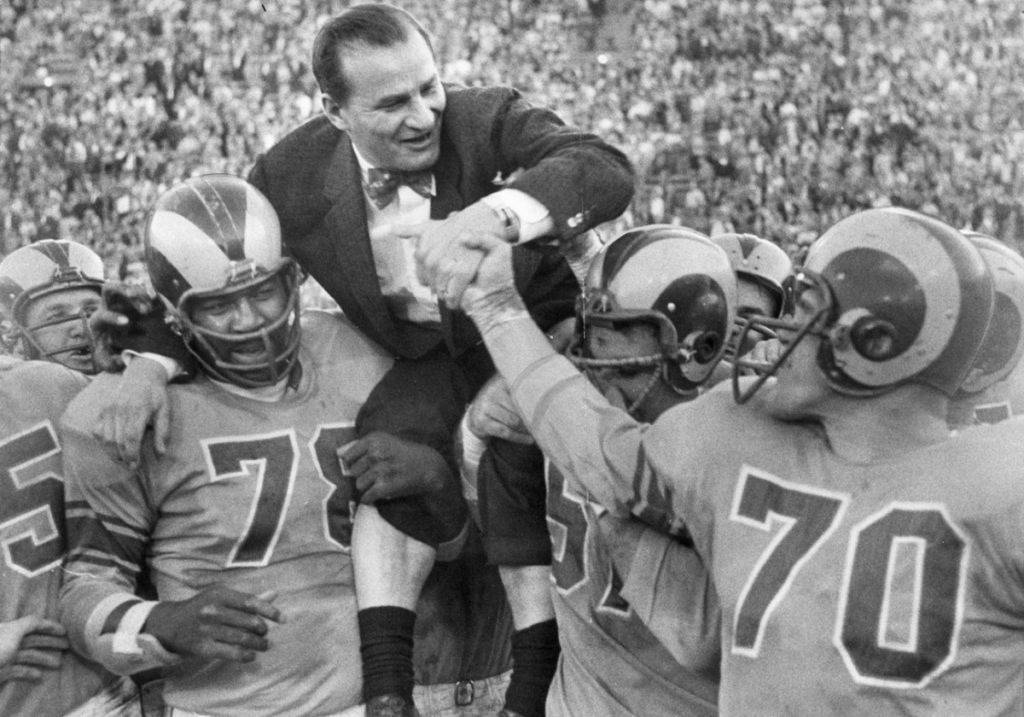 It was because of his punting that he made the team and subsequently carved out a career as one of the most successful special teams players in AFL history.  The Chargers went on to play in the first American Football League Championship game.
They lost that game but won the championship in 1963 after which Gillman, having had enough of McGuire's freelancing (on several occasions, punter McGuire overruled the coaches and called for a pass play on fourth down ) and his demands for a raise. He was put on waivers and the Buffalo Bills put in a claim and paid him the raise.
In 1964, the Bills won the AFL crown and repeated in 1965, making Paul McGuire the only player to be part of three consecutive championships in AFL history. There were ten championship games played by the AFL and McGuire participated in six of them. 
He played all ten years of the AFL's existence and was their greatest punter holding the league records for punts  and yardage. He holds the Bills record for longest punt, as well. Also, he was an all around special teamer.  
In the '65 Championship game against the Chargers, John Hadl punted to Buffalo's Butch Byrd who returned it for a touchdown. McGuire knocked down the last two defenders with one block making the score possible.
Moreover, he was a great clutch punter who perfected the "coffin corner" kick. A good basketball player, McGuire and his teammates organized a team that traveled to various venues to play "civilians" in order to raise money for charity. 
At these events McGuire would demonstrate his talented foot by having a participant lie on his back at center court with a basketball on his stomach.  The Bills punter would proceed to kick the ball into the net on the first try.  Apocryphal story ? I thought so until my wife told me she witnessed the feat in person!
After four years with the Chargers and seven with the Bills, McGuire retired from playing football. The legendary Curt Gowdy convinced him to try the broadcast booth.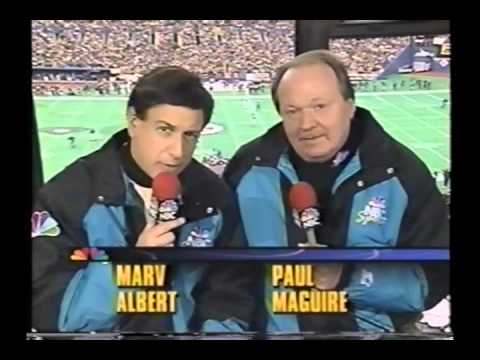 What followed was 46 years of distinction of play by play and color commentary principally for NBC and ESPN. Paul worked with the likes of Dick Enberg and Marv Albert, often on the first or second ranked broadcast team. 
His sense of humor held him in good stead.  During a broadcast from the Houston Astrodome (a novelty at the time) a punter got off a long kick to which McGuire opined that the air conditioning must be at his back. 
His contributions to broadcasting may actually eclipse his punting but in any event, he may be worthy of at least being in the conversation for Hall of Fame induction.  He's been Inducted in several "lesser" halls already in Youngstown, Buffalo and South Carolina. Precedents do exist.  
A kicker named Jan Stenerud already resides in Canton's Hall as does Billy Shaw, the Bills guard who played his entire career in the AFL. Many who never played professional football at all are in the Hall because of their contributions to the game. Guys like Marvin Miller, the labor leader and Vince Lombardi who last played football at Fordham University made the cut. 
For ten years McGuire was the greatest at his position and his subsequent career as a broadcaster was long and distinguished. McGuire is now in his 80's and lives in South Carolina but he always loved Buffalo. He lived in the area through the 1990's and hosted a popular call-in show called Budweiser Sports Line. 
He still maintains a condo in the area. While watching a local sports show called One Bills Live, the co-host of the show mentioned having seen Paul recently at the Bills practice facility. That mention inspired me to write this piece. The co-host was Steve Tasker.
Editor's babble: Many thanks to Vito Perricelli for his terrific contributions to our blog. It's time younger Bills fans begin to learn more about some of the players who played before they were born.