Recently, it was suggested that I might be looking at the Bills through "rose-colored" glasses. I would have laughed if it hadn't hurt so much. The irony. I turned 76 on May 20th (incidentally, Phil Hansen's birthday) and for 58 out of those 76 years, I've been an avid Bills fan.
Prior to that, I was a Browns fan and I took great delight in watching Jim Brown run over NFL players like a Canadian knocking down duck pins. The overlap lasted a couple of years with 1964 being what I consider, the greatest year in sports history. Both the Bills and Browns won league championships that year.
Which team was better? We'll never know. Would the great Jim Brown be able to
run on one of the greatest run defenses in pro football history? In that year the Bills gave up one (that's ONE) rushing touchdown in a 14 game season. At a time when
300 pound players were virtually non- existent, the Bills had two on their defensive line plus all-AFL tackle Tom Sestak who played at 270.
That last statement is not entirely accurate. Left defensive end Ron McDole reported to camp at a reasonable 265 but ate his way up to 300 during course of the season. The Chargers superb offensive tackle, Ron Mix, said he was the toughest player in the league to block.
The linebackers really stood out. Experienced, fast and coordinated from playing
as a unit for a couple of years, John Tracey, Harry Jacobs and Mike Stratton were a
well oiled machine, but it was in the defensive backfield where my favorite player
resided.
He was a 5'10" safety name George Saimes. Mostly a fullback at Michigan
State, he came to the Bills' attention only because they were scouting his roommate, Dave Behrman… an enormous offensive lineman.
Saimes came to Buffalo in a trade with Kansas City. It was a ploy to keep him out of the hands of the NFL. That ploy turned out to be the greatest safety in team history and a player voted to the all time AFL team.
The Bills started a rookie at cornerback that year also named George but everyone
called him "Butch". The 6′, 211 lb. Butch Byrd still holds the career record for inter-
captions by a Bill and he was an excellent punt returner.
With quarterbacks like Jack Kemp and super-sub Daryl Lamonica (a 14th round pick), a truly remarkable running back named Cookie Gilchrist and a blazing fast receiver aptly called "Golden Wheels" Dubenion, head coach Lou Saban, a former Browns linebacker, led this team to glory. I was enthralled.
I would sit in the lecture hall at the University at Buffalo taking copious notes. In
actuality, I was ignoring the professor and diagramming the Bills' offensive and defensive formations including the name, number and school of each player which I had memorized. I had to change majors the next year. No wonder.
The Bills powerful running game pulverized opponents, forcing them to adjust. When they did, the strong armed QB's threw over their heads to speedy receivers
for easy TD's. The Bills beat the talented defending champion Chargers and took
the title.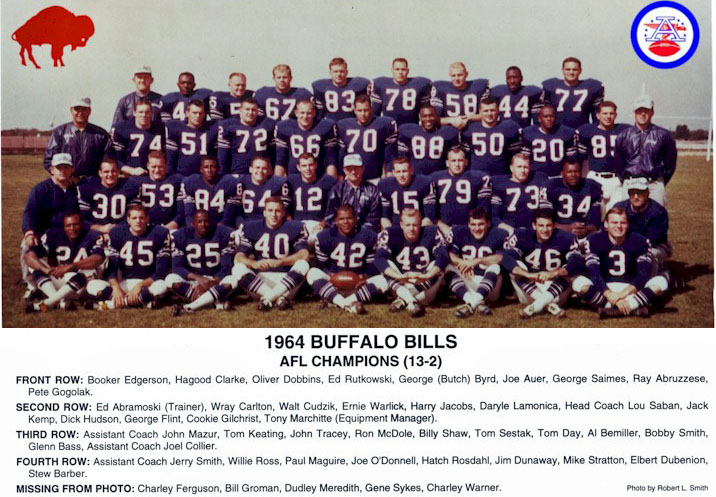 The game was punctuated by what many observed as the greatest tackle
in AFL history when all star running back, Keith Lincoln, caught a flare pass only to have Stratton time his tackle perfectly with the arrival of the ball breaking Lincoln's ribs. It was the turning point of the game and some say, the end of Lincoln's career.
In 1965 the Bills defeated the Chargers again, shutting them out in San Diego
but in '66 the Bills lost in the Championship game to KC who went on to lose to
the Green Bay Packers in the very first Super Bowl.
The Bills were one game away. Cookie was gone but the rest of the team was pretty much the same, so I bought season tickets the next year. That's when the slide into disillusionment started.
1967.
Memorial Stadium was located in an area that had seen better days. A WPA
construction, it was dismal and outdated. The view from my seat was partially
obstructed by a girder which was good because the team was boring, mistake
and injury prone.
Earlier, the Bills had perpetrated one of the worst trades in Bills' history by sending Daryl Lamonica to the Raiders for two accomplished but washed up players. Oakland went on to play against Green Bay in the second Super Bowl. Buffalo won all but 10 games. The Raiders became a feared and dynamic team led
by the "Mad Bomber", Daryl Lamonica.
In 1968, the Bills moved their training camp to Niagara University. I lived in Niagara Falls so I drove over to observe training camp. There were few spectators. I was able to get a close up view of my heroes but one player caught my attention.
It was Keith Lincoln. The Bills had acquired another washed up player.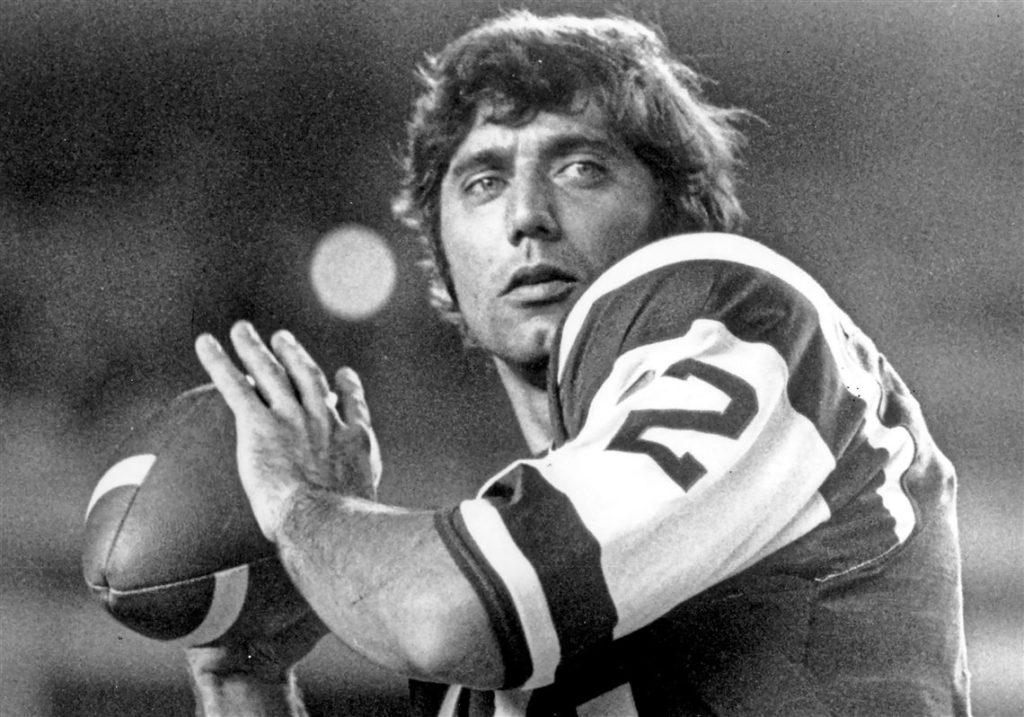 Late in September, the Bills defeated the Joe Namath led Jets, another team not
named Bills that would go on to the Super Bowl. It was the only game the Bills would win all year. Their reward was O. J. Simpson. My reward was agitation. Simpson was terribly mishandled. The new head coach was John Rauch, maybe
the worst head coach ever…….anywhere. I gave up my season tickets.
Fifteen years later I ran a ski club at Holiday Valley and was having dinner in the
Chalet with a group of parents. One particularly handsome couple sat next to me and we chatted amiably. Finally, the wife asked me if I knew who her husband was. She asked ME, the greatest authority on the Bills this side of any esteemed Buffalo Evening News sports writer, Larry Felser! I nodded yes. He's Dan Darragh. Due mostly to injury, Darragh, a late round draft pick out of William and Mary, helped quarterback the Bills to the worst season in their history with a 1- 12- 1 record. I had been reluctant to bring that up in polite conversation.
About ten years after that, I went over to a local mall where there was a Bills
reunion and autograph signing. Sitting at the first table was George Saimes.
We chatted a bit and finally I asked him how his buddy Dave Behrman was doing… who ironically, never had much of a career.
Saimes was stunned because he had just talked to his old roomie on the phone. He asked me how I knew they were friends. I simply replied that I know everything there is to know about you.
The Bills got a new stadium in 1973 and abandoned the "Rockpile". Lou Saban
returned and breathed new life into O.J.'s career. He and The Electric Company
set records and were fun but the Bills went 0 for 20 against Miami in that decade.
A few good years followed under Coach Chuck Knox but they were followed by
years of futility under Kay Stevenson and Hank Bullough otherwise known as
John Rauch redux.
Like all Bills fans, I gloried in the Super Bowl years and actually went to Super Bowl
XXVII in Pasadena where I had to endure the insufferable Cowboy fans sitting around us. When the Bills played their fourth Super Bowl, I spent the game at the movies watching Schindler's List. I couldn't bear to see another loss.
Those half dozen or so years of success were followed by 17 years of no playoffs. Frank Reich's Great Comeback was followed by the irritating Music City Miracle. The acme of 1964 had set me up for the nadirs that followed. I have come to accept defeat and be surprised by victory.
I still love the team, mind you. I went to every training camp at Niagara and every
one at Fredonia, as well as several at St. John Fisher, but I'll believe the Bills are in the Super Bowl when they check into the hotel there. Rose-colored glasses? Maybe Council Opticians sells them. I'll ask.
Editor's babble: Please welcome new contributor Vito Perricelli to the blog. We're grateful to Vito for sharing his history with the Buffalo Bills and look forward to his commentary.