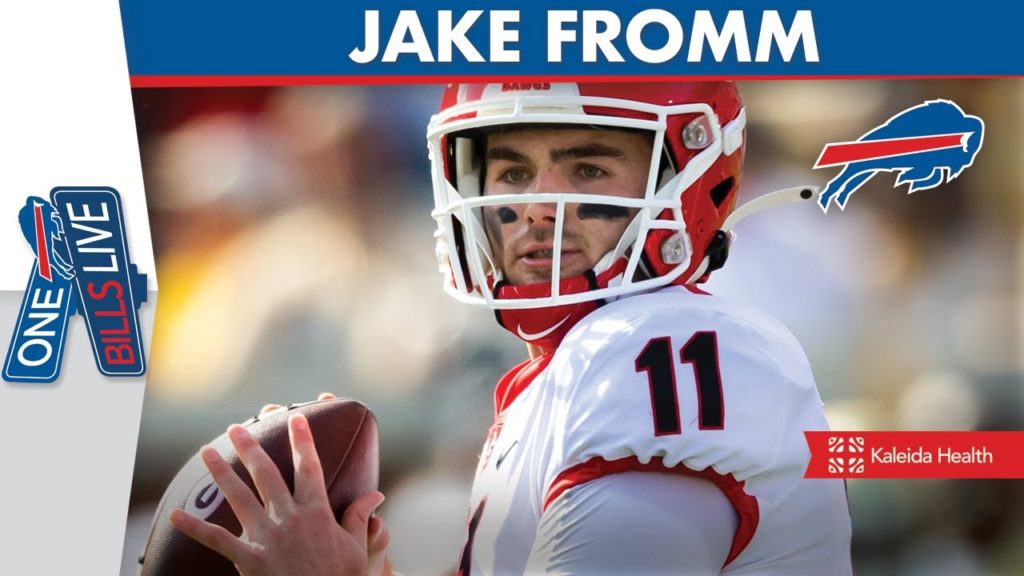 Jake Fromm was drafted by the Buffalo Bills with the 167th overall pick in the fifth round of the 2020 NFL Draft. After my initial head scratching and slight confusion of this selection for the Bills, since they already invested in Josh Allen two years prior… I suddenly realized that the drafting of Jake Fromm was actually a brilliant decision! Although Josh Allen had improved his overall game in 2019 from 2018 (10 wins and a playoff appearance versus 6 wins and no playoff appearance), he still wasn't at the level of the upper echelon of quarterbacks, and frankly still needed a lot of improvement in order to get there.
The transformation of Josh Allen during the 2020 season was nothing short of a miracle as Josh completed the season as the MVP runner-up, losing out to Aaron Rodgers. Josh was unbreakable, unshakeable, unbelievable and absolutely incredible in almost everything he did during his third season, and was such a joy to watch!
The drafting of Jake Fromm WAS a major reason for Josh Allen's metamorphosis, hence why drafting Jake Fromm was another brilliant move by 'Magic' Beane and Company! Josh Allen re-defines the term "ultra competitor" and was going to prove to all of us that HE was the alpha male quarterback that the Bills wanted and not Jake Fromm.
So what do we do about Jake Fromm you ask? Let me explain who this kid is and why I believe he's worthy of being our next Frank Reich.
Jake Fromm grew up in Warner Robins, Georgia and attended Houston County High School. Fromm ended his 2016 high school career with 12,745 passing yards and 116 touchdowns.He was a USA Today All-American and was rated as a five-star recruit and No.3 overall pro-style quarterback in the country.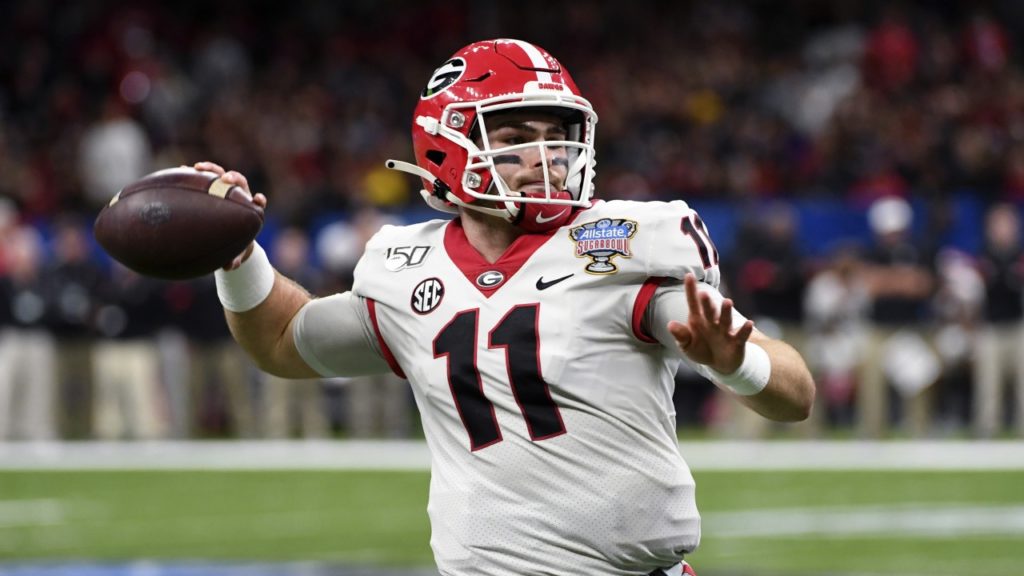 Fromm originally committed to the University of Alabama to play college football, but changed his commitment to the University of Georgia, in large part due to coach Kirby Smart leaving Alabama to become head coach for Georgia. Smart was the main recruiter of Fromm while he was in high school, therefore remained loyal to Smart and the chance to play for his favorite team.
Fromm began his true freshman year at Georgia in 2017 as the backup to Jacob Eason. In the first game of the season, after Eason was injured, Fromm replaced him and went on to not only win his first collegiate game, but remain firmly entrenched as the team's starting quarterback for three successive seasons.
Eason decided to transfer to the University of Washington after losing out to Fromm in the Spring of 2018. He was a fourth round pick of the Indianapolis Colts in the 2020 NFL Draft. The following year, Fromm had more competition from a highly recruited player named Justin Fields. Once again, Fromm held off Fields for the starting job and this led to Fields transferring to Ohio State. Fields was recently selected with the 10th overall pick in the first round of the 2021 NFL Draft to the Chicago Bears.
Fromm finished his true freshman season as the SEC Freshman of the Year and was a freshman All-American. He helped elevate the Georgia Bulldogs to the No.1 ranking. He also led Georgia to the SEC Championship game against the University of Auburn. Georgia defeated Auburn for the SEC East title then went on and beat the University of Oklahoma (Baker Mayfield) in the Rose Bowl 54-48 in double overtime.
This earned Georgia a trip to the CFB final against Alabama (Jalen Hurts/Tua Tagovailoa/Brian Daboll), which they ended up losing (barely!) 26-23. Although Fromm didn't have his best game against Alabama, 16-32 completions for 232 yards, one touchdown and two interceptions, it was enough for him to leave an undeniable mark within the collegiate football world as one of the best quarterbacks that was only a freshman!
Without diving into Fromm's three year college career (he declared for the NFL Draft after Junior year) from a statistical standpoint, let me fast forward to the present time. As we all know, the COVID pandemic stalled Fromm's progression into his first NFL season, as the Bills' decided on designating Fromm as their "emergency" quarterback last season.
Unlike normal years, where Fromm would have been thrown into the mix and share huddles and meeting rooms, he was held separate from the team as the Bills' needed to ensure a non-contacted player at this position. GM Brandon Beane summed up Fromm's situation post season quite praiseworthy by saying, "Jake Fromm had the most un-normal year a player could ever have, to come in here and be the COVID quarantine quarterback."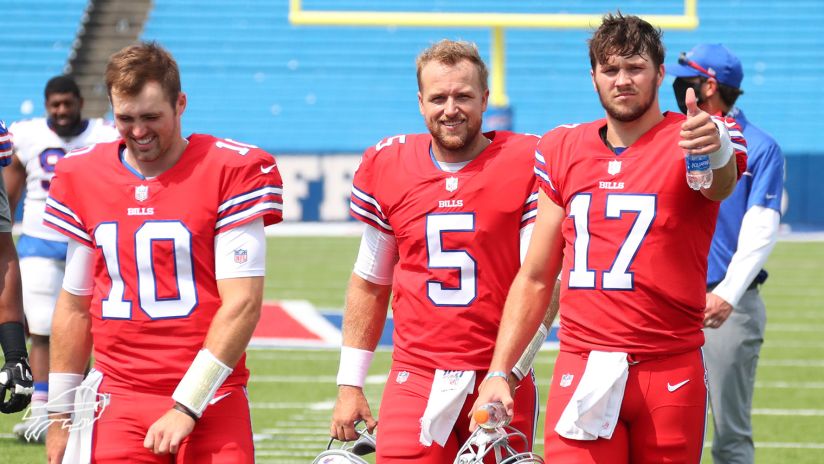 Beane went on to say, "I thought he handled it greatly. In his exit meeting we just praised him for staying true. He would literally be back there hearing the call in his helmet, and while Josh (Allen) or Barkley are going back (in the pocket), he's going back just like he's making the throw from 20 yards back.
He stays after and throws with the practice squad." I, for one, cannot imagine the daily, weekly and monthly angst this kid had to endure and must have felt while fulfilling this role, and all the while having limited, if not zero, exposure to teammates and coaches as well as being physically isolated from his home and family on a daily basis. I, personally, would have gone nuts!
The Bills' got what they needed from Fromm last season, but I cannot fathom this organization placing Fromm into the same role this year as last year, strictly from a mental hygiene perspective, as I believe it would crush his demeanor, his spirit and his physical maturity, regardless of the fact that he is a devout Christian.
I'm not quite sure for the reasoning behind Beane and Company signing quarterback Mitch Trubisky during this off-season as Beane stated that Trubisky is here to hit the "reset" button on his career, which means "one and done." I believe Jake Fromm, if given the appropriate opportunity, can not only beat out Trubisky in training camp for the No.2 quarterback position, but also be the BEST backup for Josh Allen indefinitely, which is exactly what Frank Reich was for Jim Kelly back in the day. I really, really like Jake Fromm and I hope he can show everyone this year what and who he truly is, as well as what he can be for the Buffalo Bills!
Fromm Georgia to Orchard Park, Jake Fromm is the next Frank Reich!
Editor's babble: Wouldn't it be great if Fromm worked out to be that guy for Josh Allen? Thanks to Nick DiSalvo for his terrific contributions to our blog!