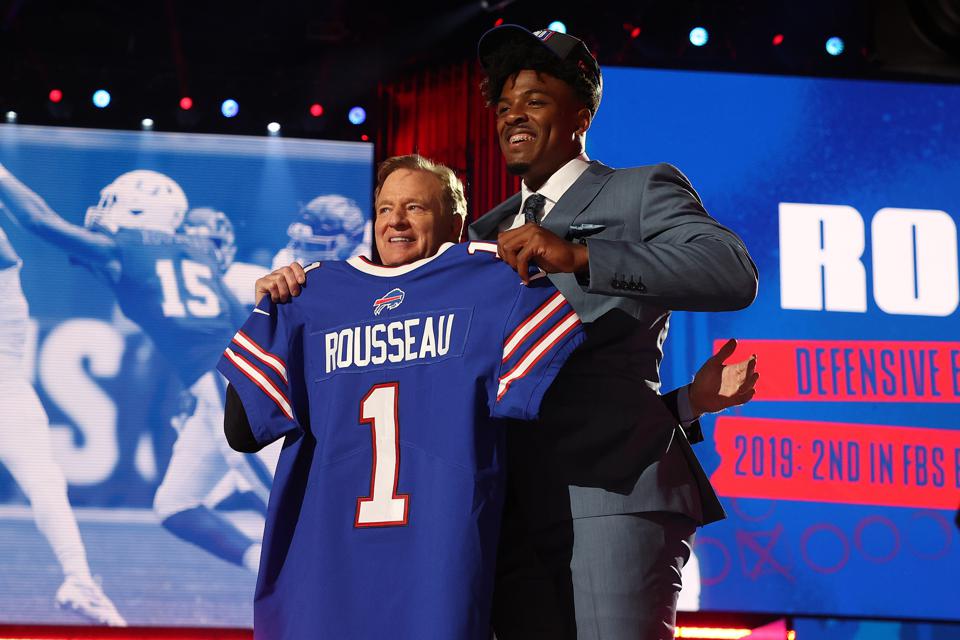 My Top 4 Picks From Bills' 2021 Draft Class
1st Round: Defensive End, Greg Rousseau
Analysis: This pick made a lot of sense because the Bills were in desperate need of an effective edge rusher. Rousseau probably has the most potential out of all the Bills draft picks. He had 15.5 sacks his only year playing for Miami, and was also his first year playing the edge rusher position. There is a lot of room to grow for Rousseau, but because he had so much production in just one year, it probably made him look very attractive for the Bills to take him with the 30th pick. Rousseau is still a project but could still be productive for the bills in the 2021-2022 season. Rousseau's size and length alone should put him ahead of most rookies, and he should be able to be effective against the run as well as rush the quarterback.
2nd round: Defensive End, Carlos Basham Jr.
Analysis: It was clear after this pick that Bills GM Brandon Beane saw what Tampa Bay did to Kansas city. Tampa Bay affected Pat Mahomes and gave him no time to throw the ball. The Bills saw that and are trying to do the same thing to take down the Chiefs. Carlos Basham Jr. out of Wake Forest is a 'Pro-Ready' prospect. Basham was a redshirt senior meaning he has played 5 years at Wake Forest. Basham is 24 years old, however, his 5 years of experience in college will be helpful so he can be an effective pass rusher immediately. Basham had 5.5 sacks in seven games last year. Basham will be a key part this year in making our pass rush better and be more effective on the edge.
3rd round: Offensive tackle, Spencer Brown
Analysis: This pick was more for the future due to the fact the Bills already have Dion Dawkins and Daryl Williams at their offensive tackle positions. Spencer Brown is 6'8″ and is a freak athlete. Brown is 'Pro-Ready', however, he will likely be sitting on the bench for a couple years under Daryl Williams, unless an injury happens. Brown is fast for his size and can move around pretty well, which will be helpful when he goes against the top edge rushers in the league. Brown is very powerful, he benches over 500 pounds on a daily basis. This can be a very good pick because Spencer Brown has the power and athleticism to do well in the league.
6th round: Wide Receiver, Marquez Stevenson
Analysis: If you want speed then Marquez Stevenson is the guy you want on your team. When i think of this pick, I think that this is the ideal player to replace John Brown. Stevenson was the fastest player in the draft, as soon as the play starts he is zooming down the field. Stevenson had the fastest play in college football last year and has had many plays go over 50 yards. Stevenson can also be used in the kick/punt returner role as well, since Andre Roberts is no longer on the team. I think this was a good pick for this upcoming year and the future because Stevenson is a guy who can return kicks, but also develop into a very good Wide Receiver in the league. There is a ton of upside with this pick.
My overall grade for the Buffalo Bills 2021 NFL Draft
Grade: B+
Reason: This draft class has a ton of upside and I could see a decent amount of our picks developing into really good players. Drafting two edge rushers really filled that need and should definitely help in creating a pass rush against the top quarterbacks in the league. The Bills also added some very good depth players who can develop into starting caliber players. I think Bills GM Brandon Beane did a very nice job drafting players who can help this upcoming year, yet also help to sustain success for the franchise into the future.
Editor's babble: Thanks to Ryan Horton for his contributions to our blog. You can find Ryan on Twitter @RyanBuffalo01.