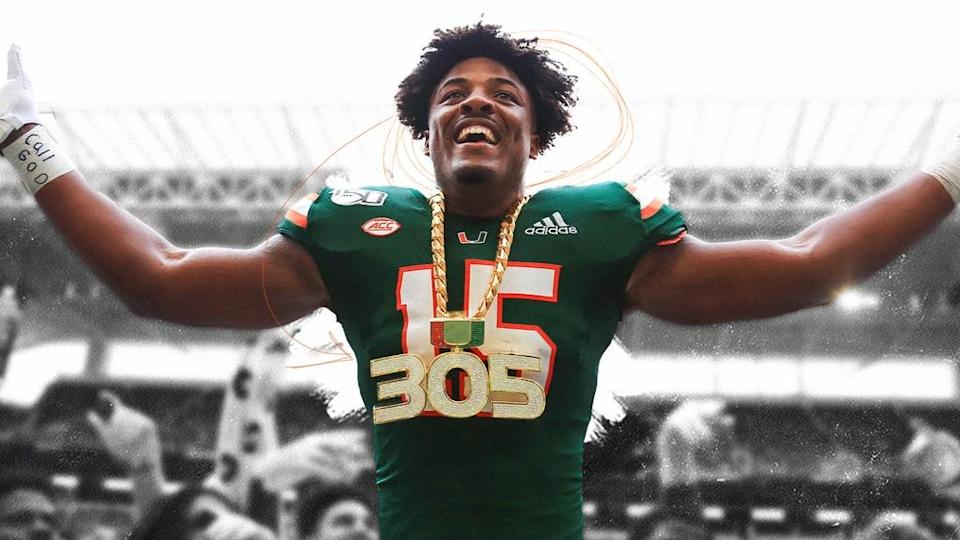 With the 30th pick in the 2021 NFL draft the Buffalo Bills selected Miami edge rusher Greg Rousseau. Rousseau is a raw but very gifted edge rusher. He had 15.5 sacks in his first year playing for Miami in 2019, but did not play in 2020 because of Covid. He chose to take care of his mother, who is a frontline healthcare worker. Rousseau mentioned in his press conference that his mother lived in buffalo for about five years, so he does have ties to the city of Buffalo.
Rousseau is 6'7″ and around 265 pounds. He also has an 83-inch wingspan, so he has a lot of length to get around the edge… but is also big enough to not get pushed around if he has to play on the inside on obvious passing downs.
You may wonder if Rousseau is a good fit for the Bills. Well I think he is a good fit. As Bills GM Brandon Beane said during his press conference "you don't just luck your way into getting 15.5 sacks".
Rousseau has a clear ability to be an effective pass rusher, which the Bills desperately need. We all saw how much pressure Tampa Bay put on Patrick Mahomes in the Super Bowl. He was flustered all game and had no time for his receivers to get open.
That's the kind of pressure the Bills need to be contenders. Jerry Hughes is 32 years old and Mario Addison is 33 years old, so we need to infuse some youth on the Bills defensive line.
Rousseau also fits the culture of the bills. He stayed close to his teammates while he opted out, but he did not stop training. Rousseau took all of his free time into training for the 2021 NFL draft. He seems like a great locker room guy who fits the mold to become the kind of player Sean McDermott and Brandon Beane want.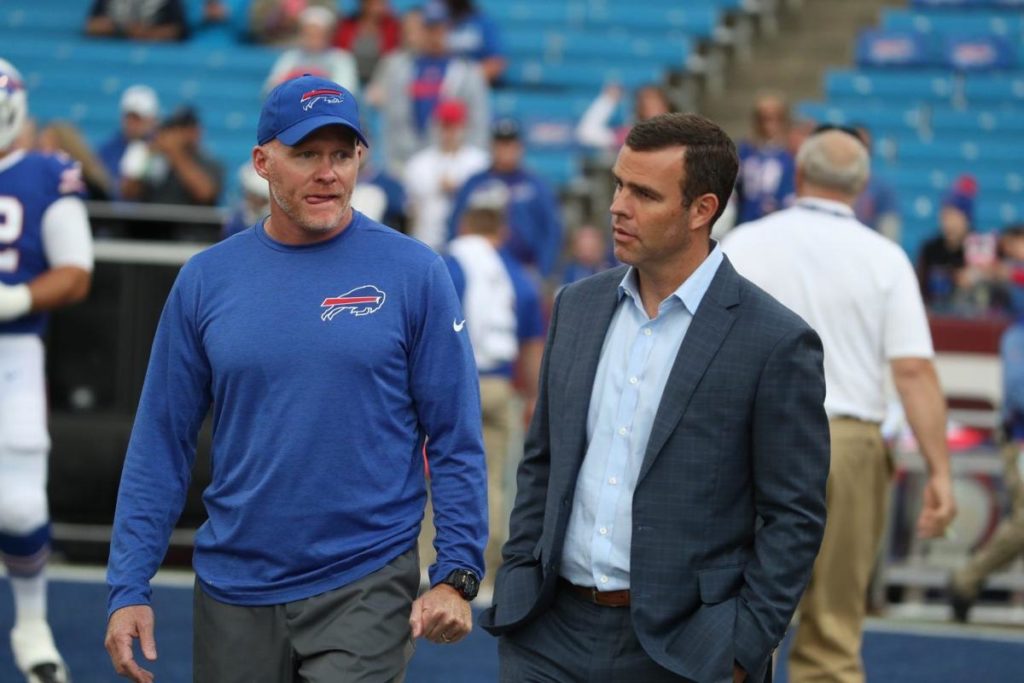 Rousseau also has versatility, a trait that Sean McDermott and Brandon Beane love. He is traditionally going to be an edge rusher. However, on obvious 3rd down passing situations, you can put him in the middle with his size and speed. Rousseau's most used technique is the "Grab and Go move", which is effective but when he goes up against NFL competition he will have to start learning more techniques to throw the offensive line off.
A very cool thing is that Rousseau played both wide receiver and safety positions in High School. His first year at Miami was the first time he played edge rusher full time, and still had 15.5 sacks to go along with 2 forced fumbles. He still has a lot of room to grow, but the fact that he had 15.5 sacks in his first year playing edge rusher should be exciting for Bills fans.
Overall, I think the Bills have one of the highest upside players in the draft who could be a big piece in bringing this defense to where it needs to be. Just be patient with Rousseau because he is still developing and is still new to the position.
If we look at the Bills' draft history under Brandon Beane, they took Tre'Davious White 27th overall in the 2017 NFL draft. He is now an All-Pro Corner and has made the Pro Bowl two times. In 2018 the Bills selected quarterback Josh Allen… who was also very raw… but under Beane and McDermott has now developed into one of the best quarterbacks in the league.
I could go on but the point is that Beane has yet to miss on a first round pick and I don't think we should be questioning this pick. After Beane got the Bills to the AFC championship game for the first time since 1994. We should be excited for the future of the Bills as we welcome Greg Rousseau to the Buffalo.
Editor's babble: A great debut post…please welcome Ryan Horton as a contributor to our blog! You can find Ryan on Twitter @RyanBuffalo01.