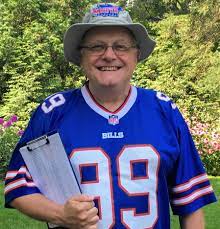 Need a one-stop primer in preparation for the 2021 NFL Draft? Look no further than what our draft 'guru' Dean Kindig put together for us as he does every year, all year long for the BuffaloFAMbase blog. There is no one that does draft analysis any better and he does it from a place of love.
This season Dean added another whole layer of analysis by reviewing over 200 interviews of prospective draft picks. He systematically reviewed each player's interview and graded their body language, facial expressions, eye contact as well as overall content of each interview. The amount of detail and time taken for preparing his analyses is unsurpassed. We are blessed.
Below are links to some of the analysis Dean has done over the last four months. Thanks to Dean for sharing his hard work and solid analysis with all of us.
Editor's babble: Whew. If you don't feel totally prepared for the draft after reading through all this, I don't know what to tell you :) There aren't enough words of gratitude I can express for the many, many contributions Dean Kindig makes on a regular basis for our blog. You can find Dean on Twitter @TCBILLS_Astro.