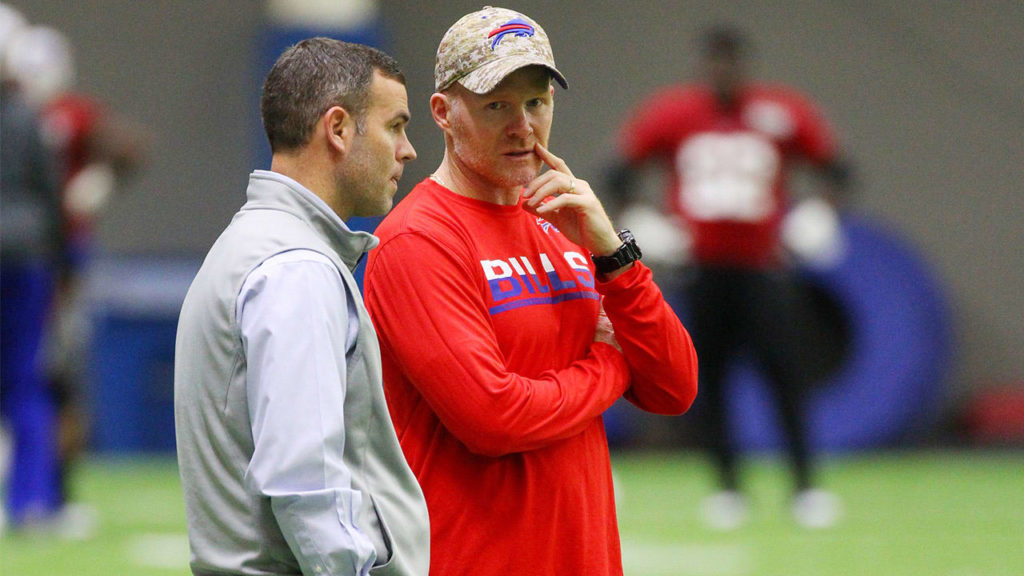 Many questions abound in these upcoming and very exciting weeks for sure, but I wanted to focus on the brain trust of both Coach and GM of the Bills and see if there is anything I can deduce from past years comments of these two extraordinary minds in trying to predict what 2021 will look like for our roster.
I can remember McDermott commenting at 2019 training camp at St. John Fisher how his new receiving corps of John Brown, Cole Beasley, Isiah McKenzie, and Andre Roberts looked like "smurfs". I don't believe he included Zay Jones nor Duke Williams in this list as they were not going to be too heavily involved that season.  Result.  Smoke Brown and Cole Beasley were HUGE, Isiah McKenzie played an excellent "gadget" role and Andre Roberts secured himself as an All-Pro returner and manageable spot receiver.  
Robert Foster disappeared, Zay Jones was shipped off to Oakland and Duke Williams saw limited action.  At the end of that season, Combine comments from both McDermott and Beane included "we need to score more points" and "we need bigger receivers at the catch point."  Result.  Massive trade with Vikings for Stefon Diggs and the drafting of not 1, but 2 receivers 6'2″ and 6'3″ in Gabe Davis and Isiah Hodgins.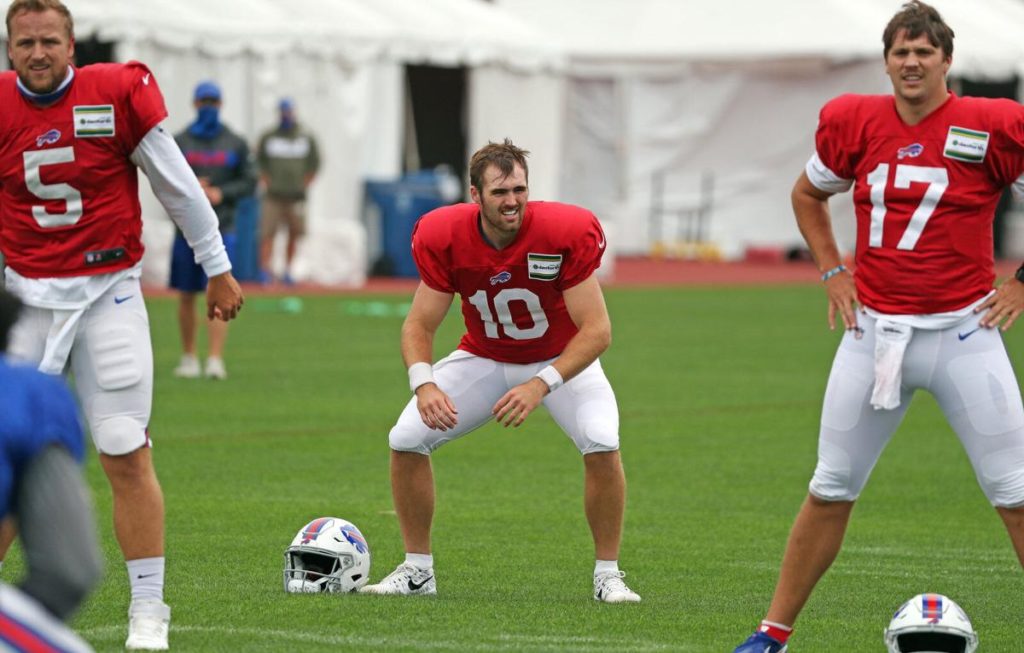 Additionally, the drafting of Jake Fromm may have also contributed to lighting a fire under Josh Allen, since he is by far an ULTRA competitive alpha male!  Result.  Bills finished third in league for avg./points/game with 29.4.  Josh Allen ascended to incredible, unheard of heights as runner-up MVP.  Diggs led the league in both receptions and yards, all-pro nominations for both accordingly.  Gabe Davis exceeded draft guru's expectations and became a clutch, toe tapping reliable newcomer.  Smoke sadly fizzled out due mostly to injuries, but Beasley was a slot machine, which resulted in 15 wins and smashed team records.
Fast forward to post season comments from McDermott and Beane; "you need speed in this league". "Our run game underperformed, but it's not all on our running backs". Our guys up-front on the D-line were too small".  "Our defensive pressure wasn't what we thought it would be". "It definitely hurt not having Star there to maintain the double team".  "We need much better production from our Tight End position as you saw what Kelce did to us this year".
Recent results have been MOST favorable with the signing/retaining of Matt Milano, Daryl Williams, and Jon Feliciano, along with the contract restructuring of Mitch Morse, Vernon Butler and Mario Addison. Tyler Kroft and Star Lotulelei restructured both their contracts heading into the 2020 season with Kroft hardly seeing the field after the first four games and Star deciding to opt-out for Covid related reasons.
Here are my non-scientific summaries from all this excessive babble with thinking of what may come during next week's free agent frenzy and the upcoming draft.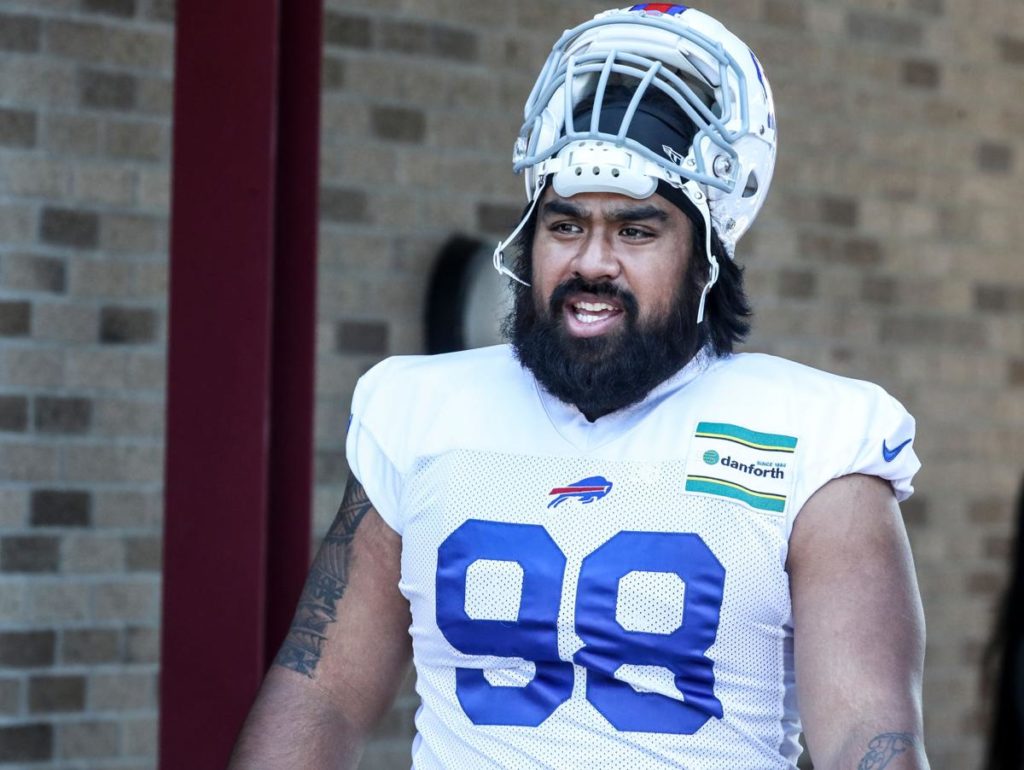 1. A run stuffing, double team take on defensive tackle will either be signed through Free Agency or drafted within the first three (3) rounds of this year's draft.  I'm not about to list possible candidates as D-tackle isn't in my wheelhouse, BUT knowing how 'McBeane' is big on "screw me once" thinking, they'll not be caught with their guard down should Star possibly decide to opt-out again this year, leaving them once again, "small up front".
2. An edge defender will either be signed through Free Agency or drafted within the first three rounds of this year's draft.  Again, I'm not naming names who may be available, just sensing a pattern via 'McBeane's' frequent comments.
3. Tight end Jacob Hollister was signed through Free Agency, but will the Bills may still draft one within the first three (3) rounds of this year's draft? If we cannot get either Kyle Pitts (long shot indeed, but you never know) or Freiermuth via Penn State, then two other kids I'm very high on are Matt Bushman (BYU) or Tre' McKitty (Georgia).  Both below the radar players because of injury (Bushman-Achilles) and poor play calling/multiple quarterbacks/limited season (McKitty).
In summary, I took historical comments and results to try and determine the mindset of 'McBeane' with the hopes of seeing what/how their pattern of moves come to be. Result. Super Bowl Champions! Good health to everyone!
Editor's babble: Please welcome Nick DiSalvo as another great contributor to our blog. You can't find Nick on Twitter, but you can reply to his posts in our comment section. We thank him and look forward to his contributions in the future.