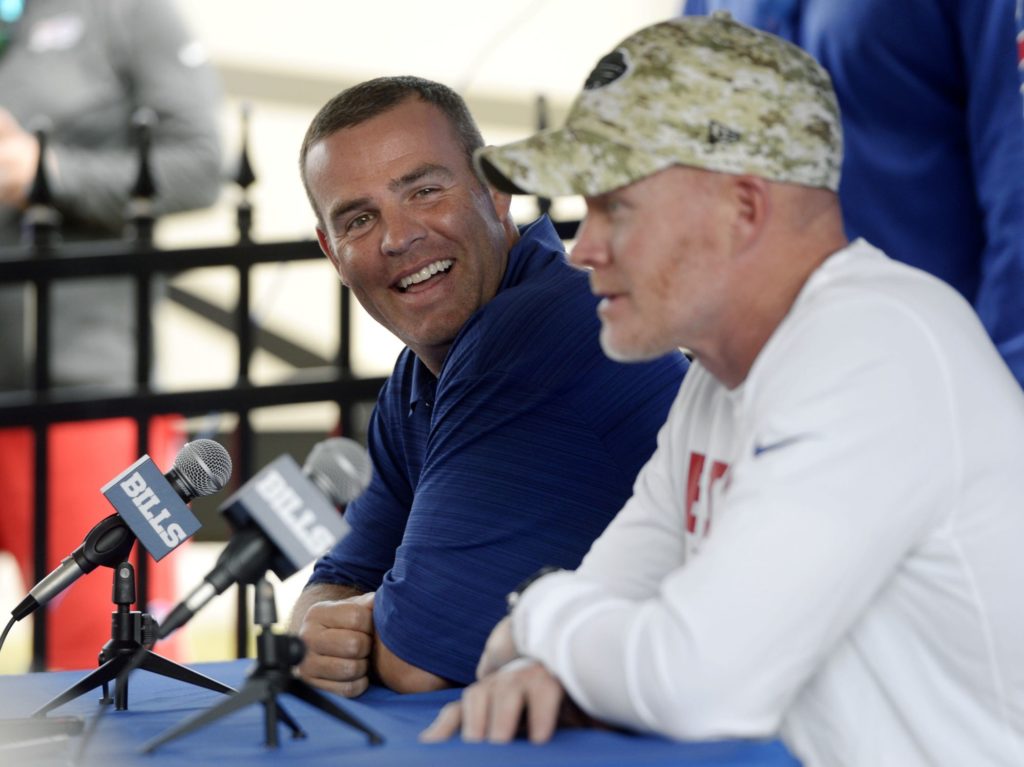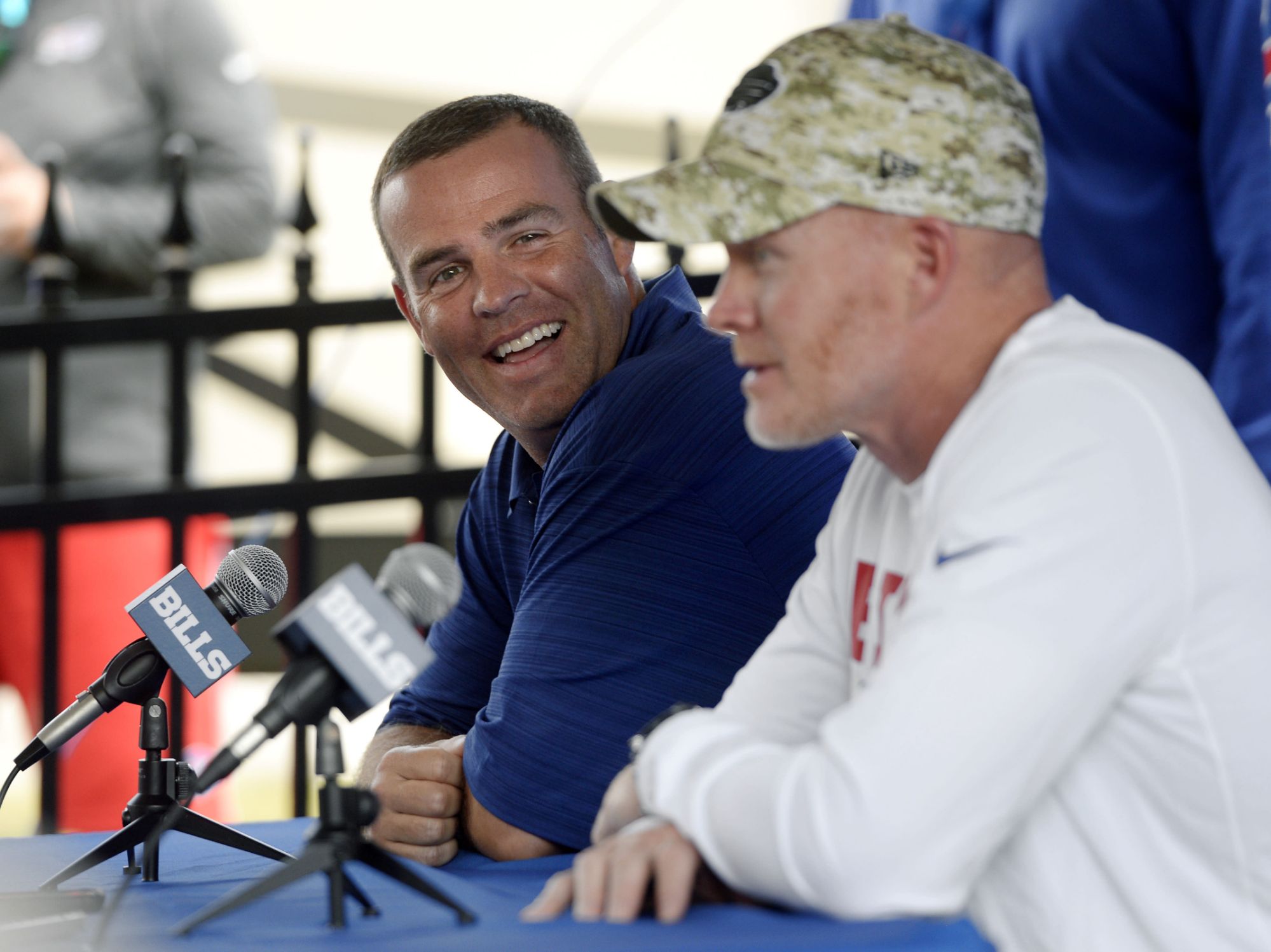 One of the more important skills for practicing psychotherapy is developing the ability to 'read' faces during interviews. The mouth might be saying one thing, but the face will not lie. It truly is a connection to the soul of a person, and affords us a chance to observe what lies behind the lies we all tell ourselves… and each other.
Watching Bills' press conferences from a different angle than most fans has been my thing for decades. Our training as psychotherapists relies on our ability to see beyond the words coming out of a person's mouth. So when I look at a press conference (many times more than once), I'm looking more at visual cues coming from facial expressions and/or posture to observe for specific behaviors that might indicate a disconnect with what is being stated.
One of the most fascinating relationships I watch on a regular basis is between Sean McDermott and Brandon Beane. I've watched interviews about how every general manager and head coach for the Bills relate to one another and fans using these skills for at least the last couple of decades.
In fact, most times I will watch a 'McBeane' press conference at least twice. The second time instead of watching the speaker, I watch the one who is not speaking because you can pick up on valuable cues regarding their relationship by watching the body language of a person not currently addressing the media. It can be very revealing if you're paying attention.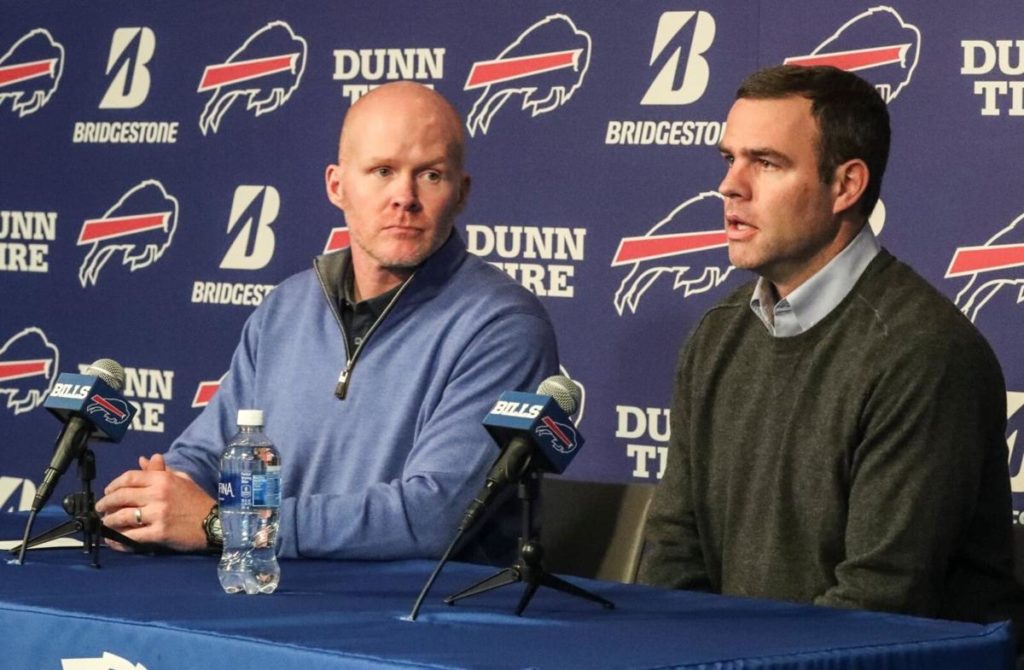 There have been some real doozies over the years. The Rex Ryan years might have been the most cringeworthy over the last decade, but that's a subject for another post. Those years and experiences are best left to collect dust. There's way too much optimism today to look back on the years lost to incompetence or worse.
When I watch Brandon Beane and Sean McDermott together, it's easy to see the synergy and the ease that exists in their relationship with one another. It's clear their vision is on the same page, but the mutual respect they show one another goes beyond what they say in front of the camera.
By definition, you can't fake authenticity.
The results speak for themselves. 'McBeane' managed to do in four years what numerous coaches, general managers and Russ Brandon could not get done in two decades; bring respect and success back to One Bills Drive.
No small task, but their message has been clear and simple.
Bring in the right players. Surround them with a supportive environment that encourages teamwork, leadership and love for one another. Be honest about what you can and cannot do in terms of contract negotiations. Reward them appropriately.
CLICK HERE for Sean McDermott & Brandon Beane 3/19 presser
When you hear Brandon Beane talk about pushing back a press conference by an hour so he could talk with Matt Barkley and his family before announcing the Bills had signed QB Mitch Trubisky, you know their actions reflect the words they preach. Showing respect is noticed by players around the league.
This is quite the 'culture change' we've seen at One Bills Drive. The entire fan base probably has a little vertigo from the 180 degree swing this Buffalo Bills franchise has made since 'McBeane' came to town. What is this thing about players taking pay cuts and others signing for less to come to Buffalo?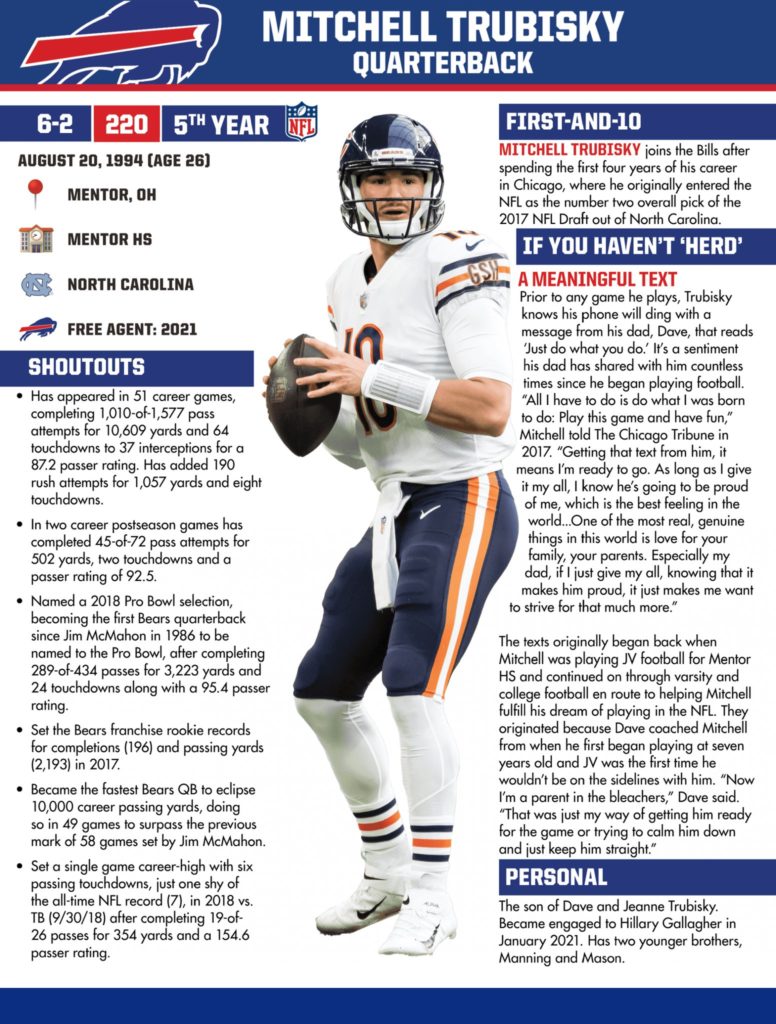 And fans? We've been accustomed to being marketed to instead of respected as the one of the savviest fan bases in sports. Now many of us are confused by our sudden recognition as one of the best fan bases in the league… after being considered the one most pitied for decades.
It's such a strange time, because we also look at the Buffalo Sabres and wonder how in the heck two franchises owned by the same family can be on such divergent pathways? It doesn't seem like it should be that difficult to replicate and adapt the 'McBeane' model to a hockey team.
Or is it?
Maybe we should consider ourselves blessed to have hit the lottery as far as a solid marriage between a head coach and general manager? Did the universe suddenly develop empathy for Buffalo sports fans and decide a great karmic rebound needed to happen now? It just seems like since the day McDermott was hired the fortunes of our feeble football franchise began to turn around :)
In fact, this whole 'McBeane' thing would never have happened if it wasn't the work of our very own leprechaun Sean McDermott… who then magically lured Brandon Beane into the fold. While 'Big Baller Beane' deserves every bit of the NFL Executive of the Year credit he gets, McDermott really does deserve a chance to stand in the light of recognition for a job well done in his own right.
But that's not McDermott's modus operandi. He cringes when he believes he is being overly praised. He also lives his humility, unlike the rest of us who go off the rails on a regular basis.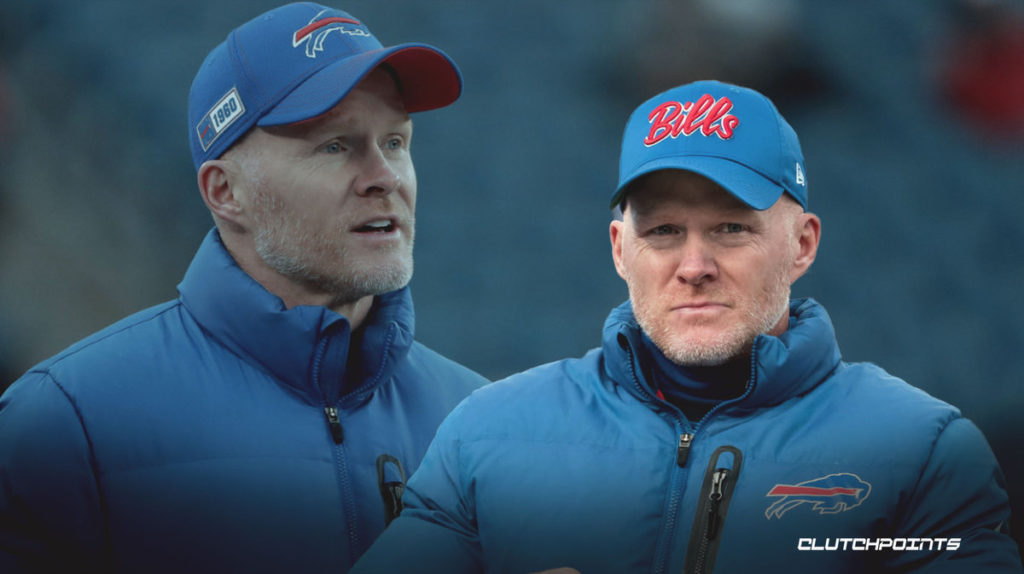 What the Buffalo Bills franchise has become from the soul and vision of Sean McDermott. While many appreciate what he has done as a head coach during his four years in Buffalo, not enough people have looked under his bald hood to see what's inside.
A great example about how McDermott operates was his recruitment of Brandon Beane for the job of general manager. It was textbook effective. McDermott laid the groundwork for it to happen and we are now just beginning to see his vision bear fruit.
The sauce-making McDermott also doesn't give a fig about recognition. It's clear his spiritual mission is to bring a community of people together and become the best version of ourselves… with love and respect for one another. He is one of the most mentally disciplined individuals I've ever observed from a distance.
Sean McDermott is the kind of individual who mentors more of us than he probably realizes. If you're struggling with a challenge, ask yourself "what would Sean McDermott do" and things will probably turn out just fine. That's leadership at its best.
There are heroes and mentors all around us, and they come from all walks of life.
Editor's babble: We've truly entered a golden era in Buffalo Bills history. Don't miss a moment of time being joyful about where the franchise is at right now. Holla at me on Twitter @RobynMundyWYO.