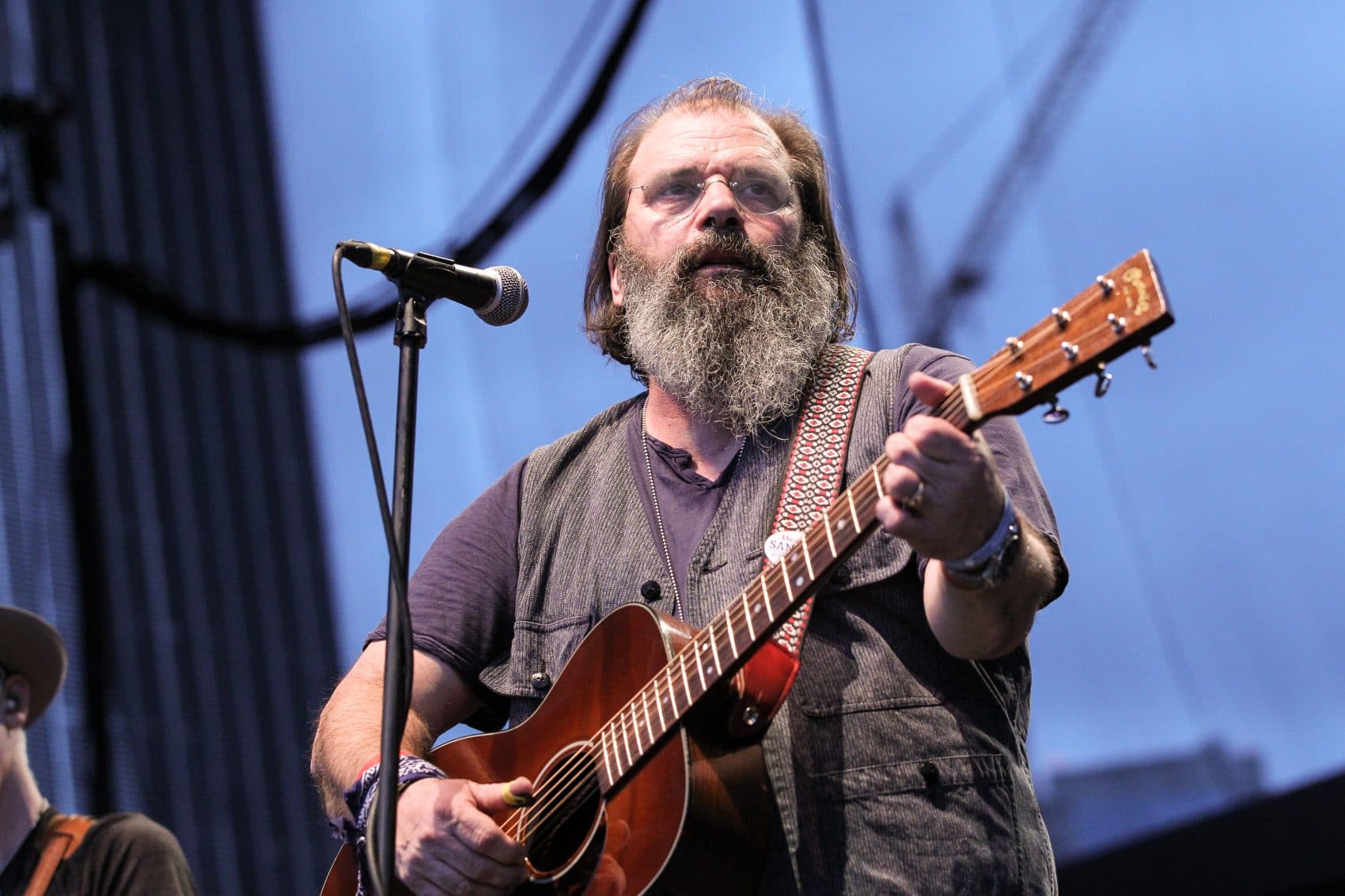 "You gotta put your hat on boy, alright? If you wanna be in the band, you gotta put your hat on". – Steve Earle, intro to "Texas Eagle".
So, in a boring off-season so far, I recently sat on a distant mountaintop eating some wings, and then heard the lonely cry of bleating horns. It was the Bills Mafia!!! Calling me to Action! Some "Moose" was needed to help navigate the rocky rapids ahead, so I scurried down the mountaintop, but not before sending my Moose signal faaaar into the sky.
So, here we are, THE Legions of Bills fans, and after the shock and demise of the last Bills season has worn off, we do what we always do. Look to the future. Only our future now, is a LOT brighter than it used to be. And, as Steve Earle noted above, we put on our Bills hats and carry on. It was a great season, and now, some hard decisions need to be made going forward to ensure we continue on our path to eventual, and certain, global domination.
One thing, in my opinion, that the Bills need to do is get difference makers on our defense. Sure, we have some very good players, but no true stars. Tre'Davious White? Perhaps. Ed Oliver MIGHT be one in time. But let's not confuse here: Neither of those players, nor any other player on our current defense, are like Takeo Spikes, Cornelius Bennett or Nate Clements were for us in the past; true stars who elevated everybody around them. I won't mention Bruce Smith, because he just wasn't mortal.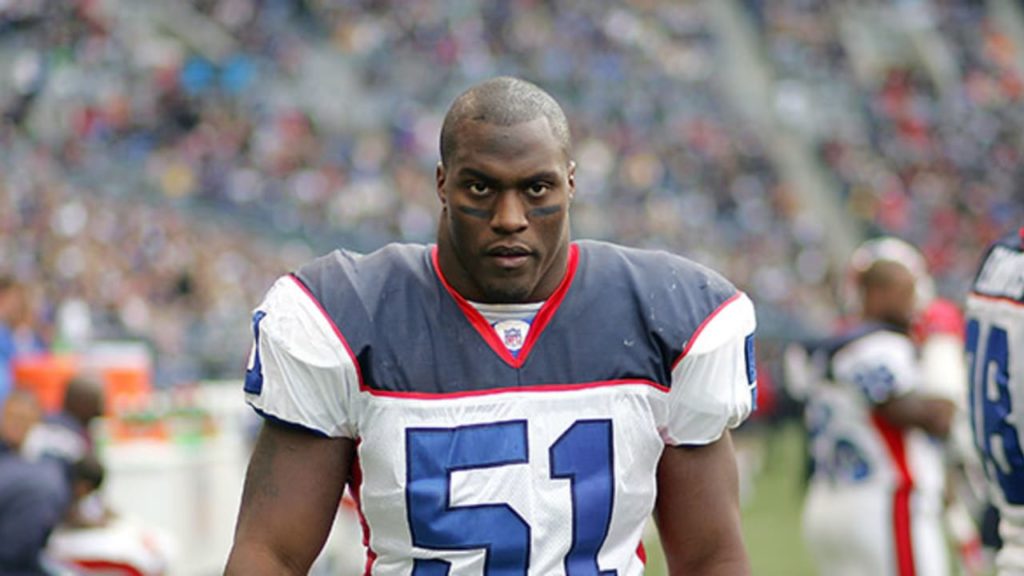 It's all well and good to use phrases like, "Trust the Process', and then finding players who can fit into that process you dictate… but it's quite another to find players who are difference makers and enable you to CREATE a system, if you need to, around what THEY can do… and can play MULTIPLE ways… rather than just be limited to one system. It's like a hockey team saying we're going to stack our roster with 3rd line grinders who fit what we want to play because they fit in, rather than get guys (ie: stars) who can play MULTIPLE SYSTEMS. Any dog can eat a bone, but getting a dog that can HUNT? Different animal. Doing so, creates adaptability. Something to keep in mind, and I'm trademarking that phrase.
As an example, we pretty much play, on defense, a zone. That works fine IF you can rush four players and create an effective pass rush. If you can't generate pressure up front, good QB's will pick you apart if they have time. This obviously happened to the Bills in the AFC Championship game vs. Kansas City, but as a general rule of thumb, this is the case. As such, obtaining players who can play more than simply zone (hello Josh Norman and Levi Wallace), especially in our secondary, is an obvious need. So, let's dive into some off-season stuff, starting with our immediate needs as a team. We are not that far away from being a Super Bowl team, but we do need to shore up at least three areas on the team before this can occur.
While I concede, in the past, we'd sign FA's to fill our needs, then draft for best player available, mostly, that MAY change slightly this year. The salary cap will be a restriction for us, for once, in dictating exactly WHO we can realistically sign in Free Agency. The over-riding need to get what we NEED from this draft is to make a strong Super Bowl push next year so that may super-cede previous thinking. So…with that I give you our team needs for the three areas I write here.
BUFFALO BILLS TEAM NEEDS
#1- DEFENSIVE LINE
If the Super Bowl proved anything, it's how much improvement the Bills need to have on the DL to take the next step. They clearly did not generate enough pressure with the front four, all year, to enable them to continually use our 4-2-5 defense. In my opinion, playing a 4-2-5 essentially means your linebackers aren't good enough, or athletic enough, to play a 4-3. That has to change. Mario Addison and Vernon Butler were disappointing signings, and Quinton Jefferson played out of position all year at defensive tackle; He's really a defensive end. Just because a player CAN play multiple positions, doesn't mean he necessarily should all the time. That's the case with Jefferson. Nevertheless, they need a boost upfront on the defensive line, especially at defensive end. Doing so, with Star Lotulelei's return may free up Ed Oliver from the constant double teams he endured last year.
#2- CORNERBACK
Where do I start? Josh Norman is an obvious cut. One problem with the Bills secondary is, they are small, and play smaller. NOT the safeties, but the corners. Levi Wallace is a serviceable player, but, as I have noted before, he's better as a spot starter or key reserve than an everyday starter. More size and physicality is needed at the CB2 spot behind Tre'Davious White, and, to be blunt, someone who can play more than just zone coverage. Could the Bills bring Wallace back? Yes, but it depends on price point, and with the understanding that he'd be a depth signing.
#3- OFFENSIVE LINE-GUARDS
One of the issues with the running game is that the Bills' offensive tackles are strong, but our guards, not so much. They need at least one high end guard coming in either the draft (more likely) or FA. Jon Feliciano? If Spotrac is right, and his next contract will be in excess of 8.3 million a year? Then no, they have to walk away from that kind of madness if it's a projection he could make more than Daryl Williams, the right tackle. The running game MUST improve for the Bills to take the next step, and it's doable to address in free agency and the draft with respect to improving guard play.
It's difficult to be too critical of the running backs, since the offensive line play was not good enough this past season to enable the Bills to run the football consistently. There is a reason they played a modified spread offense a lot of the time; to hide the fact we couldn't count on the running game at all. And, key point here, this wasn't a Big 12 type spread offense either (nor was it a West Coast style offense), where the ball comes out in 3 seconds. Rather we relied on Josh Allen to EXTEND plays to cover up for any deficiencies in this respect. If anyone disagrees with me, go watch the film.
IMPORTANT DATES TO CONSIDER THIS OFF-SEASON
Beginning February 23 up until March 9, NFL teams may use either the franchise tag or the transition tag on one of their scheduled unrestricted free agents. March 17th, is when free agency, and the new league year begins.Teams must also be under the salary cap at the start of the new league year. The NFL Draft then begins April 29th-May 1, 2021.
I don't expect teams to use franchise tags right away. More than likely, teams will wait rather than rush in. The obvious problem for the Bills, particularly with respect to Matt Milano's situation, is they would have to franchise tag him by March 9th, but free agency doesn't start until March 17th. This makes a franchise tag and trade unlikely now, given our other pressing free agent needs, but does not preclude us from trading him and a pick (say, our #94 overall) to move up further in Round 2 or 3. In any event, Milano isn't coming back.
On a more positive note, one thing that is striking, when you analyze things, is how creatively GM Brendon Beane has managed signings and the salary cap to this point in his tenure. He has definitively crafted flexibility into his signings, probably with a view to keeping his options open once a Josh Allen extension would become imminent. When Beane arrived in 2017, the first thing he set about doing was getting rid of the onerous amount of "dead cap" money that the Bills had.
The best predictor of future behavior, is past behavior, and I expect Beane to continue to adhere to this principle going forward, in that players will not simply be cut to free up cap space if a large dead cap hit is the result. One obvious player who is likely staying for at least one more season because of this is C Mitch Morse. Despite having over a 10 million dollar cap hit, letting him go would invoke a 5,550,000 dead cap hit. He's staying. Plus, the Bills don't have a true replacement for him right now on their roster.
Also, it's easy to say, "let's restructure contracts" to make the money work, in that you cut base salary and give certain players more bonus money to give yourself some wiggle room for your cap. BUT… you better make sure that guy can FINISH his contract at a high level. Otherwise, you potentially risk situations like New Orleans, where they have kicked Drew Brees contract down the road for years and now have to pay the piper, or like Pittsburgh with Ben Roethlisberger. The Bills? Morse would be out for that kind of thing.
However, there will be cuts on the Buffalo Bills roster, and I'll outline some of those likely cuts below. Anything I write from this point on is my opinion only, but the fun of the off-season is debating and pondering, right?
Potential Cuts
John Brown-WR
Let me say upfront, I love John Brown. BUT, he likely has played his last snap as a Buffalo Bill. This is especially so given we have to free up money if we are going to potentially sign Free Agents (ahem-cough-cough-JJ Watt) this off-season. Brown has a 9.5 million cap hit this year, but only a 1.6 million dead cap hit. This essentially means the Bills, in cutting Brown, free up 7.9 million in cap space. If he's cut before March 21, 2021, the Bills also avoid paying the $500,000 roster bonus he would be due.
Quinton Jefferson-DT
Signed in 2020 to a 2 year contract, it seems like Jefferson's time might be up in Buffalo. I like Jefferson too. I think he's better served as a defensive end, rather than the DT position he played most of this past season. He's a little light to be a DT. Hard to believe right? That a 275 pound guy could be considered under-sized, yet he routinely went up against O-Linemen who outweighed him by 30+ pounds. But the prevailing issue is, Jefferson signed a 2 year deal, while Mario Addison signed a 3 year deal, and that fact makes it easier to cut Jefferson. His cap hit is 8 million, while his dead cap hit is only 1.5 million. This essentially means the Bills, in cutting Jefferson, free up 6.5 million in cap space. Plus, if he's cut before March 21, 2021, the Bills also avoid paying the 1 million roster bonus he would be due. (Writer's Note: DE-Mario Addison may also be a potential cut as well, but if he is, he's likely to be a post June 1st cut, where he would save over 8 million against the cap.)
Lee Smith-TE
Has a cap hit of 2.25 million, but no dead cap hit, which means he'll be cut to free up that 2.25 million. Might retire anyway.
Vernon Butler-DT
Signed in 2020 to a 2 year contract, Butler may very well be gone if Star Lotulelei returns this upcoming season. Butler has a 7,818,750 cap hit, with a dead cap hit of 1 million. This essentially means the Bills, in cutting Butler, free up $6,818,750 million in cap space.
#-1- RE-SIGN DARYL WILLIAMS-OT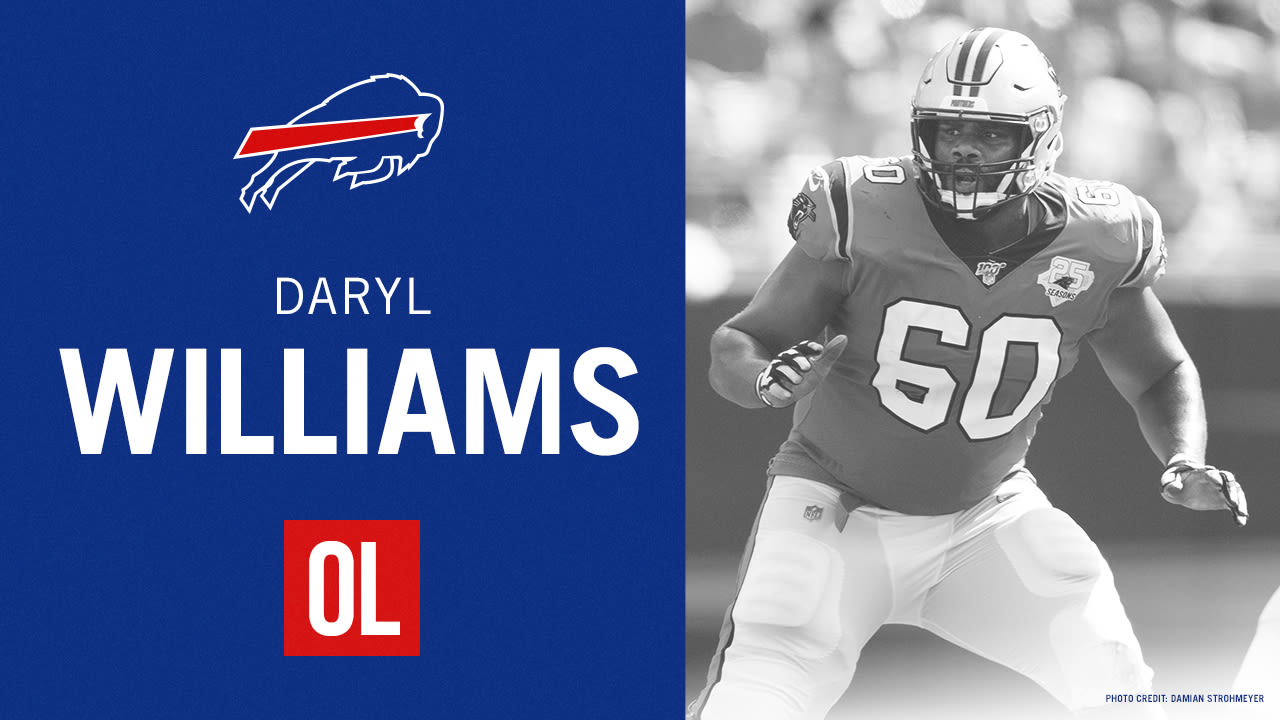 Daryl Williams must be re-signed. It's that simple. Unless some team overpays substantially, which is a possibility, we would do well to sign Daryl to a 2 year deal at 8 million per, with money up front. Spotrac estimates his next contract at 2 years, 7.8 million per. That would bring him to 30 years of age, where he could then pursue a longer team deal for himself, when the salary cap rises in the future. The problem with our offensive line isn't with our tackles, it's with our guards. If you are going to sign Josh Allen to an extension, you need to bring both tackles back. No if, ands or buts. Just do it.
#2- Sign John Ross-WR-Bengals
As I noted previously, if we are to go after Trey Hendrickson or J.J. Watt, it seems as if wide receiver John Brown's time with the team is up, and he'll be a cap cut. The Bills do have wide receivers Gabriel Davis and also Isaiah Hodgins waiting in the wings.
But Brown is an undeniable deep threat, and signing Ross as a replacement would be a reasonable risk to replace that. It's easy for me to say "Cut John Brown for cap space" (and we will), but you better have a replacement on hand for that kind of deep speed that can take the top off of a defense, especially with Josh Allen as the distributor of the football.
It's very likely Ross could be signed to a one year-prove it deal, to maximize his next contract, when the NFL salary cap may go up. Ross is still only 26, is desperate to get away from Cincinnati, and has rare deep speed… he broke the all-time NFL combine record for the 40 yard dash, which he still holds by the way. What better place to re-set your market value than a stint in Buffalo's air raid passing offense under Josh Allen?
If Ross doesn't pan out, what have the Bills lost, really? Gabriel Davis can likely take John Brown's spot anyway (though Ross is clearly faster), and we have Hodgins waiting in the wings. Considering the very reasonable price we can probably get Ross for (my estimate would be 1.5 million-2 million a year, plus marginal incentives). I think it is well worth the risk to add a substantial deep threat on a one year deal, which helps to open up the field for Diggs and Beasley. Ross was drafted high for a reason. Buy low-sell high. The Bills may draft a receiver this spring, but I tend to agree with my colleague Dean Kindig that the Bills are far more likely to draft a slot receiver who can handle return duties first at some point in this upcoming draft.
#3- Sign Gareon Conley-CB-Houston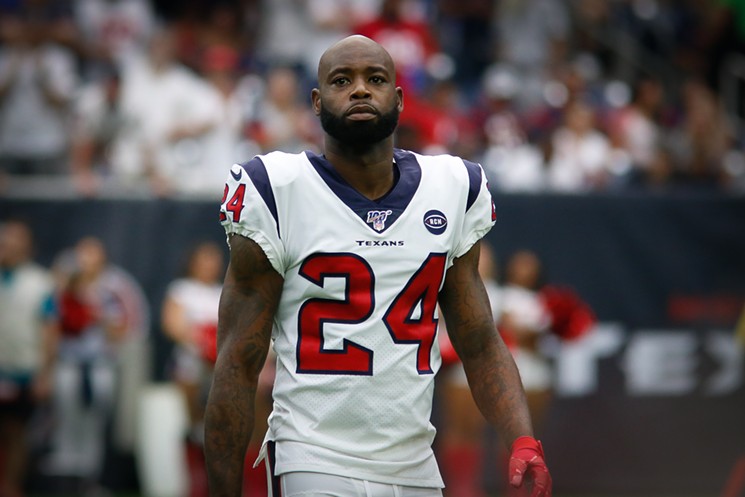 Again, another 26 year old who could be signed to a one year-prove it deal to maximize his next contract. Missed most of last year with a foot injury. What I can tell you is this. In last year's NFL draft, Ohio State had two corners go in the first round in Jeff Okudah and Damon Arnette. In 2017, Ohio State had two corners also go in the first round; namely Marshawn Lattimore and Gareon Conley. Conley is a far better player than Arnette ever was.
This signing would be low risk/potential high reward. I'm not the only one who thinks this, by the way. It isn't as if the Bills would be putting all their eggs in one basket with Conley, since it's no secret the Bills HAVE to take a high end CB with one of their first two picks anyways, unless they are completely nuts. If we signed Norman at 6 million a year (and that was a bust), they could probably get Conley for somewhere between 2 million-2.5 million a year plus marginal incentives on a one year prove it deal. Conley, unlike Norman or Levi Wallace, can play man to man, zone, press, whatever you want. THAT gives our defence more flexibility. Plus he's bigger than Wallace and more of a force in run defence. Conley has legit stats. Check out, per Pro Football Focus, his high standing in forced incompletion rate, and his forced incompletion rate from 2015-2019, where he ranked #1. If his medicals check out, SIGN HIM.
#4- SIGN JJ WATT (or Trey Hendrickson)-DE
In fact, this could be #1 on this list. The Bills pass rush HAS to improve, and, probably safe to say… can you imagine the impact JJ Watt would have on the team, as an influence on our younger players like AJ Epenesa? Watt would be able to come into a great situation as part of a rotation? Dare to dream, I know, but I don't think this is THAT far-fetched.
RANDOM MOOSE THOUGHTS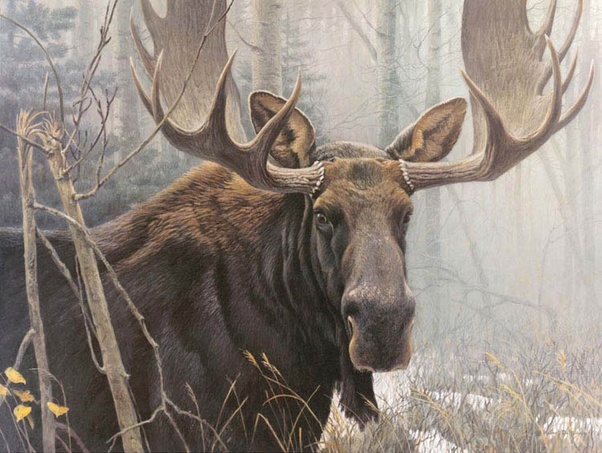 It was amusing, down the Bills' stretch run, when they went into New England and beat them by a fair margin. It could have been a lot worse. The amusing part was listening to some Patriots fans accusing of the Bills of running up the score on them. Excuse me? The Patriots used to do this all the time, and not just to the Bills, but to a lot of teams. Who can forget Brady et al running around high-fiving everyone when the score was like 56-17? I haven't. In fact, watch this video from a game of that same score, where a Bills fan was escorted out. He couldn't take it anymore. Watch the video to the end, where you can see 'Wonderboy' make an appearance. It's funny.
And yet, we would always watch these games to the bitter end, to hope for some positive play, something to justify the punishment we had just put ourselves through. Sort of like passing a car wreck on the highway to see the up-close. I have ZERO sympathy for the New England Patriots. No such thing as "forgive and forget". In my experience, the people who usually espouse this theory are usually amongst the worst transgressors in the first place.
2021 NFL MOCK DRAFT
One thing I will do every time out now is a mock draft. In fact, I'll do two right now. In my view, the Bills immediate needs are, in no particular order, CB, LB, OL, perhaps DT–EDGE. If we cannot retain Daryl Williams, then OT moves to the front of this list. One thing with a lot of the mock drafts out there (Pro Football Network, The Draft Network, Pro Football Focus) is, the player evaluations (beyond, say, the first 25-30 players) can vary wildly. This FIRST one I did at Pro Football Network (https://www.profootballnetwork.com/mockdraft/) because you can do trades, and I did this one specifically to trade down, and acquire more picks. So, here was my Mock Draft #1…..
#41- ZAVEN COLLINS-LB-TULSA
HUGE linebacker, 6'4, 260, who can run. Beane wanted size? Wanted Speed? Wanted adaptability? Check, Check and Check. Can blitz, play edge…awesome talent. However, I don't think Collins will actually still be on the board at #41.
#65-ERIC STOKES-CB-GEORGIA
Sports Illustrated is high on this player, as you can see here… but I don't believe, as they do, that he is the #1 corner in this class. Still, he has the size and speed to potentially be our long term #2 CB, so I'd take him here.
#68-LIAM EICHENBERG-OT-NOTRE DAME
Picked him because he's rock solid, battle-tested, and can play RT for us if Daryl Williams leaves, though he played LT at Notre Dame. If Williams returns, here is your backup tackle for the time being.
#93-TYLER SHELVIN-DT-LSU
This pick is done purely on his weight being manageable. He opted out this season, and his weight was up to 375 at that time. He NEEDS to be at 350 to play. Otherwise, he's at risk of becoming like Terrance Cody. If his weight is okay though, I'd take him here. When he was at LSU, he was a TRUE DT1, who drew double teams regularly, and freed up linebackers to make plays.
#110-BEN CLEVELAND-OG-GEORGIA
Again, size. He mauls people in the run game and is the strongest player on the Georgia team and is 6'6, 330. If he's placed at RG with Eichenberg at RT, guess what? You're running the ball to that side.
#135-CHARLES SNOWDEN-LB-VIRGINIA
Huge linebacker, at 6'7, 230. Had a broken ankle this season, in November, so didn't play after that, but he's a player probably worth taking a chance on at this point in the draft, and he is for sure coming out.
#148-MARVIN WILSON-DT-FLORIDA STATE
Look, Wilson will probably drop out of the first 3 rounds. Maybe not this far though. Didn't really play well, when he played this year, and had a poor Senior Bowl. On potential alone though, if he's available here, you just take him, hoping that once he's away from Florida State, he blossoms down the road. Marvin is one of those guys who has talent, but that won't be enough alone in the NFL. Now the true work begins, in an NFL weight room, and embracing proper coaching.
#161-JANARIUS ROBINSON-DE-FLORIDA STATE
Again, I give a lot of guys on the Florida State team a pass; it was a poorly coached team, and the best thing for those guys is to get the heck out of there. He is 6'5, 255, and is all potential. Worth a risk here. https://thedraftnetwork.com/player/janarius-robinson/mTYDnon00W
#175-JAELON DARDEN-WR-NORTH TEXAS
Really, on the immediate side of things I'd be drafting Jaelon to be a returner, with a view to him taking over for Cole Beasley as slot receiver down the road. I'm basing this particular pick on what I've read, but this is an interesting view on this player. I encourage you to read this.
……………………………….
SECOND 2021 NFL MOCK DRAFT
This second draft I did through the mock draft simulator at Pro Football Focus. Again, try it, it's fun. I did this one with no trades. They give you a grade after each pick, then an overall draft grade. Here was mine.
#30-Zaven Collins-LB-Tulsa Draft Grade- B+
#62-Liam Eichenberg-OT-Notre Dame Draft Grade- B+
#93- Hamsah Nasirildeen-S-Florida State Draft Grade- B+
#162-Israel Mukuamu-CB-South Carolina Draft Grade- B+
#175- Garret Wallow-LB-TCU Draft Grade- B+
#215-Tommy Kraemer-G-Notre Dame Draft Grade- B+
#234-TeDarrell Slaton-DT-Florida Draft Grade- B+
Overall Draft Grade B+
And, with that, I am finished. Draft season is soon upon us. I'm pretty sure my next article will be my personal Bills all-time team. It's going to be a struggle!
Editor's babble: What a treat to read Shaun's article. Lot's to pour over here. Thanks to Shaun Mousseau for his tremendous contributions to our blog. You can find Shaun on Twitter @moose7766.