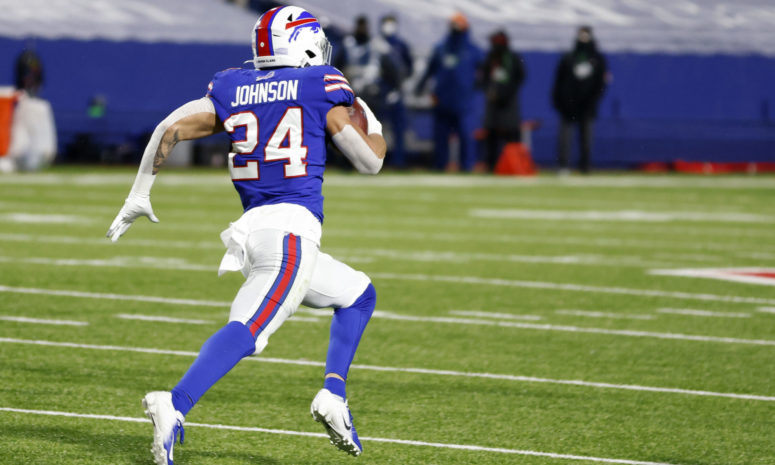 The loser was anyone who bet the over. Oh, and Baltimore, but they had plenty of company. Every football observer forecasted the Bills and Ravens easily topping 317.4 combined points. Two monumental offenses were surely going to score at will.
Winning money should have been as easy as wagering on the chief hockey commies in the 1980 Olympics. But even Ace Rothstein got this outcome wrong. Bettors went broke like the Soviets. Al Michaels calling both events makes me believe in miracles.
A slugfest where a cornerback doubled one offense's scoring shows why they play instead of letting speculators decide who advances. I guess there's value in actually holding games, if only to ease the welcome nervousness we experienced beforehand.
Getting to the final four is a thrill to cherish no matter where your campus is. The Bills prompted your dorm to party despite not playing their signature style. Or maybe they did, if figuring out a way to win even if they have to improvise counts.
Fate may be what you do to control what happens next. I never thought it was possible to be anything but doomed.
Things that always go well for Baltimore didn't. Double clinking missed field goals were a good omen even aside from leaving six valuable points lying in the end zone. The Bills app should have a button that plays the doink sound.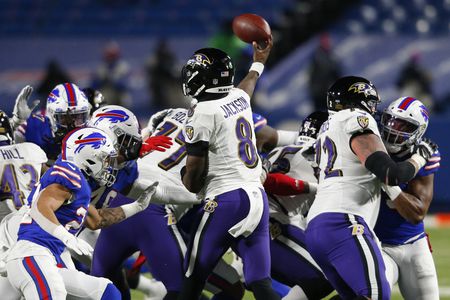 Lamar Jackson completed my favorite pass of the season. Oh, it's just a reverse touchdown reception that might just be the biggest play in Bills postseason history. Taron Johnson joins Mike Stratton and Carlton Bailey as defenders who propelled the club to playoff triumph with one visionary play. Teams better win when the traditional other side of the ball scores, especially on the most dramatic 14-point and 101-yard swing imaginable.
Run versus throw is the eternal battle, like a coyote and road runner or Arnold Schwarzenegger and Predator. We were promised the emblematic representation of football's core dueling approaches. But creating an in-game solution is the next-best option when neither team was at its absolute best offensively. The Bills planned to not have a perfect plan.
Buffalo moved the ball just enough. Flee from Godzilla's breath only to have him kick you. Buffalo possesses numerous ways to inflict destruction. As for a recovered form of inflicting pain, John Brown's body control means another nightmare for defensive coordinators. Guarding Bills receivers is an unfair fight, which is the goal.
Everything feels strange in the best way. There was a different monster wreaking havoc late Saturday: fans of both the local football team and cult movie program switched from the biggest Bills win this century to Off Beat Cinema. I'm sorry for the spoilers, but Japan survives at the end of Monster from a Prehistoric Planet just like the Bills did earlier that evening. Both the country and franchise maintained determined optimism through challenges. Legendary Buffalo viewing experiences usually don't air consecutively.
The offseason keeps getting shorter. Fans desperate for football even with their team eliminated got used to watching indifferently on account of mid-January games featuring non-Buffalo teams. By delightful contrast, we continue to dream about excitement upcoming with direct interest.
You can buy a ticket if you sound like 10 people. Compensate for limited attendance by uncorking bottled enthusiasm. The blessed few who attended a Bills playoff game yelled a bit louder on behalf of those who tailgated in their kitchens. Watching lottery winners make home field as much of an advantage as possible was the best vicarious experience during an era defined by them.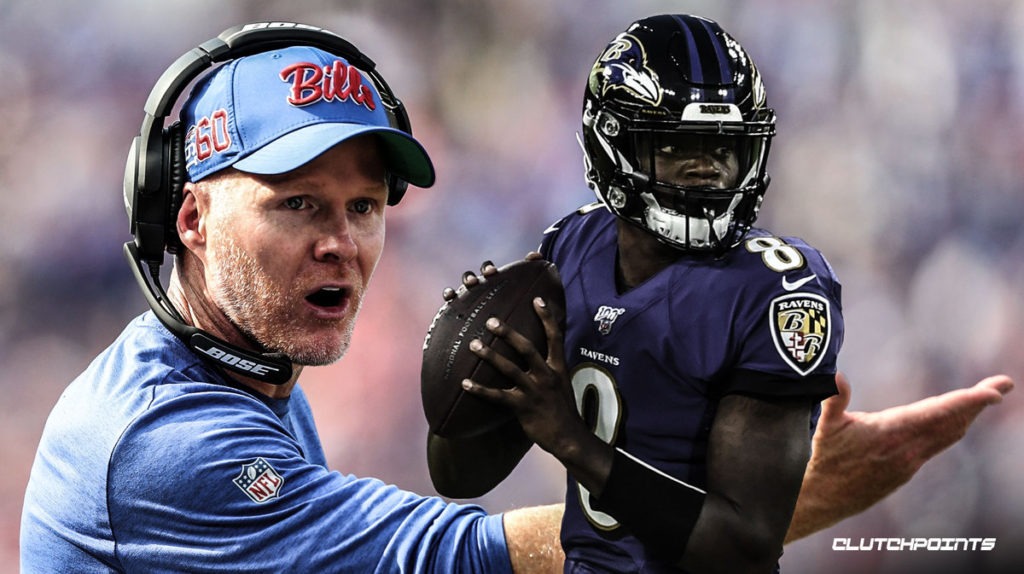 Succeeding is even sweeter when it's barely ever previously occurred. Sean McDermott is now tied with Lou Saban for second-most playoff wins by a Bills coach. He achieved the feat on consecutive Saturdays if you thought your year has been productive. Don't compare yourself to others unless it's for inspiration.
A dynamic club seems static in calmness. Those who've lived through football trauma find the ability to persevere through challenges shocking. Any fan of Erie County's team who can legally drink expects a space station's orbit to decay until it falls on them. But the skies are clear and lovely no matter how gray they may be on a typical January afternoon. There's sunshine even as the snow piles.
After only a couple weeks, we can remember 2021 as a year of plural playoff wins. We're focused on what it means for this franchise on its own terms while changing its identity from Eli to Hawk. And it's additionally fun to check how they thrive relatively. The Bills already had infinity percent more than the Patriots by last Saturday and doubled that. That still equals the same. If that mathematic feat seems to defy reason, it's nothing next to celebrating one-eighth of all the team's postseason advancement ever a little over a week apart.
Like realizing we were the bear to fear all along, the playoffs have become a matter of perspective. A team that once felt doomed grew accustomed to thinking ominous things about upcoming foes. But other teams worry about containing Buffalo now.
Both AFC finalists must envision how they'll outscore each other if the conference championship stays closer to script than the Baltimore game. Kansas City hopes a chance to make the finale doesn't come down to clock management.  An updated status at last overlaps with progress.
Editor's babble: Here we are almost to February and the Bills are in the final four of the NFL. Wow. Many thanks to Anthony Bialy for providing enough giggles to keep us going. You can find Anthony on Twitter @AnthonyBialy.