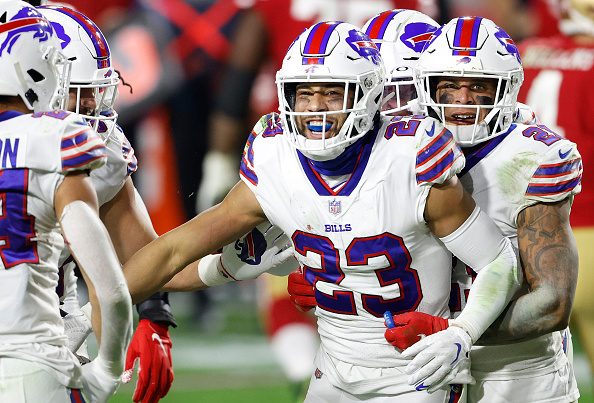 The Buffalo Bills looked awful on Monday Night Football. White face masks created a wardrobe monstrosity. The front part is supposed to offer contrast, as NFL scientists confirm helmets and cages are made of different materials. The same color for an entire outfit is popular amongst those wearing jean jackets with dungarees. Uniform uniformity is the bad taste equivalent of putting entire pineapples on pizza. I'd rather eat the rind than what's inside.
Oh: they played a sport well, too. I suppose this fashion blog could expand its editorial mission to cover athletic performance. The monochromatic look went out with the first run of Who Wants to Be a Millionaire, which was also around the last time the Bills were taken seriously. We can finally watch nighttime football while cheering. Other fanbases didn't get to appreciate the television evolution in between dark games. Have screens always been this flat?
Eventual domination seemed anticlimactic after the Bills used my Mitch Morse introduction submission in their opening video. But the game was still thrilling despite there being no way to top my cameo. A previous edition would have panicked in prime time even without hearing my reassuringly deep voice. But the strangest outcome continues: the Bills keep playing well.
The alleged home team headed home. At least the league only altered the location and not time. The physics are already confusing. There hasn't been a Wednesday Breakfast Football game yet, but the month's not over. A thorough away game meant no fans distracted with mean taunts about incompetence. Richard Sherman didn't get his feelings hurt when everyone noticed the only one who thinks he's great is him.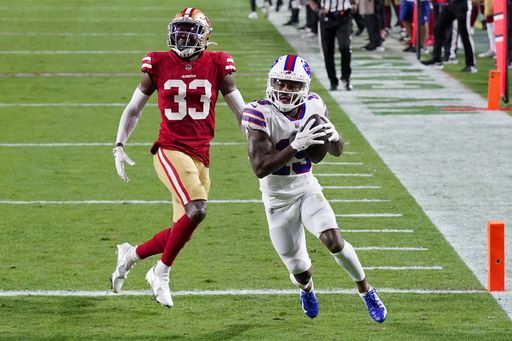 Wide receivers confirmed character in victory. Isaiah McKenzie can field overhand passes, too. Meanwhile, Cole Beasley and Stefon Diggs each reassure in their ability to catch when it's most needed. Debating who's been more clutch is a welcome change from wondering which receiver will drop the ball when it matters.
Conditioning us to expect the fantastic as normal means life's going well. A passing yardage total like 375 yards once seemed like a myth. I think Todd Collins once gained that many in a season. But Josh Allen has turned legends into reality. The Loch Ness Monster now strolls around the Elmwood Village like he's always lived here.
Cover 2 covers, too. Monday contained sundry examples of the bending and not breaking that define this scheme and unit. Micah Hyde's interception was only surpassed by his goal-line tackle even if it seemed less spectacular. Such a stop at worst forces the offense to use another down smashing it in the end zone and ideally makes them try to pass it in Tre White's direction.
White remains league's best cornerback even when presence is visible. Games had gotten to the point where Louisiana's most prominent goalie coach didn't appear much thanks to opposing coordinators funneling action away from his direction. Offenses avoid him like he's a gang in between the Warriors and their territory. He would've stopped them from ever reaching Coney Island. White's game has moved past breaking up passes to the point where he's now preempting attempts. Interceptions in consecutive weeks show that stopping plays from ever existing isn't his only skill. Throw his way to remember why you shouldn't.
Prosperous franchises are lucky enough to have ungrateful fans claiming wins aren't impressive enough. Even perpetual carpers concede the third-quarter lull was less ghastly than usual, as they scored 10 just like the Niners.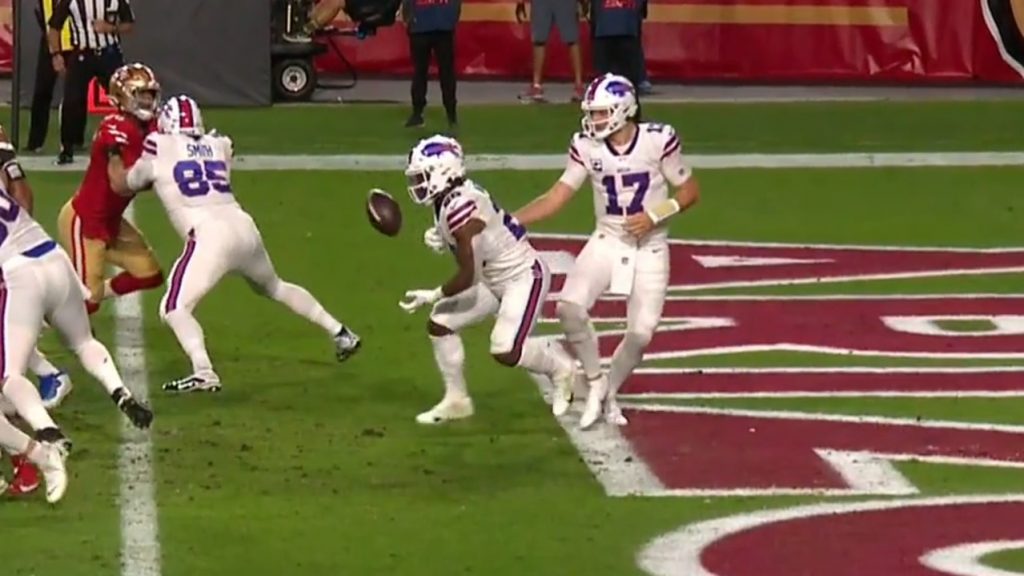 Zack Moss's flub created the biggest panic. Excessively reflexive observers wondered if Christian Wade could have taken his place. The rugby star doesn't need pads unless his new sport has blocking. Activating the erstwhile Wasp may have violated NFL rules. But the Bills could've thrown themselves on the mercy of the commissioner in a year with flexible interpretations.
It feels uneasy to have so little about which to kvetch. Expecting success is not to take it for granted. The Bills must have improved if the sense they were going to blow this dissipated partway through the first quarter. They're ahead of schedule.
Playing at novel times isn't only a 2020 phenomenon. Better teams have played on Monday Nights for half a century, which is why Buffalo has often been excluded. There was no official policy against scheduling the Bills even though there may as well have been. Their oft-unfortunate record created a de facto ban. But fans no longer automatically dread the granted wish of night games.
Evening affairs are worth more even if they only count for one apiece. A weekday slot not only features theoretically ominous opponents: the pressure test provided by a widespread audience is useful both for observers and within the franchise. The league's trusting them to play well on a national broadcast, or at least ESPN.
Getting another shot in the dark against the Steelers should be just the sort of test that the Bills desire.  We can finally enjoy tranquility without incessant shrieking after checking what game's next.
Editor's babble: Still trying to catch up on sleep before the Bills take on the Steelers Sunday night. What a great game by the Bills to put the hex on the curse of the desert. Thanks, as always, to Anthony Bialy for his unique spin on all things Buffalo. You can find Anthony on Twitter @AnthonyBialy.