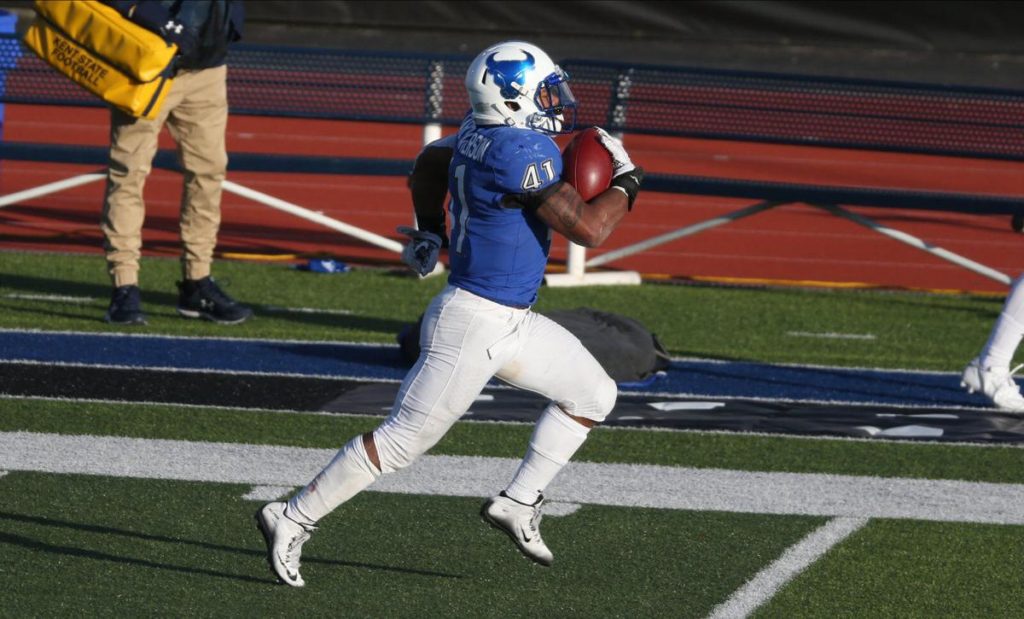 Jaret Patterson of the Buffalo Bulls has been a phenomenon.
The 5'9", 195 RS Junior running back has been vaulting up big boards with gaudy statistics. Patterson's Western NY team has only played 4 games so far, so he's only 53rd in the nation in carries, but he's already 5th in rushing yards and 2nd in the number of rushing touchdowns. This week, Buffalo's Greg Vorse, who I enjoy on Spectrum Local News, documented the fireworks displays that Jaret has been sending up, noting that Patterson received a tweet from none other than Barry Sanders. You are known by the company you keep.
Patterson had just rushed for a MAC-record 409 yards, tying the NCAA record of 8 rushing touchdowns. The First Team All-MAC back had run for more than 300 yards the previous week and over 400 the next, and that's the most-productive back-to-back games by a RB in FBS history. The 409 yards Patterson put up against Kent State ranks No. 2 on the FBS all-time list, behind Samaje Perine's 427 for Oklahoma against Kansas way back in 2014. The junior running back averaged 11.4 yards per carry against Kent State. His 267 yards and 5 touchdowns in the first half alone would be a great day for any running back. He scored on runs of 3, 31, 42, 49, 1, 7, 11 and 58 yards. UB got enough votes to rank them 27th in the nation after that game. Mighty impressive.
Patterson's 138.4 yards per game last year was 2nd in his class to Chuba Hubbard, tied for 2nd in TDs w Etienne; 2nd to Etienne with 134 missed tackles forced, 2nd-best yards per reception vs AP in this draft class. Jaret had come off a season with 2,000 total yards and 20 touchdowns. The Bulls amassed 388.5 yards per game last season, 250 of that from a ground game that featured the nation's top tandem. But All-MAC running back Jaret Patterson led the way, ranking fifth in the country and setting school records with 1,799 yards rushing and 19 touchdowns.

Both DraftTek and I have moved RB phenom Jaret Patterson up (he's still Top 100 for me, and the new DraftTek Big Board and new DraftTek Mock comes out at dawn Thursday December 3), I want there to be controlled expectations for the lad.
Don't shoot the messenger, but Patterson has achieved his records over the last 2 years against teams who are bottom 1/4 against the run in the NCAA. Of 126 teams, Kent State has been #75 against the run in 2020, BGSU was #126 (worst), MIA (OH) was #87, and NIU was #88. Last year, same thing.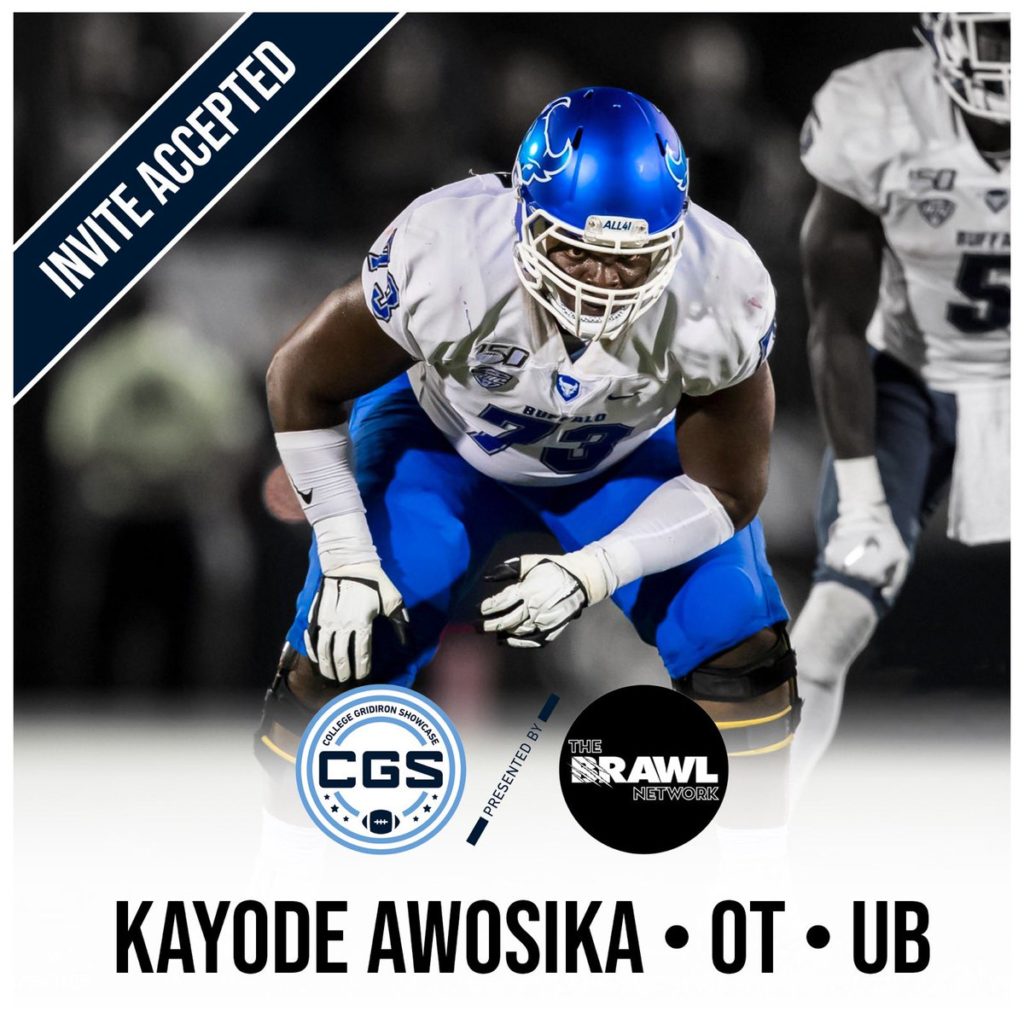 Patterson's OL has helped, and he knows it. Jaret tweeted his plaudits after the game. I ADORE the Buffalo OL (I believe the Bills need a Kayode on their team, despite their affinity for Buffalo meat). LT Kayode Awosika, who lives 25 minutes from Minneapolis, is #203 on my own big board right now and rising. Their RG, Jack Klenk (6-3, 300), a redshirt senior, is from my old high school (Pittsford Sutherland, where the shuttle buses leave for Bills Training Camp). RT Jake Fuzak (6-5, 300) is a Williamsville South graduate. I've put them all on my PFA list. Among 130 schools, the Bulls are ranked 3rd in the FBS in Line Yards (which gives more credit to the OL than old metrics, and #1 in lowest sack rate allowed.
Given Patterson's competition and O-Line, how did I come up with a RD4 evaluation for Jaret Patterson, anyway? First, let's look at how Jaret did against the better teams he's faced in his career.
Patterson's yards per carry against AP-ranked teams is 3.1 ypc (ranking him #45), with a 23-for-71, 0-TD stat line.
However, NFL teams are now looking more closely at how effective their RBs can be at catching the ball. Patterson has done extremely well in his career as a receiver out of the backfield. He's #3 among draftable RBs in yards per catch against AP-ranked teams this year with 19 yards per catch (the top five are Michael Carter, Kylin Hill, Patterson, Javonte Williams, and John Lovett).
Jaret sits at #11th right now in 2020 Yards per carry (from scrimmage), at 6.8 ypc. Sure, Patterson's competition is a factor, including the Oklahomas (Rhamondre Stevenson) and Ohio States (DeMario McCall), but also includes North Carolina A&T (Jah-Maine Martin) and Toledo (Shakif Seymour). It also includes Juniors who won't necessarily declare (Hassan Haskins and Javonte Williams).
Number of touchdowns isn't as much a factor as people would think, because this stat isn't as much about the running back. But touchdowns per game played over one's career can give you an idea about availability and production. Here, Jaret shines as a dependable, productive back. He's #2 with 1.38 TD/G behind Travis Etienne (1.72). Etienne is my guess for first back selected, and he has almost double Patterson's TDs.
One other statistical factor weighs into an initial ranking of running backs before I even look at the tape: value as a kick returner. In Year One, you'd like to involve a new running back somehow, and kick return is the perfect spot for that guy. Looking at Career Kick Return Yards, again, Jaret Patterson pops to the top. Jaret's 1055 KR yards ranks him #2 right behind Iowa State's kick-return-only specialist Kene Nwangwu (2385; you read that right).
On to the film.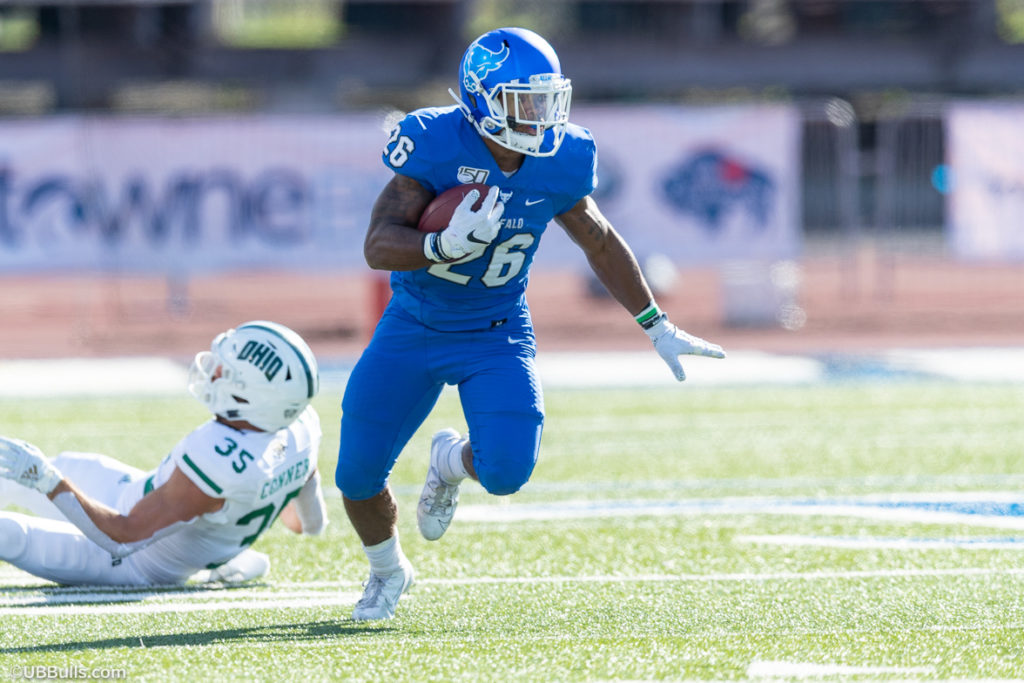 There is some "make ya miss" in Jaret's running style that might remind Bills fans of Devin Singletary or LeSean McCoy. You see that again on this play against Bowling Green. Powerful leg drive like this is translatable to the NFL, as is the burst you see here. Quickness is, too. Watch the subtle stop-start on this play as Patterson patiently allows the block to unfold for his acceleration through the hole. Notice how his head is up here, letting his vision be his guide up through the traffic. Lest anybody worry about his 4.52 forty speed, let his game speed ease your mind. Here is that North-South run style that certain GMs look for. Here he is showing chops as a receiver.
Buffalo FamBase Editor Robyn Mundy weighs in on the Bills adding Jaret to a stable that includes Devin Singletary and Zack Moss:
"I love Jaret Patterson… BUT… I happen to be in complete agreement with the Draft Dean guru here. Though I think Patterson is talented enough, I watch that OL (lol, you know me Dean) and drool for the kind of holes they open up for him. If only the Bills OL was half that good at run blocking. The Bills OL did look a little better against the Chargers, but all the shuffling has made for a messed up year getting any kind of chemistry along the OL. Lots of work to do.
"Patterson has this crazy ability to cut and pull himself out of tackles, no doubt. However, I wonder how well he might be able to do this on a pro level. Not stating he can't make the transition to the pros and be effective, but I think it will be much harder than some think. I hope I'm wrong, but we'll see because some team will draft him… where in the draft is Dean's wheelhouse, not mine :)"
Well, Robyn, my guess is RD4. Here's how I figure that out. Recent Draft History for running backs tells us that 16-25 running backs have been taken over the last four years, with more teams opting not to pay the big bucks for a second contract on a declining asset (so bet the over for this year; there'll be more than 16 selected). Next, look at the number of RBs picked in each round in last year's draft. One was picked in RD1, five in RD2, three in RD3, and 4 in RD4. I have Patterson the 10th-best back, and that player has been selected at #112 in 2020, #122 in 2019, and #112 in 2018. Those are all RD4 picks.
Time will tell, but Jaret Patterson is likely to declare as a redshirt junior, and there are five RB juniors ahead of him that haven't made their decisions as of this writing: Chuba Hubbard, Journey Brown, Javonte Williams, Max Borghi, and C.J. Verdell. If they all return and Jaret declares, he's a third-round pick, where the sixth back has been selected in most years (#67-87).
Put me in the camp that mainly ignores the arguments about Jaret Patterson dominating easy competition. Based on tape and extras like receiving chops and kick-return ability, Patterson will be a great add to one of the teams looking at RB in rounds three and four (my guesses are Washington, Miami, Atlanta, Arizona, and Philly.
Editor's babble: Round 3 or 4 seems like a sensible place for Patterson to be drafted, should he declare. I can't imagine him not entering the NFL draft, given the career span for most running backs is so short. Thanks, as always, to Dean Kindig for his valuable contributions to our blog, and for his friendship. You can find Dean on Twitter @TCBILLS_Astro.