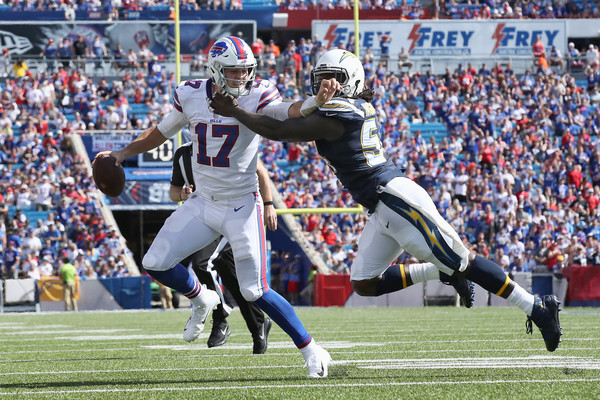 Although Josh Allen's career path veered suddenly into six lanes of traffic during rush hour when the Nathan Peterman experiment went awry in the 2018 season opener against the Baltimore Ravens, Allen's first career start against the Los Angeles Chargers the following game revealed just how raw and unprepared he was to become a starting NFL quarterback.
Fast forward a couple years and a tortuous ride with a project quarterback along the way and the contrast seems even more remarkable. The quarterback facing the Chargers on Sunday at Bills Stadium is a whole different cat than the one we saw the last time to teams faced each other. Gone for the most part is the gun-slinging, deer in the headlights rough rider who went out there and used his legs and sheer athleticism to try to win games by his mental will alone.
The Josh Allen the Chargers will be facing is a much more polished quarterback now, although the kid out there winging it around still thrives inside him. He's always given some of us old Bills fans a case of tachycardia just watching him play. This is my sixth season watching Josh play football. 'Improv' is becoming one of his greatest skills and it's really hard to defend against a quarterback who is highly mobile and can think quickly on the run.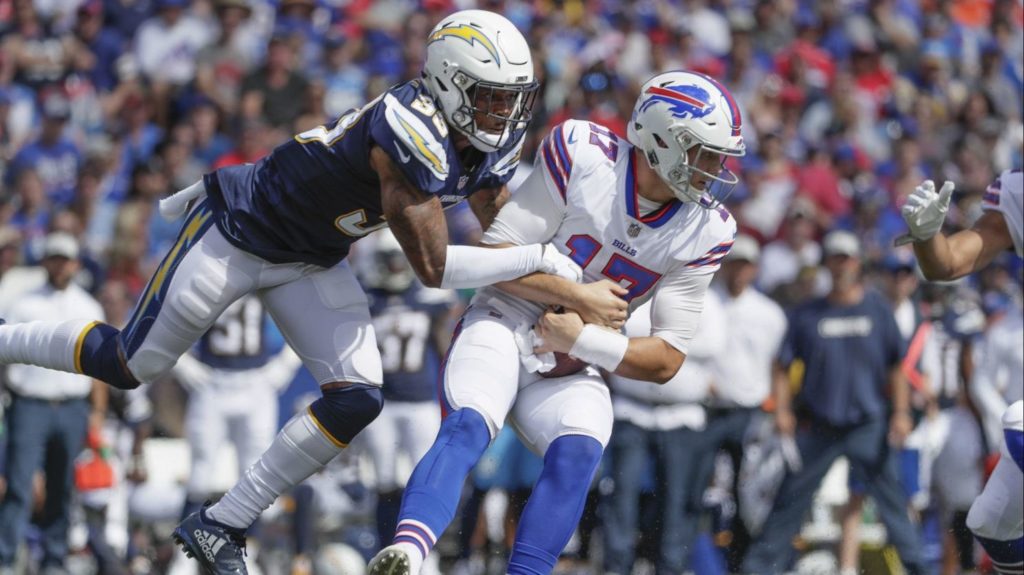 Allen admitted that looking back on his game against the Chargers in 2018 was somewhat painful, albeit satisfying to see how far he's come developing his game. In a great article by Heather Prusak of WIVB.com, Allen reiterated his difficulty recognizing defenses and didn't know what he was looking at a great deal of the time. This season Josh shows more understanding of the offense, what different defensive looks mean and you can see his improved comfort level at changing plays at the line of scrimmage.
This is another aspect of Allen's game critics don't seem to acknowledge. Josh Allen is very intelligent, both intellectually and with respect to his emotional IQ. His 'big kid' demeanor appears to be misinterpreted by some as him just being a 'country bumpkin'. However, you can clearly see clearly Allen was raised with the wisdom that comes from life experience making a living as a multigenerational farmer.
This ability to make chicken soup out of chicken poop is characteristic of the mindset it takes to run a large farming operation for a living. To be able to sustain this level of productivity over multiple generations takes an enormous work ethic and self discipline. I'll never stop getting a chuckle when Josh comments that much of his motivation in sports was attributed to his desire not to sling cantaloupe for the rest of his life.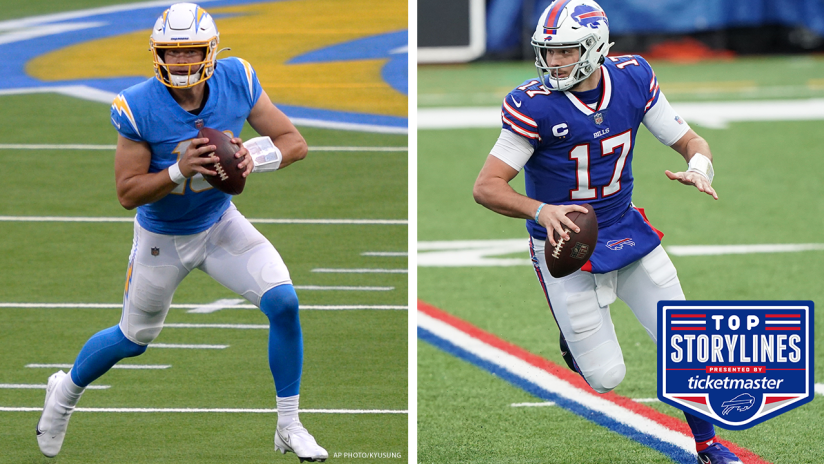 Additionally, as astonishing as Justin Herbert's meteoric rise to prominence as a rookie has been, it's equally eyebrow-raising Josh Allen has improved his productivity by almost every metric since his game against the Chargers in 2018. Allen was such a raw potato coming out of 'Laradise' versus a pro-ready program like Herbert did at Oregon. Allen just needed time, he already had the motivation to realize his potential.
This is where you hope to see the seeds of the 'next level Josh' come into the forefront. Allen is still growing into his body and his game. 'Next level Josh' happens when there's another leap, the game slows down even more for elite quarterbacks. He's not quite there yet, but if Allen continues to grow cognitively and refines his accuracy even a little bit more, he will be in the zone of realizing his vast potential.
This is where the rubber meets the road for making that transition from being a very good quarterback to becoming elite. We know Josh has elite physical ability. Now it's time to see if 'Next Level" Josh can excel at the mental aspect of the the game as well. If he does, it will be fun to watch where he takes his game and the team in the years to come.
Editor's babble: Thankfully the Bills are a good distraction from our trying times. Wishing everyone reading this all the best during this difficult holiday season. May you be well and able to find joy no matter what challenges you face at the moment. Spread the love this holiday season. You can find me trying to sprinkle a little 'twinkle dust' on Twitter @RobynMundyWYO.