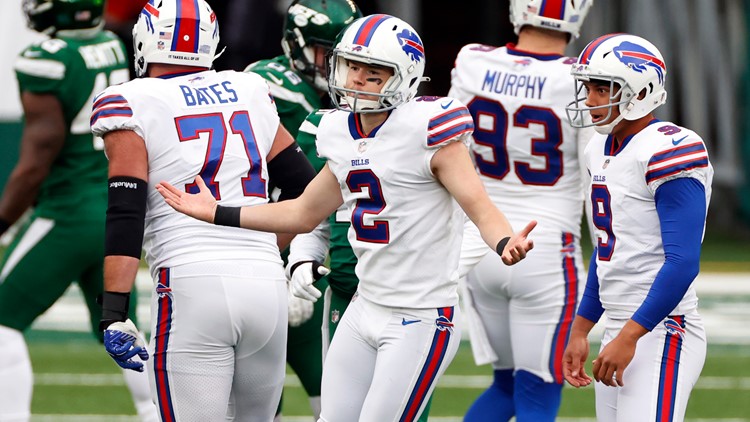 A soccer-themed win technically counts at real American football.  There's a more efficient way to get to six than two kicks, and it comes with the chance for a bonus point if you find the foot connecting with the ball as exciting as Rex Ryan does.
Sunday's rather uninspiring triumph will be known forever as the Kick Six Game and hopefully be forgotten in five minutes. Losing to the Jets at the half might disqualify the Buffalo Bills from the playoffs. Even if not, there's unease despite success. How can a team leading its division by two games create such uncertainty? It's for the same reason fans call to can a kicker who converted half a dozen attempts.
The Jets are getting t-shirts made. A one-score loss to the Bills is the closest the Super Bowl III champions will get to glory in our cursed year. Every time a team settles for a field goal attempt against Adam Gase's club, an angel flies too close to the Sun and gets incinerated. Serial killers are begging to get caught.
Beating the division's doormat by one score while not getting a touchdown of one's own feels like my second grade field trip to the dry cleaner: you're glad to not be in school, but there's nothing exciting while there. If Mrs. Sudlik is reading this, I'll never forgive you for a class outing so horrid that people don't believe it's real. You couldn't take us to Anderson's?
Be grateful NFL judges don't award style points. The most disconcerting part about a game that was close for far too long was the detached tone. Nobody should ever get the impression that participants lack urgency. Fans never want to feel like they care more.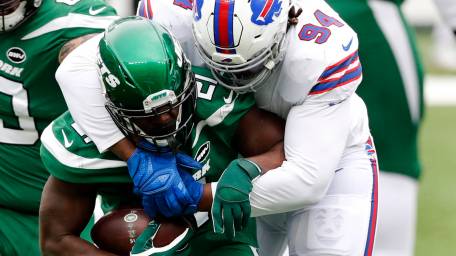 There's no way Frank Gore has any fuel left in his tank, football observers claim in an annual tradition dating back to leather helmets. No defense should let someone who discovered fire look like he's still speedy.
It's sure doesn't seem like Josh Allen went 30 for 43. A boxer with that record would make fans wonder about the relatively few losses. He made some throwback throws. Unfortunately, they were to 2018. Young Sheldon's laughs are less forced. Allen has shown he's matured beyond network sitcoms and just needs to focus on sophistication.
Alleys seem dangerous. The willingness to head somewhere that feels eerily abandoned is exactly why they got the brave Cole Beasley. It's of great comfort knowing the roster contains someone who can gain relatively small but crucial amounts. Getting one more yard than needed for a first down only seems like magic. The patriarch of the Beasley family loves impressing muggles.
Establishing the run would've been a good idea a month ago. There's panic on the streets of Lockport that Devin Singletary is suddenly unable to rush. But it's tough to get going with such a tiny sample. Announcing he's ineffective is like proclaiming who will win the presidency based on polling three family members. Sometimes, a surprise is jarring instead of exciting.
They won't get to play the Jets again except in the playoffs, ha ha. Don't expect such an enticing clash again. There aren't any intramural flag football teams on the schedule.
It's not going to get easier. The Bills were supposed to recalibrate against the league's designated target. I hope they haven't figured out who they are, because the answer is less than satisfying.
What's their personality? Having to ask is itself a bad sign. Their style varies by foe strength. The difference between goodness and greatness is the ability to control moodiness.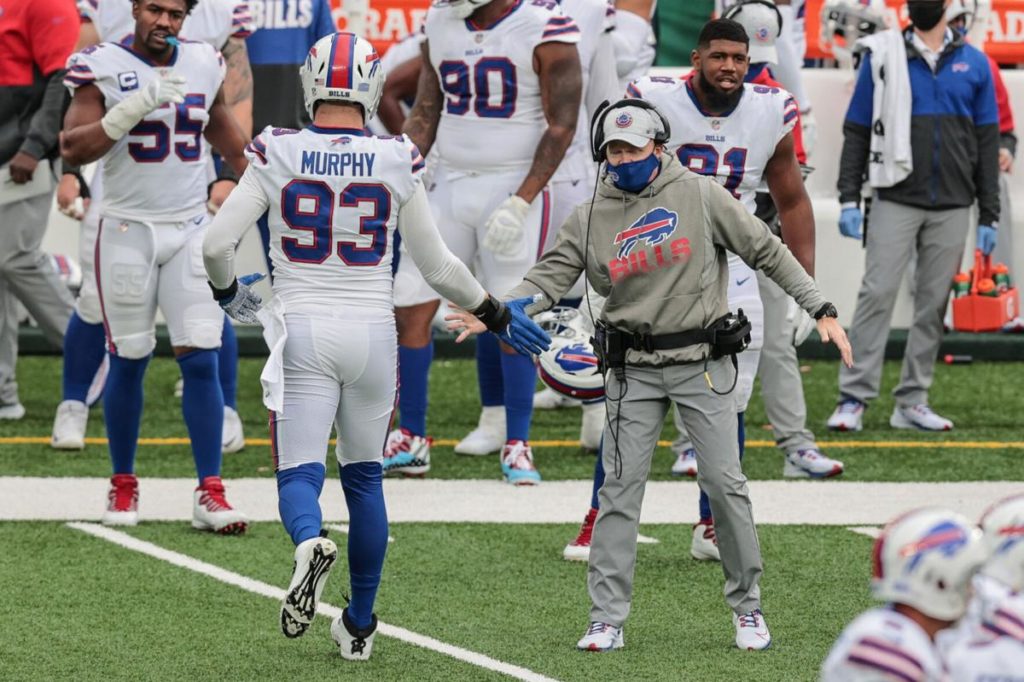 Any NFL win is impressive, even this one. There's no way 5-2 can be inelegant. Yet they missed the chance to reestablish dominance. Only the Jets can be beaten while pretending there's a force field across the goal line.
There isn't much to gain in games like this except ample yardage. A loss would inspire calls to fold. Winning is expected no matter how bratty that appears. Enjoy a Little Debbie from anyone who bet on the Bills straight up and won 35 cents.
By current rules, teams can't select who they play. They can only control how they play. There's no need to apologize for residing in a division renowned for a massive level of dysfunction. The AFC East Thanksgiving dinner needs four tables to keep grievances separate. There's an astounding disparity between prosperous bankers and delinquent slackers who've never had bank accounts.
As for the smug cousin who's finally struggling, this is a week for wondering if they're finally going to overcome the predatory Patriots. It's only been like two decades of the same tense anticipation if you wonder what eternity feels like. The wounded franchise still knows how to scheme, so the Bills better be wary lest they sustain a four-point loss to rue for years more.
Kicking off at 1 p.m. Sunday brought welcome dullness. A little routine means a lot when it's been confiscated. For as much of a struggle as it shouldn't have been, the Bills still disposed of a team that makes the Giants look like New Jersey's most competent football franchise. Please accept a jarring reminder to never take anything for granted.
Buffalo is capable of reaching greater heights than merely topping the National Football Minor League's lowest club.  An uneasy win reminds us of how much of life is a matter of perspective.  People choose to either cherish the sunset or feel ticked that nothing's going right aside from a pretty sky as natural light disappears.  The Bills can focus on flailing against the Jets or how they still moved the ball well while holding their foe to gaining 144 inches in the second half.  The best time to get nonchalance out of their system is during a win.
Editor's babble: This might go into my HOF Anthony posts. Especially the first paragraph. Many decades of experience taught me to NEVER expect a win against any division opponent no matter what their record is at the time. The Bills are capable of losing to the worst team in the league, no matter what THEIR record is. Thanks again, Anthony. You can find Anthony on Twitter @AnthonyBialy.