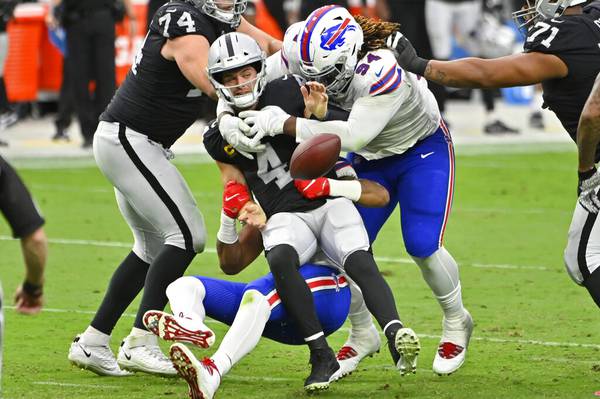 Concerns about hyperactivity are the way to go. An undefeated football team forces us to calm down, and it's just the worst. I hate being the president and having to wear a tie daily. And I'm tired of coordinating dates with Instagram models who won't stop asking me out. Let's keep choosing for life to give us good problems.
It's good to fear success as opposed to the alternative. Every trauma we've withstood has conditioned us to expect the Titanic to run into the Hindenburg. But the journey is proceeding as planned for the Buffalo Bills as the sole surprise we hope continues.
Visiting fans don't get to visit. A stadium full of the guest's followers was the whole reason for Nevada to get a team. Our playing card fun was limited to playing Go Fish in the Cheektowaga sunroom. The Bills are presently offering way better odds than roulette. We'll settle for watching in a lame no-slot-machines-in-laundromats state as long as we get to celebrate the dealer busting. And we were never tempted to cash in plane tickets to afford splitting 8s.
There should've been a different Mafia taking over Las Vegas. Our fantasy regarding the most fun away game scenario possible is more about occupying casino floors than commandeering ownership. Maybe we'll take over the city in six years. Buffalo's mobsters seek to leave money at bars rather than demanding it be sent back. We're not monkeying with Sam Rothstein's car.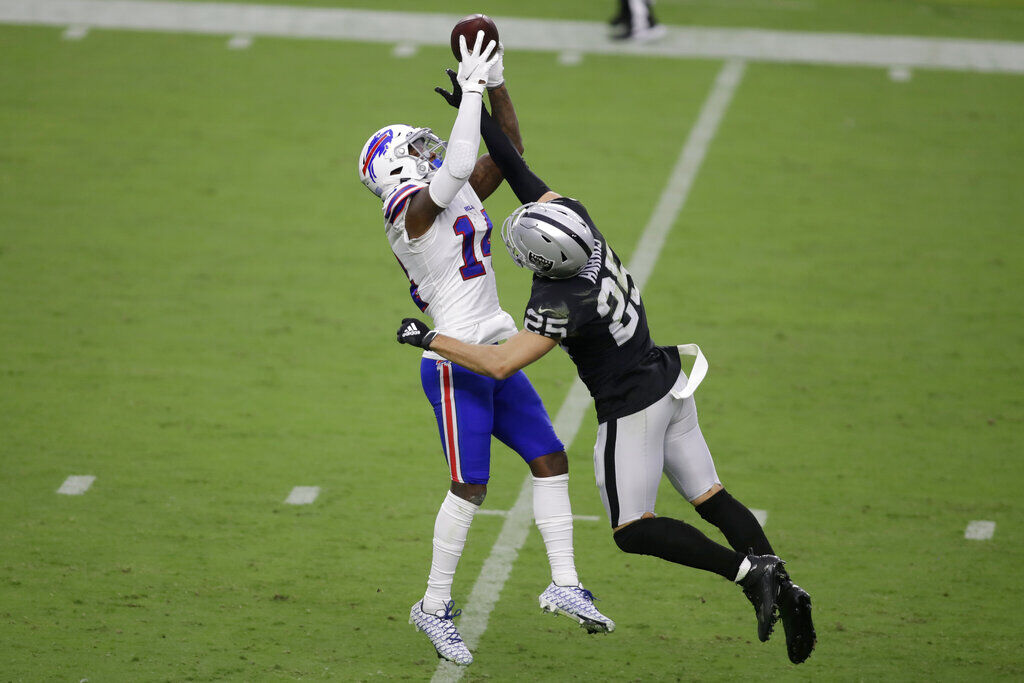 I'm unaccustomed to dreams coming true, so I hope my baggage doesn't scare Stefon Diggs. His performance is reminiscent of LeSean McCoy where there's a weekly struggle to find new ways of praising someone naturally gifted regularly employing his skills. Every game is a delightful reminder that the Vikings thought trading him was wise. Then again, Jason Botterill couldn't wait to deal Ryan O'Reilly, so maybe the universe is evening out ghastly transactions. Minnesota has to pass along the cursed videotape.
Nobody tell Gabriel Davis rookie receivers are supposed to struggle. He's gleefully joined the trend of receivers thriving immediately as pros. Exploiting cushions means he has a veteran's soul. The Raiders pass defense is like a Vegas strip club: they don't want to get caught putting their hands on anyone.
A little flair makes a score memorable. Test your helmet's bounciness for a clip fans will view for decades. Cartwheel Beasley's head bouncing à la Don Beebe shows how history repeats, or at least flips.
Beasley's acrobatics distract from how much he's gaining. At 14.4 yards per catch this season, he's well outpacing his 10.4 yard career average. The alleged possession receiver keeps going far past the marker.
As for impressive ground gains, Devin Singletary is causing double misses per play. Brian Daboll is sticking with the offense's primary strength. He's treating rushing like getting chicken at Burger King. But the change of pace offers a nice contrast when ordered. You can't beat the price per nugget or yards per handoff.
Steady planning is a magic trick that fools the audience through movement so slow that it's imperceptible to the impatient.  Brandon Beane improved the receiving group through one shrewd addition at a time over a year or two.  If you didn't notice his sleight of hand, you'd be surprised by how there's suddenly excelling wideouts everywhere.  Ta-da!
To be rich, have a million dollars.  Josh Allen's biggest source of improvement takes the form of targets who don't smack themselves in the head when they try to catch.  Contrast the present astounding corps to the de facto practice squad he threw to his rookie year.  The Bills don't have to rely on, say, Zay Jones to hopefully catch what he touches.  The Raiders are not celebrating learning what we already knew.
Meanwhile, the defense is making stops when necessary in case you fretted while waiting. The philosophy to which they adhere means conceding at least some modest gains, which is easier to accept after they pull off the drama.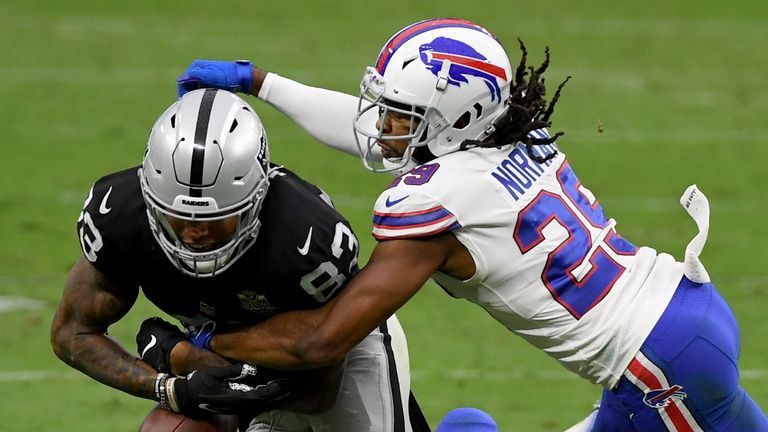 Stealing the ball changes everything, especially for the sad team that wanted to keep it. Josh Norman wanted to make his official introduction as climactic as possible. I take back swearing at Quinton Jefferson on the previous play.
That was one quick dash to finish one-quarter of the season. Life going well makes the clocks speed. Why can't your physics explain where the time went, Mister Scientist?
Trying to convince ourselves we're not seeing something remarkable is a sign of an auspicious season. Fans have to learn calmness, which is a nice change from coping with woe.
Trying to figure out how many wins would be necessary to capture a postseason berth is the preferable way to feel overhyped. Feel free to check the short list of other undefeated teams. And keep rooting against everyone in the AFC to make the contrast look even more impressive by comparison. There's always someone doing worse than you. In 2020, it's not just the Jets.
Not getting ahead of ourselves is tough when the offense is gaining at such a rapid pace. Proclaiming they have their franchise quarterback already seems redundant. You can take a personality test by either deciding the Bills are set for a decade or should evaluate him weekly as a matter of principle. Either way, Allen still has to go out and keep proving it just like Drew Brees does. Remember to remain impressed every week.
All those years of tragic results taught us to not get cocky. Losing builds character just like Chan Gailey was trying to teach.
A little bit of trouble during games reminds us nothing will ever be purely easy. That's presuming life is scripted. Some second-half defensive lapses create a dramatic arc to teach us gratitude for when things go well by the time 60 Minutes starts ticking.
Having something about which to worry is a blessing.  Occasionally, we get to wonder how long we'll retain joy instead of never experiencing it.  Patience presently means looking forward to the next game instead of season.
Editor's babble: Thanks, as always, to Anthony Bialy for his thought provoking contributions (and giggles) to our blog. You can find Anthony on Twitter @AnthonyBialy.