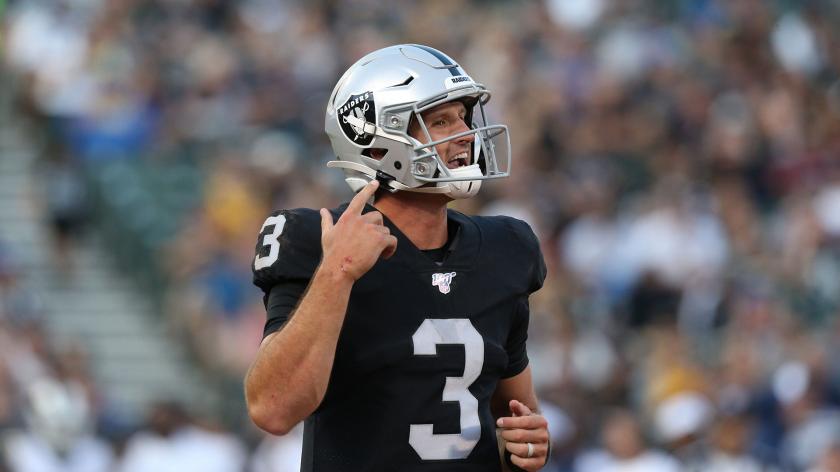 Just when you thought it was safe, Nathan Peterman found yet another way to torment Bills fans. No, it wasn't from any mythical and unlikely on-field heroics. This time it was for being stupid and exposing himself, his teammates, and now the Buffalo Bills to COVID-19 after attending an overcrowded gala sans mask.
But it was for a good cause.
After all, Derek Carr's wife needed a night out after being cooped up for months taking care of their kids. Like the rest of us have been dealing with something different? Listen to this garbage from Carr as he talks to the media… and sounds more like a boy trying to explain to his father why he got his teenage girlfriend pregnant.
This should frost your socks, BillsMafia.
So the giant 'Intangible' of all intangibles this week has to be whether or not the Bills will be able to get in and out of Las Vegas with a victory AND free of COVID-19. And if they do? Well, at this moment we're not sure the Bills-Titans game next week will even happen in light of the dozen or so players and staff who recently tested positive.
Ah, the roaring '20s. We can only hope the inauspicious start to this decade will eventually morph into something less chaotic and miserable. At least we have the 3-0 Bills to distract us from our annus horribilus.
So what are my three biggest concerns about this game from the 'intangibles' perspective?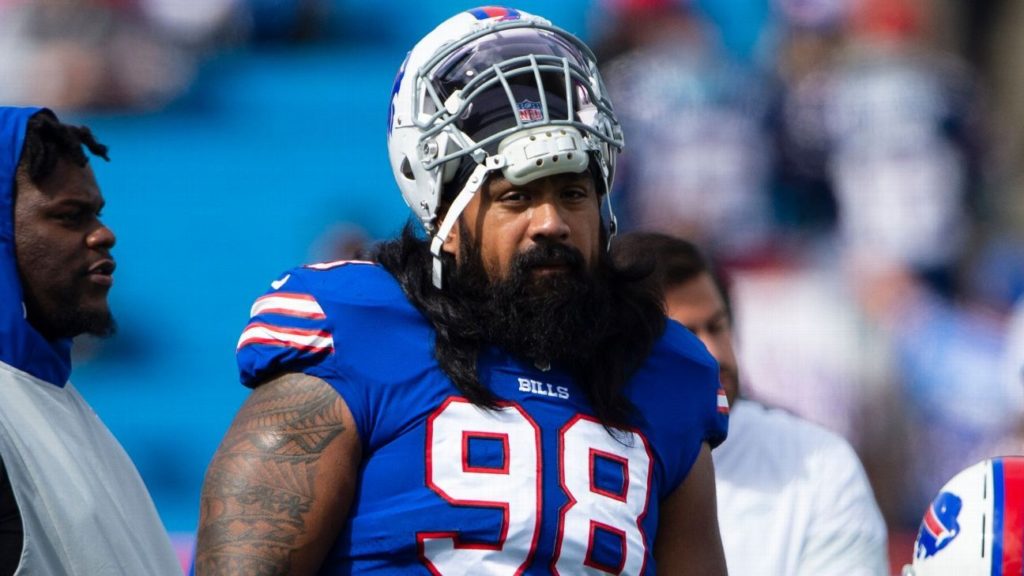 Will Bills run defense stop the bleeding up the middle?
If you watch the game, you don't need all the stats to tell you the Bills have a problem with defending the middle of the field. Watching them get ravaged up the middle repeatedly during first three games was painful and shocking to be honest.
However, perhaps we shouldn't be so surprised, given the missing Star on the defensive line. Yea, STAR… the guy way too many BIlls fans dismissed for lack of "personality" or standing out in any way on the defensive line. Now maybe those short-sighted fans will admit that this defense really misses Star Lotulelei.
Adding to that wide open opportunity for opponents is the fact that the Bills' star middle linebacker is playing with a sore wing. Without them both there and clicking at 100% that front seven is quite vulnerable up the middle, until you reach the secondary. Obviously not a good situation… and hopefully it will be remedied (soon!) by the wizards of D,, Frazier and McDermott.
Running up the gut on the Bills is something we haven't seen consistently happen for awhile. Imagine how awful it would look if Matt Milano was out as well. Thankfully our handsome poster boy is back where he belongs, creating havoc all over the field.
While we're on the subject of running…
When are the Bills going to put on a dominant performance on the ground? The hoopla about Josh Allen and the passing game is all well and good, but what happens when the weather turns cold and windy? Devin Singletary can be deadly when he gets his groove on, but the way Daboll is using the running game at the moment doesn't favor the guy who likes to get his MO-MO motor going with some rhythm to the running game.
Far be it from me to criticize Brian Daboll though. I absolutely love how he is running the offense this season. Guess I'm just looking forward to the game when he decides to roll out the Singletary/Moss express.
This game has potential in that regard. However, I thought the same thing against the Jets and it didn't happen that way. Allegedly, the Raiders defense is vulnerable against the run. Is it time to drop a 200 yard rushing game on them? I'd feel a lot better about that possibility if Jon Feliciano was back on the field. We miss him far more than some fans realize.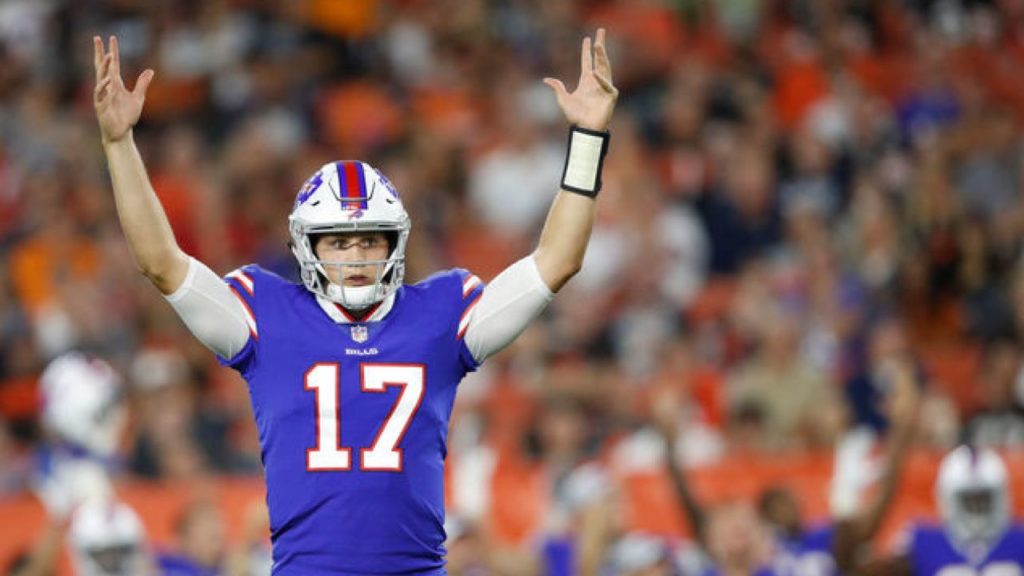 How will Josh Allen handle all the media hype?
Like a champ. But, I caution, Allen is in the earliest phase of "discovery" by the football masses outside Buffalo and Wyoming. He is in the vortex of hell going from being chastised and made fun of to celebrity quarterback on cereal boxes. No matter how grounded in reality you are in that situation, it's still unnerving to feel the wave as it rolls over you.
That stated, there's probably no one better prepared for this kind of challenge than Josh. How can I be so confident of his 'mentals' (as Marshawn would say)? If you listen or watch any media coverage about where he was raised in Firebaugh, California and the type of wisdom passed on from his parents, you can easily see how mature he is from an experiential standpoint.
Which is interesting if you think about it. The guy who barely needs to shave is out there performing at a level way beyond his years in terms of leadership. This entire team loves Josh Allen. Micah Hyde describes Josh as a "big kid" and it's not hard to see that side of him on the sidelines during games.
It warms my heart to see the rest of BillsMafia see what I saw in this skinny little kid when he showed up at Wyoming and wowed us all out of our seats. All the 'analyticals' (as Marshawn would also probably say) can roll out their probability stats on how likely it was for Josh Allen to become a successful quarterback in the NFL but I didn't "need no stats".
Just a decent set of eyeballs and some wisdom about human growth and development and if you're wise enough, you can find that "diamond in the rough". Josh Allen has as many 'mentals' as his rocket arm can hold.
When you grow up with repeated messages and a strong moral compass, you become wise beyond your years. What Josh received from his parents in terms of how to be successful in this world was of immeasurable value regardless of his chosen occupation.
I have little doubt that Josh Allen will keep his head on straight as he dips his toe into the pool of celebrity. He's got way too many wise people around him who will be only too happy to help him keep his feet on the ground. Now the rest of us have to navigate these new waters and figure out how to deal with being the darlings of the NFL three weeks into the season.
Lest we forget the time Ryan Fitzpatrick had us all going to the Super Bowl for those wonderful eight games awhile back. Fitzy is his own superstar, but the point is for fans to temper their expectations. Let's remember, as fun as it is to watch Josh Allen lighting up the NFL, he also has a tendency to go off script at times, something he needs to learn how to control better.
He knows it. Comes with experience, something he's more than ready for at this point in his career.
Editor's babble: I'm fully confident Josh will continue to evolve because he is beginning to embrace his role as a franchise quarterback. It's a fun time to be a Bills fan. Let's enjoy each precious moment as we try to get through this pandemic together. If you're looking to holla at me, you can find me on Twitter @RobynMundyWYO.