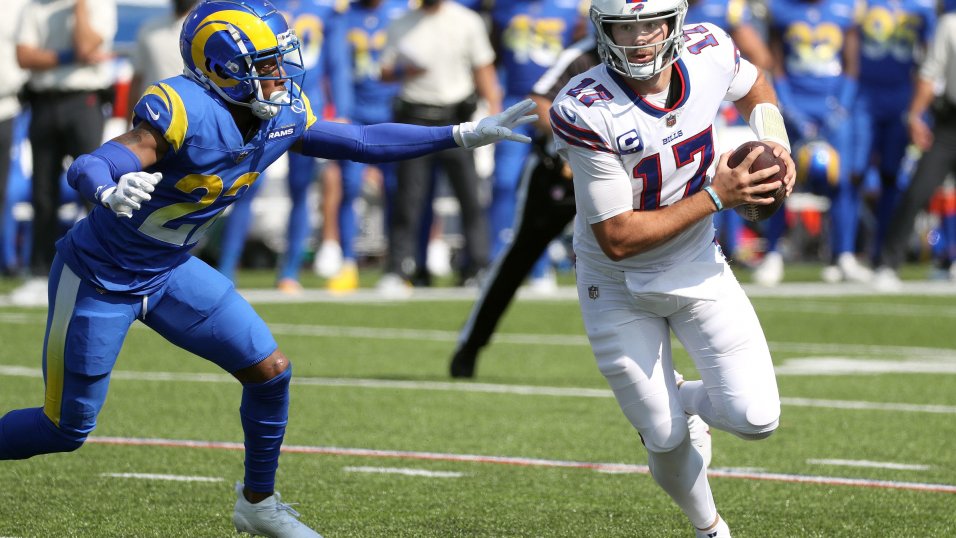 Maybe you're not ready to declare it just yet.
Maybe you'd like to see a few more games. A bit more consistency.
Maybe after being burned too many times by the JP Losmans and EJ Manuels of the world, you'd like to wait for more of a surefire sign.
I understand the hesitation. I understand the inclination to lean into the defense mechanisms of lowered expectations and cautious optimism. Really, I do. But I'm hear to tell you that the wait is over. As far as I'm concerned, the verdict is in.
After a quarter-century in the football wilderness, the clouds have parted in Orchard Park, New York, and the blinding light enveloping the Buffalo Bills owes its glorious luminosity to a now undeniable conclusion: Josh Allen is a franchise quarterback.
You may think I'm jumping the gun. You may be encouraged, but reticent. You may be saying "he's looked good, Matthew, but 'Franchise Quarterback' is a loaded phrase". That's fair. Before you conclude that I've simply consumed a bit too much of the blue-and-red Kool-Aid, though, allow me to make my case.
A franchise quarterback needs to be able to make all the throws, sure.

After dozens of physics-defying Josh Allen lasers have cut through the winds of autumn the past two-and-a-quarter seasons, captivating viewers and flummoxing defenders, there should be no doubt that the Bills quarterback checks this box .
Think of Allen rolling to his right and delivering an on-target dart to a crossing Cole Beasley for the Bills' first touchdown of the afternoon in last year's Thanksgiving day game against the Cowboys.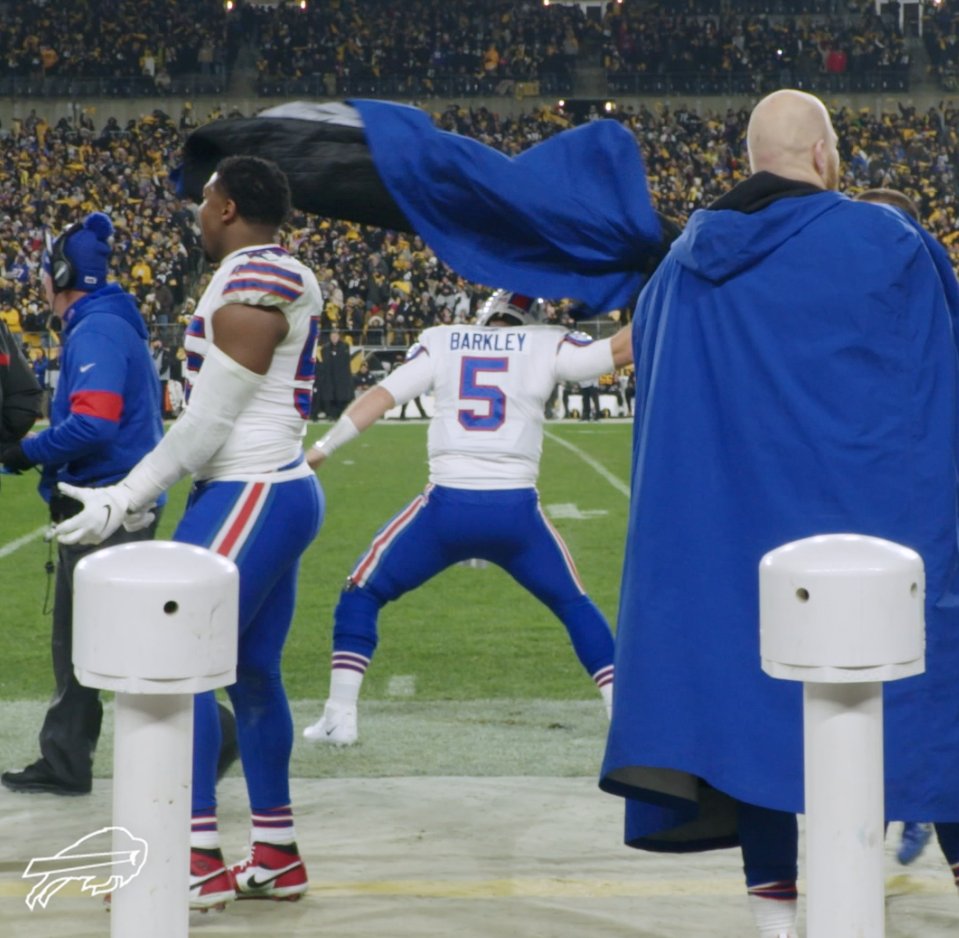 Picture Allen tossing up a jump ball to John Brown against the Steelers on Sunday Night Football while the echoes of "Renegade" could still be heard reverberating through the bleachers at Heinz Field. Think then of his ensuing game-winning touchdown pass to Tyler Kroft in the corner of the end zone, stamping the Bills' ticket to the playoffs in front of a national audience.
Ponder the difficulty and improbability of converting a 3rd-and-22 against a professional NFL defense in crunch time of a tight contest, then see in your mind's eye the fleet-footed Allen retreating from All-World tackle Aaron Donald and firing a rocket to Cole Beasley in the midst of four Rams defenders to convert the yardage and gain a 1st down.
Yes, Josh Allen checks the "make every throw" box — and with room to spare.
What marks the difference between a physically gifted quarterback and a true Franchise Quarterback, though, cannot be illustrated by statistics. It cannot be quantified, measured, or explained by mere illustrations of athletic talent.
Indeed, "Franchise Quarterback" is a designation given only to the rarest breeds of passers. Those whose leadership, heart, unflappability, and command of the offense and the moment are sufficient to again and again pick their team up, put it on their backs, and carry it to victory.
Picture number 17 picking up a botched snap on 4th-and-1, powering it across the line of scrimmage, colliding with a defender, carrying him ahead for four yards, and then bouncing up and powerfully signaling "1st down" — firing up an entire roster and giving it the confidence to charge ahead to victory.
Envision throwing first a go-ahead score against a red hot Fitzmagic-led Dolphins team in the fourth quarter, then following it up by launching a fearless, magnificent bomb to a streaking John Brown for an insurance touchdown.
Recall the sickening and all-too-familiar feeling from this past Sunday of what once seemed a sure victory slowly but steadily slipping away against the Rams.
Now recall what came 11 players and 75 yards later: The 3rd-and-22 conversion. The 17-yard pass to Stefon Diggs that gave the offense at least a prayer for victory with under 30 seconds remaining. The game-winning touchdown pass to Tyler Kroft. The replacement of that old, sickening feeling with one of jubilation and awe.
Time after time, with his team on the mat, all but defeated, all but hopeless — with the battered Bills Mafia muttering "here we go again" and the football watching world counting him out –Josh Allen has picked his team up and carried them to victory.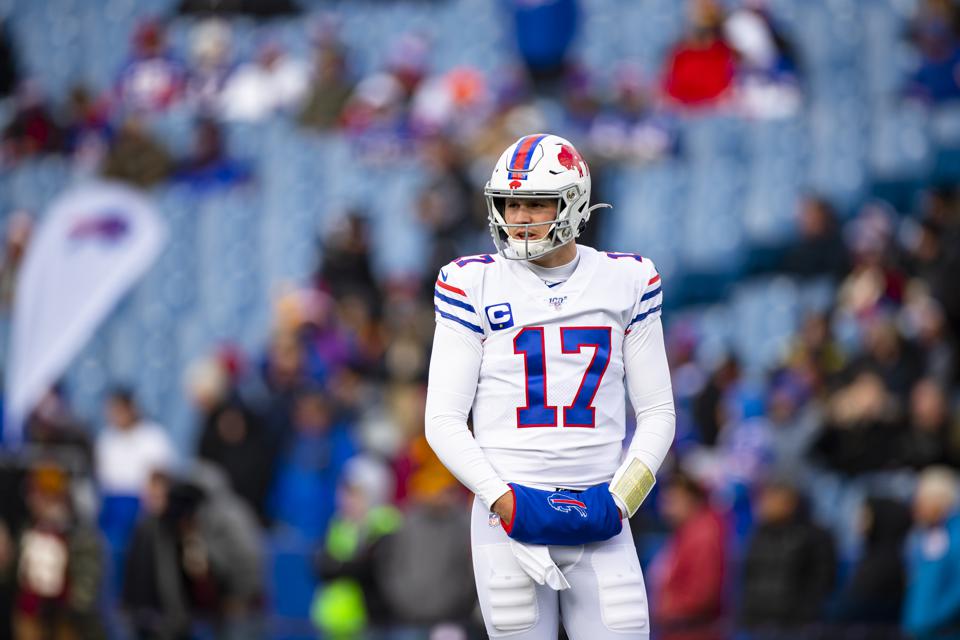 That — not any QB rating or Pro Football Focus score or Player of the Week award or highlight on ESPN — but the heart, the gall, the tenacity, the sheer will and stubborn-ness necessary to repeatedly snatch victory from the jaws of defeat and to carry a team, against all odds, to victory — THAT is what makes a Franchise Quarterback.
The pundits repeatedly told us that this couldn't happen.
They told us Josh Allen was too inaccurate, too wild, too sloppy. They told us he was a "parody of a quarterback prospect". They snickered. They mocked. They posted videos of errant passes and wayward laterals. They told us he could NEVER be a Franchise Quarterback.
They were wrong.
After piloting his team to a 3-0 start, becoming the first Bills player to score 12 touchdowns through three weeks, winning Player of the Week and Player of the Month honors, and displaying much improved accuracy, touch, and decision making, the pundits had no choice but to concede, one by one, that they were wrong.
After rallying his team to victory when all hope seemed lost the past two weeks and tying Russell Wilson for most 4th quarter comebacks in the league since 2019, the doubters were silenced. The snickering stopped.
One dizzyingly masterful pass, one improbable comeback, one incredible display of fortitude and leadership at a time — Josh Allen has forced the pundits to confront an undeniable fact: They were all wrong about him because they all lacked the capacity to understand what made him special: There is no tool or statistic or analytical grading system that can measure the heart of a man.
So, Bills fans — remain hesitant if you want. Cling to your caution. Wait for more signs.
Me? I've seen enough.
I'm sticking to my guns. I'm shouting it from the rooftops. I'm buying the jersey in every color. I'm pouring a giant glass of blue-and-red Kool-Aid and raising a glass to the bucking bronco of Firebaugh and Laramie and now, thankfully, of Orchard Park.

Here's to Josh Allen, Franchise Quarterback.

Long may he reign.
Editor's babble: Music… sweet music. We welcome back Matthew Rule and are grateful for his contributions to our blog. You can find Matthew on Twitter @MatthewLRule1.