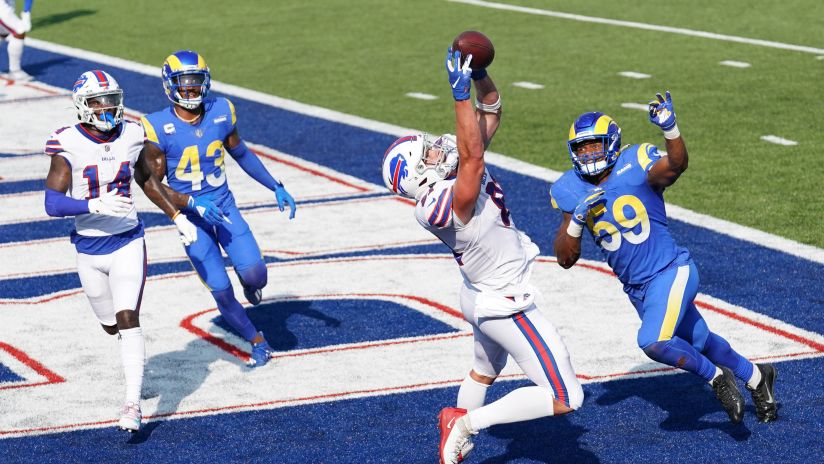 It's not supposed to work out. When have things ever gone and stayed well?  An insurmountable lead evolved into a different challenge once it was mounted.  Retaking victory shows more character than holding it, although we don't need examples, plural.
The first test came in the third game. Buffalo Bills fans are unaccustomed to scripts with what we'd call happy endings. But at least there was reason to watch until the credits. No fan would want to turn off the game to look at freaking foliage or whatever non-sports people do at 3 p.m. on September Sundays.
No, you doubted.  Treat rather drastic score changes as a chance to reiterate why nothing can ever be taken for granted.  We ultimately get to politely inform Jalen Ramsey who's actually trash after we exhaled.
The helpless feeling during the impossible squander was for those who'd forgotten what franchise this is. Buffalo's capacity for inflicting disappointment is unparalleled. But the erstwhile tough end wasn't the final moment. The squad was only offering an ominous reminder before benevolently leaving heartbreak behind this time.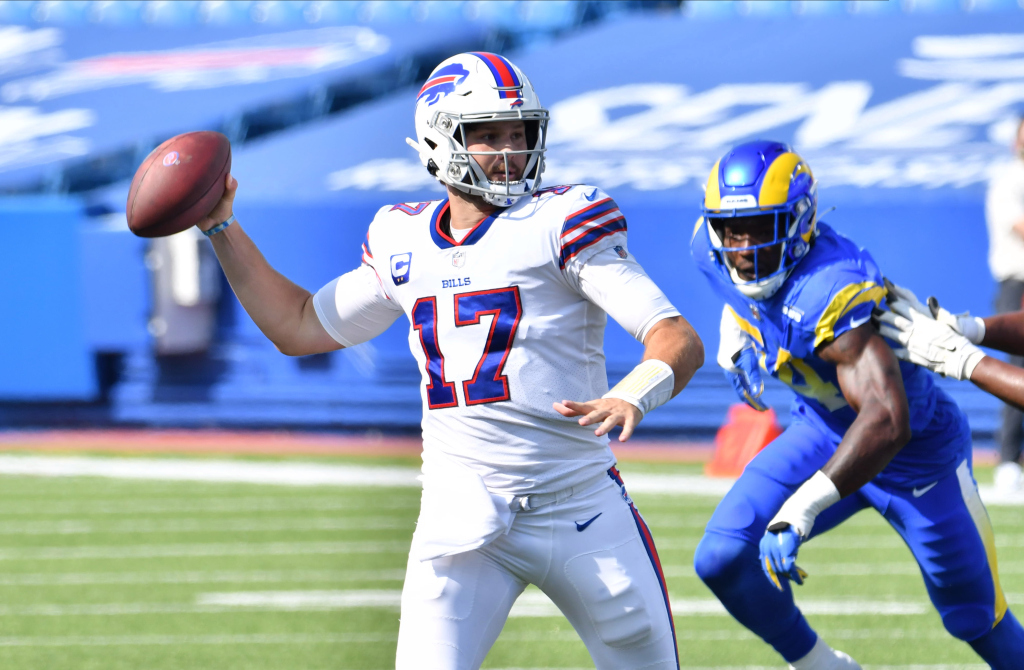 The Rams can't use playing early by Pacific standards as an excuse for a slow start. Sure, the game occurred during breakfast time at Jack in the Box, Del Taco, Carl's Jr., or whatever other Bizarro World fast food joints are situated on that other coast. But franchises have to be ready even if kickoff comes early for jazz musicians. There are indeed two 10 o'clocks in the same day.
Sunday was already jarring after tuning into Fox for the RC Cola of broadcasts. Chris Myers always sounds like he's learning about football while watching his first game. His employer is just another network that couldn't keep Johnny from unplugging the cord at the worst moment. The joke at 12:59 that the broadcast would go out wasn't funny when it actually happened at 1:04.
Football shouldn't be but often is about overcoming trashiest of calls.  Officials who don't know how possession works would seem to be poor hires.  Using review to get it right presumes those looking at the play are competent.  Even pausing time doesn't help the clueless. Time for contemplation is wasted for those incapable.
Keeping the Rams in a game shows parity in the worst way.  Outsiders who only saw highlights lamenting the late pass interference should know baffling calls still didn't balance out.  A non-interception identified otherwise shows how fragile momentum is. Complaining about officiating is like condemning February snow: moaning is tiresome yet justified.
Referees not knowing what game they're watching were only one dismaying circumstance to overcome.  Previously, two touchdowns off the board on on a drive meant melancholy, just like losing John Brown.  And blowing a lead Oilers-style would've meant the end… even with time left.  Yet here we are not ruing a wasted chance at a win all week and for the rest of our lives.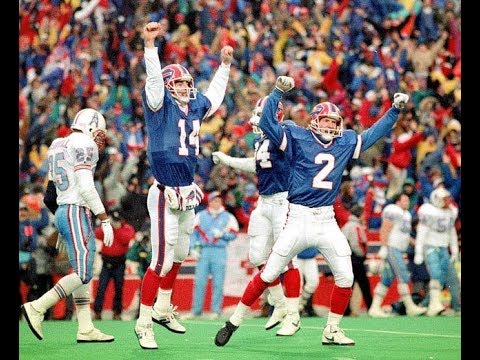 Relying on one aspect usually means zero chance at prevailing. It's tough to stop passing when there are receivers this good with a quarterback. At the same time, Sunday showed the benefit of slightly more variety, if not quite balance. Devin Singletary auspiciously illustrated how exciting it is to get running backs going. No villain can stop so many attacks Voltron can now breathe lava.
Those who proclaimed a quarterback can't learn accuracy are the same ones who thought people would never read the news on a pocket screen. Josh Allen evolved in a way deemed impossible by myopic Jurassic Park designers. Life finds a way.
The fullback-minded quarterback can also throw. Allen pirouetting on an option before smashing his way into the end zone resembled some kind of giant land mammal the team should use as a logo.
The Bills get ahead with novelty. Their quarterback is their bruiser rusher, new mystery man Gabriel Davis is already a deep threat, and tight ends can't stop scoring. Nobody thinks to cover Lee Smith. And everybody forgot Tyler Kroft could help.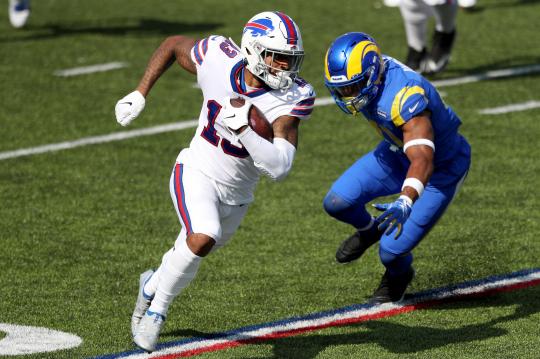 Foreground action is what's important even if the overall scene isn't as vivid. The NFL continues to resemble a Nintendo game where players can't interact with the background. A static display scrolling past doesn't affect turtle-stomping. Up up down up B B start is Buffalo's Konami code.
Trying to cheer loudly enough to affect the outcome is a noble pursuit in futility. Don't tell me if it worked, as I'd like to presume demands to play superbly originating from Cheektowaga and Williamsville shook that stadium in Orchard Park.
Why did we spend all that time learning history if the present isn't going to suck in the same way? Tense moments went well, which doesn't respect precedent. There's usually just the one pendulum swing before time expires, and it's historically seemed to only head our way to knock us over. Bills fans cope with the rare sensation of perseverance.
We're used to other teams looking foreboding on the horizon. Now, foes are nervously trying to scheme their way into beating the Bills. The schedule's the same: it's just the way everyone sees it that's changed.
The intended distraction turned into appreciation.  A game that oscillates wildly would test heart functionality under normal times.  Temporarily losing what seemed like a permanent lead is not how we'd prefer to be verified.  But life doesn't like participants growing comfortable.
Editor's babble: This may be one of my favorite posts written by Anthony. And I have a lot of "favorite posts" he's written over the years. These are truly the strangest of times. Thankfully we have expertise in irony as Bills fans. Thanks to Anthony for all his thought provoking contributions to our blog, and for the many giggles he provided when there was little to laugh about. You can find Anthony on Twitter @AnthonyBialy.