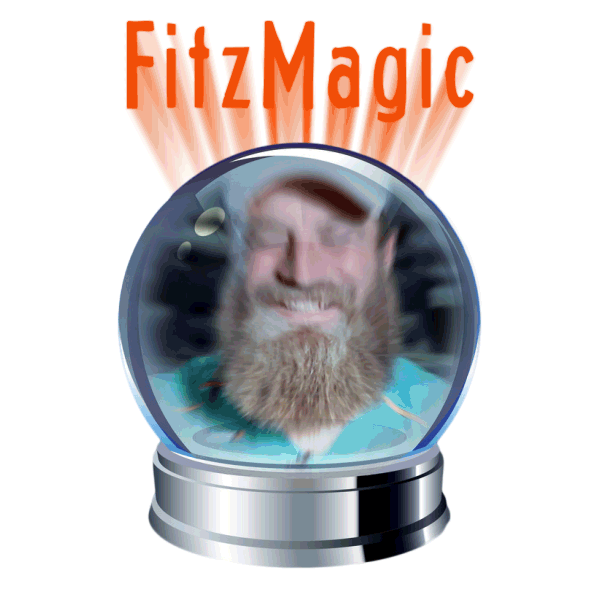 FitzMagic or FitzTragic? THAT is the question. Who will we see on Sunday when the Buffalo Bills travel to Miami to take on the Dolphins? After getting drubbed 21-11 by Belichick and his Brady-less New England Patriots last Sunday at Gillette Stadium the Dolphins need a win this week to stay out of the basement of the AFC East.
Of course with the San Francisco 49ers heading to New Jersey to play the Jets on Sunday, the Dolphins may end up with company in the cellar if the Jets don't beat the 49ers.That will prove a tall task for the Jets, especially with their injury list getting longer by the day.
However, don't tell Gregg Williams his defense stinks. As an aside, if you want some giggles and delusional commentary, check out what Gregg Williams had to say about how "close" the Jets are to defensive domination. That takes some extraordinary skill to spin that one over on the media, but I guess we should come to expect this sort of thing from Greggy.
On to the Miami Dolphins. This is another matchup for the Bills that should result in a victory for Buffalo. On paper the Bills are the stronger team, but that's not what tends to dictate how this division rivalry goes down. Head coach Brian Flores has been quietly changing the culture at Miami after watching Sean McDermott do so in Buffalo. This is something Flores discussed at length during his weekly press conference.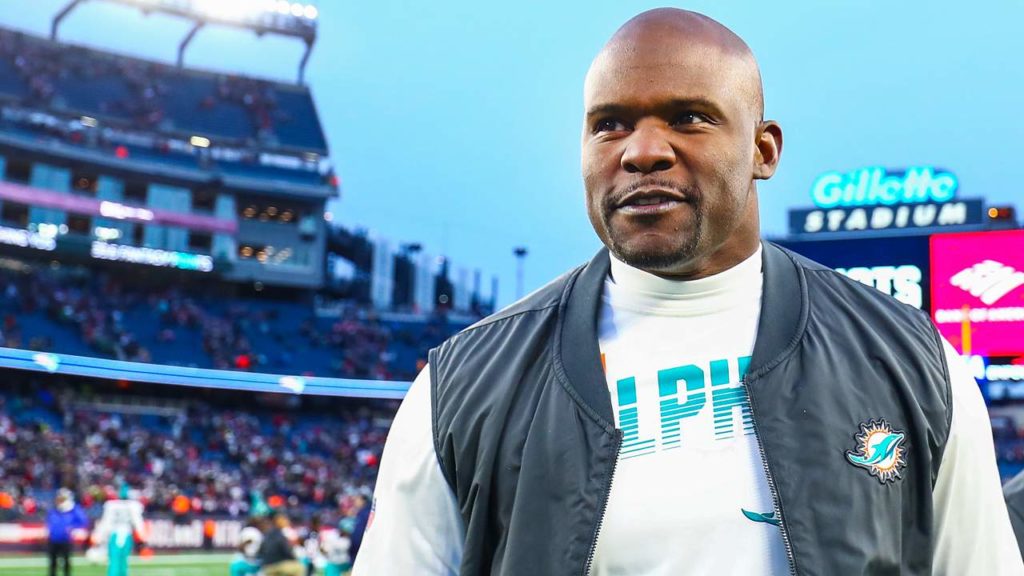 (Buffalo Head Coach Sean McDermott has basically changed this culture in drastic time – him and General Manager Brandon Beane. Around the NFL, you're receiving that same type of buzz right now. Can you tell us what was the mindset on changing the culture in Miami when you got there?) – "Well like you said, Sean (McDermott) and Brandon (Beane) have done an incredible job. I think it's about bringing in the right types of people. I think in any business, it's about the people. In his case, he's got the right people in place from a scouting standpoint with (Assistant General Manager) Joe Schoen, Brandon Beane. They've got a great staff over there. It's the same thing from a coaching staff standpoint. They've got a great staff from that standpoint. And then bringing in the right types of players. They've certainly been a model. Sean – they've done something that I've definitely looked at and said hey, if we're going to build something, we want to model it after a program, that's certainly one that we and I referenced as we're trying to do some things over here. Now we have a long way to go. There's no doubt about that. But we know it's going to take hard work. It's going to take everyone kind of pitching in and doing their specific job or role and wanting to do that role and wanting to be great in those roles. There's a lot of humility that goes with that. I know I've seen that from Sean and his staff when we've come across them. (Offensive Coordinator) Brian Daboll is obviously a great friend of mine who I've spent a lot of time with. He just fits the mold of everyone else that's over there. They've done a great job and you can see the fruits of their labor over the last few years."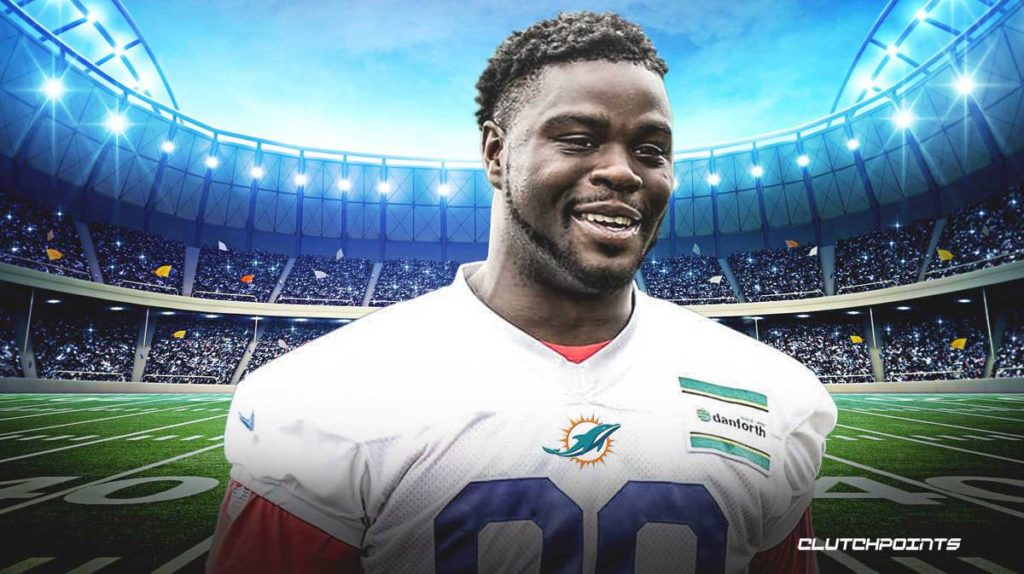 I have a tremendous amount of respect for Brian Flores. He is trying to change the culture of the locker room in Miami and has a great disciple in DE Shaq Lawson. Lawson's experience in McDermott's defense will be a big help as they prepare to face the Bills.
According to several Bills players talking with the media this week, Shaq is missed in their locker room. He has quite the reputation as a trash talker and Tre'Davious White is certain there will be a lot of chirping coming from Lawson on Sunday.
Although Shaq was deferential and deflected any advantage he might have from playing in Sean McDermott's defensive scheme, you know he will be sharing insight about what he sees from the Bills defense during the game. He knows more than he's saying.
(A few of us talked to Bills Head Coach Sean McDermott just a couple hours ago and he was complimentary of what you did for that team and what you brought to that defense. First, are you excited to go up against some of your former guys and also do you feel like it's a benefit to be able to communicate maybe some tendencies to your current teammates?) – "I'm excited to go against those guys. I'm excited to go against those guys. I talk to those guys every week – some of them – about every week, so I still keep a good relationship with those guys and even the people around. I'm looking forward to this game going against my former team, a place I'd been there for four years out of my whole career and get the chance to play. But it's great. I really don't know about tendencies because teams change up things. There might be a whole different system from where it was when I left last year, so I can't really – I know a lot of players and things like that – but as far as tendencies, no."

(I've got to know which one of your former teammates you want to hit the most on Sunday.) – "(laughter) Man, none of them really. I just make a play when it's my time to make a play. Like I said, those guys are my guys. Josh Allen – that's my dude. I talk to him from time to time; but at the end of the day, it's ball and I want to win. I want to beat those guys; but at the end of the day it's ball so I don't really care who hit as long as I make a play to help this team win."
Somehow I think the Bills defensive players will be doing some hitting and chirping of their own during the game on Sunday.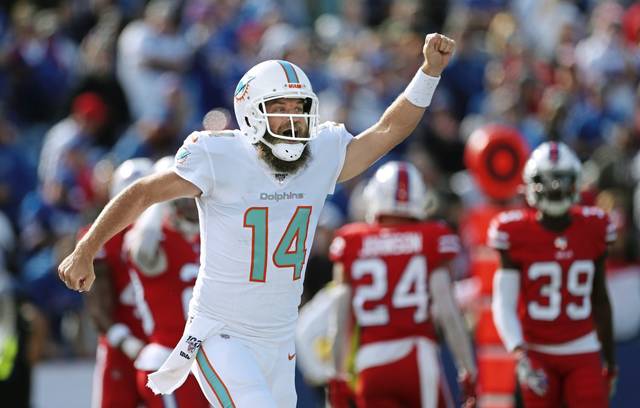 There are three main intangible issues I'll be watching for on Sunday.
1. Which Ryan Fitzpatrick will the Bills see on Sunday?
It's anybody's guess if the Bills will face "Good Fitz" or "Bad Fitz". The most important thing the Bills can do if Good Fitz shows up is to pressure him into throwing an interception early in the game. Without Matt Milano and Tremaine Edmunds playing in the game that might be more difficult this week.
Matt Milano picked up right where he left off last season, snagging an interception early in the game against the Jets last week, only to be sidelined (again) by a hamstring injury. Hope the trainers can find a solution to Matt's hamstring issues. But no one fights harder for the ball than Milano, so that might be the price paid for his incredible ball hawking skills.
Watch out if Miami's offensive line can give Fitzpatrick enough time to throw the ball. Fitz will be playing in the offense he flourished in with Chan Gailey in Buffalo. I expect this week the Bills' defensive coaches have cued up some of the Bills old games when Chan was head coach. Gailey is a creative play-caller and will no doubt have something dialed up to flummox Bills defenders.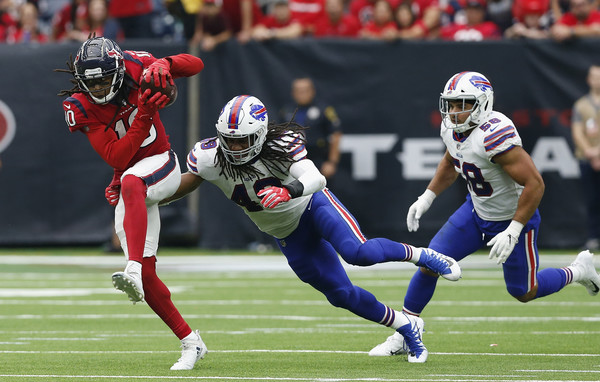 2. How will Buffalo's defense fare without Matt Milano and Tremaine Edmunds?
We all know the defense for the BIlls is scary good. What we don't know and are about to find out is how deep they are at linebacker. What's considered my many to be the shallowest position group on defense is going to get tested mightily on Sunday by Fitzpatrick & Company.
With Milano and Edmunds both out, Tyrel Dodson and newly acquired (from the Steelers) Tyler Matakevich will attempt to assert their own swag on defense for the Bills. Both saw some playing time against the Jets, so at least they aren't diving in without live reps under their belt.
Milano was out all week, but Edmunds did show up in a red non-contact jersey at practice. That bodes well for the possibility that Edmunds might be ready to face the potent Rams offense on Sept. 27 at Bills Stadium. It's really anybody's guess how long Milano will be out. McDermott is as tight-lipped as they come about how long players might be out.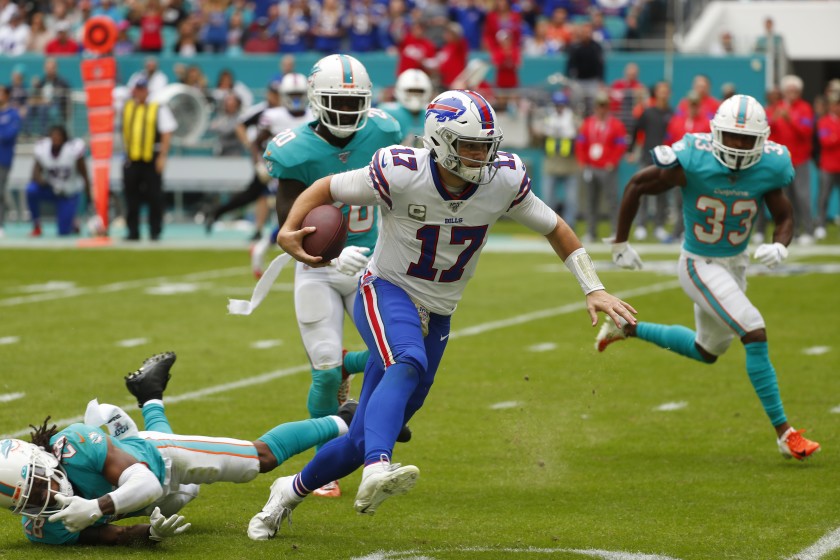 3. Will Josh the 'Dolphin Slayer' continue his tradition of rolling over the Fins?
I wouldn't bet against it. Josh Allen owns the Dolphins. It's like he single-handedly rolls over them as payback for Miami's domination of the Bills during the 70s. This game shouldn't be different in that regard. Some of Allen's best performances at this point in his career have come against the the Dolphins.
Fans seem somewhat surprised at times how slippery Allen is in getting away from a sure tackle. That's something I've seen from Josh since his early days at the University of Wyoming. Just when you think he's wrapped up and going down, he somehow pulls the 'houdini' and shape-shifts himself away from a tackler and off he goes.
Allen has two things going for him in this regard; leverage and strength. When you look at Josh physically, he has a very large set of hips and thighs. As he completes his growth process (he is a late bloomer), his upper body is starting to match his lower body in terms of strength. He is long and strong.
If you watch defenders try to tackle him, pay attention to how difficult it is to bring Allen down. Time and time again he shrugs off poor tacklers and makes them look foolish. His base is so wide when he squats it's almost impossible to knock him over. And it looks like he's still not completely finished filling out his body. Lordy.
If the Bills offensive line gives Josh Allen the same amount of time to scan the field and throw the ball as he had last Sunday against the Jets, the Dolphins are going to be in for a long day. However, that might not be the way Brian Daboll put's his game plan together after the Patriots ran the ball down Miami's collective throat last weekend.
The best opportunity on offense for the Bills this week might be to run the ball instead of the pass heavy offense we saw from Brian Daboll last week. Devin Singletary and Zack Moss would surely benefit from a big game after being left out of the limelight for the most part last week against the Jets.
The bottom line is this game sets up well for the Bills. The question is whether or not this team has matured to the point where they consistently win games they should win. If the Bills defense can get to Fitz early and rattle an INT out of him, this would go a long way in securing an all important AFC East divisional victory.
Go Bills :)
Editor's babble: Let's hope the Bills get off to a better start than I did in my survivor pool. For the second year straight I eliminated myself in the first week. Looking for someone to blame for wasting your time reading this blabber? You can find me on Twitter @RobynMundyWYO.