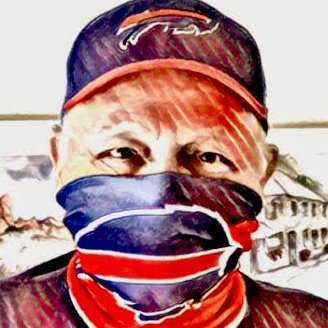 It's fun to look back on last September's Pick Six as an exercise in humility, not futility. Some of my selections, like Travis Etienne, Paddy Fisher, Alaric Jackson, Curtis Weaver, and Jonathan Cooper, opted to return to school and will be available in the 2021 NFL Draft. Other players, like my RD6A pick Josh Uche, were picked way earlier (RD2#60 by the Patriots). One of my RD1 picks, WSDE/OLB Nick Coe, went undrafted, was signed by the Patriots, was waived in mid-August, and as of this writing, is still available. The Dolphins have been looking into him, and I expect the guy who's won two state wrestling championships and three national championships to get work. This exercise isn't futile if used as a learning experience, and it's a great way to learn about players. I compare the FanSpeak Premium, DraftTek, and CBS Big Board to select players. I've found the best game for you to watch to see each player, too.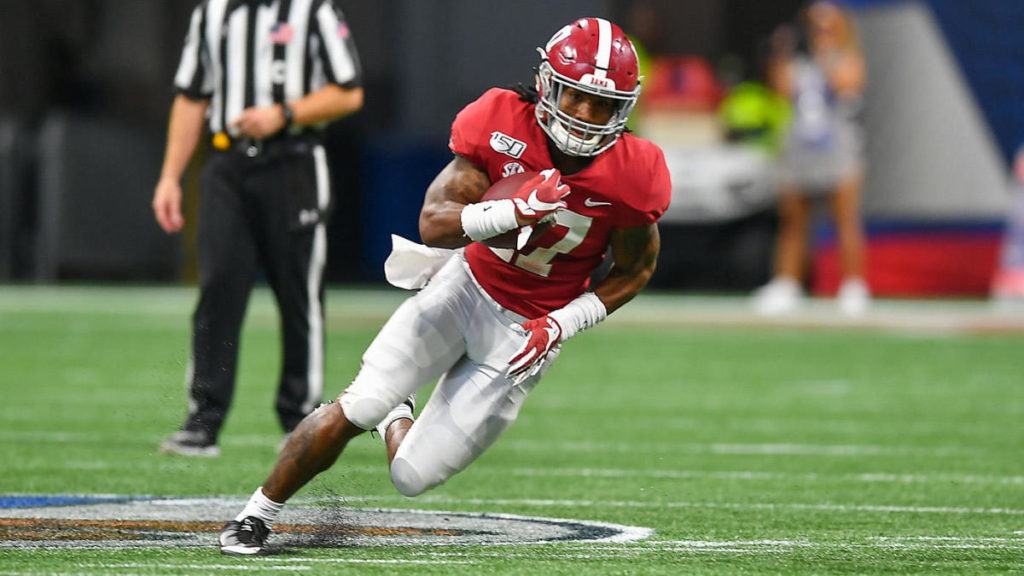 RD1
Jaylen Waddle WRS KR PR Alabama
5'10" 182, 4.3
WR; 720 career PR, 175 KR
Brian Daboll calls Isaiah McKenzie his "Energizer Bunny" and Cole Beasley (age 31) unstoppable because of his quickness. Fusing both together, Dr. Frankenstein creates Jaylen Waddle. He's extremely explosive like Beasley still is, and he's just electric with the ball in his hands like McKenzie. In fact, Waddle already shows Diggs' open-field elusiveness, plus the top-end speed and separation of another Smurf, John Brown. Make no mistake, though; Waddle can vie to be Papa Smurf. Don't look at his stats, though; remember that Jerry Jeudy (RD1#15), Henry Ruggs III (RD1#12), and Devonta Smith got touches ahead of him. Well, you could look at his gaudy 17 yards-per-catch average in 2019 if you like, because he's made use of the opportunities he's had. Heck; Waddle almost beat Auburn by himself and had a 77-Yard Punt Return TD vs LSU in Week 1. He will definitely add to special teams, as Waddle had the nation's best punt return average this year: 24.4 yards per return. He doesn't interview terribly well, so maybe we can snag him at #32. I want to see Waddle against DBs Kary Vincent and JaCoby Stevens of LSU Nov. 14. It starts 6pm EST.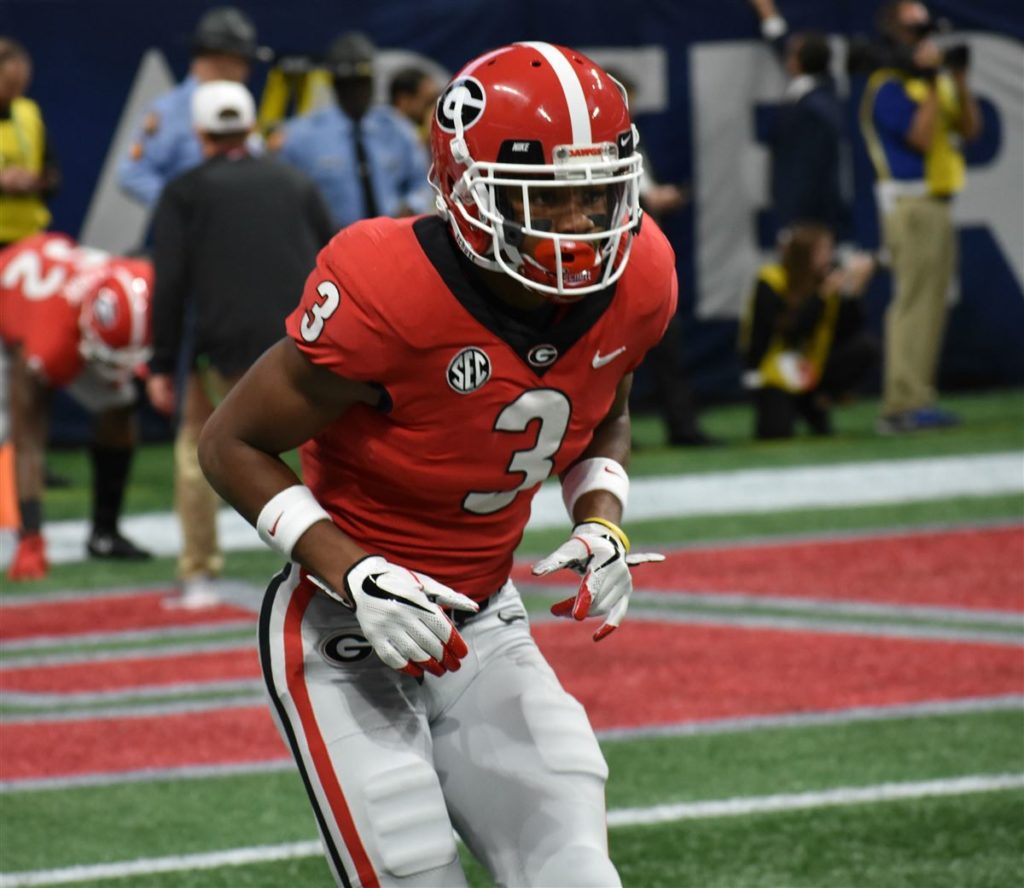 Tyson Campbell CB S Georgia
6'2″ 180 4.34
A speedy FS or a tall CB? Campbell was given the Bulldog CB role since Georgia already had J.R. Reed and Richard LeCounte at Safety last year. He's versatile in the defensive backfield, which Leslie Frazier will love. Says my buddy Moose: "Eric Stokes is on that same Georgia team, BUT, while he might be the fastest player on that team, he never really makes plays, and he's a bit of a chickenshit (I laughed at Moose's unintended 'Tyson not chickenshit' image). Campbell isn't. He could play Corner, but he could just as easily move to Safety, so that's why I like him better." Hamsah Nasirildeen (FS OLB), Tyson Campbell (CB S), Israel Mukuamu (CB S), JaCoby Stevens, and Trevon Moehrig (SS/OLB) are the bigger, longer position-combo plates in this draft, and one should be a Bill. Remember, the Bills tapped twice from Georgia in 2020 with Fromm and Bass. Campbell had 2 Fumble Return TDs in the last 2 years. Injuries could drop him to the Bills, as Campbell's played in only 21 games entering this season. Watch Tyson against big WRs like Seth Williams of Auburn on Oct. 3, and fast WRs like Jaylen Waddle of 'Bama on Oct. 17.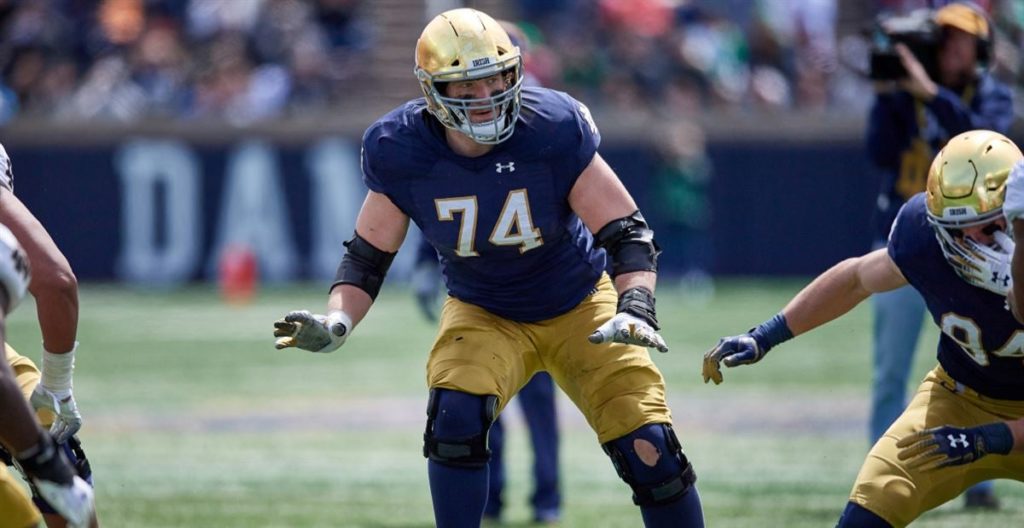 Liam Eichenberg OT Notre Dame
6'6″ 305
Eichenberg is like prune juice: So smooth. Great mover. Great in the run game. Packs a punch. Okay, bad metaphor, but I'd covet a player of Eichenberg's size, pile-driving legs, balance, long arms, and seek-and-destroy mentality. Eichenberg had to wait for Mike McGlinchey (RD1#9, Niners) to move to the NFL in order to get his chance. He redshirted in 2016, got work in blowouts (sorry; prune reference) in 2017, and finally, in 2018, started all 13 games at LT. This almost replicated McGlinchey's college path, except he was brought in at RT. Eichenberg felt right at home at Left Tackle, though –only three sacks allowed on over 900 total snaps in 2018 and 3 hits/0 sacks in 2019. ND was one of the better pass-blocking lines for the last 3 years, in large part due to Eichenberg's reliability. He fits what the Bills do. He possesses the quick feet and athleticism for pin-and-pull, and the hand use/footwork to neutralize his man in pass pro. It's a good OT class, especially at the top. The Bills will be –wait for it– flush with options. I hope we get to see Eichenberg vs Wake Forest's Carlos Basham Jr. on Sept. 26, and Rashad Weaver/Patrick Jones II and the Pitt Panthers on Oct. 24.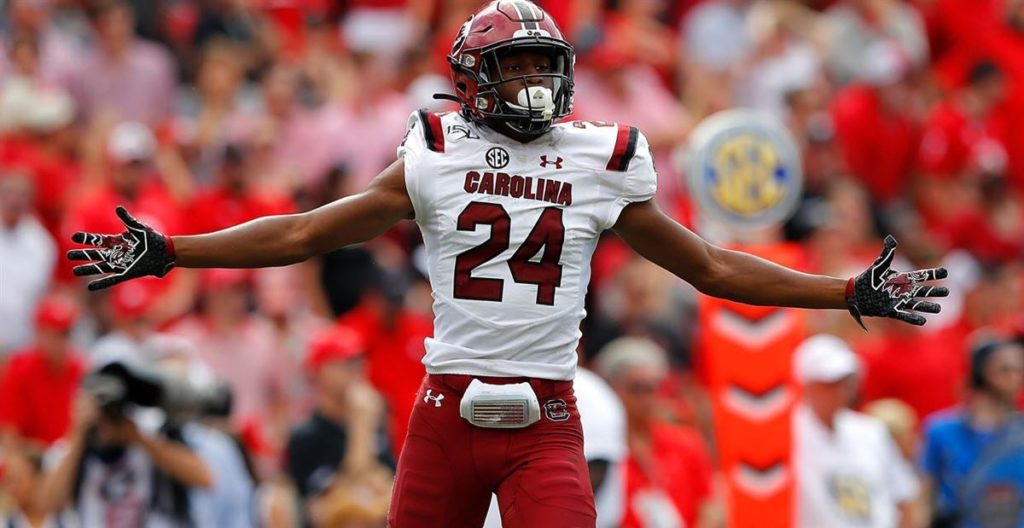 Israel Mukuamu CB S South Carolina
6'3″ 205 4.53
2019 4 INT (t-#2) SEC; 2019 9 PD (#6) SEC. Mukuamu is a long, tall (6'3″) FS CB with tremendous savvy and athleticism. Israel is going to be playing Safety this year. The 6'3" Gamecock gave up only 19 catches on 286 coverage snaps last season. Of those 19 catches, 13 went for 9 yards or fewer. Teams just don't test Izzy deep. His best game last year, ironically, was in SC's overtime upset of Bills' rookie Jake Fromm, when Mukuamu torched him for 3 INTs, one being a pick-six. Let's put it this way: 19% of Jake Fromm's career INTs were thrown to Israel Mukuamu in one game. The Bills better draft him. You'd want to watch Mukuamu against bigger WRs, like Auburn's Seth Williams on October 17, then vs LSU's Terrace Marshall on October 24.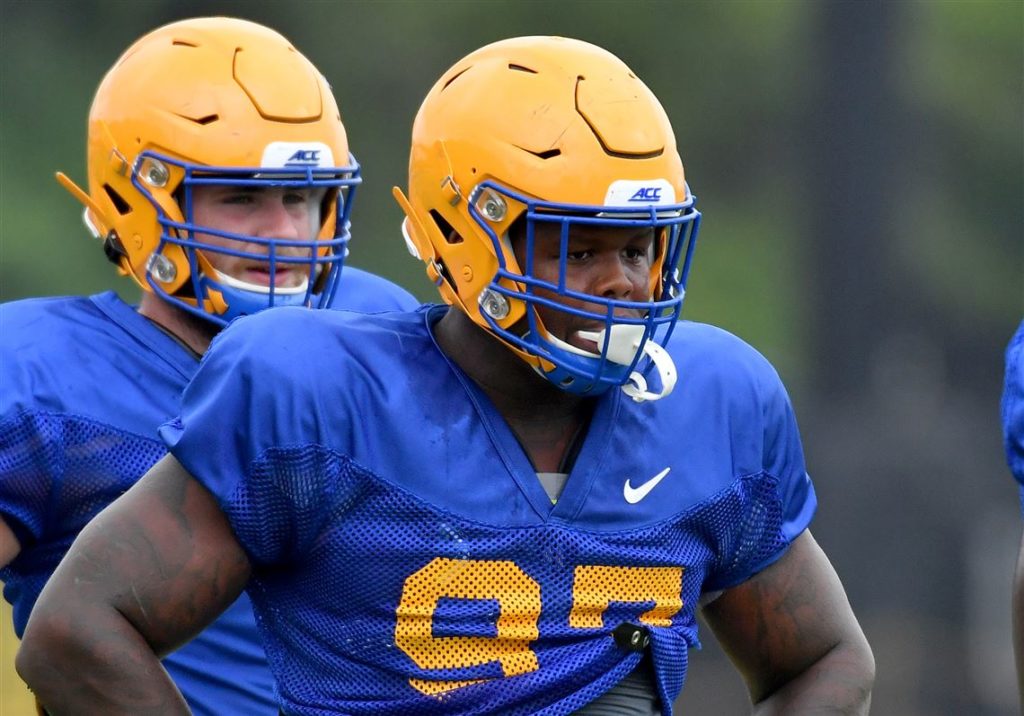 Jaylen Twyman DL3T Pitt
6'2″ 290 4.95
My top-rated iDL was our DraftTek computer's best value at this pick. Frankly, I very much doubt he'd still be there in late RD1, and doubt even more the Bills would trade up to go DL three years in a row with their first pick. However, Beane won't reach past a value (remember Fromm?), and Twyman's a keeper. He is the only iDL in my top 8 that plays in a 4-3. Remember Aaron Donald? Twyman is the first player to lead the Pitt program in sacks since Donald 7 years ago. You can describe Twyman as big, stout, and relentless, with deceptive quickness and athleticism. He's extremely disruptive, will be even moreso after an NFL strength program. The Bills want opposing QBs to feel the heat and take chances, right? Pitt was #1 in Total QB pressures among power-five defenses in 2019. He's from the ACC, and 35% of drafted Bills have come from the ACC in the Beane-McDermott era. No more games for Twyman –he's declared.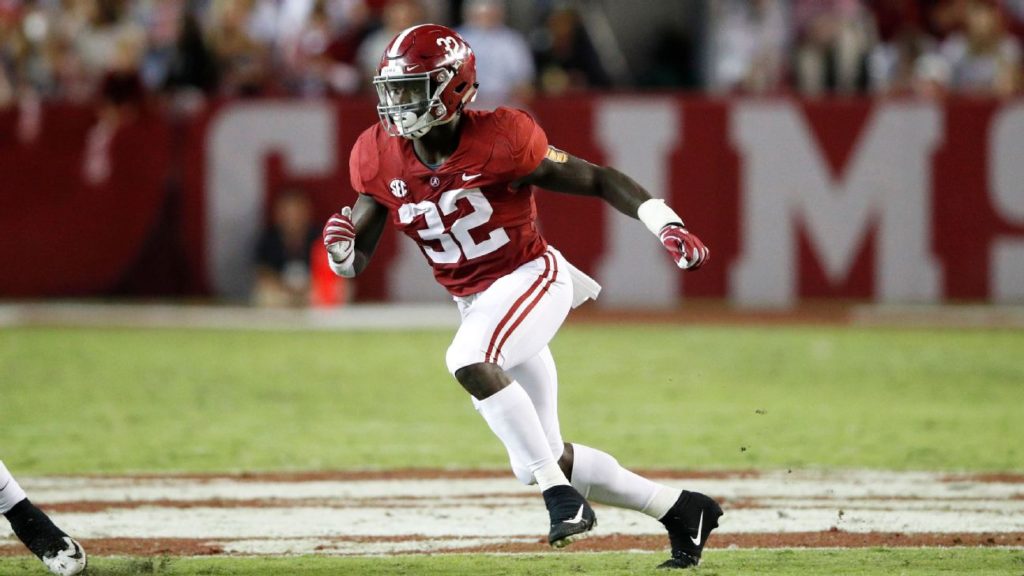 Dylan Moses OLB ILB Alabama
6'3″ 235 4.54
Moses was considered one of college football's biggest names before a preseason knee injury cost him the 2019 season. You have to go back and watch Moses in 2018 and infer how he'll do in 2020. Moses led the Crimson Tide with 86 tackles, and he has the versatility to play any linebacker spot. That's big with this coaching staff, as all three of our linebacker positions could use depth. I expect Dylan to double his 116 career tackles and 15.5 TFLs this year. Saban: "I see improvements in the front seven just with the leadership that [Moses] gives us." He can show that leadership vs RB Zamir White of Georgia on Oct. 7 at 8pm EST, and vs Mississippi State's Kylin Hill on Halloween night.

RD2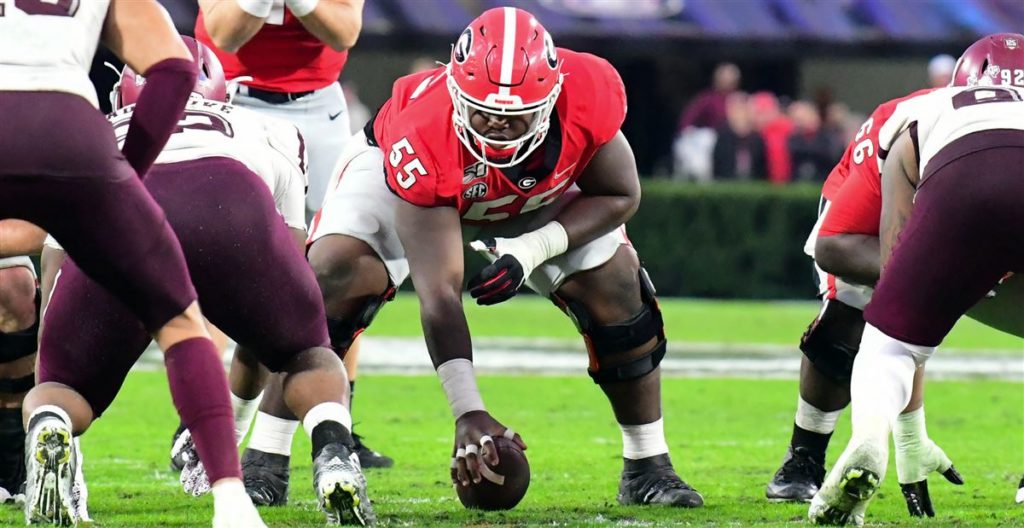 Trey Hill OC Georgia
6'4", 330, 5.38
Mitch Morse is excellent right now for the "Pin and Pull" runs the Bills like to use in the run game. Pin and Pull allows one or more blockers, usually the Center and Guard, to get to the edges of the defense. This requires a dominant blocker, a big guy with some ability to explode as he pulls. Now, Morse just signed a 4-year contract a year and a half ago, and isn't a UFA until 2023, but by the time Trey Hill is savvy enough, Morse will be 31, and the transition will be seamless. Hill was a tough run blocker last season on a team whose 5.9-yard rush average was 6th-best in the country. Georgia's commitment to a strong running game with a stable of backs should remind you of some NFL team. Hill demonstrated that he could stop SEC-grade RD1s like Auburn's Derrick Brown. He also has recently been showing his technique in practice. Oh, and he hiked to Jake Fromm. Watch Trey against Alabama's LaBryan Ray and Christian Barmore on Saturday night, Oct. 17.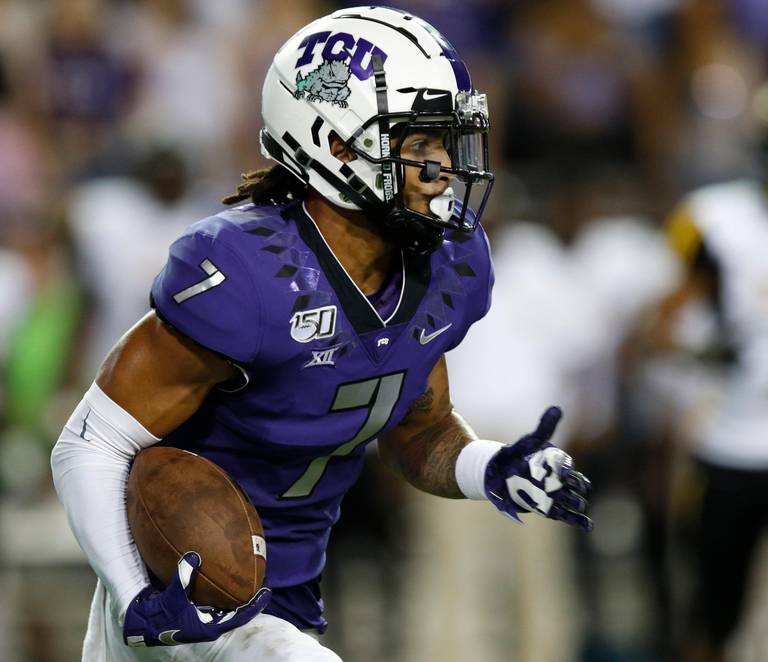 Trevon Moehrig S TCU
6'1″, 210, 4.37
Pronounce it "MARE-rig" and you'll appear smart. Moehrig (61 total tackles, 11 passes defended) was the highest-graded safety by Pro Football Focus last year, and 5th-ranked this year. He's a great grab here. In the 2019 season,Moehrig earned a 92.4 coverage grade. Per 247 Sports, Moehrig had the third-best grade among safeties since the site started grading college players. He's a sure-fire tackler, too –one of the traits Beane said he looks for in the Bills' defensive system. Now, Beane and his credentialed scouts haven't visited TCU before, but maybe they will –TCU is #4 in Most Wins Against Average (WAA). I like to watch safeties against tight ends, and TCU faces Iowa State's trio of Charlie Kolar, Dylan Soehner, and Chase Allen on 9/26.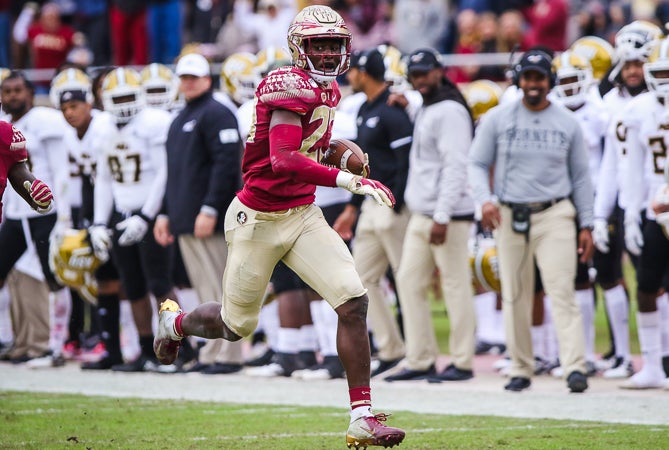 Hamsah Nasirildeen SS FS OLB Florida State
6-4, 220, 4.54
What if Moehrig is taken? Then check to see if Florida State's Mr. Versatile is available. Hamsah Nasirildeen plays as a safety-linebacker hybrid, and our GM has been fond of them over several draft seasons. In fact, Matt Milano started as a safety –that worked out well, as his coverage abilities are exceptional. Hamsah had a strong junior season in 2019, racking up 61 solo tackles (5th in the ACC), 3 forced fumbles, and 2 interceptions. Nasirildeen suffered an injury in the regular season finale against Florida and had to be carted off the field, preventing his participation in the Sun Bowl. While lining up at Safety, much of his success came from coming up and stopping the run, and that always raises eyebrows at 1 Bills Drive. Watch Nasirildeen vs TE Brevin Jordan of Miami on 9/26, and TE Noah Gray of Duke on 12/5.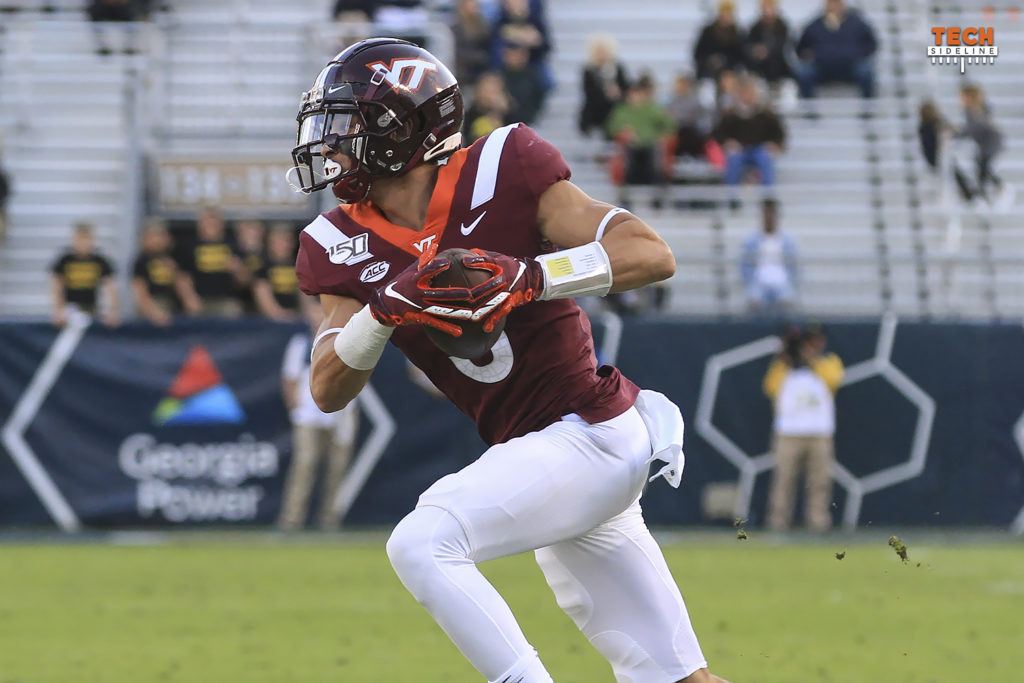 Caleb Farley CB Virginia Tech
6'2″ 197 4.34
Farley was the first of our Top 100 players to opt out and begin prepping for the NFL Draft. At one time, he was PFF's top CB. Farley certainly has the ball skills, and he will likely have one of the 7 top DB forty time among draftables (see how close I come to that prediction). Farley reportedly clocked over 24.0 miles per hour on a GPS tracker last season. He has positional versatility due to his athleticism: https://media.giphy.com/media/QVsP5OFl4PS2MFJUze/giphy.gif
Farley was a dual-threat QB in high school and has kick-return experience. He earned a 90.5 coverage grade last year. There are plenty of highlights for you to watch of Farley.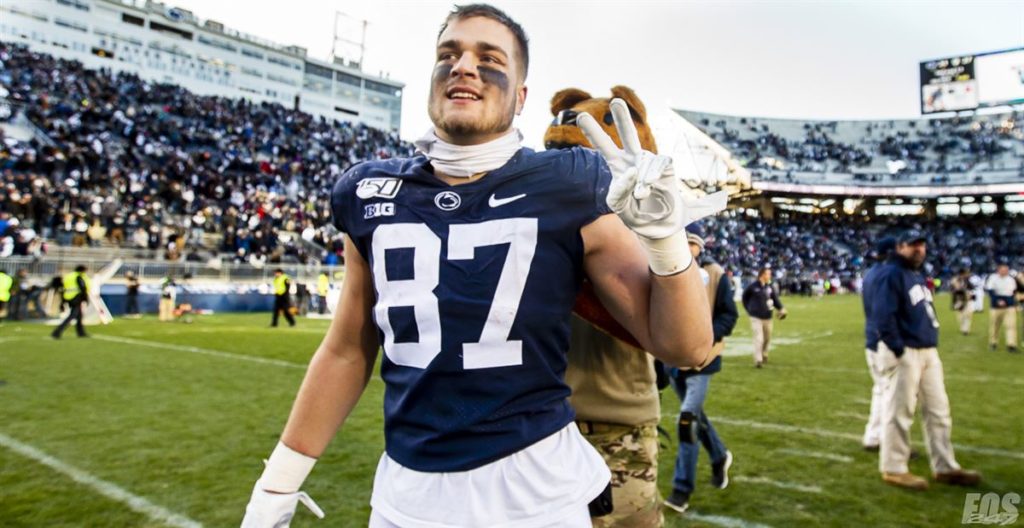 Pat Freiermuth TE Penn State
6'5″, 259, 4.64
"Baby Gronk", as they call him, needs to be in Buffalo where all Gronkowskis needed to be. Freiermuth has, as Dalton Miller says, "vise-grip hands", not to mention a condor's catch radius and NFL-ready blocking . He's produced a touchdown every 4.6 receptions, and that's the goal for the Bills. Freiermuth's 7 TDs this season was tied for tops in the FBS. lined up everywhere. PFF has him at #30, and I'm seeing him at #18-65 on big boards I trust. Freiermuth has already said he's not playing this season. It's too bad you won't see Penn State this season for plays like these.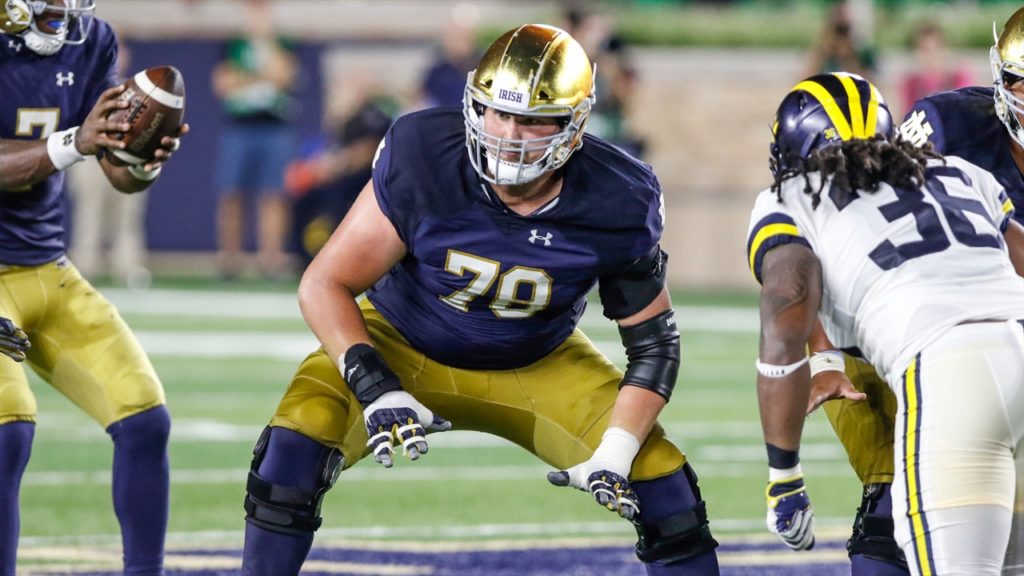 Tommy Kraemer OG Notre Dame
6'5″, 319, 5.14
Beane looks for value picks, and, because Kraemer was out last year, Right Guard Tommy Kraemer just might drop into Beane's sights here. Brian Kelly called Kraemer the most advanced freshman lineman he'd ever coached. That's a high ceiling, even as a lowly freshman. Matt Miller adds, "Kraemer was the 2nd-best guard, the best run-blocking guard" before he suffered an MCL sprain late last season, and I'm guessing that was the reason Kraemer returned. It's called grit and perseverence, attacking your rehab as McBeane always puts it. Kraemer's Pancakes, anyone? Kraemer might be facing Marvin Wilson of Florida State 10/10 at 7:30 EST and Clemson's Xavier Kelly and Jordan Williams 11/7 also at 7:30 EST.

RD3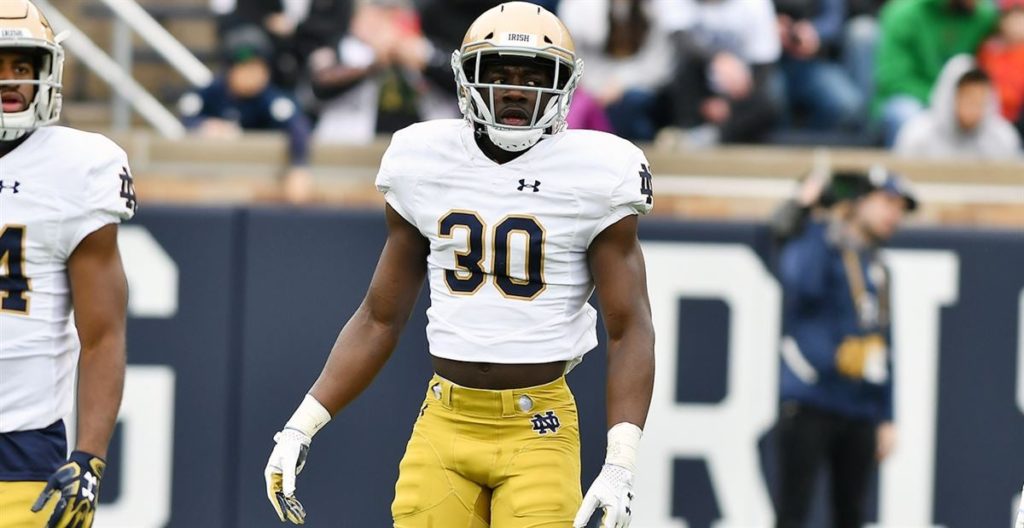 Jeremiah Owusu-Koramoah OLB Notre Dame
6'1," 216, 4.58
Owusu-Koramoah will give cheap team-equipment guys fits if they're paying by the letter, but they should be thankful they're not paying by the TFL. Jeremiah has the highest TFL per Game among all draftable LBs (4.15 TFLPG), and, in my opinion, that stat got Darryl Johnson on the Bills. JO-K flies around like his hair's on fire, and 247Sports named him "the next Patrick Queen". There are similarities in his playing style that remind me of the Bills' scheme (he's #6 on a blitz here), but ND plays a 3-4, and I'd describe the Bills as a specialized 4-2-5. Notre Dame will play an ACC schedule this season. Watch JO-K against Travis Etienne of Clemson on 11/7, 7:30 EST.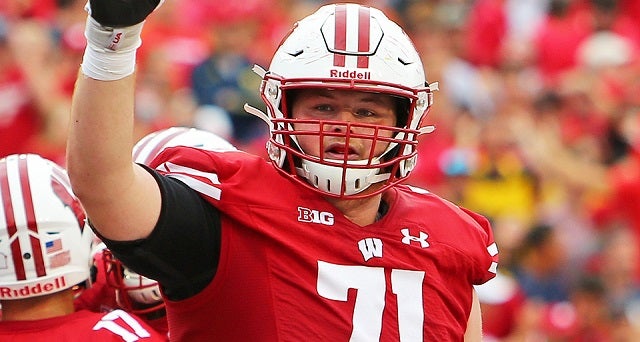 Cole Van Lanen OT Wisconsin
6'5″, 312, 4.98
Hindsight is 20/20. Had you owned a crystall ball, with the B1G not playing football this fall, you wouldn't have been surprised if Van Lanen had come out for last year's draft. After all, Wisconsin had finished second in the Big Ten in rushing yards, and you coveted Van Lanen's ability to stay on his blocks. Watch #71 LT Van Lanen on this Jonathan Taylor run into your living room. You'll see his almost effortless overall power and his ability to stay on blocks. His nice feet and the awareness to handle defensive stunts impress me. Love his hustle here. Van Lanen gets to end zone about the same time as JTaylor, while Epenesa is faked out. He opened numerous running lanes for Jonathan Taylor, and I applaud his returning to school despite his RB moving on to the NFL.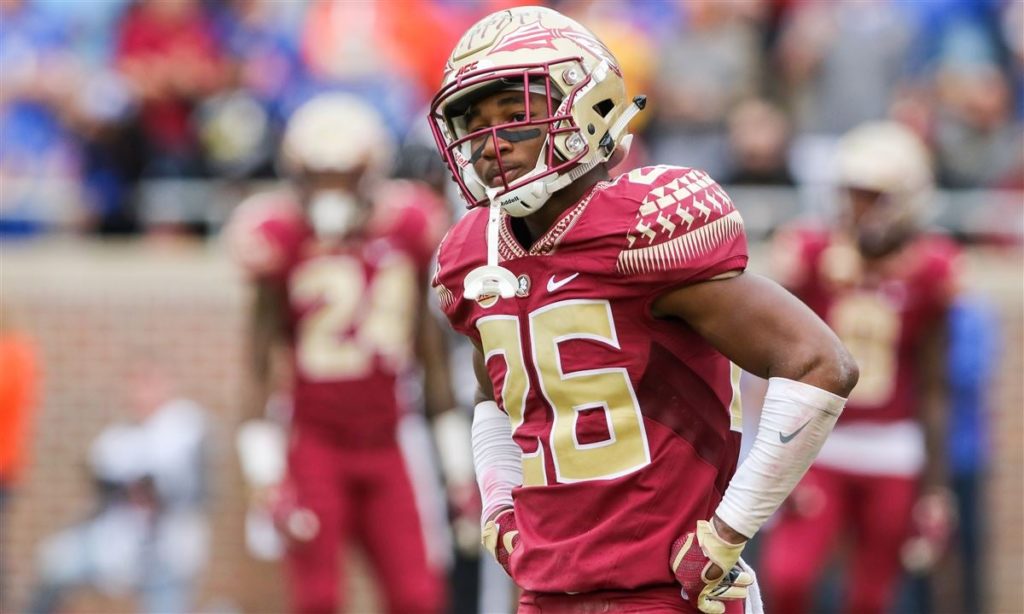 Asante Samuel Jr. CB Florida State
5'10", 180, 4.34
My buddy Moose, who's now writing for Buffalo FAMBase, calls Asante Samuel, Jr. " the poor man's Patrick Surtain" (long gone when we pick at #32), and rightly so: ASJr had the Lowest Completion % allowed in Press Coverage of all returning CBs (I recall that was Denzel Ward last year, and he had a due-diligence, pre-draft visit with the Bills before going RD1#4 to the Browns). I know that "Completion % allowed in Press Coverage" is not a requisite for the Bills, since they play a lot of zone, but it doesn't hurt to have a low completion rate, no matter the scheme. The DNA is there, too: The New England Patriots selected his Asante's dad in RD4 of the 2003 draft, and he had an 11-year career, four Pro Bowls, and recorded 51 career INTs. His son will be long-gone by RD4 even in a generationally-strong DB class. Junior, who's a Junior, already led all FSU players in passes broken up in his freshman season and he had his father's wrap-up tackling ability. That carried through to 2019, as ASJr was the only Power-5 defensive player in 2019 to log 14 PBUs and 45+ tackles. Tenacity, anticipation, and football smarts make up for his 5'10" size. And Bills practice squadder Cameron Lewis is 5'10" standing on tiptoes. At the very worst, Asante Samuel Jr. is the #9 CB in this loaded class. He'll match up nicely against Louisville WRs Chatarius 'Tutu' Atwell and Dez Fitzpatrick on 10/3.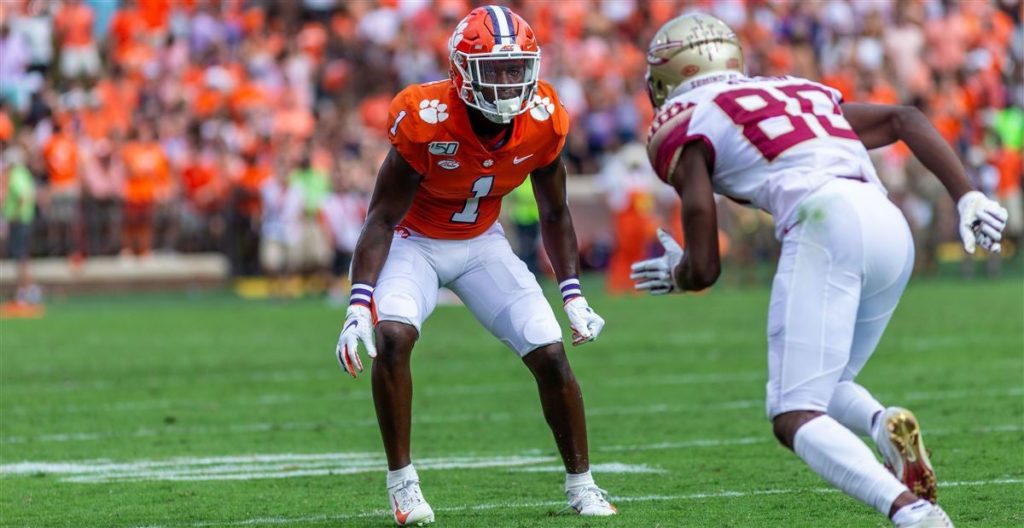 Derion Kendrick CB KR Clemson
6'0″, 190, 4.4
Originally a WR-then-QR in his 4x-state-champ high school, then a WR his freshman year at Clemson, Kendrick switched from WR to DB to start the 2019 season, and it's safe to say that the move was a successful one: Kendrick earned second-team All-ACC, allowed just 5.3 yards per target, helped the Tigers reach the FBS Championship, and gave up just 2 catches on the season over 20 yards. There's a reason for seamless transitions like Kendrick's; Derion's one of the best athletes on Clemson's roster. Understand that the CB role is still a new challenge for him. You'd like to see a narrower cushion, for example. However, Kendrick's ball skills are natural, and he poses a threat when he gets the ball in his hands. He fits with the Bills because they'll be needing a kick returner soon, and his 350 KR yds are third among the entire draft class of DBs (Oklahoma's Tre Brown with 1121 KR yds and Michigan's Ambry Thomas with 808). I like Kendrick's scrappy on-field nature. Part of that is that Kendrick always had to cover several WRs bigger than he. I'd like to see Kendrick against Tamorrion Terry of Florida State on 11/21.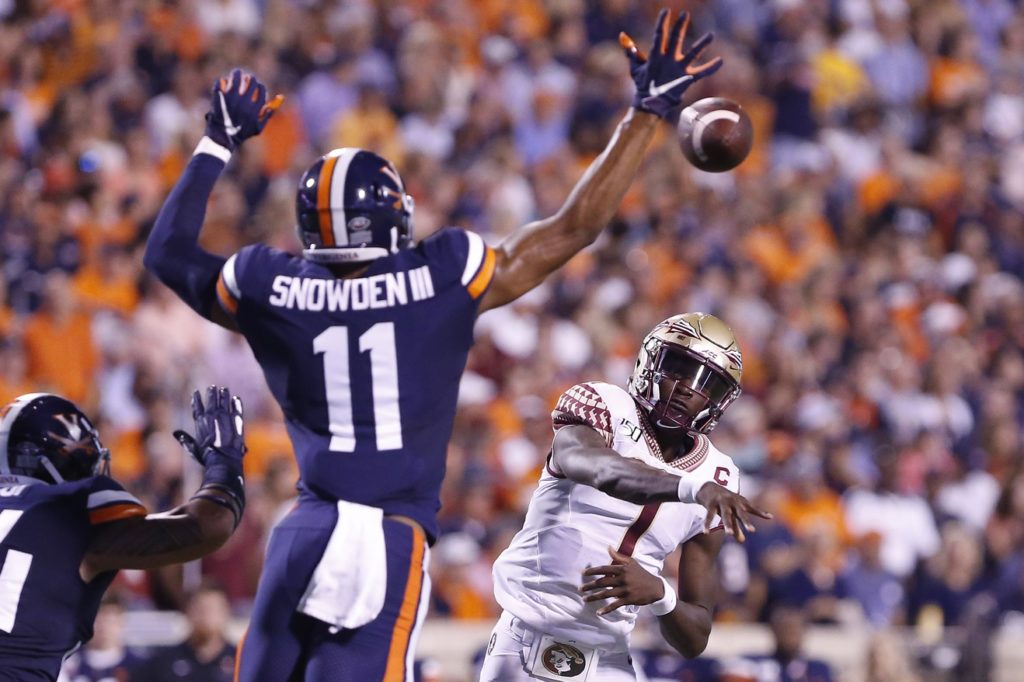 Charles Snowden EDGE Virginia
6'7″, 235, 4.57
A versatile chess piece like Kendrick, Charles Snowden is a freak. He has the height and lengthy arms that keep pesky OL and TEs away and decrease throwing lanes for QBs, handy for a EDGE/SAM/WILB. Says Senior bowl Director Jim Nagy of Snowden: "[there has been] plenty of discussion about how to use him. Unique long-bodied hybrid chess piece is arguably the most versatile defender in the '21 class." The word versatile comes up a lot in Bills front-office press conferences, doesn't it? Snowden is top five in Games Played (36 and counting), and that carries weight with the Bills' brass too. His career solo tackles (67) ranks fourth. Finally, he's 4th in Career Solo Tackles among the EDGE class, and that also appears to be a measuring stick for Beane. Those long arms have batted down 12 passes, and he constantly gets into the backfield (20.5 Tackles for Loss and 9 Sacks). I expect Snowden will climb upwards from here with an early-Day-2 ceiling, and I expect Beane will pay a visit to the 2019 ACC Coastal Division Champions. The Cavaliers' Oct. 3 game against Clemson's Jackson Carman might be worth watching.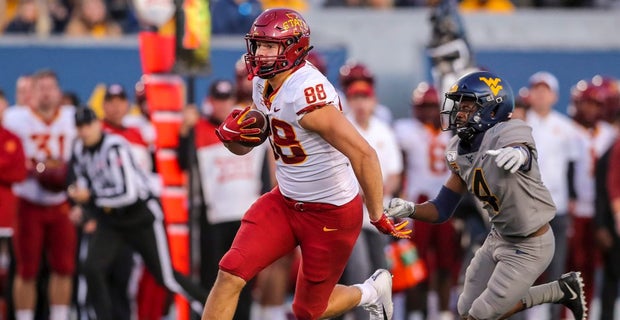 Charlie Kolar TE Iowa State
6'6″, 245, 4.7
Plus or minus, 14 TEs are usually drafted in any given year. I have Charlie in the top 5. While he's not the fastest in the class, few of the TE candidates have Kolar's athleticism, vert, grit, and leadership. He's also going to interview well, as long as he doesn't eat yogurt at the same time. Kolar has several other things going for him. In 2019, Kolar caught at least five passes in a game six different times, five of them for over 70 yards. Second, he has Brock Purdy throwing to him. Over his career Kolar has caught 51 passes for 697 yards and seven TDs. Watch Kolar against Trevon Moehrig Sept. 26.
RD4 –No Pick
RD5A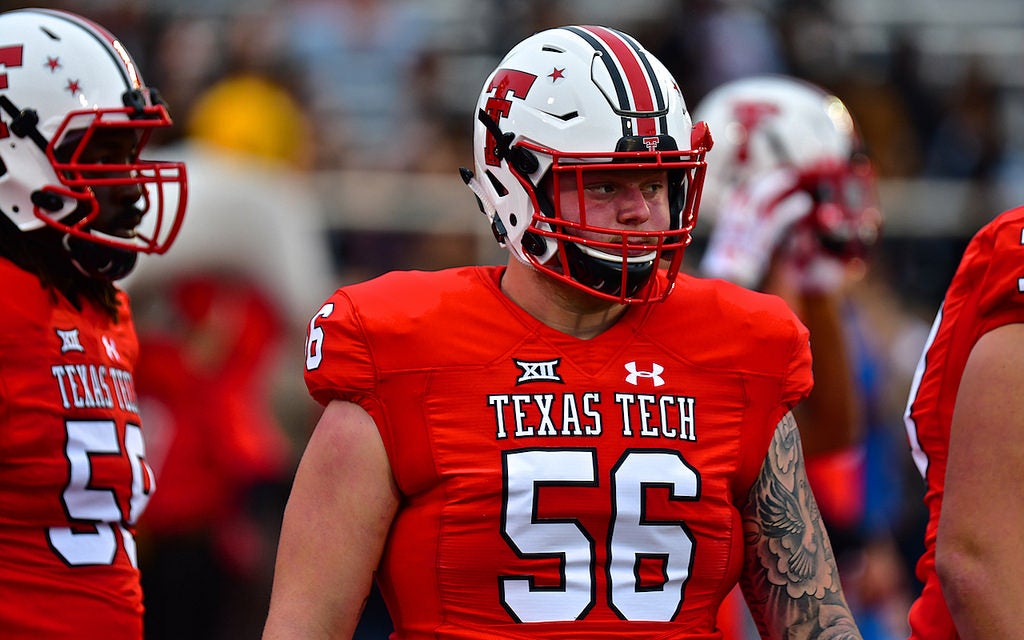 Jack Anderson OG Texas Tech
6-4, 320, 5.15
=>blocks well —Watch RG#56
=>shows determination
=>great in pass pro
=>nasty run blocker
=>missed most of the 2019 season with a shoulder injury (only 3 games)
=>redshirted due to new rule, returning for 2020
=>nice Day 3 value: In 2018, he was named to the Big 12's First Team
=>Watch him vs West Virginia's Dante and Darius Stills on Oct. 24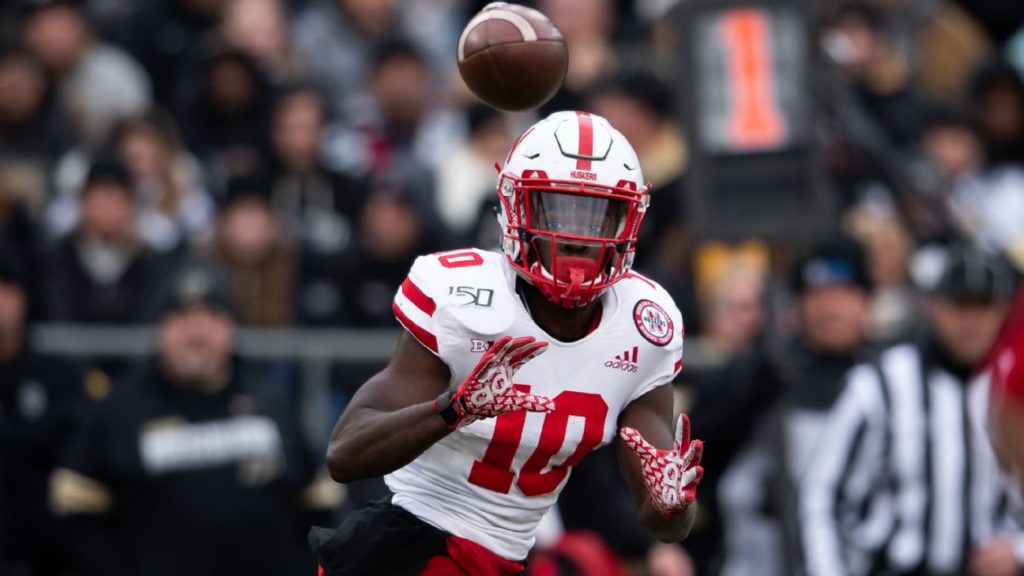 J.D. Spielman WRS KR PR Nebraska=>TCU
5-09, 167, 4.37
=>"Smurf" is Andy Isabella-sized –and that's not working out that well in AZ
=>Possible kick return specialist (835 KR, 213 PR)
=>Nebraska's top WR in 2019 with 49 receptions for 898 yards and 5 TDs
=>In 2018 was second in receptions and receiving yards to Stanley Morgan Jr. (Bengals UDFA)
=>Father Rick is the Vikings' General Manager.
=>Has transferred to TCU in part due to Big Ten not playing football in Sept.
=>Extensive route tree from multiple alignments out of a spread offense
=>Soft hands –not a body catcher.
=>Minor Injuries, has missed 3 games total (Shoulder, Ankle, Concussion, Ankle)
=>Watch Spielman return kicks and as the "X" receive against Iowa State Sept. 26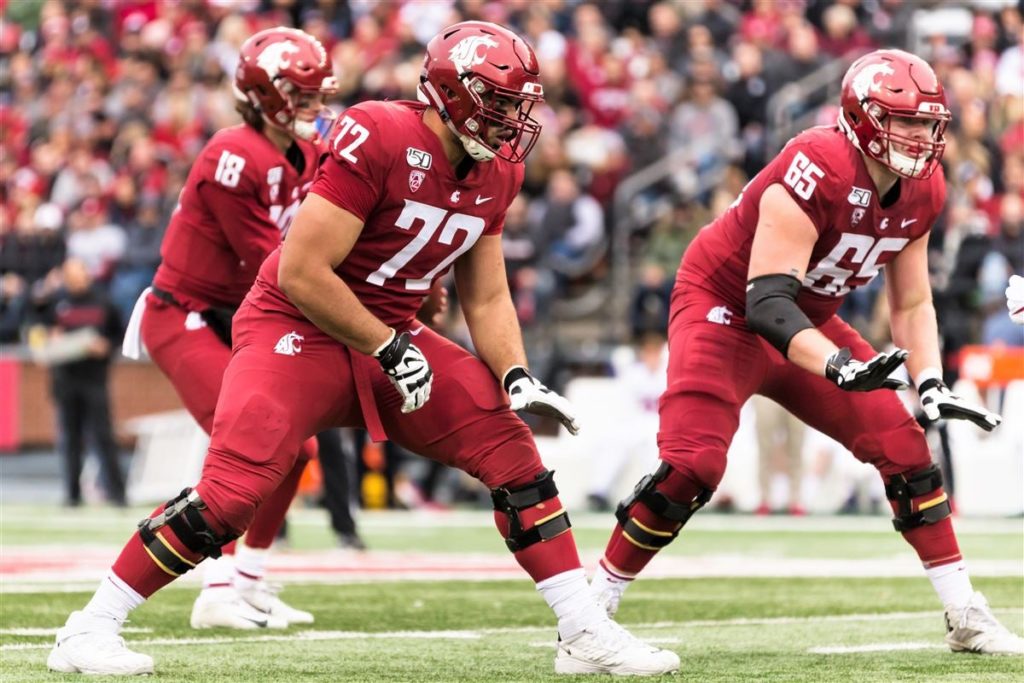 Abraham Lucas OT Washington State
6-6, 320, 5.06
=>Head coach Nick Rolovich's first season in the PAC-12 ison hold
=>rated the best pass-blocking OT in the country
=>fourth-best OT in the country by PFF
=>giant of a young man, with a thick frame and has a good amount of length
=>decent anchor, gets explosiveness out of his stance
=>two-time All-PAC-12 second-team selection and as a redshirt-sophomore last season =>redshirt-junior to-be started all 13 games at RT in 2019
=>Big But: Plays quite upright in his stance but his long arms keep him effective
=>The other Big But: No fall games scheduled.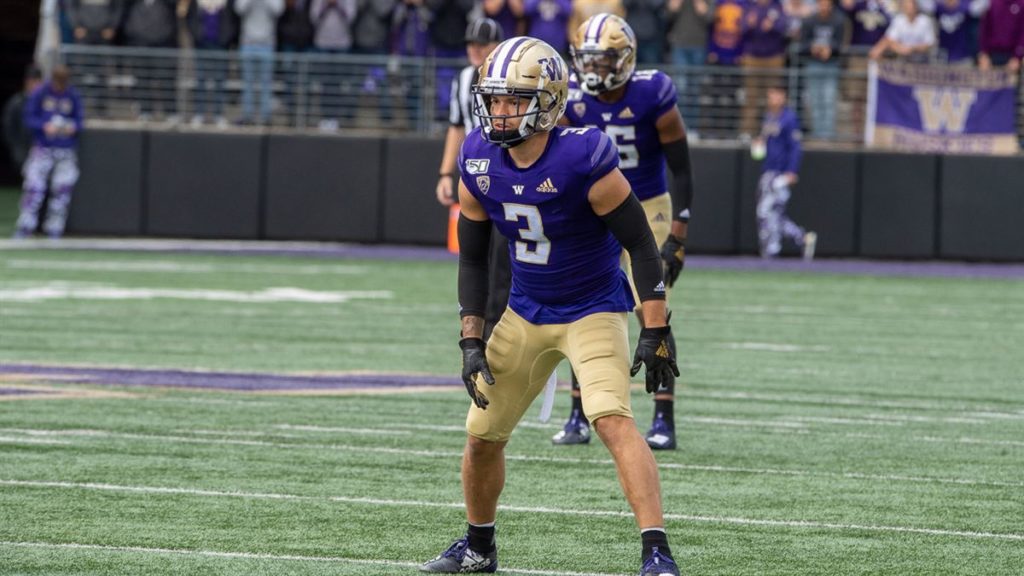 Elijah Molden CB Washington
5-10, 190, 4.51
=>Washington won't be playing football in September, likely a spring season
=>Huskies are #6 among secondaries in WAA (Wins Against Average)
=>2019 had 4 INTs, tied for #1 in the PAC-12
=>2019 had 12 PBUs, tied for #1 in the PAC-12
=>Also #1 in FF in the PAC-12
=>Las Vegas Bowl MVP for his team-leading 9 tackles,1 interception, and 1 forced fumble
=>patiently played behind Byron Murphy (RD2#33, Cards) and Jordan Miller (Falcons RD5#172)
=>tops all Huskies in tackles with 70 by a wide margin
=>Awareness and communication. Lots of upside
=>Peterson didn't play him soon enough
=>Washington had the only returning CB duo with 85+ PFF grades in 2019
=>Molden would have had a shot at a two-time First Team All-PAC-12…a pretty rare feat these days. Impossible with no fall games.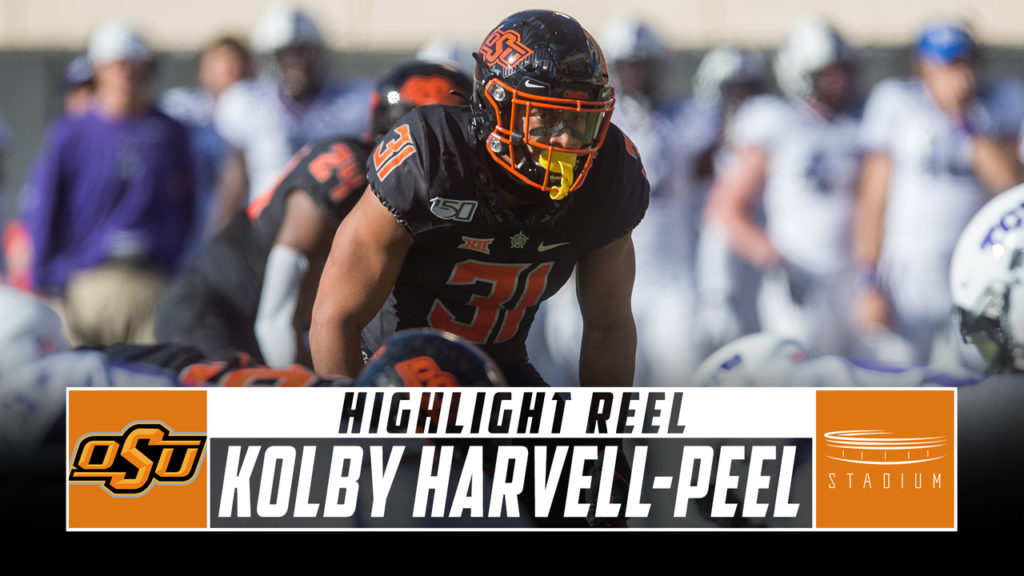 Kolby Harvell-Peel SS Oklahoma State
6-0, 210, 4.54
=>Biggest snub for Thorpe Award, in my opinion
=>2019 13 (#2) Big 12 in PBUs
=>2019 2 (#3) Big 12 in FFs
=>2019: Had to be a leader of a very young defense as a sophomore
=>In his first-team All-Big 12 campaign, Harvell-Peel totaled 71 tackles, 13 pass deflections, 2 forced fumbles, 2 fumble recoveries, and 5 INT
=>Could easily rise to a Day Two player, still has eligibility next year
=>Watch Harvell-Peel vs the three Iowa State TEs (Charlie Kolar, Dylan Soehner, Chase Allen) on Sat. Oct 10.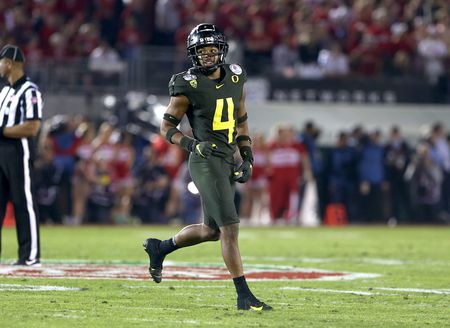 Thomas Graham Jr. CB Oregon
5-10, 197, 4.42
=>Hasn't missed a game, and now coming off a Pac-12 title and Rose Bowl win, the Ducks are staying home this fall
=>leads all DBs in this draft class in Games Played
=>"my ball" mentality, which you see over and over in games
=>has that personality you know would fit the Bills locker room
=>well taught in how to prepare for a game
=>No fall games scheduled.

RD5B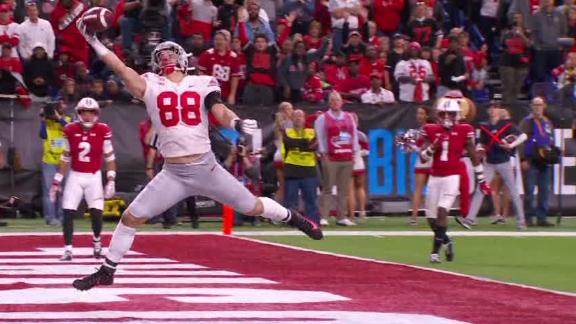 Jeremy Ruckert TE Ohio State
6-5, 253, 4.62
=>Ruckert and Farrell are the nation's top TE duo, with Iowa State close behind
=>Watch this catch
=>Ruckert's Top-shelf red-zone production in TE class is tied with his teammate at 28%, but Ruckert has double the receptions and TDs.
=>Watch this route
=>Articulate, affable, humble, smart
=>No fall games scheduled….yet.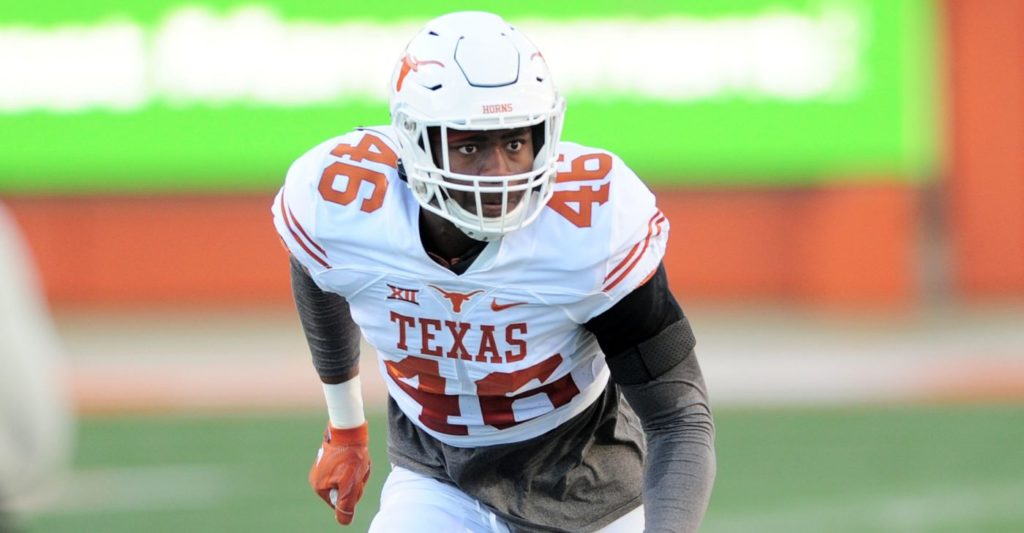 Joseph Ossai EDGE OLB ILB Texas
6-3, 253, 4.62
=>Love this kid! Pronounced "OH-sigh"
=>Articulate and passionate about the right stuff, mature, uses his platform to effect change
=>Joker/Jack role this year in Chris Ash's new defense, but sky's the limit (Day Two)
=>Effective as a sack artist, but so much more: opportunistic, awareness
=>Teammate Sam Cosmi on Ossai: "He's a guy that every day, wants to get better. He wants to find some move or something to get a jump on somebody or a jump on me… he's not scared to ask questions. He's always asking me, what can I do better?" This guy sounds like McDermott's type. Watch for a Dan Morgan visit to Austin.
=>Watch Ossai against the three TEs of Iowa State, Charlie Kolar, Dylan Soehner, and Chase Allen Nov. 27.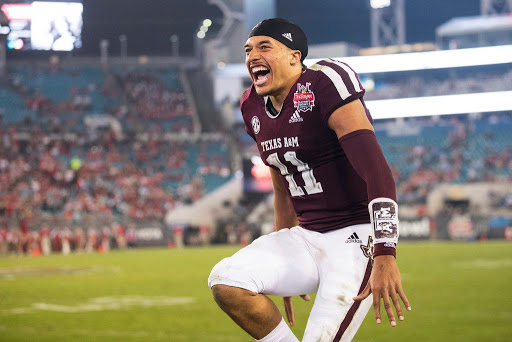 Kellen Mond QB Texas A&M
6-3, 217, 4.67
=>Will battle Trask for best QB in SEC
=>In the 2018 season, Mond threw for 3,107 yards and 24 touchdown passes.
=>Last fall, he threw for 2,897 yards and 20 touchdowns.
=>Tiger-Killer: Kellen Mond vs LSU: 10/30, 92 YDS, 3 INT.
=>On-target% is 74.5.
=>Third-highest in draft class in yards vs AP-ranked teams (1,297) below only Fields and Bentley
=>Watch Mond against Patrick Surtain II of Alabama Oct. 3, then against Israel Mukuamu and Jaycee Horn of South Carolina on Nov. 7.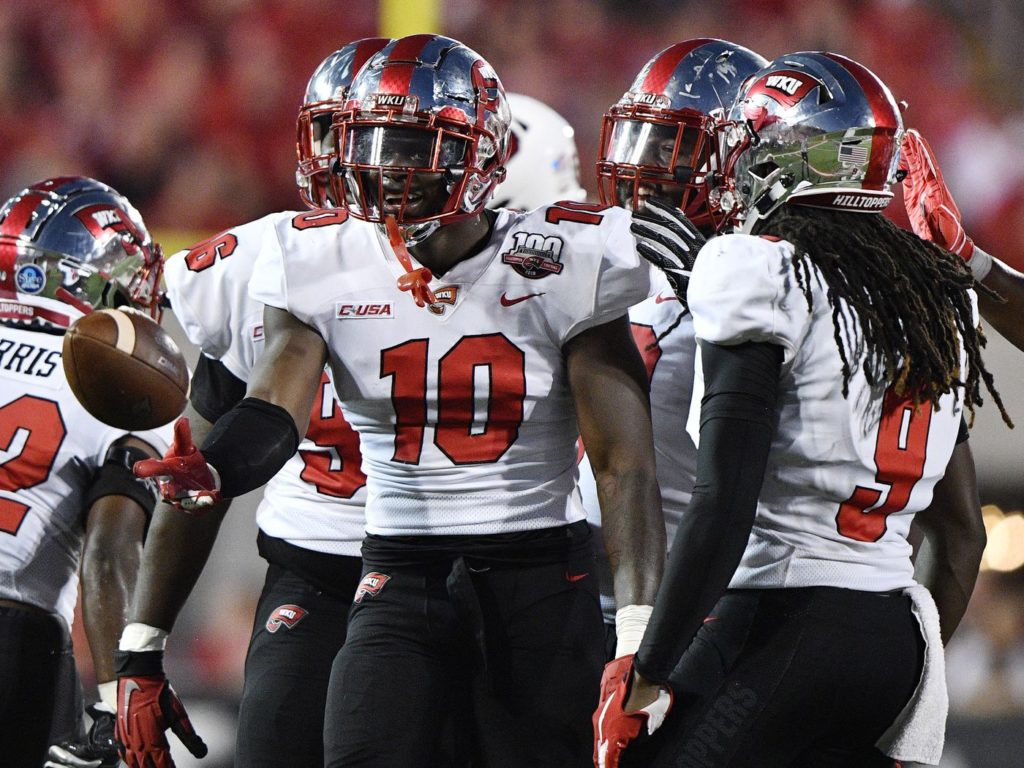 DeAngelo Malone OLB EDGE Western Kentucky
6-3, 230, 4.43
=>One of FBS's 7 best pass rushers
=>Likely one of the best for 4-3 scheme (with Basham, Rumph)
=>Has the most career solo tackles in draft class among 4-3 guys (94)
=>Entire List of 4-3 LBs with more career solo tackles than Milano had entering their final year=DeAngelo Malone
=>"Click and Close" –the ability of a DB or LB to read the flow of action while diagnosing the play and then attacking.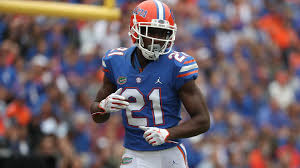 Trey Dean III CB Florida
6'2″, 194, 4.38
=>Outstanding size-speed ratio in a loaded DB class
=>Tied for lowest passes defensed in 2019 (1); high ceiling though
=>successful freshman year filling in for Marco Wilson (ACL)
=>Will be interesting to see how he's used now that Wilson is back
=>Watch 3 plays here
=>Trey Dean against LSU WR Terrace Marshall Oct. 17 in Gainesville. Be there.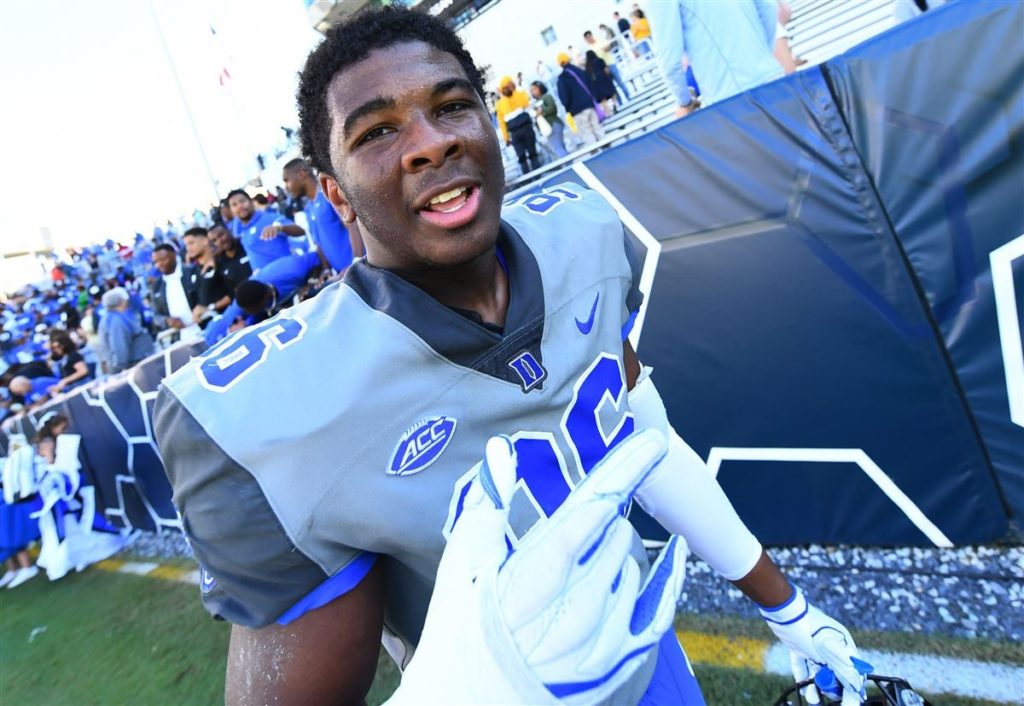 Chris Rumph II EDGE Duke
6-3, 235, 4.57
=>Rumph's father, Chris Rumph Sr., coaches OLBs with Houston Texans.
=>Dimukuje on the other side and Rumph will benefit each others' stats
=>2019 posting 47 total tackles, 13.5 for a loss, and a career-high 6.5 sacks
=>pound-for-pound the best pass-rusher in the country last season (easy to say when you're only 225
=>Tied for seventh-highest number of sacks in EDGE draft class (24)
=>quick first step, then quick closer when he beats his man
=>has played in 25 games in his career, but has only started two. Dealbreaker for Bills?
=>has 21-and-a-half TFL in those 25 games (only 2 starts). Sky's the limit. RD2.
=>Duke defense is fun to watch Seven of the top 9 tacklers are expected back, and top two pass rushers return.
=>Watch Rumph vault into the Day Two convo with a good performance against Notre Dame OT Liam Eichenberg 2:30 EST Sep. 12, then the RD2 convo vs Boston College's Tyler Vrabel and Ben Petrula Sep. 19, thus voiding my RD5B placement here.
RD6-7 Pick Two: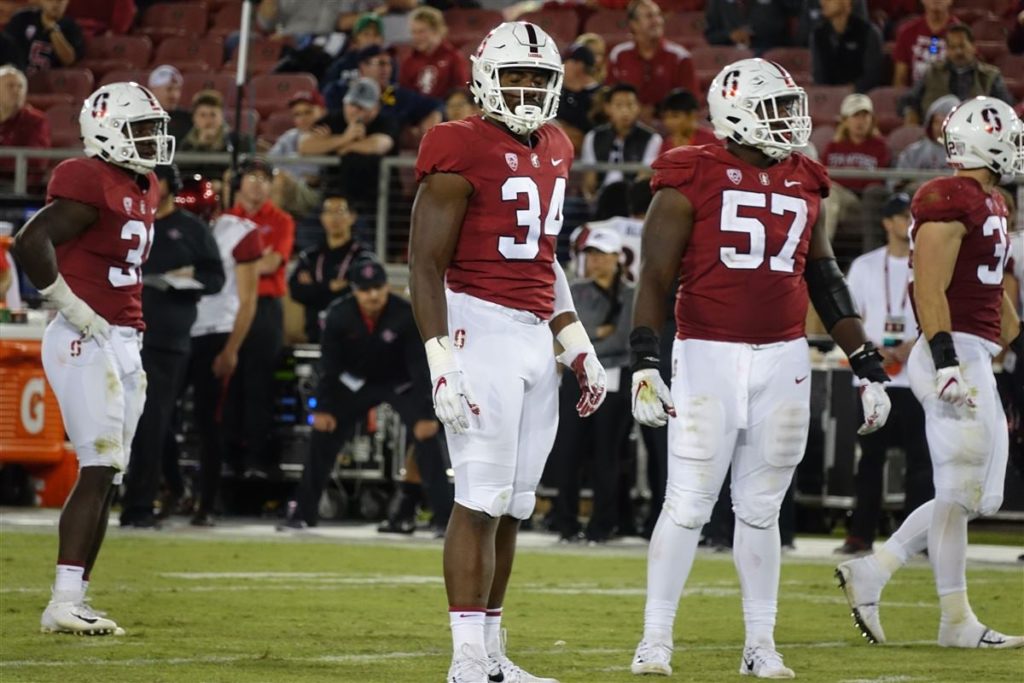 Thomas Booker EDGE Stanford
6-3, 279, 4.82
=>8th in sacks per game in the EDGE class
=>15th in tackles
=>plays in a 3-4, Bills scouts usually stay away
=>not fast, but more quick than fast –use of technique gets it done
=>articulate and smart: listen to this talk on overt vs covert racism
=>great size
=>No fall football for Stanford.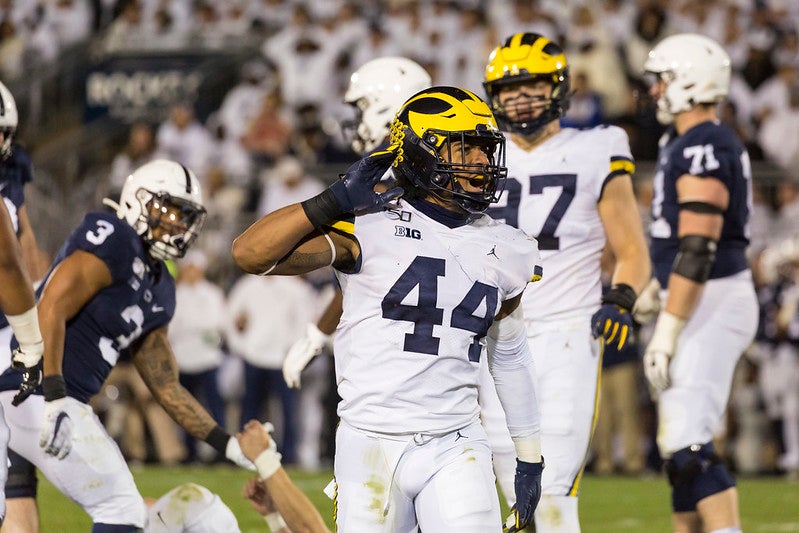 Cameron McGrone OLB Michigan
6-0, 232, 4.45
=>Love this guy, my buddy Moose loves him too
=>High TFL per game stat shows productivity
=>Tackles: 12, vs. Notre Dame (Oct. 26, 2019)
=>Effective on both defense and special teams, with 66 tackles, 9.5 TFL, 4 sacks, 5 QBH, 1 FF, 1 PBU
=>Relentless on this sack
=>Is a junior, may not come out this year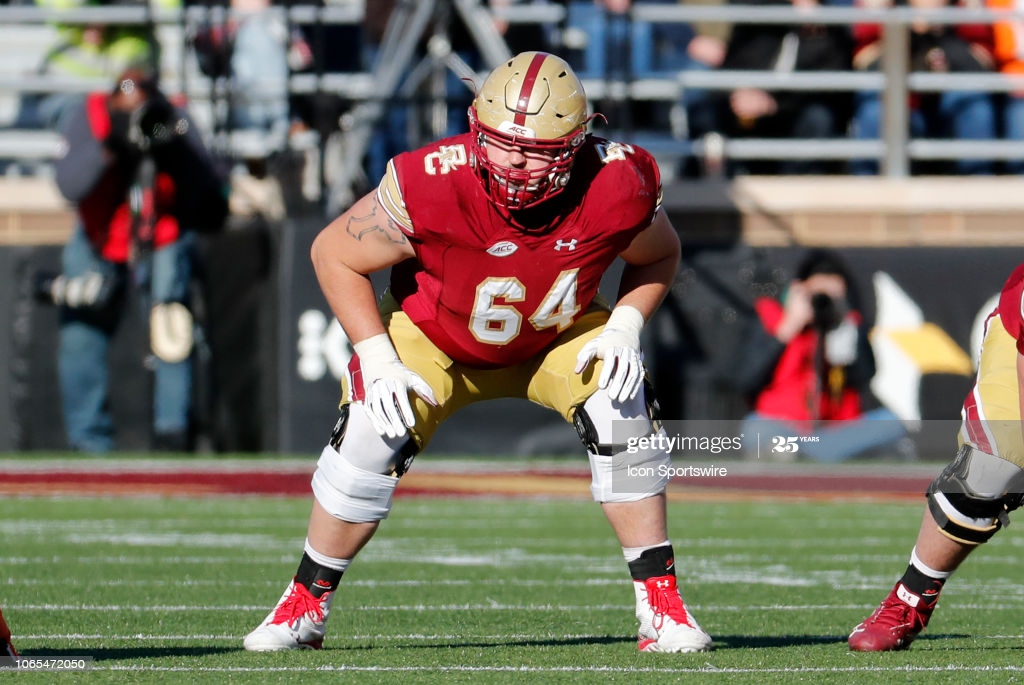 Ben Petrula OT OG OC Boston College
6-5, 315, 5.18
=>Outland Trophy Watchlist
=>ACC kid; 35% of McBeane's draftees are from the ACC
=>All-ACC preseason team with Vrabel
=>Petrula started all 12 games at RT but can play/has played C or G as well. Flexible.
=>Watch Petrula (RT, #64) tandem with the TE, then peel off for a second block
=>Watch LT Tyler Vrabel and RT Ben Petrula Sep. 19 against Chris Rumph Sep. 19, as previously mentioned.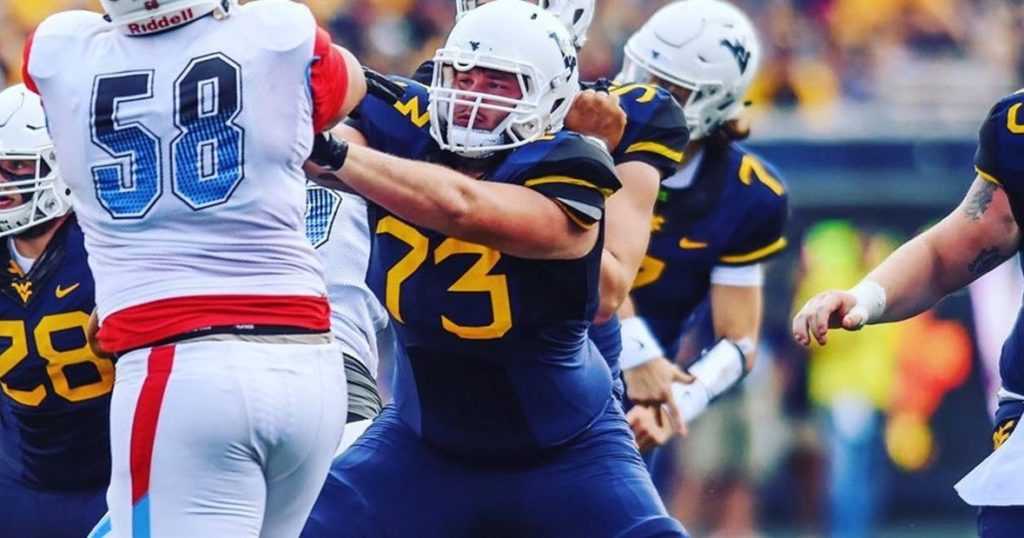 Josh Sills OG Oklahoma State
6-5, 325, 5.27
=>Played LG next to Yodny Cajuste
=>Watch #73 LG Sills here in this combo block on a run play
=>Athletic for a big guy
=>Sometimes lets defender get into his body
=>transfer from WVU after 27 games there, medical redshirt after playing only two games in 2019
=>does have 2 more years of eligibility
=>I'd watch Sills against Darius Stills and his bro Dante Sep. 26.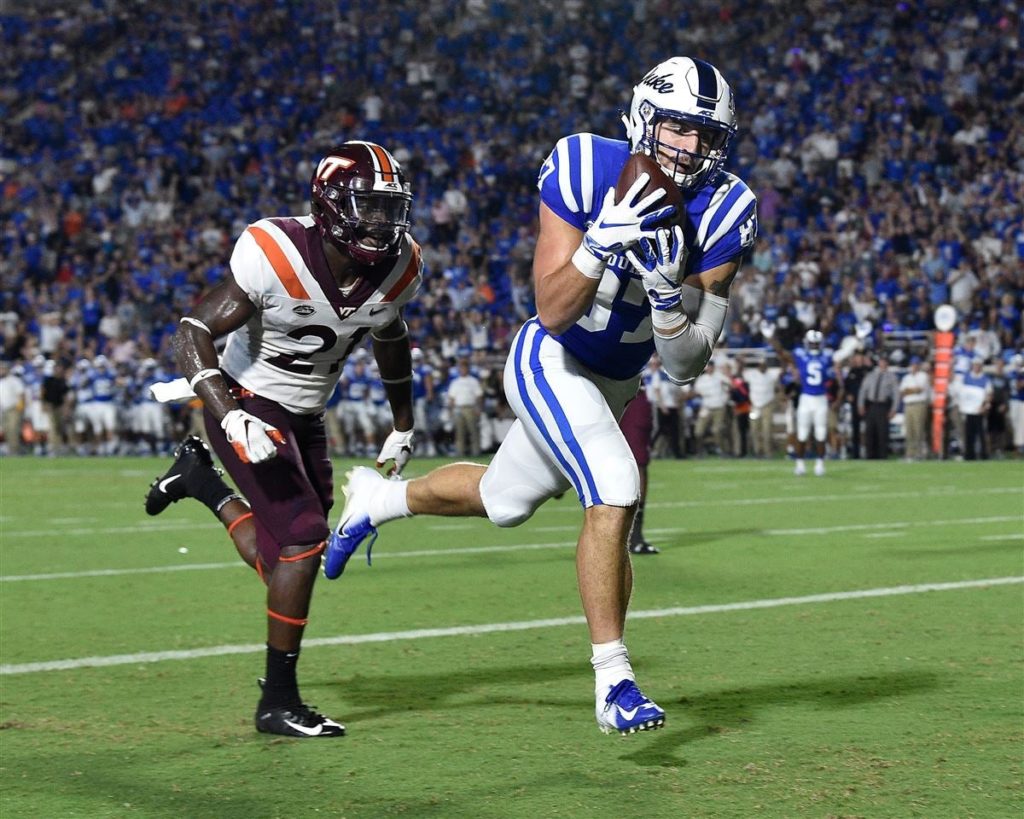 Noah Gray TE Duke
6-4, 240, 4.62
=>Some Travis Kelce in him
=>speed and receptions are top 3
=>awareness when the ball is in the air
=>swing route
=>tough to bring down with one defender
=>As previously mentioned, watch Noah Gray against Hamsah Nasirildeen on 12/5.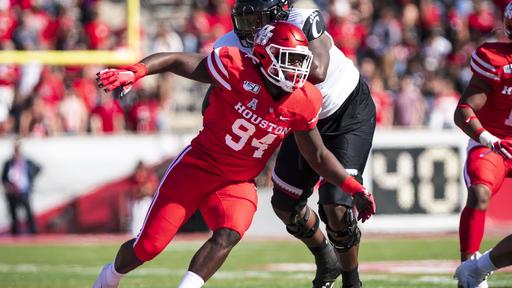 Isaiah Chambers EDGE Houston=>McNeese State
6-5, 250, 4.67
=>teammate of Ed Oliver
=>transferred to McNeese
=>Biggest influence="My mother, she passed when I was in the 8th grade, picking me up from football practice. Her last seconds on earth was seeing me play what I love to do"
=>At Houston, had five sacks and six tackles for loss this year
=>In 2018 had 4.5 sacks in just five games, ending with a knee injury
=>Had previously played for TCU before enrolling at Houston.
=>nice tackler, does games and stunts effectively.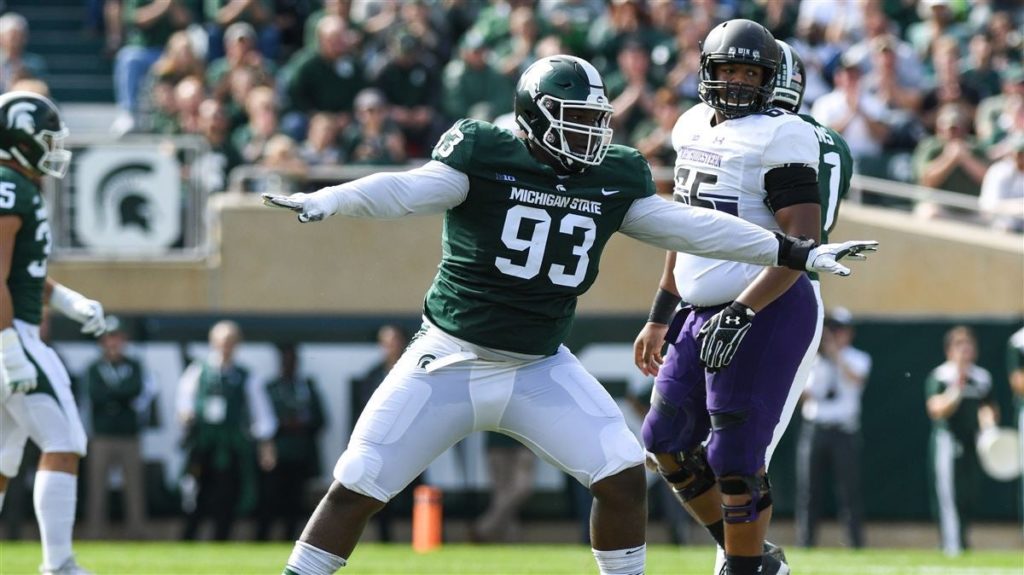 Naquan Jones DL1T Michigan State
6-3, 339, 5.16
=>Now a fifth-year senior, his patience is about to be rewarded
=>key backup at defensive tackle the past three seasons
=>2017: 247 snaps and 13 tackles
=>2018: 295 snaps and 26 tackles
=>2019: 257 snaps and 15 tackles
=>Coach Burton expects Jones will "double his snaps" as he becomes a starter
=>Active big man in the middle can play the 1-tech, and maybe 3-tech versatility
=>For now, there's no Big Ten football, so these games are all TBA.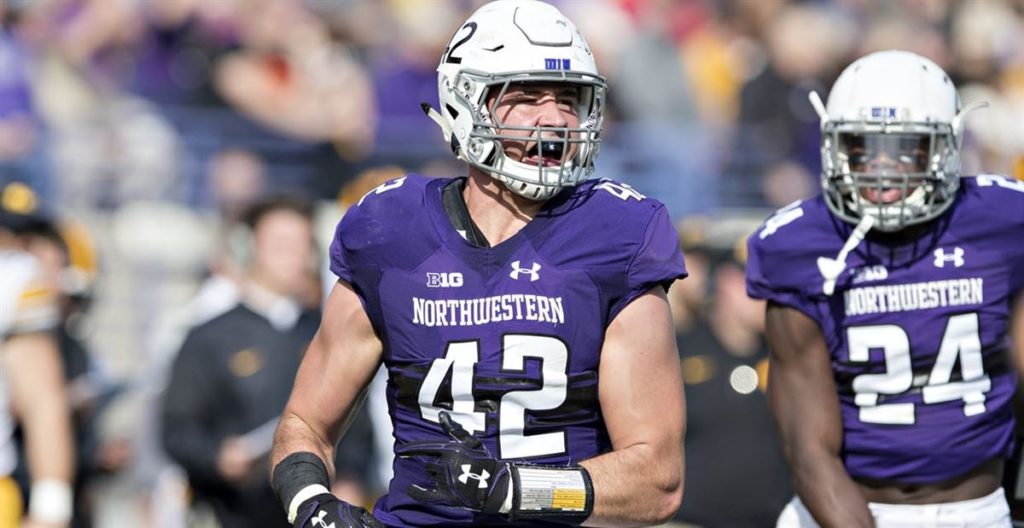 Paddy Fisher ILB Northwestern
6-3, 241, 4.72
=>draft stock has ebbed and flowed throughout his college career
=>top number of games played (39 entering final season) will have appeal, Bills won't be looking at ILB before Day Three
=>size appealed to McBeane before in Tremaine Edmunds (but he's elite at 6-5, 234, 4.45)
=>For now, there's no Big Ten football, so these games are all TBA.
Editor's babble: Now that's quite a "Pick Six" by our draft guru. Big thanks to Dean Kindig for keeping us up to date on who to watch this fall in college football, such as it is. You can also find Dean on Twitter @TCBILLS_Astro.