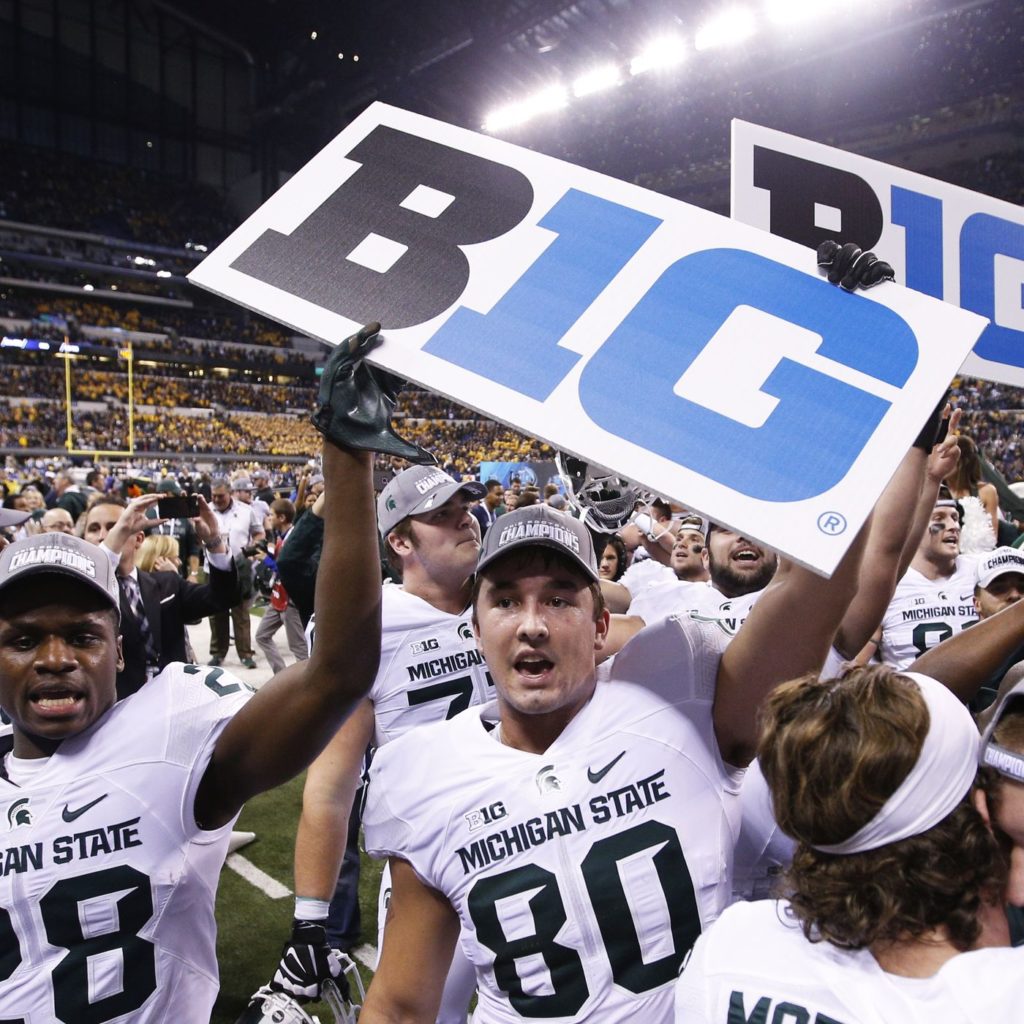 Who's Not Playing?
The Pac-12, MAC, and Mountain West Conferences have called off fall football. Some Independents (New Mexico State, UConn, and UMass) have axed football in the fall. Five of 13 FCS conferences have decided to postpone fall sports, including football: The Ivy League, The Patriot League, the SWAC, the MEAC, and Colonial Athletic Conferences.
Who Is Playing?
The AAC and the Sun Belt conferences have an "8+4" season on tap. In addition, so has a Conference USA team (Old Dominion). BYU is proceeding as usual and Notre Dame has joined the ACC for the season. Some schools, like Conference USA's Florida International, are proceeding with fall football, allowing students to attend home games, giving them first priority for tickets.
What Players Are Most Affected?
The PAC-12 leads college football in its significance to players in their last year of college play. These fellas won't get a last chance to strut their stuff. The PAC-12 is the conference home of senior Walker Little, LT, Stanford, currently #10 on my own Big Board. Levi Onwuzurike (DT1T, DT3T) of Washington at #22 is also a senior. Those are the RD1 casualties in my book. Draft Rooms will have to rely on tape and a promise of improvement when they draft them. PAC-12 seniors who could still have a shot at RD1, are all on defense. They include Hamilcar Rashed, OLB, Oregon State and three CBs, Paulson Adebo of Stanford, Thomas Graham Jr. of Oregon, and Elijah Molden of Washington. Graham's bookend teammate, Deommodore Lenoir, could be in that conversation, too. Rashed had returned to school because he had promised himself RD1.
The Big Ten is still a no-go for now. But all is NOT a fait accompli. Ohio State Athletic Director Gene Smith said on 8/28 that a Big Ten start sometime this fall is one of the possibilities still under consideration. This affects the football futures of several seniors in my Top 100: RD1 Wisconsin OT Cole Van Lanen (#19 on my board), RD2 Purdue iDL Lorenzo Neal (#67), Thayer Munford LT Ohio State, and Jonathon Cooper, EDGE from Ohio State. One other senior is right on the cusp of that 100 that would be directly affected by no Big Ten football: Big tackle-breaker Trey Sermon, RB now at Ohio State. This Oklahoma transfer carried the ball 339 times for 2,076 yards and 22 TDs during his Sooners career. He fumbled once, and I'd love to see him play for the Buckeyes this year.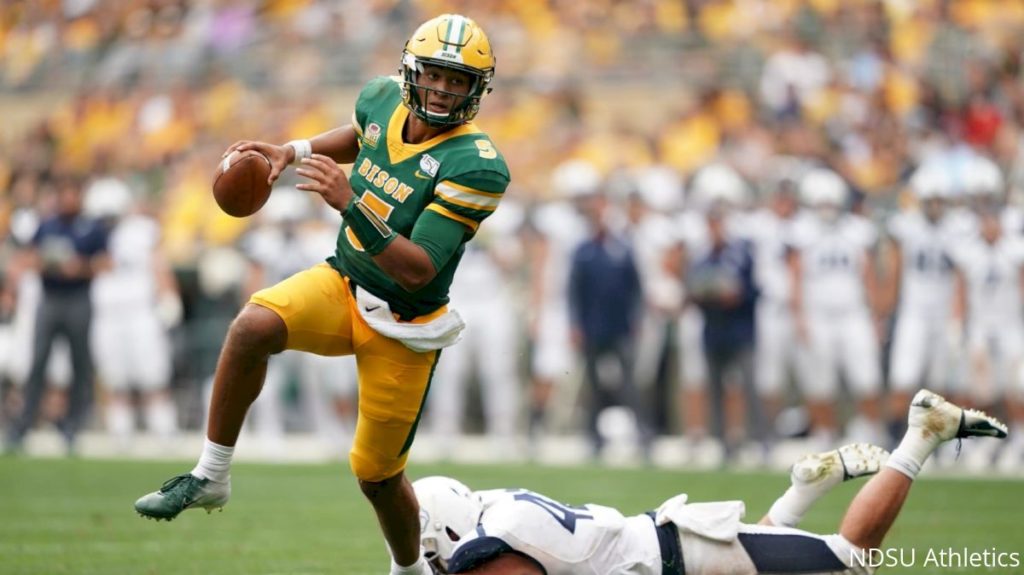 QB Trey Lance, RS Sophomore of North Dakota State (#18) will play Central Arkansas on Oct. 3, his only game in a previously-canceled season. Lance still needs to decide on whether to transfer or declare for the draft. He's RD1 material already in my book, so I'd be surprised if he transferred. I have Lance as my #3 QB, and 10 DraftTek Team Analysts have Quarterback as a top-level need. In the most-recent DraftTek Mock Draft, Lance goes to the Patriots at #22. He could do worse for a landing spot. My guess is that he declares, and if he does, he won't have thrown an interception in his one year as NDSU's quarterback. Warren Hauck, head of DraftTek, is a little more skeptical. "He's RD1 material IF he gets a second season under his belt. I just can't see a QB from ND State with one year of starting experience going to the pros." One of us will be right, boss.
The 2021 Draft will also contain plenty of Juniors, RS Juniors, and even a couple of RS Sophomores declaring early. Many are in that Top 100 conversation, which deserve mention here. Biletnikoff winner WR Ja'Marr Chase of LSU (#7 to Miami this week) has opted out of the 2020 season. OT Jalen Mayfield (#21) has decided to enter the 2021 NFL Draft as a redshirt sophomore. Although he has only one year of starting experience at RT, in his 13 starts he's held his own against Chase Young, A.J. Epenesa, Yetur Gross-Matos, Mayfield will go in the bottom of RD1 around where the Bills pick. Terrell Lewis and Anfernee Jennings. Redshirt sophomore RB Kenneth Gainwell of Memphis (#64) just declared for the draft. He's the only RB in the nation to earn PFF rushing and receiving grades over 85.0. Likewise, RS Junior CB KR Caleb Farley, Virginia Tech has opted out, and will enter the draft. He's currently at #77. UW redshirt junior OLB Joe Tryon (#76) has signed with an agent. Wake Forest WR, Sage Surratt (#53), has joined the 2021 draft rolls.CB/KR Ambry Thomas of Michigan has declared, and is picking up steam as a Day Two pick. Thomas's 808 KR yards makes him an intriguing option for the Bills in RD3. Northwestern OT Rashawn Slater,
Many players will declare for the draft that will be waived –more than usual. I've mentioned the big names who've declared thus far; they'll find work in the NFL. Alas, a source told Tony Pauline that "many players who have absolutely no chance of making it in the league" will enter the 2021 NFL Draft. This is the tragic part –the chaff that will be sifted out from the fat kernels that will be used to prepare the next recipe in The Great NFL Baking Show.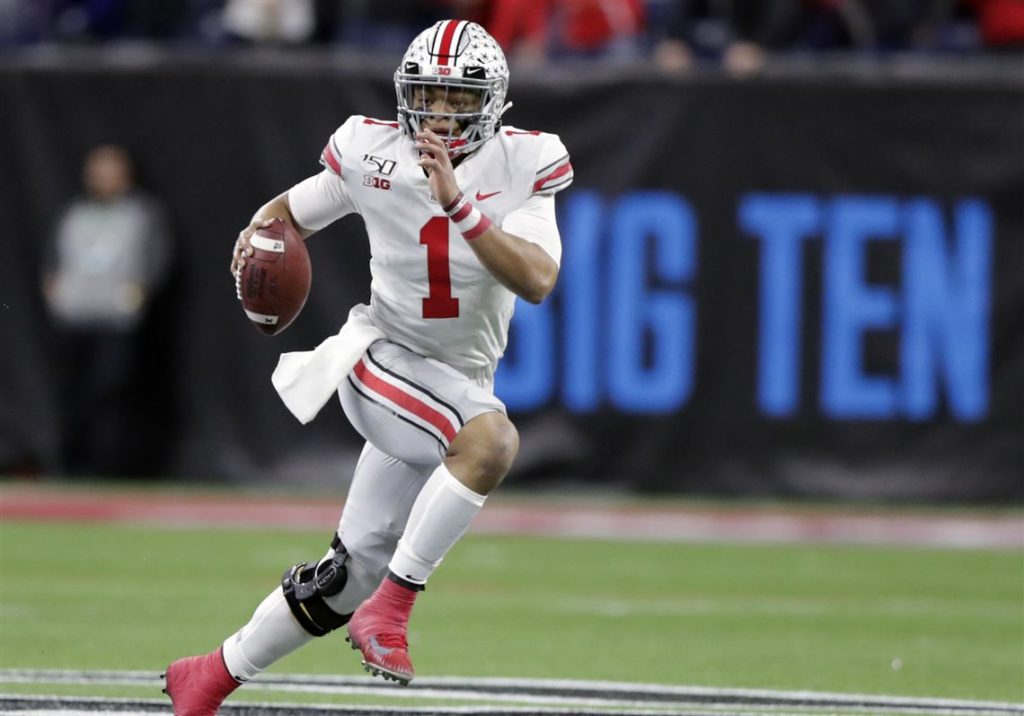 The elephant in the room at this point is the Big Ten, most specifically Ohio State and Penn State. Should they decide to go forward with some kind of season, I count 8 first-round-potential players (25%) being added to the mix, of of whom play for those two schools. In addition to some above-mentioned guys, the futures of Junior QB Justin Fields of Ohio State, ILB/OLB Micah Parsons of Penn State, RS Jr. CB Shaun Wade of Ohio State, RB Journey Brown of Penn State, G Wyatt Davis of Ohio State, and TE Pat Freiermuth of Penn State, all have business decisions to make. The downstream effects on players vying for Round 1 consideration, on players who'll play for their NFL Draft lives, on AP polls, and on voided TV contracts all depend on what the Big Ten does. Junior WR Rashod Bateman of Minnesota has already declared. His QB, RS Junior Tanner Morgan, has not. Two weeks ago, he reaffirmed his long-term plan: "I'm fully, 100-percent committed to being best person, player, quarterback for the University of Minnesota that I can be," he said.
Some players will almost have to return to school due to injuries.Pittsburgh EDGE Rashad Weaver (#88) missed the season after suffering an ACL tear during practice in fall camp last year. He knows he's a better player now, and doesn't want to be answering questions about his 2018 game film while in NFL interviews. This is also true of 'Bama's LB Dylan Moses, Oklahoma State Senior WR Tylan Wallace, and Texas Tech OG Jack Anderson. You'll see these guys running around on Saturdays, adding to their film resume.
Two policy decisions will likely need to be made in this tumultuous year. One, the NFL will likely need to set up Combines, even several regional ones, for prospects who lack current game film –Jalen Mayfield is one example with his 13 games of film. The other decision yet to be made, likely by the NCAA, is whether transfers get immediate playing status. The begging question is, is it fair to players currently in the SEC and ACC who have worked hard to become starters this year? Should PAC-10 player,s like junior WR Amon-Ra St. Brown, or even seniors like Walker Little, Cole Van Lanen, or Levi Onwuzurike, get a "bonus year" of eligibility, or does he have the right to merely transfer to a school that's been allowed to play in 2020 and get immediate eligibility? No matter the decisions, the NFL and NCAA likely need to be creative in allowing prospects to participate in interviews and the Combines perhaps without even declaring. In the final analysis, though, somebody's going to get rewarded, and somebody's going to get shafted.
Finally, I applaud the decision of Notre Dame to temporarily join the ACC. After all, they're around #7 in the polls and could easily be vying for the ACC Championship, and several ND players (Liam Eichenberg LT, Jeremiah Owusu-Koramoah SS/OLB, Tommy Kraemer OG RT) are glad about their chance to play.

I frankly expected more teams (Penn State and Ohio State) to do something similar. Right now, both schools are classic examples of "inertia at rest" with their high mass requiring too much force (Shout out to my physics teacher). Expect them to play a very abbreviated schedule in late fall.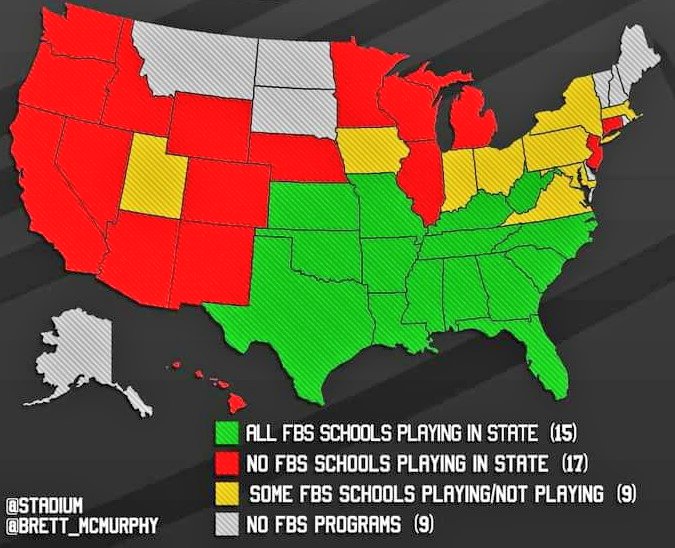 As you see in the picture, many colleges in the states with some of the highest rates of COVID are playing football this Fall. I'm looking at you, Texas, Florida, Louisiana, and Georgia. Others with the lowest rates of COVID are not (Wyoming, Nebraska, New Mexico, and Colorado). Pardon the metaphor, but the decision to play or not play has become a political football. I detest that.
Many states with small populations have a really high rate: Iowa, Oklahoma, and the Dakotas look really high. Check your state. For example, South Dakota with 900K people and 425 cases yesterday – that's like 13,000 if they had the population of Texas.
Teams playing and not playing will play havoc with the AP Top 25. I recently saw an early prediction:
1-Clemson
2-Alabama
3-Georgia
4-Oklahoma
5-LSU
6-Florida
7-Notre Dame
8-Auburn
9-Texas A&M
10-Texas
11-Oklahoma State
12-North Carolina
13-Cincinnati
14-UCF
15-Iowa State
16-Tennessee
17-Memphis
18-Virginia Tech
19-Miami
20-Kentucky
21-Appalachian State
22-Louisville
23-Baylor
24-TCU
25-Virginia
Whatever happens won't surprise anybody who's lived through 2/3 of the year 2020 (I'm looking at you).
Editor's babble: This analysis is phenomenal. Dean does it once again. I asked him about putting something together about how COVID might impact college players this year just YESTERDAY… and wa-la… here it is in all its magnificence. Much love and gratitude to Dean for all his comprehensive contributions to our blog. You can also find Dean on Twitter @TCBILLS_Astro.