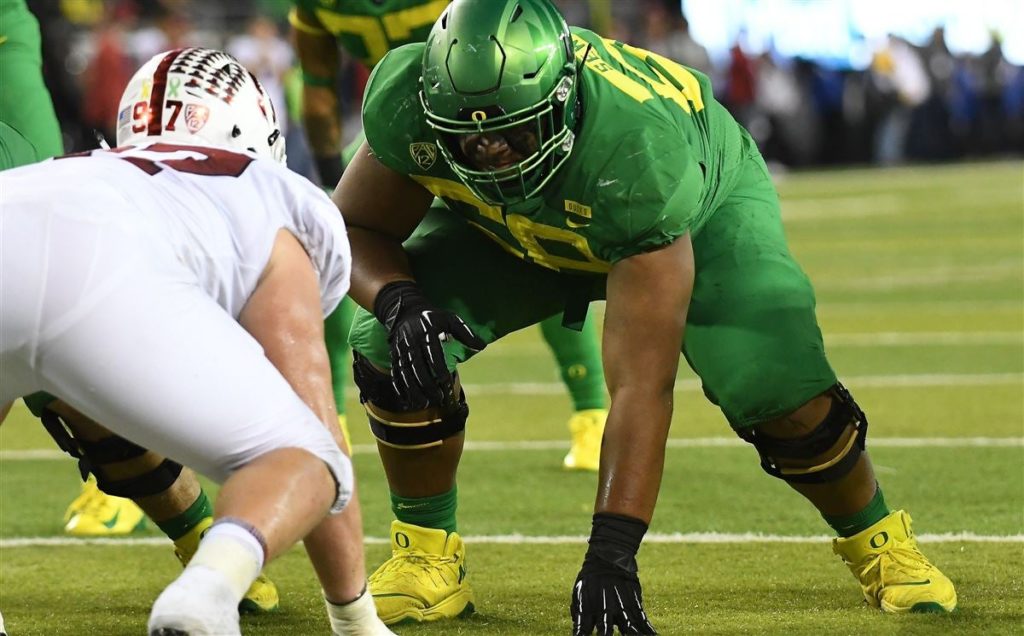 BillsMafia doesn't really want to have Josh Allen be a pocket passer, do they? The best way to keep Josh in the Top 2 Running Quarterbacks Derby is to not invest in the offensive line. Keep the status quo, and Josh will have to make shake 'n' bake moves, make laser throws on the run, leap over Vikings linebackers, and keep us thoroughly entertained. So, stop right here, because we're gonna talk about some bona fide tackles that fit the Bills.
If you think Ty Nsehke is the Bills' future at RT, you may also return to your regularly-scheduled programming. He's in the final year of a 2-year deal, and he's in the twilight of his career. He was a nice swing tackle insurance policy with a 2-year term, but I'm hoping that position will be Trey Adams' job in a year.
Ryan Bates and Evan Boehm can play all of the spots on the offensive line, although I wouldn't trust Josh's blind side to either. Their joint claim to fame is that they were both state champions in wrestling, which at least gets you an audition at One Sean's Drive, and signals great hand use, especially at Guard. No, I don't know if they look good in leotards; just stop. Neither Bates nor Boehm are starters, but could certainly mind the store at IOL until Feliciano's return from his pectoral injury.
Darryl Williams is a tougher out. In 2019, Carolina had Williams play LT, LG, RG, and RT. Williams brings plenty of experience to the Bills O-Line, with 41 career starts). He's likely on the inside track, particularly since he's formerly of the Panthers. But he's also on a short leash –a one-year contract, just like his last deal with the Panthers. He was coming off an injury from 2018, and Matt Parrino of Syracuse.com asserts that he was set up to fail in Carolina. I agree, particularly because of his injury and the Panthers' desperation. I feel Darryl's best football is in front of him, and at RT, the position at which he played the least snaps for the Panthers in 2019 (despite the fact he'd earned All-Pro Second Team at that spot. Duh.).
How much of a priority is OT for the Bills? Dawkins is re-signed already, Darryl Williams shows promise, Nsehke is a short-term, above-average swing tackle, and Trey Adams is a UDFA PS candidate. Depending on where Ford ends up, I believe Tackle/Guard is one of the top 4 team needs at this point. If one of the players marked "A+" below is the best value at a pick as early as RD1, Brandon Beane, should seriously consider him, since OT's one of the top four positions of value to begin with (QB, OT, EDGE, CB). DraftTek's current list of OTs in the 2021 Draft is located here.
What Offensive Tackles should BillsMafia keep an eye on in the 2021 NFL Draft?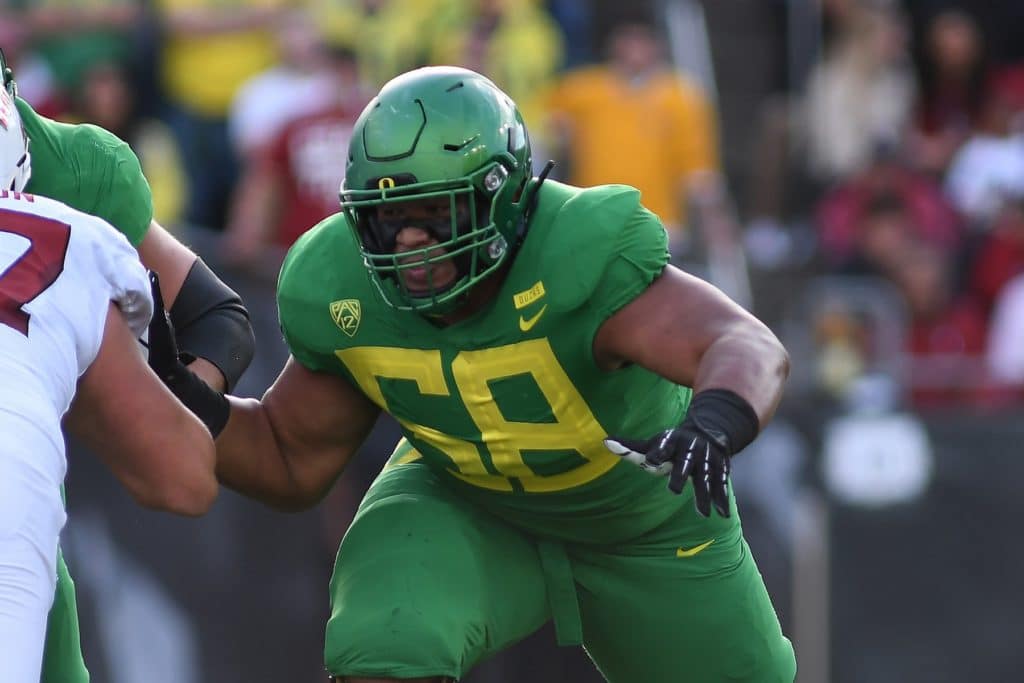 2 Penei Sewell LT Oregon
Junior 6'5″ 325
Watch LT #58 Cued Up vs. Auburn 2019 – Quicks, Strength, Dancing Bear athleticism
Read This
Given the season I expect the Bills to enjoy, we'll just have to drool over this prospect, who'll go in the Top 5 picks. Praised effusively by PFF as achieving the highest grade ever by a lineman, Sewell's 95.5 grade prompted PFF to suggest he should be in the Heisman Trophy conversation. Power, athleticism, quickness, patience – Penei Sewell is a dancing bear at an athletic 335 pounds. He'll be Justin Herbert's LT for a 10-game PAC schedule, as of this writing. Geoff Schwartz: ""He flies off the ball. When it's time to run block, he is running off the ball… he's also good at using his hips, and knowing when to extend his hips to get power through his body on a run block or even a pass block….The No. 1 thing I like about Penei… he wants to be better. He wants to be great. He is ahead of the mental game of being an offensive lineman." Sewell's best challenges will be Merlin Robertson of Arizona St 10/10, Terrance Lang of Colorado on 11/26, Joe Tryon of Washington on Halloween, and Mika Tafua of Utah on 12/5.
Fit For Bills: Look, But Don't Touch. A+++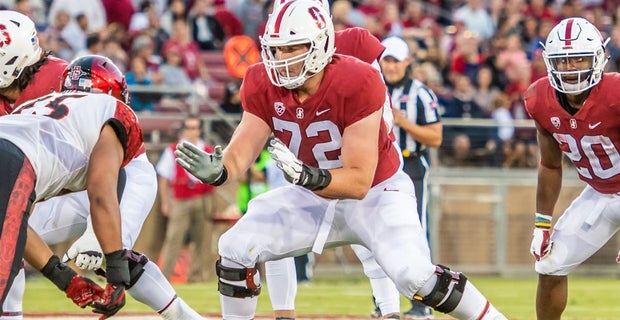 6 Walker Little LT Stanford
Senior 6'7″ 309
Watch LT #72 Cued Up vs. Northwestern 2019 – Smooth kick-slide, mirroring
Read This
Injury drops him from last year's #1 to #2. Early hitches in his kick-slide last year are gone, and his technique is polished. He's lighter than Sewell, but his technique is as good —just inconsistent, as DraftTek Senior Analyst Austin Smith wrote last June. The Cardinal put Little on the left side to begin his freshman year in 2017. He went on to be named the Co-Freshman Offensive Player of the Year in the PAC-12 and was named a Freshman All-American by ESPN. In 2018, Little started every game at LT en route to being named First-Team All-Pac-12. The area in which he excels is run blocking. He leverages his impressive strength and does a great job of driving his defender off the line of scrimmage, despite Little's 309-lb. size. He plays with a mean streak that allows him to finish off his defender, as well. When it comes to pass protection, he shows the potential to dominate in this area, with great mirroring. Stanford will play a conference-only schedule this fall, and Little will face Joe Tryon of Washington 9/26, Osa Odighizuwa of UCLA on 11/7, Terrance Lang of Colorado on 11/21, and Kayvon Thibodeaux of Oregon on 11/28.
Fit For Bills: A–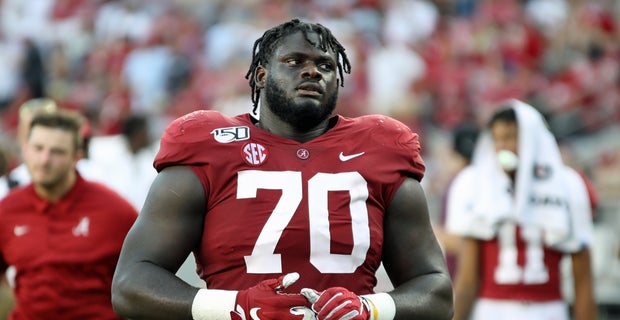 12 Alex Leatherwood LT Alabama
Senior 6'6″ 310
Watch #70 Cued Up vs Michigan, Citrus Bowl 2019 – explosion, technique, length
Read This
Leatherwood was PFF's senior OT that had his best season a year ago, when DraftTek had him 3rd behind Walker Little and Tristan Wirfs (Bucs, RD1#13). Leatherwood was a starting RG in 2018 who became 'Bama's Left Tackle in 2019. He does have a rock-solid initial punch, some pretty footwork and a nail-eating, nasty attitude. He needs to explode off the line better, as shown here. After being second-team last season, Leatherwood was a first-team All-SEC selection and All American this season. In 2019 he only gave up two sacks and graded out at 99% on his blocking assignments. Leatherwood is a proven run blocker who then-'Bama-OC Brian Daboll worked with in 2018. In pass protection, he plays with great technique and Leatherwood's long frame allows him to keep defenders at bay. It's possible he is the second OT taken after Sewell. Leatherwood faces far less-challenging EDGEs this fall than Eichenberg (see below). Alex may see Malik Herring of the Georgia Bulldogs (10/17), Jamar Watson of Kentucky 11/21, and Big Kat Bryant of Auburn on 10/28.
Fit For Bills: A+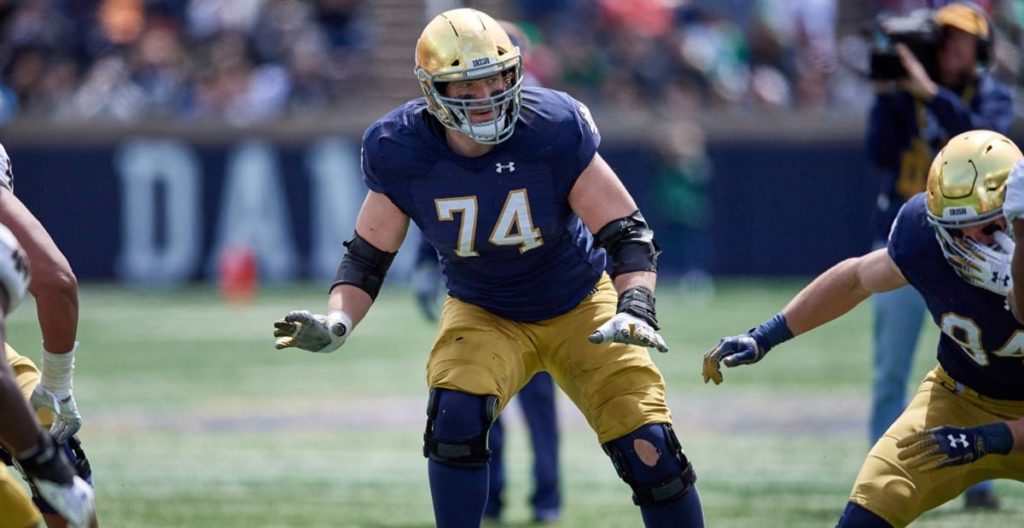 17 Liam Eichenberg LT Notre Dame
RS Senior 6'6″ 305
Watch LT #74 Cued Up vs. Georgia 2019 – vs great EDGE, elbows in, arms out, strength
Read This
Eichenberg will be playing in the ACC, it appears. He's an elite mover with an effortless kick-slide glide in passing sets. Great balance, long arms, seek-and-destroy at 2nd level? Check. He's got a ton of experience already, as he'll have been a 3-year starter at LT after 2020. Patiently waiting for McGlinchey during the 2016 season as a redshirt, Eichenberg finally got playing time in 2017 in blowouts and by filling in at RT as needed. In 2018, Eichenberg started all 13 games at LT, allowing only 3 sacks on over 900 total snaps. He continued this upward vector in 2019, surrendering only 9 hurries, 3 hits, and 0 sacks. ND, who will be playing in the ACC this wacky year, was one of the most impressive pass-blocking offensive lines last year. Liam shows quick feet and overall athleticism for pin-and-pull, something Bobby Johnson's OL does plenty often. I like his hand use and overall footwork. He's the lightest OT on my list, but we have chicken wings here, and he's plug-and-play. Tune for Chris Rumph's Duke on 9/12, Carlos Basham's Wake Forest on 9/26, Rashad Weaver's Pittsburgh on 10/24, and Xavier Thomas's Clemson on 11/17.
Fit For Bills: A+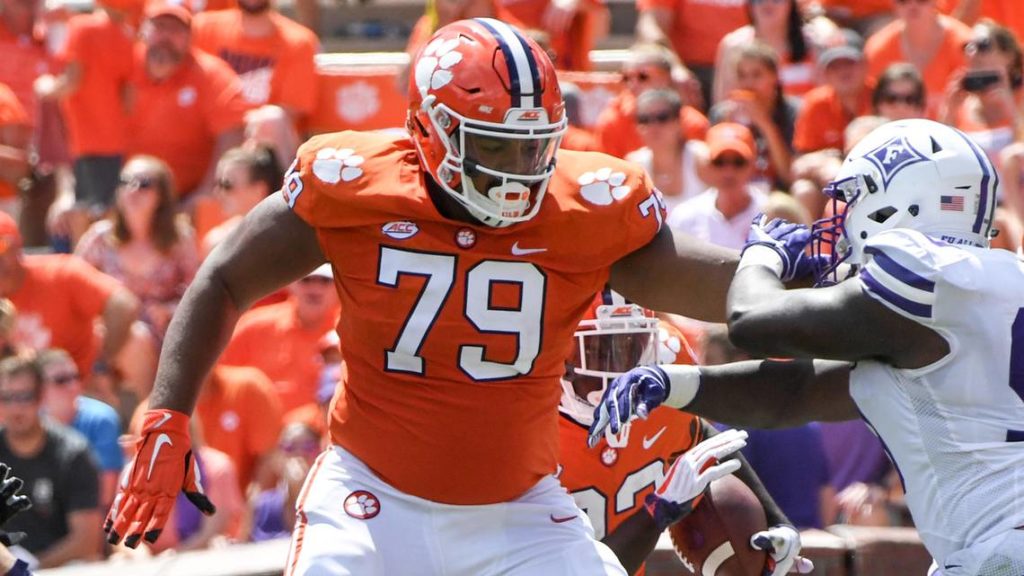 22 Jackson Carman LT RT OG Clemson
Junior 6'5″ 345
Watch LT #79 Cued Up vs. Syracuse 2019 – keeps low with legs driving vs RS Senior Josh Black, who squats 700 lbs
Read This
I like this kid. In fact, I expect him to drift upwards from #26 on my board. He plays with a level of switched-on nasty, and explodes off the ball. Alex Highsmith (Steelers RD3#102): "He was a dude. I've been playing football for 12 years and he's by far the fastest off the ball I've ever gone against. Ever." You can see that explosion in the cued-up video above against Syracuse. Carman has started each game at Left Tackle. He'll be gliding on the surface of the Finger Lakes soon, as he's an ardent wakeboarder. I'd line him up wherever you need an explodo-pack of nasty –OG RT or LT– and work him toward eventual starter out on the left side. Given the Bills' OT vs OG dilemma with Cody Ford, Carman's versatility will appeal. Carman should be opposite Carlos Basham of Wake Forest 9/12, Virginia's Noah Taylor and Charles Snowden on 10/3, Daelin Hayes of Notre Dame on 11/7, and Patrick Jones II of Pittsburgh on 11/28.
Fit For Bills: A++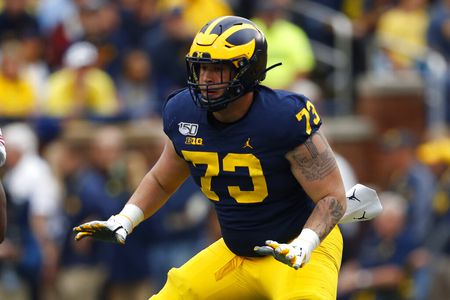 25 Jalen Mayfield LT Michigan
RS Sophomore 6'5″ 319
Watch #73 Cued Up vs Alabama, 2019 – footwork, using DE's force against him
Read This
Just a RS Sophomore, Mayfield has started only 13 college games at RT, but he's Mel "Hair" Kiper's #3 OT after Sewell (who'll go too early) and Cosmi (who's too light). My Michigan friend, Moose, thinks he's coming out this year, and it's the confluence of best-available and high ceiling that Beane looks for. Mayfield's battle-tested, as he's faced the likes of Chase Young, Epenesa, Gross-Matos, Terrell Lewis, and Anfernee Jennings. Now at LT. Says Moose: " Almost all Michigan OL stay the full 4 years. He won't be one. he'll come out b/c of Covid." I'd start Mayfield at RT in the pros, but expect him to grow into a blind-side protector. Mayfield has declared for the 2021 NFL Draft as predicted by my Michigan-insider Twitter buddy Moose.
Fit For Bills: A++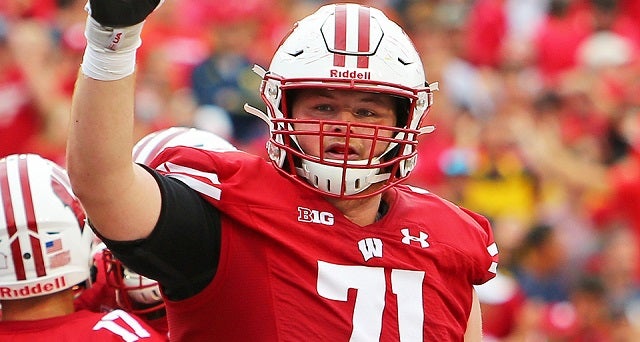 27 Cole Van Lanen LT Wisconsin
RS Senior 6'5″ 312
Watch LT #71 Cued Up vs Iowa- Epenesa schools him silly
Read This
This is Van Lanen's final year. We liked what we saw in 2019: Wisconsin finished second in the Big Ten in rushing yards as Van Lanen and Co. opened big fat running lanes for Jonathan Taylor (Colts, RD2#41). Van Lanen's overall power and ability to stay on blocks would work well for any run-oriented NFL teams you might happen to know. He has nice feet and the awareness to handle defensive stunts. Make sure you watch the Cued Up YouTube above, as it's against our new friend, A.J. Epenesa (#94). Now for a more-flattering play: Here shows movement on a JTaylor run to the weak side. You'll see Van Lanen get to the end zone about the same time as JTaylor, while Epenesa is faked out. Beane hasn't drafted from Wisconsin, but the Bills have: Lee Evans and Nate Odomes. They're batting 1.000 with Badgers. Van Lanen's schedule is the easiest of these OTs, with the only must-see date being Chauncey Golston (Epenesa's bookend) on 11/14 his best challenge.
Fit For Bills: A+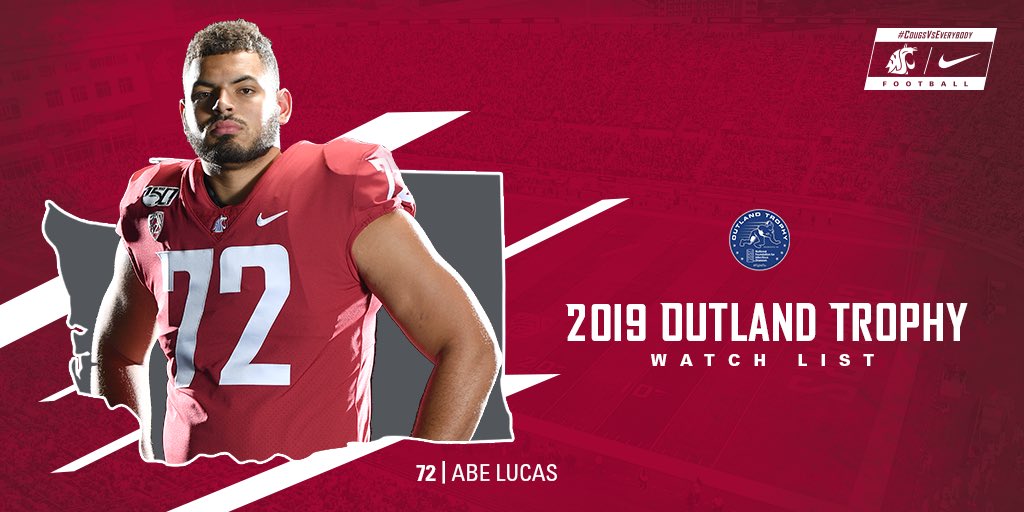 32 Abraham Lucas LT RT OG Washington State
RS Junior 6'7″ 324
Watch RT #72 Cued Up vs Oregon State – length of kick-slide, sits in his chair, explosion
Read This
Lucas comes from a team that's not a stop on the scouting circuit for Beane (1987 RB Kerry Porter is the only Cougar Bill), but Lucas should be. He's in our RD1 range, and he's rated the best pass-blocking offensive tackle in the country and fourth-best overall tackle in the country by PFF. Lucas is a colossus of a young man, with a thick frame and the good amount of length, strength, and anchor to play OT at a high level. He is football-savvy, seen here when defender #8 and #34 force his decision. There's a Big But: He sometimes plays quite upright in his stance, which allows pro-level EDGE rushers to dip underneath. He counteracts this by excellent explosiveness out of his stance. At worst, he's a top-shelf Guard. The redshirt junior to-be started all 13 games at RT in 2019. Right out of the gate, Lucas and Company slide down a razor blade of EDGE rushers, including Mika Tafua of Utah 9/26, Kayvon Thibodeaux of Oregon 10/3, and Osa Odighizuwa of UCLA on 10/10, all in successive games. Later, he gets Joe Tryon of Washington on 11/27 and Colorado's Terrance Lang on 12/5.
Fit For Bills: A–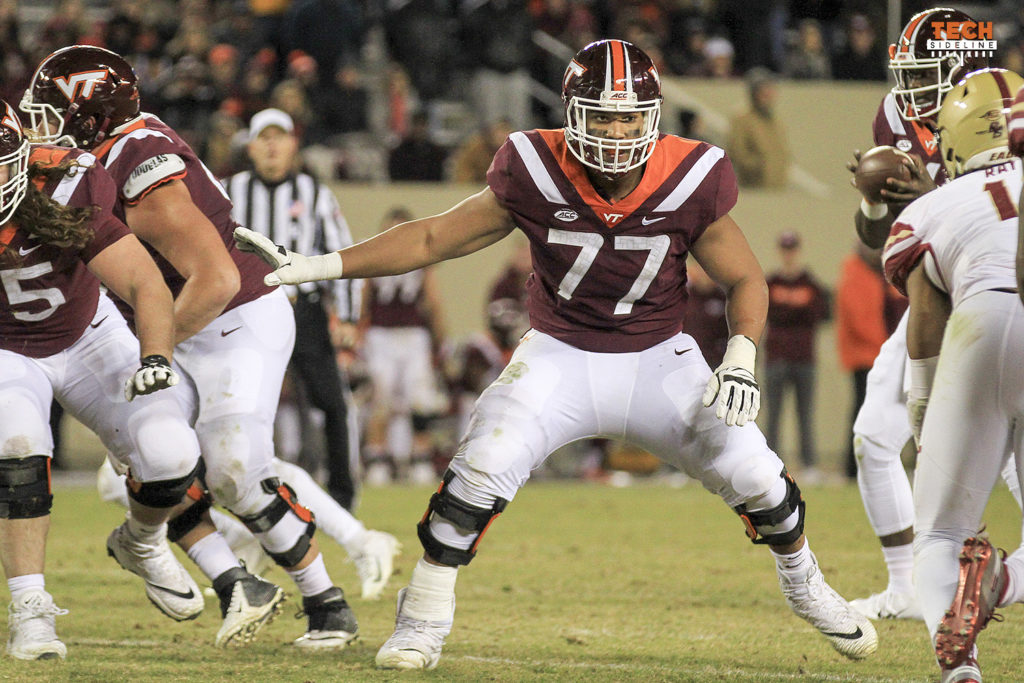 47 Christian Darrisaw LT Virginia Tech
Junior 6'5″ 311
Watch LT #77 Cued Up vs Duke, 2019 – back arched, absorbs initial punch, hand use
The Beaner hasn't shopped at Virginia Tech as a GM or Assistant GM, as far as I know. He might like to watch Darrisaw, though. He's the PFF second-highest-graded returning ACC OT after ineligible sophomore Jordan McFadden. Watch the double-whammy block cued up. Just don't have anything to eat while you're doing it. At least have wipes handy.
Watch Darrisaw vs Virginia's Noah Taylor and Charles Snowden on 9/19, and Wake Forest's Carlos Basham Jr. on 10/24.
Fit For Bills: A-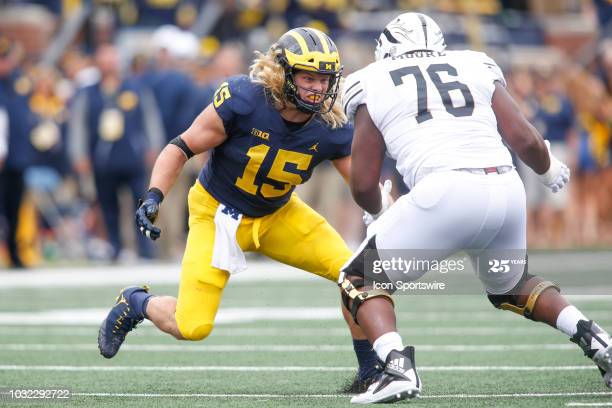 62 Jaylon Moore LT Western Michigan
RS Senior 6'5″ 315
Watch #76 Cued Up Jaylon Moore Profile – explosion, hand use, level of nasty
The returning starter at left tackle, Jaylon Moore is that developmental OT you might take a look at should he drop into RD3. He's a preseason First Team All-Mid-American Conference selection by Athlon, and was a preseason watch list selection for the Outland Trophy. Of his 31 games played, Moore's last 26 games straight have been at Left Tackle. I like his personality, his team-first outlook, and his love of the game. He has palpable power. He'd be the third WMU player to be taken by the Bills: Tom Nutten, a Day-3 Center in the 1995 Ruben Brown draft, and John Potter, a Kicker in 2012 who lasted six weeks. Jaylon will be opposite Notre Dame's Daelin Hayes on 9/19 and Buffalo's Malcolm Koonce on 11/27.
Fit For Bills: A–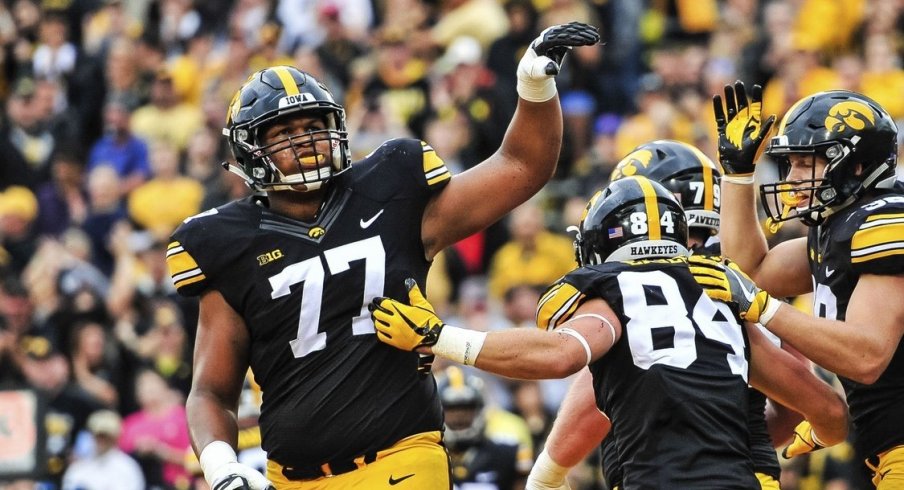 73 Alaric Jackson RT RG Iowa
RS Senior 6'6″ 320
Watch LT #77 Cued Up vs Wisconsin 2019 – quicks in pulling, athleticism, looks for work
Read This
Presumably, Beane has already looked at Epenesa's foe in practice, Alaric Jackson. I'd slot Jackson as the backup RT to begin with. Thor Nystrom likely agrees. He says that Jackson has a "prototypical NFL left tackle frame, multiple years of pass-pro success in the Big 10, tremendous first step, and enough upper body muscle to move defenders in the running game… but lacking the technique and anchor you like in your blind-side protectors, and lacking the lower-body strength and leverage-winning flexibility to smoothly project as a tall guard." This has improved. Jackson latches on to his man quickly and possesses sufficient strength to move the victim, especially in the run game. He needs an NFL training table and Bobby Johnson's magic. Alaric had a down season in 2019 due to a knee injury. He'll need to show that he's past that. Jackson's top foes will likely be opposite the LT and not Jackson, but top games will be Jayson Oweh of Penn State on 10/24, Wisconsin's Isaiahh Loudermilk on 11/14, and Ohio State's Tyreke Smith on 11/21.
Fit For Bills: A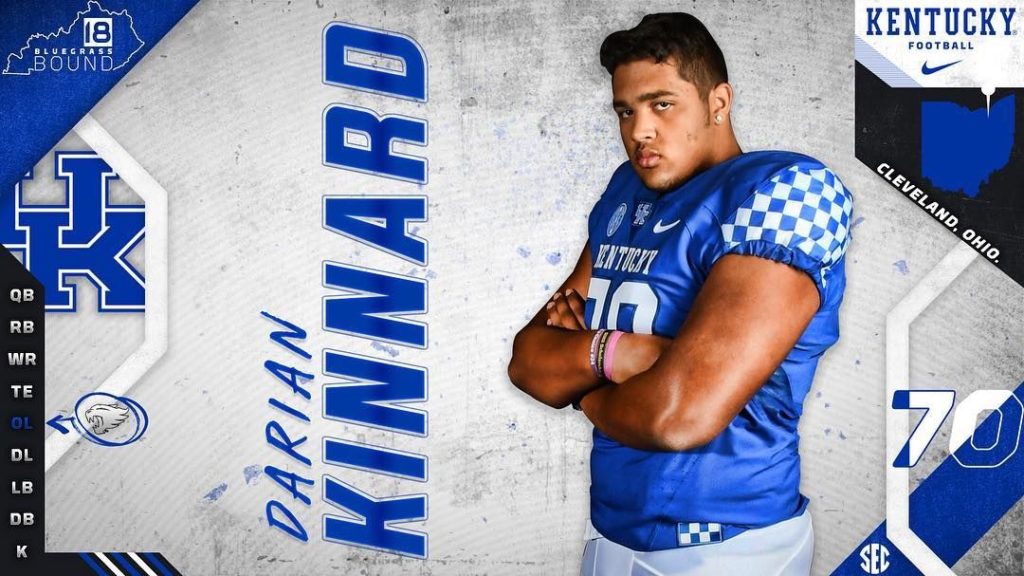 99 Darian Kinnard RT OG Kentucky
Junior 6'5″ 324
Watch RT #70 Cued Up vs Tennessee – athleticism, knows when to bail!
When Landon Young suffered a season-ending injury in the final preseason scrimmage, Kinnard was thrust into the lineup and hasn't looked back. Kinnard is coming off a near-flawless 2019 season: zero missed assignments, zero penalties, and zero sacks. I think Kentucky will finally garner the Bills' attention this season. I suggest September 26 against Big Kat Bryant of Auburn and October 17 against that Tennessee D-Line. Kinnard was a key cog in Kentucky's offensive line, known as the "Big Blue Wall," which notch its fourth-consecutive season of 2,000 or more rushing yards, as well as the seventh-highest run-blocking grade as a unit. Kinnard was the third-highest graded OT in the SEC in the run game. While he isn't explosive out of his stance, Kinnard shows athleticism and vision. He's still Kentucky's starting RT, but he's played LG, RG, LT backup, and RT so far, so there's some versatility in that cross-training. In 2019, Kinnard had 32 knockdowns and just one penalty in 706 snaps. Because he's a RT, Kinnard won't likely get to show his stuff opposite the top names, including Big Kat Bryant Sept. 26 at Auburn, Malik Herring of Georgia at home 10/24, Dayo Odeyingbo of Vanderbilt 11/14, and Jeremiah Moon at Florida 11/28.
Fit For Bills: A-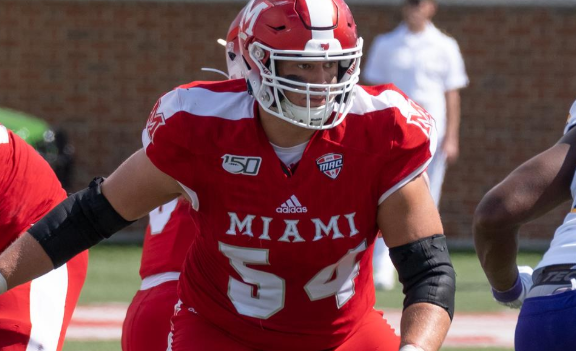 102 Tommy Doyle RT Miami (OH)
RS Senior 6'8″ 326
Watch RT #54 Cued Up vs Marshall – lateral agility, long arms effectively used, and athleticism
Read This
Doyle originally arrived at Miami Ohio as a DE, and made the switch to OT, and it worked out handsomely; he earned first-team All-MAC on one of the more formidable offensive lines in the conference, and was named Miami's Offensive Player of the Year. Doyle is tall, but don't stop reading; I know what you're thinking. Doyle has impressive length, technique, and quick-reaction athleticism, enough to stymie our very own A.J. Epenesa –and that didn't happen often. Doyle started all 13 games on the left side. He sometimes has trouble with outside speed rushers. He'd need some of that Bobby Johnson coaching, too. The Mid-American Conference has postponed its entire fall sports season, and Doyle has declared for the 2021 NFL Draft.
Fit For Bills: A-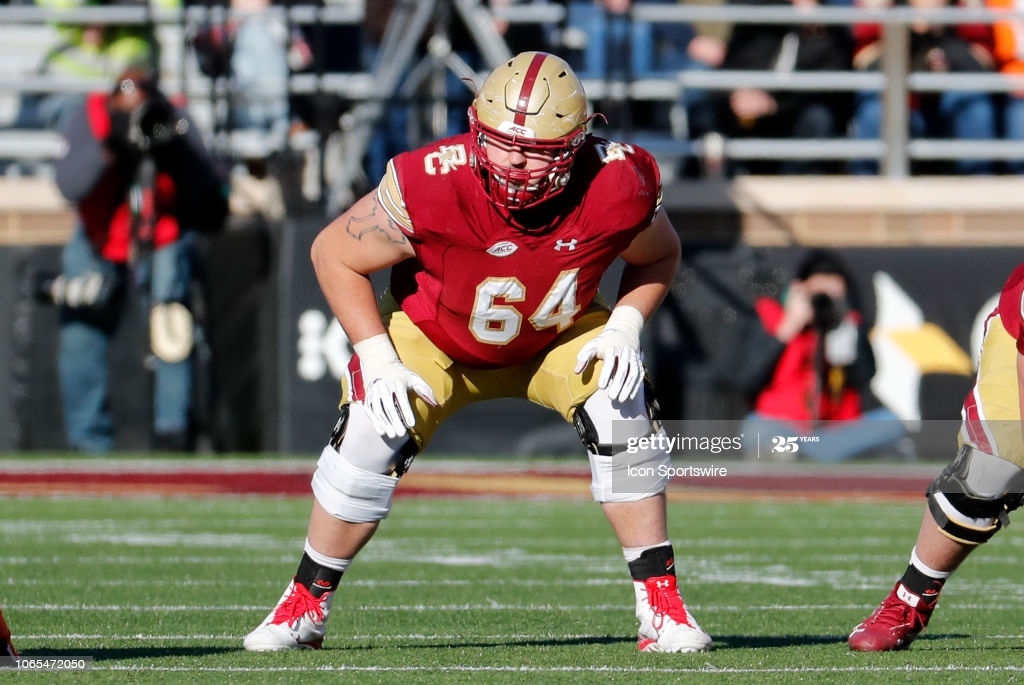 112 Ben Petrula RT, OC, OG Boston College
Senior 6'5″ 310
Watch RT #64 Cued Up vs Virginia Tech – agility, looks for work (2nd man blocked)
Read This
All-ACC preseason team with Vrabel, started all 12 games at RT but can play C or G as well. Petrula's position flexibility grabbed my attention last year as a Day 3 prospect, and he's kept my attention as a Day 2 possibility this year. He blocked for A.J. Dillon (Packers, RD2#62). You see the vision here, but not the urgency. He won't likely line up opposite Rashad Weaver of Pittsburgh (10/10) unless schemed that way. Xavier Thomas and Justin Foster are the EDGEs at Clemson (10/31), and he'll likely get one of them.
Fit For Bills: A–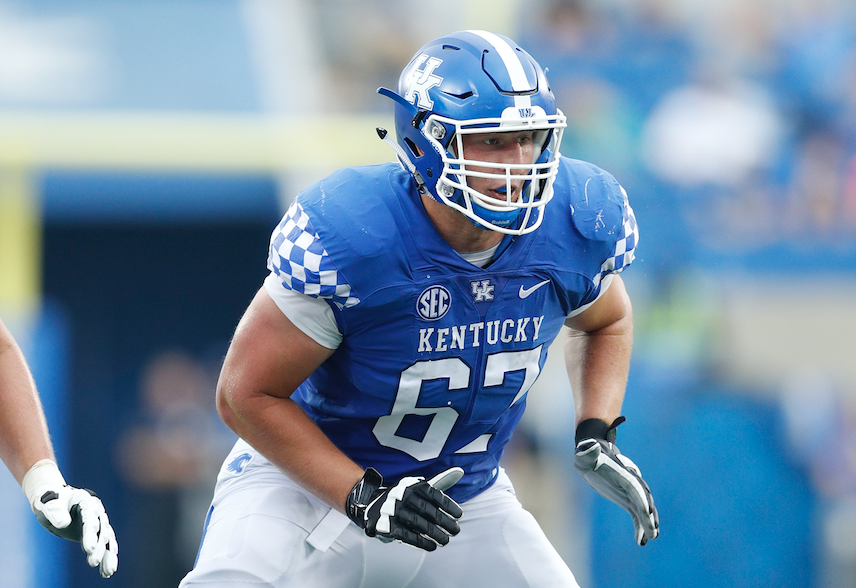 136 Landon Young LT Kentucky
RS Senior 6'7″ 324
Watch Interview
Watch Pancake
Read This
Young has something to prove, as he was a snub for the preseason Watch Lists. I like his physicality, (team-leading 64 knock-down blocks last season). Young missed only one assignment in 754 plays in 2019. That's impressive. His Aug 2018 knee injury required him to sit out the 2018 season, and this is his final year of eligibility, so he's that Day 3 value pick that Beane always seems to pull out of a hat. With Kinnard, he's part of that "Big Blue Wall" (OL has blocked for four 2,000-yard rushing seasons in a row), and behind Kinnard, he's rated the highest-graded returning SEC offensive tackle. Kentucky is Top 7 in run blocking, and Beane sees the run fit, for sure. Auburn's Big Kat Bryant on 9/26 will be a big test, as will ED/3Ts Malik Herring of Georgia 10/24 and Dayo Odeyingbo of Vanderbilt 11/14. Finally, Jeremiah Moon lining up as a DE/OLB could blitz to his side on 11/28.
Fit For Bills: A-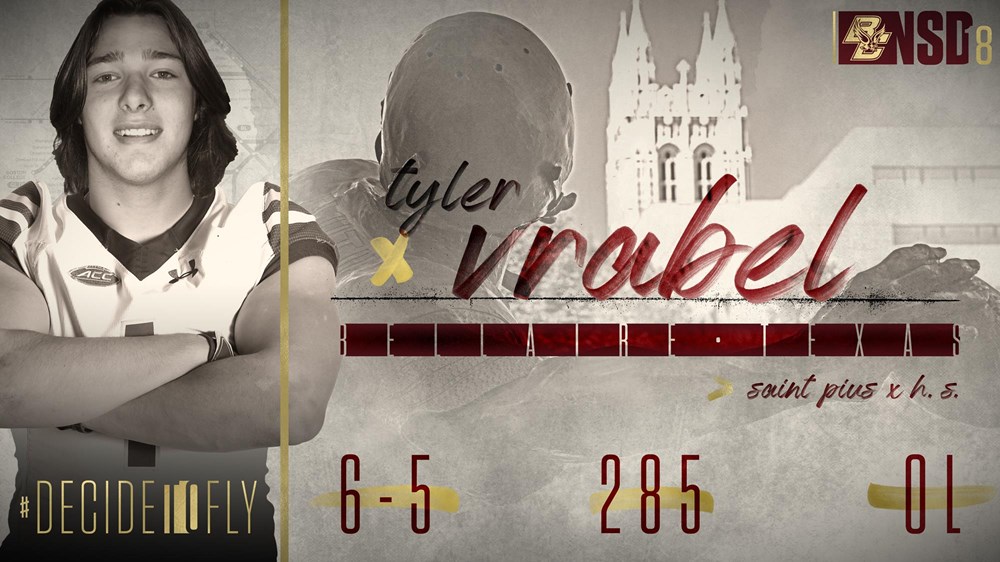 147 Tyler Vrabel LT Boston College
RS Sophomore 6'5″ 310
Tyler Vrabel Feature
Read This
Another preseason snub despite having the ACC's top Pass Block Efficiency Rating Among OTs in 2019. Who do you have to know to get on these watch lists? After all, Tyler's the son of the current Tennessee Titans Head Coach and former New England Patriots star Mike Vrabel. Tyler redshirted his 2018 season, but was thrust right into the starting lineup as the starting LT in 2019. He played like he'd always been there. Vrabel didn't allow a single sack, and finished the year with 6 "clean sheets" (it sounds dirty, but it means he didn't allow a pressure in that game). Vrabel flew under the recruiting radar in high school because he was playing for St. Pius in Houston, where his dad had begun his coaching career. His strengths are his dad's toughness, football IQ, preparation, and will to finish every play, and his challenges/opportunities will be balance and footwork, but you have to love his but high upside and DNA. Plus it allows the Bills to stick it to the Pats.Watch Vrabel vs Rashad Weaver of Pittsburgh (10/10), and one of either Xavier Thomas or Justin Foster of Clemson (10/31).
Fit For Bills: A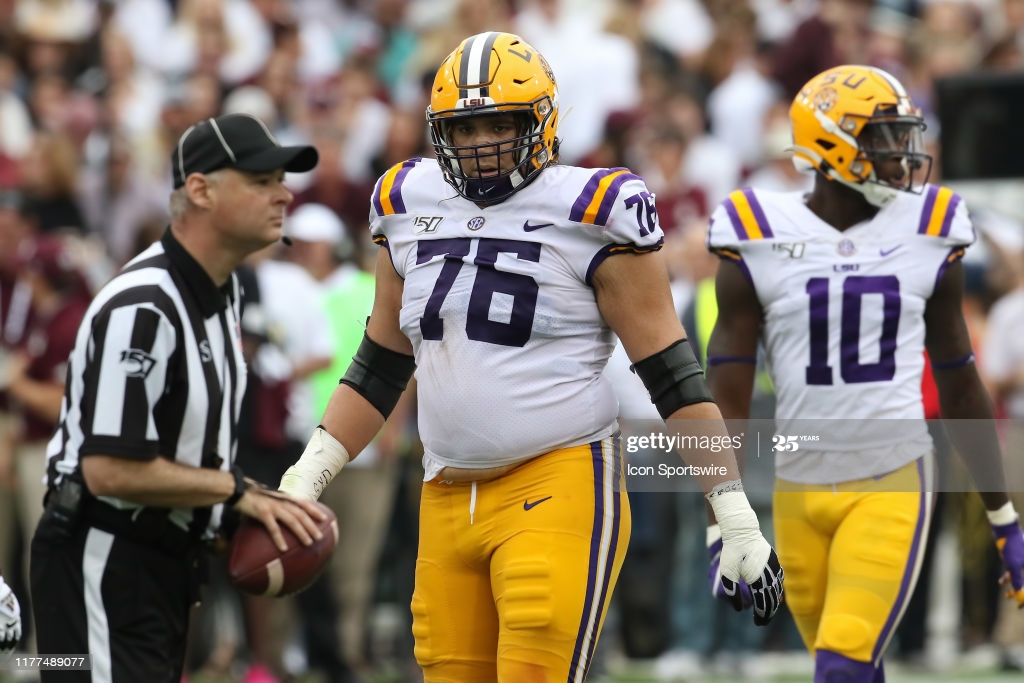 160 Austin Deculus RT LSU
Senior 6'7″ 322
Watch RT #76 Cued Up vs Alabama 2019 – sheer size, ability to dominate at times, upside
Read This
Deculus is a two-year starter at RT for LSU who took over the job two games into the 2018 season. His first career start was at LT, but he was switched over to the right side full-time (Orgeron is high on sophomore Dare Rosenthal as blind-side protector). Deculus is more inconsistent, and I think this had to do with it. In 2019, LSU won the Joe Moore Award, given to the best offensive line in the nation, and he's the only returning starter. Said Orgeron: "He's become a dominant lineman for us." Vanderbilt's Dayo Odeyingbo (10/3) will likely line up opposite the LT, not Deculus, but Florida's Brenton Cox Jr. (10/17), and Auburn's T.D. Moultry (10/31) sure might.
Fit For Bills: A-
Editor's babble: Oh my… let's stick it to the Pats AND the Titans by putting Tyler Vrabel in a Bills uniform. Besides, the Bills have had good luck drafting from Boston College (Matt Milano). Thanks to Dean Kindig for his tireless and comprehensive contributions to our blog. You can find Dean on Twitter @TCBILLS_Astro.