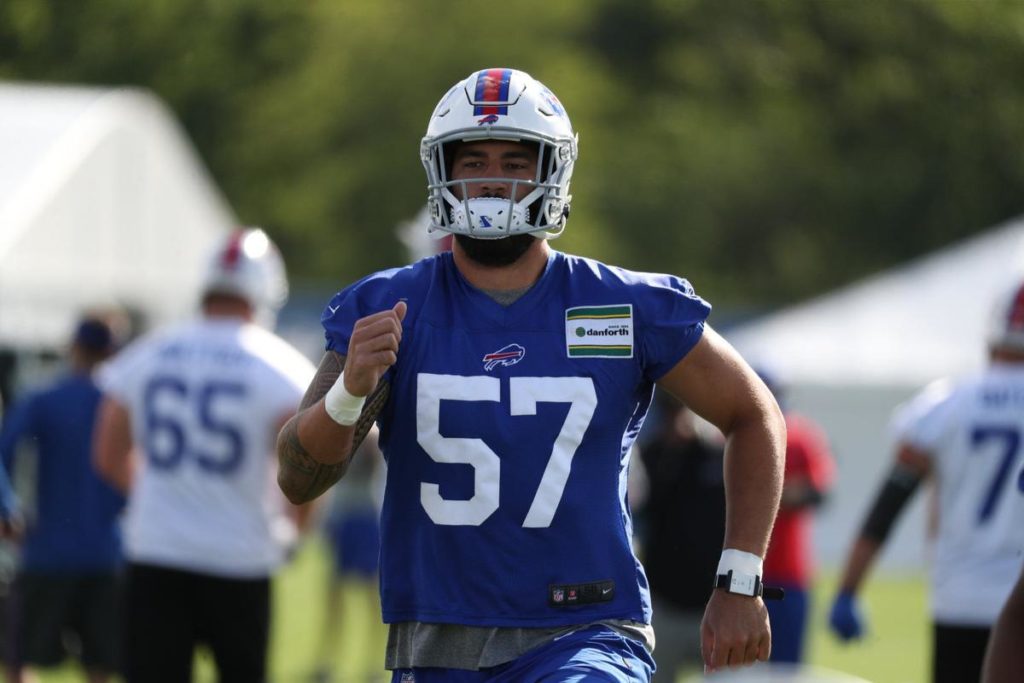 OFFENSE: (27 PLAYERS)
7 WR
Stefon Diggs 6-0, 194, 4.46
John Brown 5-10, 178, 4.34
Cole Beasley 5-8, 174, 4.49
Gabriel Davis 6-2, 216. 4.54
Isaiah McKenzie Jet, KR PR, 5-8, 164 (1-yr deal)
Andre Roberts KR PR, 5-11, 195
D'haquille Williams 6-2, 216

Robert Foster concuss. to PUP list
Isaiah Hodgins 6-4, 210 to Practice Squad, Game-Day Activation. Not enough snaps in a too-short season to sub him out for Duke Williams' recent gritty catches in traffic. Could've used his height and sure hands, and he's still a possibility.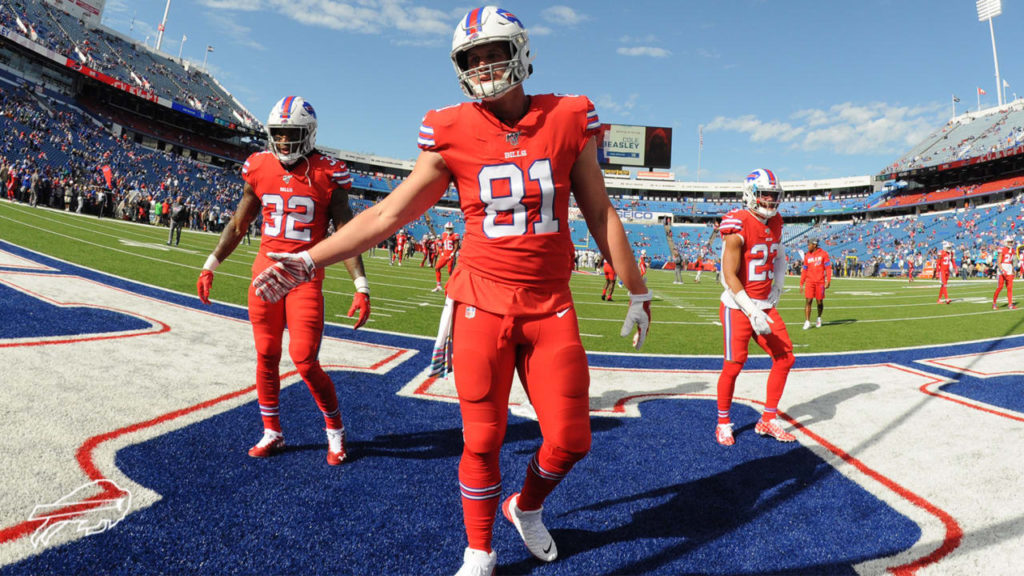 3 TE
Dawson Knox
Lee Smith 3yrs. age 31
Jason Croom or Tyler Kroft
Tommy Sweeney —Active/PUP list (foot)

Nate Becker, Miami (OH) to PS
Waive or trade Tyler Kroft or Croom. Lee Smith just provides too much vet leadership.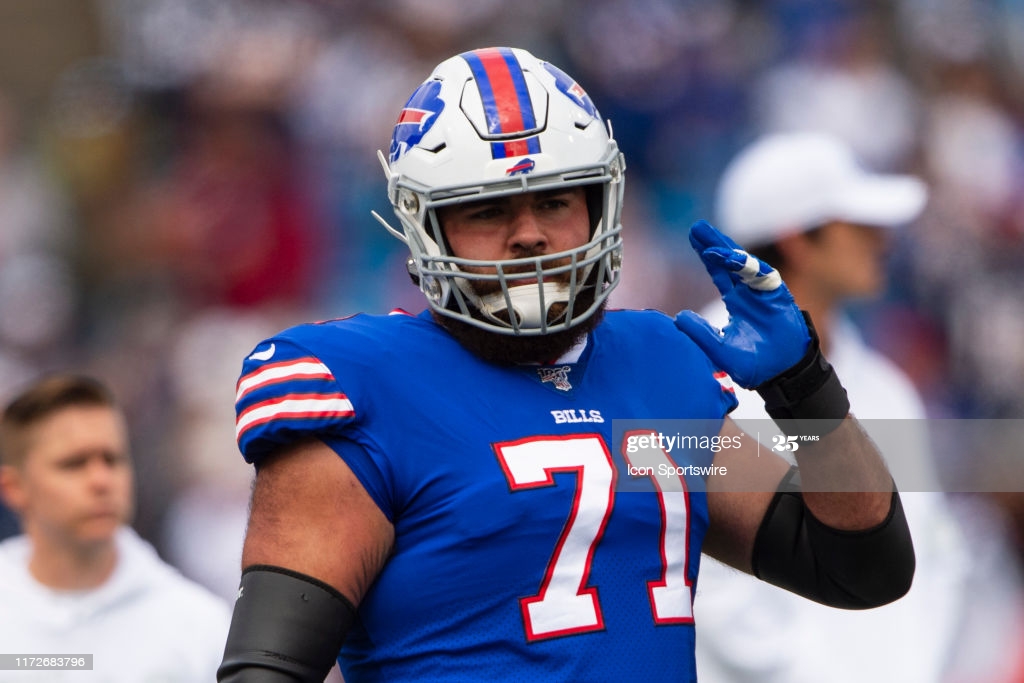 10 OL
LT Dion Dawkins – RE-SIGNED 4 yrs
OG Qu. Spain – RE-SIGNED 3 yrs $15M in March 2020
OC Mitch Morse – 3 more yrs
RG (RT) Cody Ford UFA 2023
RT (LT) Ty Nsehke – age34, Final Yr

OT-OC-OG Ryan Bates age 23
OC-OG-OT Evan Boehm 1-yr. contract
OT-OG Daryl Williams 1-yr. contract
RT-LT Trey Adams
OG-RT Ike Boettger 2021 RFA

OG OC Jon Feliciano, on PUP-DTR, Injured pec 7-31 age27 Final Yr

RT Brandon Walton PFA to Practice Squad; blocked for Singletary
OC-OG Marquel Harrell to the Practice Squad.

Waive Brian Winters, Winters was too late a signing to be of better value than Boehm. Besides, he wasn't that good in Jersey. Trey Adams and Brandon Walton are better, and have plenty of upside. Boettger-Walton are there when Nsehke hangs up his cleats at RT and Ford finally is moved to Guard. I'm still taking RT in the next draft. Some good ones.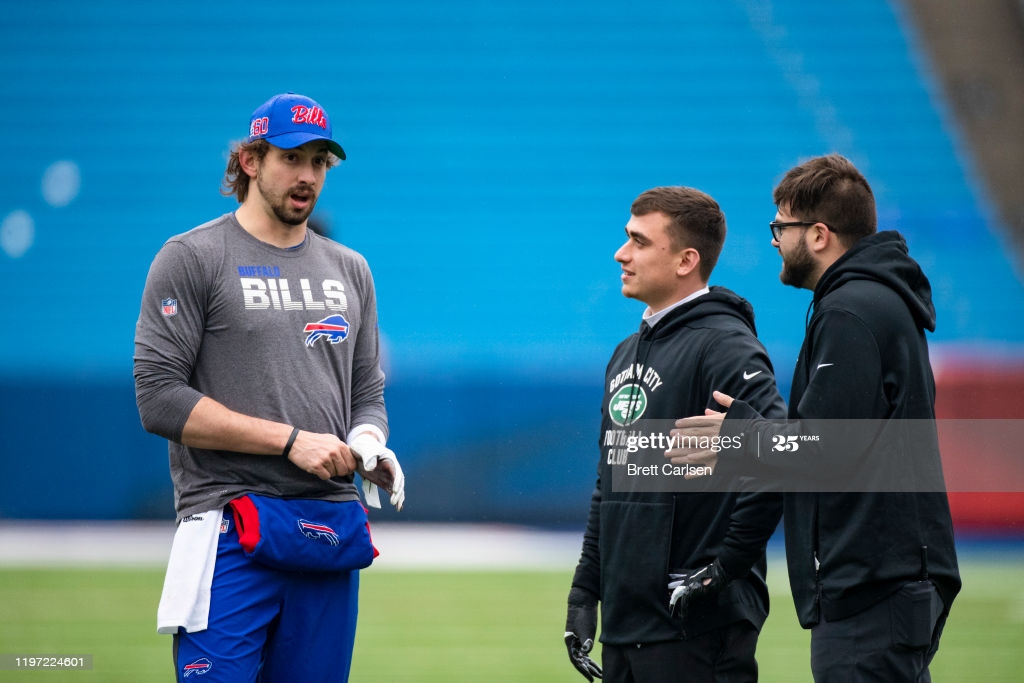 3 QB
Josh Allen
Matt Barkley 11/1, age 28 82.8
Davis Webb 6-5, 230

Jake Fromm to Practice Squad. Fromm was getting the hang of it after a wide-eyed start, but he'll need seasoning. Webb is smart and is a big help in the QB room.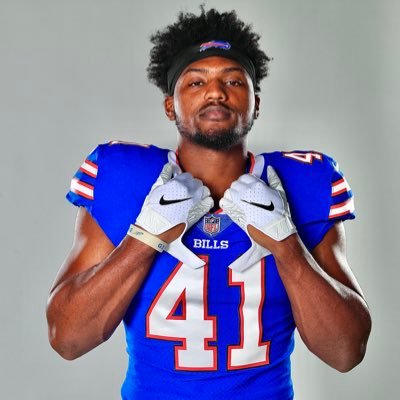 4 BACKS
Devin Singletary 4 yrs.
Zack Moss
T.J. Yeldon – 2nd and final year
Pat DiMarco

Reggie Gilliam – FB, TE, RB – to Practice Squad, Game-Day Activation.
Antonio Williams – RB, ST – to Practice Squad, but ST could be his meal ticket to the 53, or a possible trade commodity for Beane..
Christian Wade (54th player – Int'l) – adds to the embarrassment of riches at RB for the Bills, and still the national experts don't see it.

Taiwan Jones – Waived/Injured. If he returns in time, he takes Antonio Williams' spot on the 53.
I originally had Pat DiMarco cut, and I've changed my mind. It's still a young RB Room. Gilliam could still impress enough in the next 20 days to change my mind again.
DEFENSE: (23 PLAYERS)
8 DL
LDE Mario Addison, Age 32, FA 2023
DL1T-DL3T Harrison Phillips, age 24, FA 2022
DL3T Ed Oliver age 22, FA 2024
RDE Jerry Hughes age 31, FA 2022

DL3T-ED Quinton Jefferson 26, 2022
LDE-DL3T AJ Epenesa, age 21, FA 2025
LDE Trent Murphy, age 29, FA 2021
DL1T-3T Vernon Butler age 26, FA 2022

RDE Darryl Johnson age 23, FA 2023 to Practice Squad, Game-Day Activation
iDL Justin Zimmer can be added to the Practice Squad despite being a vet, in my understanding.

Waive Cox, Smart, and Vincent Taylor. I'm glad Yannick Ngakoue isn't coming to Buffalo. The Bills are stacked due to cross-training, and they'll need that RD2 next year.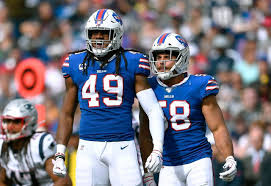 7 LBs
SLB A.J. Klein (3 yrs)
MLB Tremaine Edmunds
WLB Matt Milano final yr.

SLB Tyler Matakevich (ST)
MLB Tyrel Dodson
WLB Vosean Joseph Florida

LORAX Corey Thompson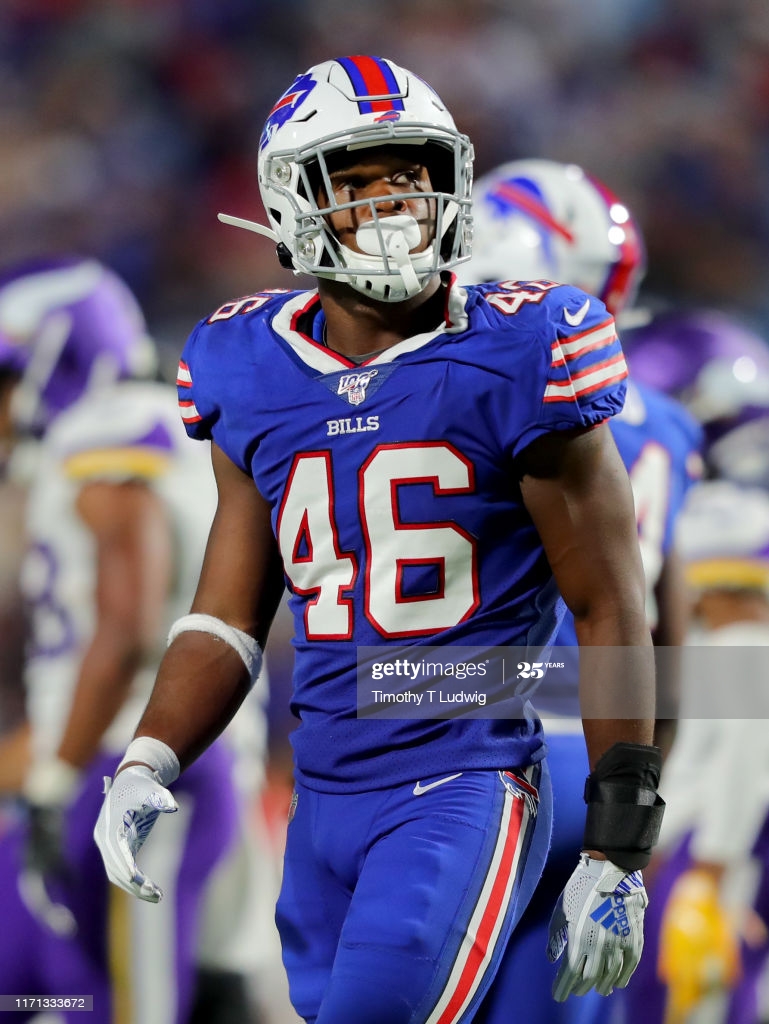 8 DB
CB Tre'Davious White final yr
CB Levi Wallace RE-SIGNED – 1 yr
CB Josh Norman (age 32, 1 yr)

NCB Siran Neal 6-0,205 (Taron has a shot here)

S Micah Hyde 6-0, 197, agil 80%ile
S Jordan Poyer 6-0, 191 Re-Signed
S Jaquan Johnson Miami
S Dean Marlowe

Gaines opts out at age 32
Trade NCB Taron Johnson 5'11, 192
Waive King, Brown, Johnson, Taylor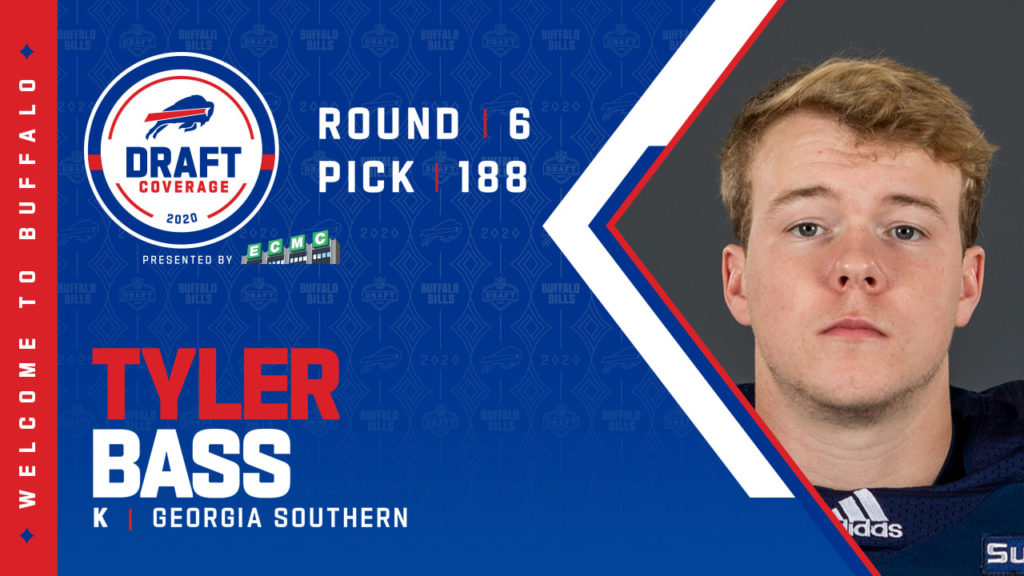 3 K
PK Tyler Bass RD6
P Lachlan Edwards
LS Reid Ferguson FA 2022

Waive or Trade Hauschka, Bojo. Time to move on. Bass beat Hauschka in a straight-up face-off in camp. I'm all about that Bass. Plus, I could listen to Lachlan Edwards' accent all day. He's steady and above-average. Bojo was unpredictable and average.
PRACTICE SQUAD
1 CB Dane Jackson (NC)*
2 OC-OG Marquel Harrell (NC)
3 WR Isaiah Hodgins 6-4, 210 —GDA** (NC)
4 QB Jake Fromm —GDA (NC)
5 CB-S Garrett Taylor
6 OLB Mike Bell
7 OLB Del'Shawn Phillips
8 iDL Justin Zimmer
9 CB Ike Brown PFA
10 EDGE Mike Love final year of contract
11 FS-SS Josh Thomas
12 TE PFA Nate Becker, Miami (OH)
13 OT Brandon Walton PFA
14 FB-TE-RB Reggie Gilliam —GDA
15 RB-ST Antonio Williams RB, ST
16 RDE Darryl Johnson

17 RB-KR Christian Wade (91st player – Int'l)—GDA


* (NC) = 4 Players Identified As Not Able To Be Claimed
** GDA = 4 Players Identified As Game Day Activations
Editor's babble: Well, there you have it. You want Astro's 53 man Bills roster, you got it. Thanks, as always, to the birthday man Dean Kindig for his contributions to our blog. You can find Dean on Twitter @TCBILLS_Astro.