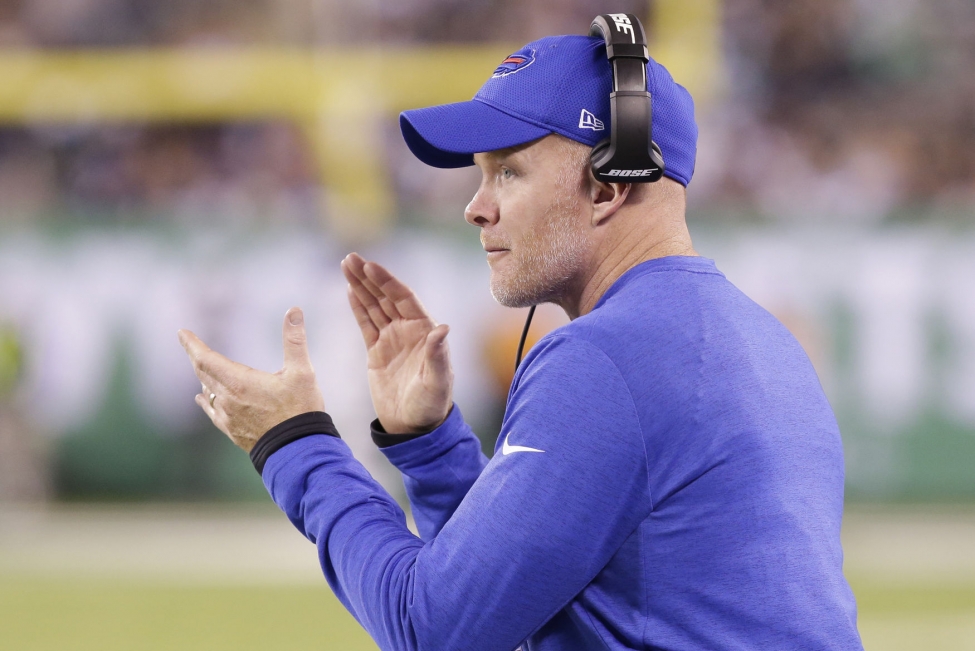 Sean McDermott isn't going anywhere except maybe out of a rental. He can feel comfortable buying a dwelling in Erie County.  Everyone is enjoying another example of why respecting the process works.  Speaking of which, I'm still processing the Buffalo Bills having a coach they want to stick around.  This feeling is called gladness, you say?
McDermott has thrived pursuing the simple fundamental goal of implementing schemes appropriate for players. Rex Ryan thinks the only more impossible task is being quiet for 20 seconds.
Multiple aspects are good simultaneously.  What the heck is going on?  We will ideally adjust to the uneasy feeling of wholesale competence over the next six seasons. A defense that pursues the ball carrier like he owes them money is as nice as an appropriate balance between throwing and handing off. The lack of an inflexible fixation on one aspect or alignment is itself healthy.
Bills fans are accustomed to wondering if losing would be okay since it might lead to a flailing dolt's firing.  Cheering for this team has often seemed like standing outside the gates of an amusement park.  It feels odd to have tickets. We don't have to fear being chased from the bumper car arena.
McDermott ought to retire while he's ahead.  Eh, maybe he should stick around a bit more even if it means risking his record of making the playoffs in the majority of seasons. The math works out even if there are only three examples.  Fans dream of the percentage remaining impressive after a few more years.  McDermott has managed to draw a pair of wild cards, which in these parts is a dream hand. We've often been dealt the rules card.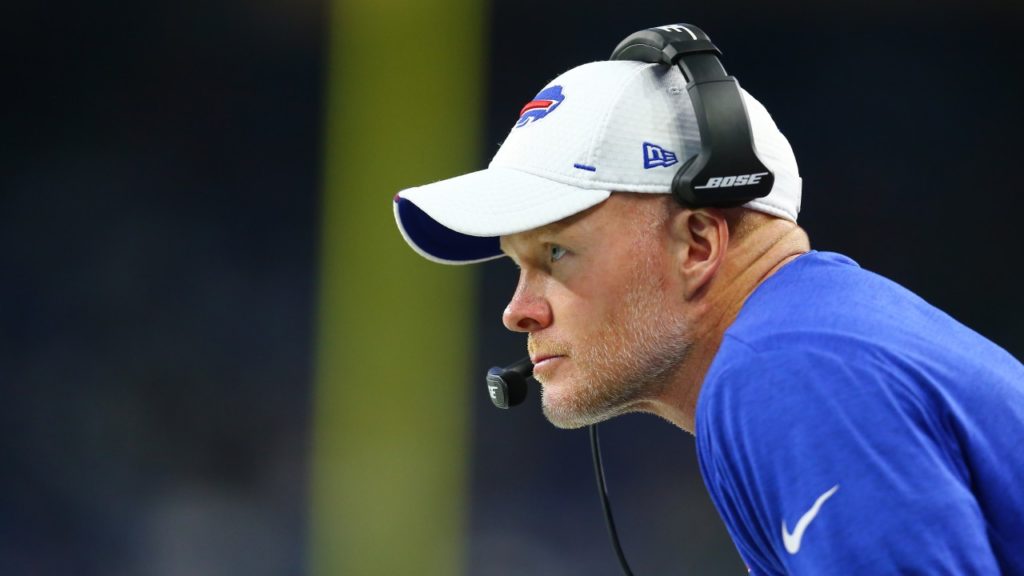 The extension decision was made when McDermott was hired.  Those frustrated with the coaching revolving door often claim good teams don't fire coaches after two or three years.  But avoiding restarts is much easier when you hire someone skilled two or three years ago. It's easier to pack for time travel than make the trip.
Changing a staff is the climax of drama inept teams manufacture. It's not that a playoff outcast discards a doofus who failed to win frequently or even occasionally: it's that they choose the wrong candidate in the first place.  Don't go with the applicant who looks at the family picture on your desk and lets you know how attractive your spouse is.
The firing isn't the issue: it's the hiring. It's obvious but challenging to avoid the situation where the best option is starting over. Resetting the "Days without a termination" sign has been a frequent task with this franchise.
Consistency can be overrated. Self-improvement starts with making one decent personnel decision.
It's surely a sign things are going well if a team is debating whether it's better to stick with what's failing or start over. For once, the Bills preempted the previously ceaseless talk radio argument.
Extending McDermott will help the Bills move past comfort with a miserable dilemma. The longest-serving coach since the ageless Marv Levy left has been Dick Jauron if anyone needs a reminder to avoid taking winning records for granted.
Bills coach has usually been a temp job.  Marv and Lou Saban are the only two who've held the title with tenures over 100 games.  And Lou's were split over two stints, although that was due to his hobo nature. Chuck Knox should've made it, but Ralph Wilson offering to pay him in change helped create the instability that defined the franchise for painfully long epochs. The Bills have had a coach they wanted to keep equal to the percentage of time humans have been on Earth.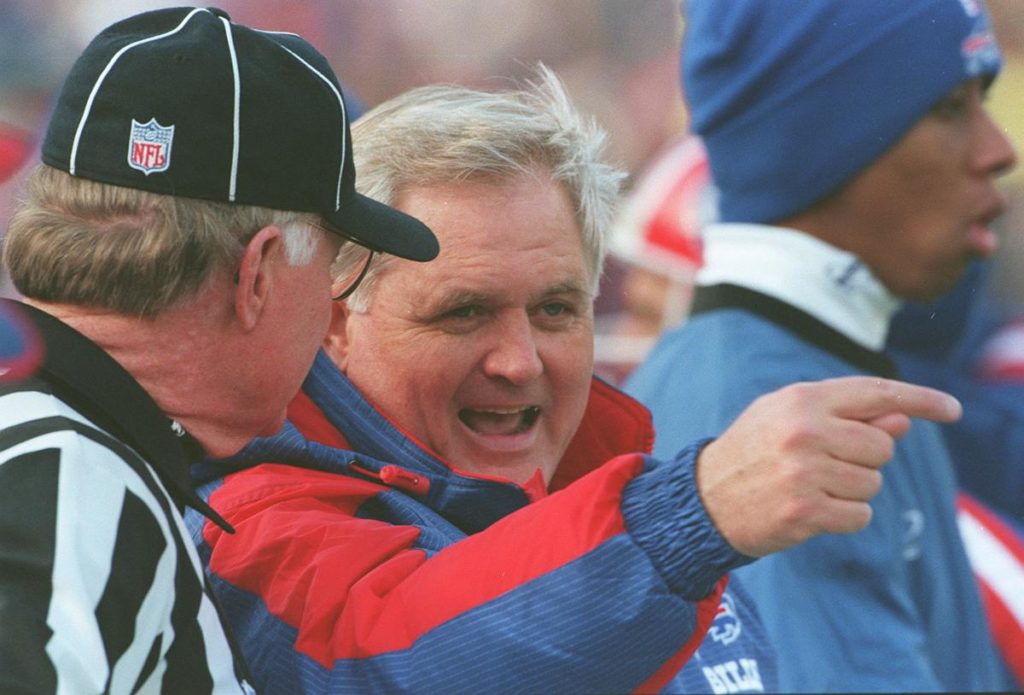 McDermott is already tied for fifth-longest run with three other coaches who had three years in charge.  He's grouped with Wade Phillips, Gregg Williams, and Chan Gailey, each of whom didn't make it any further for their own particular shortcomings.  By pleasant present contrast, Mafia members look forward to the incumbent's 49th chance to lead. He will hold the place for himself after the opener for good reason.
This oddly calm franchise shows up on the NFL Network for good reasons.  Based on how the hockey division has been going, Buffalo fans might expect the club to announce they're going without a coach.  Players should know what to do, right?  The Bills have become one of those boring teams where outsiders don't have to look up who's in charge
Good news staying that way doesn't feel normal.  Bills fans know how life works.  But everything works out once or twice per lifetime.  We enjoy the unnervingly optimistic scenario of not worrying about an intensely driven leader fleeing.  I'm clapping following his example.  It's a challenge to type, but displaying enthusiasm is worth it. The sincere act reflects a mentality installed by a man who's on schedule to be a semipermanent fixture.
The present coach is nice change of pace from showy buffoons or inept oafs. He's making proficiency seem normal, which makes the battery of duds who preceded him look even more foolish by comparison.
McDermott's the best Bills coach of the century.  It's not his fault the rest of the group in this largely dumb era is so regrettable. Changing perception of this team is a byproduct of finally having someone fans are grateful isn't leaving town.
Editor's babble: Bang on, Anthony. Ha… we've seen pretty much every permutation of crappy coaching out there. Here's to a long and successful tenure for Sean McDermott and Brandon Beane. Thanks to Anthony for always providing a giggle or two. You can find him on Twitter @AnthonyBialy.