"He is great who is what he is from Nature, and who never reminds us of others."- Ralph Waldo Emerson
Now, some of you might think, what the heck is Moose talking about? I'm wondering too. But the point I'm trying to make, and I alluded to it in my last article, was that the 2021 NFL draft will be VERY deep. I'm thinking of one particular player, who I'll get to shortly, but also, this refers to the fact that the Bills first 3 picks in the upcoming NFL draft have to be made to ensure they take the best possible player with those first 3 picks (the greatest player in light of the Emerson quote above), in view of salary cap issues and depth, at ANY of these positions when they draft, in no particular priority; CB-OT-DE-LB.  
Secondary needs, I would classify as DT, S. Consider also, the recent Bills 2020 NFL draft, was done with the idea that more weapons would be provided for Josh Allen, and that was done. THIS upcoming draft I expect will be focused on defense/salary cap issues. Luckily, and I think all Bills fans will agree with this, we are fortunate to have the best management we've had working for the team, in a long, long time.
So, let's explore the upcoming draft. In the secondary, the Bills MUST draft at least two, and possibly three, players this upcoming draft. Because, for cap/other reasons, Josh Norman-CB and EJ Gaines-CB are bye-bye.
We also need to find a potential long term replacement for Micah Hyde at FS (and boy, do I have a guy in mind). At DE, Trent Murphy is gone and Jerry Hughes has one foot out the door, so we need one more player there.
Jon Feliciano-G we later have to part ways with too. With his recent pectoral surgery, that effectively takes him out of the equation for this season (the recovery time is at least 4 months). Further, I think all Bills fans agree, Cody Ford is better at guard than tackle.
No shame there, because we'll have Morse-C, Spain-G, Ford-G and Dawkins-LT already in place. But an Offensive lineman, or two, wouldn't hurt. Specifically, a RT. We can get by with Daryl Williams and Ty Nsekhe (maybe even Ford) for this year, but long term? It's a need, especially since we don't yet know what we have in Trey Adams at tackle, as to whether he can be that guy.
My next item will be to reiterate what I said in my last article, about how this upcoming draft will be deep, and as to why we need to get as many picks as we can. I will say, if we can shed enough salary, we can perhaps keep Milano, rather than be forced to trade him (though I am in favor of doing so after this upcoming season).
I also fully expect the Bills to acquire at least two, possibly three or more, extra draft picks for this draft, between rounds 4-6. As to why I feel this draft will be deep, you can already see how this is happening, Caleb Farley-CB opted out entirely and declared for the 2021 NFL draft, along with Minnesota WR Rashod Bateman, a sophomore. Both are expected first round choices in the 2021 NFL draft.
As for Farley and Bateman, they are but the first. There will be MANY more juniors and high end sophomores who I expect will declare early also. One point I didn't raise in my last article was, the football experience would be lacking if college football players are playing in front of empty stadiums. But, it is more than that.
The academic experience is also lacking. There is no true "on campus college experience" if things are done virtually. If players have neither of those experiences, why stay at school if you're good enough? Just declare for the draft, sign with a pro team, while getting paid to maybe play in near empty stadiums for a while. If academics is your thing, do it virtually from home (part-time) on an on-going basis, while, again, getting paid to play.
Okay, I'm going to highlight some players I think are possibilities for the Bills in the upcoming 2021 NFL draft. One caveat though, and full disclosure here. I won't speak of players I haven't seen, so you'll not see guys like Reed Blankenship-S-Middle Tennessee or Andre Cisco-S-Syracuse listed.
I watch a TON of SEC and Big Ten football, and teams I know that get high end talent, like Florida State, Clemson, Oregon, Miami. Better analysis on players from other teams can be found through my friend Dean Kindig https://twitter.com/TCBILLS_Astro, who does a much better job than I ever could. I'll stick to my shallow end of the pool. So, here goes.
ASANTE SAMUEL JR. –CB-FLORIDA STATE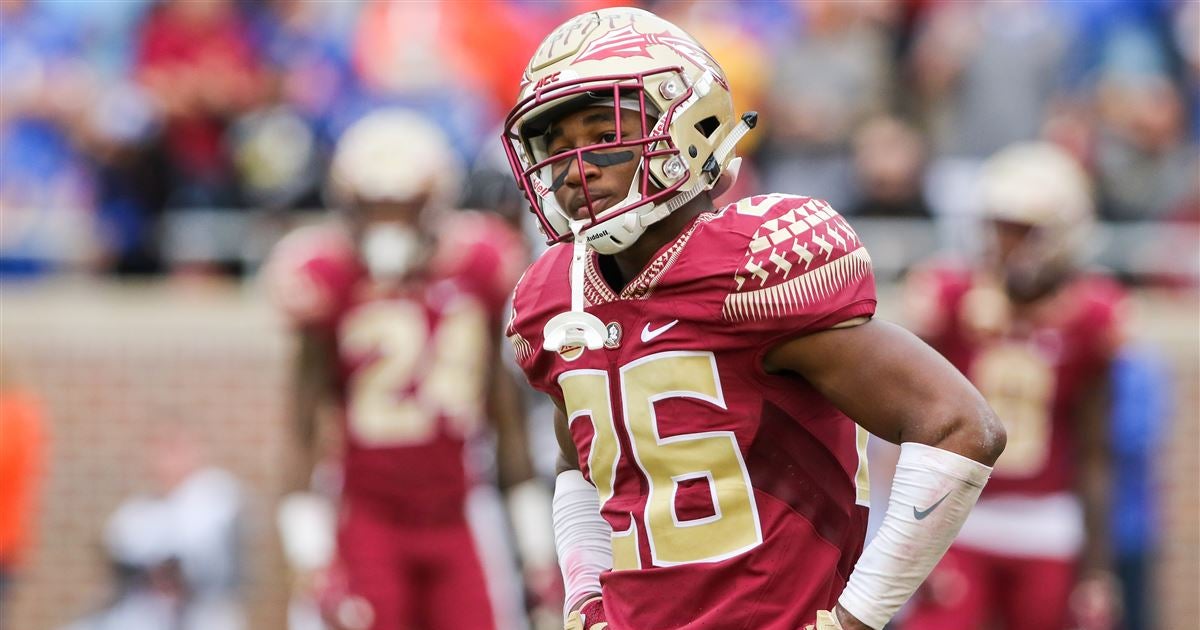 Asante is what he is; a very high end cover corner. Doesn't really play zone, FSU basically just had him play by himself, and left him on an island without help. It's crazy they would do that, but that's how good Asante is in coverage. Then again, FSU might be one of the poorer coached teams in the country, considering the talent level they have on hand. He isn't a larger corner, and that's the only pause here. The Bills have smaller corners already. One of the issues with the Bills and their run defense is, once you get past the line of scrimmage, the corners are smaller, and Milano is not great vs. the run, because he's also small. They need to get more size back there. Still, Asante, is a very, very good emerging player. Projected Range– late 2nd round, probably Round 3.
TREY DEAN III, CB-FLORIDA
Dean Kindig has already written about Israel Mukuamu-CB-South Carolina as being a potential target for the Bills. I agree. I can't add anything further, because Israel is like 6'4, 205, can also play safety if necessary, and has the size the Bills need. BUT, if you can't add him, then Trey Dean might enter the picture later. He's 6'3, 195 pounds. Now, you need to understand that Florida's secondary plays man to man; they don't play zone at all. That suits a corner like Marco Wilson of Florida for example, who plays that and it works for him. Dean would be better in a zone, where he can play press as well. There's a lot to like about this player, long term. Projected Range– 4th round and beyond.
ROBERT COOPER- DT- FLORIDA STATE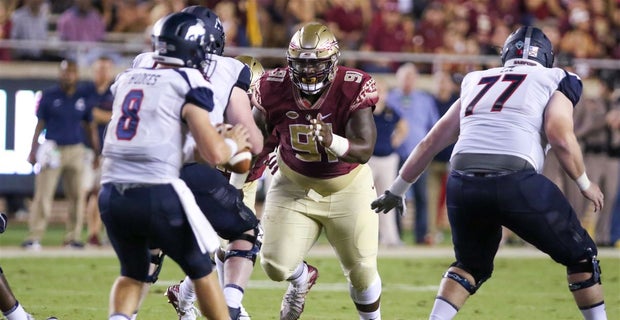 The Bills have a definite need here, long term. Robert Cooper is a true nose tackle. He's a wide bodied presence (about 345 lbs.) who eats double teams, and would let our LB's flow to the football. Has played with likely high end pick DT and teammate Marvin Wilson, and those two will be a dominant presence this year. Buffalo has the penetrating defensive tackles in Ed Oliver and Harrison Phillips. But with Star sitting this year, and only one year left on his contract (which the Bills will have to absorb) and with Vincent Taylor on the last year of his deal, the Bills need to find someone to go in a rotation with Vernon Butler down the road. Cooper will be someone they can target, likely later in the draft.  Projected Range– 5th round and beyond.
BEN CLEVELAND-G-GEORGIA
Ben was part of a dominating Georgia offensive line last year, that resulted in three members of their offensive line going in the NFL draft, namely Andrew Thomas, Solomon Kindley and Isiah Wilson. That isn't to say though, that 2020 returnees Trey Hill-C, and Ben (who lines up usually at RG) are slouches. Both would (should) be players the Bills should potentially be looking at, but I'll focus on Ben. None other than NFL analyst Rob Rang has noted previously he considers Cleveland one of the top 5 guards available for the 2021 draft https://www.si.com/nfl/draft/news/first-take-top-offensive-guards-for-the-2021-nfl-draft. If you are looking for a power guard who excels in the run game, this is your guy. He's also noted as being of the strongest players in college football (See: https://www.dawgnation.com/football/georgia-football-ben-cleveland-freak). He goes 6'6, 335 and he just punishes people. Some think he's isn't as mobile or athletic as you'd like, but seriously, how many guards do you know that are athletic beasts? Projected Range– 5th round and beyond.
CAMERON McGRONE-LB-MICHIGAN
Remember the Ralph Waldo Emerson quote at the beginning of the article? THIS is the dude I was referring to. I've been talking this player up for a long time, and for good reason. He's going to be a star. Everyone at Michigan thinks it. Read here: https://www.mlive.com/wolverines/2020/02/how-high-is-michigan-lb-cam-mcgrones-ceiling.html and others think he's special too. Read here: https://thedraftnetwork.com/articles/2021-nfl-draft-best-redshirt-sophomores
He's a great, great player, and his upside is huge. Michigan played him at MIKE out of necessity, because Joshua Ross had an injury, but he played so well, they couldn't take him out. In the pros, he won't be a MIKE; he has decent size at 6'1, 230, but he's better off as a WILL, especially given his age and his range. But he's going to come out, and be a stud. And the Bills need to get him. Can Blitz, is extremely fluid, has power, can cover, can basically do it all. By the time the Bills pick comes up in the 2nd round, he'll already be gone, so that means the Bills make a trade. For anyone getting sentimental about trading someone for picks, I would simply say, "Would you turn down a chance to get the next Devin Bush"? Because that's what Cam is. Of course you would make a deal. Get Him, and just do it. Projected Range– Are you kidding? EARLY 2nd round. Will Never last till Round 3, nor even likely middle of round 2.
JOSHUA ROSS-LB-MICHIGAN
He might be the most under-rated LB in the draft (so far). When Devin Bush was picked by the Steelers, Ross was tagged to be his replacement at MLB for Michigan. He was hurt early last season with a high ankle sprain, and his job at MIKE was given to Cameron McGrone. BUT, Ross has played all 3 linebacker spots. He's 6'2, 232. He sheds blocks, makes plays, runs and pursues very well. Plays coverage well, and is very solid vs. the run. Wouldn't classify him as a blitzer, wasn't used as that, but Ross is just a football player. Put on the tape, and watch. SEE HERE: https://youtube/CWnTnamUe9U He'll play WILL in the pros, and he'll be used in that role by Michigan this year. He hunts and chases the football. At VERY least, he starts next level as a special teams demon and backup, but with potential to start by his 2nd season. Maybe earlier. If the Bills don't take him, I wouldn't be shocked to see a team like the Steelers do so. Projected Range– 4th round (more likely 5th) and beyond.
ANTHONY SCHWARTZ-WR-AUBURN
Anthony is what I classify as "potential". The Bills have John Brown for this season and next on their roster, but, as a long term deep threat replacement, it would do the Bills well to look long and hard at this guy. Yes, he had only 440 yards receiving last year, BUT, that was with a freshman QB in Bo Nix, and with another high profile WR in Seth Williams who was targeted a LOT. BUT, Anthony has world class speed; He was a member of the U-20 U.S. Track and Field Men's 4 x 100 relay team that won gold in 2018 (He himself won silver in the individual 100 M event), and has a World youth record for fastest 100 M time.
If I had to look at Jaylen Waddle of Alabama and Anthony, what is the real difference? Waddle is a killer returner, albeit as Alabama's 4th WR option last year, and played for a team with an advanced QB. Anthony hasn't. Waddle will be a 1st rounder. Deservedly so. But Anthony is a bargain right now. Both are undersized, and that's a potential flaw for Schwartz, until you consider, John Brown is 5'11, 180 lbs. and Schwartz is 6'0, 175. He will get bigger. Plus, Anthony has ELECTRIC deep speed, the perfect long term replacement to bring in for John Brown. Any jet sweep or hitch play he's involved in, has the potential to go the distance at any time. He'll probably go later in the draft then he should, and we should strongly consider pouncing. Schwartz reminds me in many ways of DeSean Jackson when he came out of USC (that would be the draft where the Bills chose James Hardy over DeSean and I yelled at my TV and spilled a beer, but I digress). With Anthony's speed, it's hard to dare press him, because if you miss he's gone. Consider this… You BETTER have a step (or three) on him, because if he's even, he's leaving. Projected Range– 4th round and beyond.
DAXTON HILL-FS-MICHIGAN
Now we come to my potential long term replacement for Micah Hyde at FS. Daxton is just a football player. He isn't at Michigan for scholastic endeavors. I fully expect him to come out after this upcoming college season and declare for the NFL draft. His talent is noteworthy. He was a five-star prospect and the No. 1 safety in the country coming out of high school. Was heavily recruited by Alabama as well, before choosing Michigan. He's the best Michigan safety, in terms of talent, I've ever seen. Former Michigan safety Jabril Peppers was really more of an athlete than football player. Daxton is both. He's incredibly fast, and gets involved physically. Don't just take my word for it, as you can see here: https://www.si.com/college/michigan/football/michigan-football-daxton-hill-jim-harbaugh-wolverines-season-2020-safety-five-star and here: https://www.maizenbrew.com/football/2020/8/3/21351851/daxton-hill-michigan-football-safeties-2020-outlook
Daxton will be a pick based on potential, but he's a future difference maker. When I look at him, it is very, very difficult not to see Earl Thomas staring back at you. When he comes out, I fully expect there to be heightened interest in him by NFL teams, even though he'll be a sophomore. Projected Range– 3rd round, probably gone by, at most, 4th round. But 2nd round wouldn't be a shock either.
These are only a few players that would be strong fits for the Bills in the upcoming NFL 2021 draft, in my opinion. I tried to focus a little more, not on obvious picks in the first 2 rounds, but perhaps players of interest to keep an eye out for during the upcoming college season! I do think though, the Bills should try and move heaven and earth to obtain extra picks in this draft. As an aside, with the Bills first round pick, If Alex Leatherwood-OT-Alabama is there when they pick, then they pick him, unless something crazy happens like Micah Parsons-LB-Penn State tumbling down draft boards. He's that good.
Editor's babble: We're living in such strange times. Hockey playoffs, NBA, MLB and NFL training camp going on… all while we are projecting the NFL's next draft. Thanks to Shaun Mousseau for his terrific contributions to our blog. You can find Shaun on Twitter @moose7766.