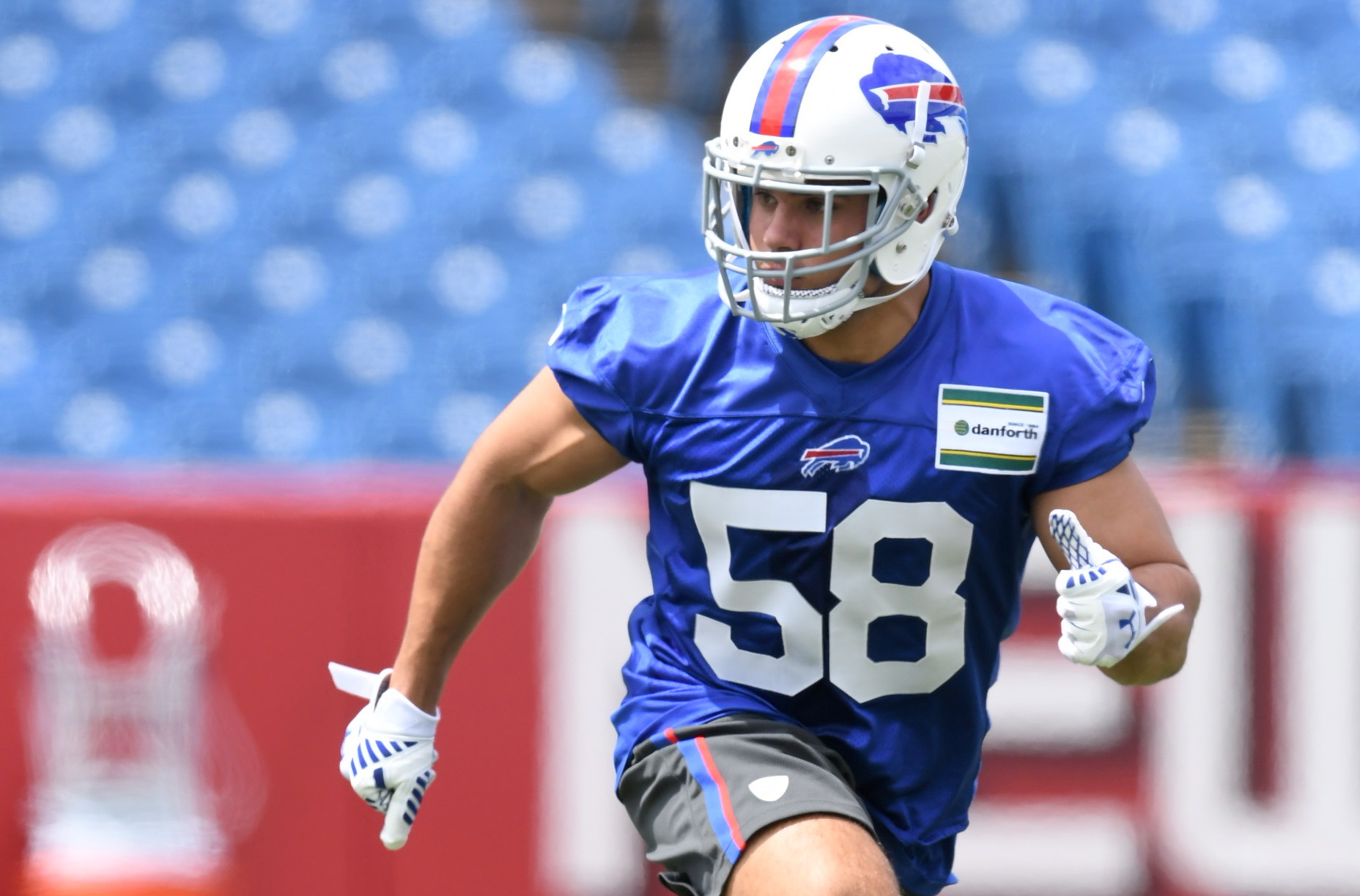 With Covid-19 impacting significantly the upcoming NFL landscape for the 2020 season, and perhaps beyond, it may be prudent to consider some aspects that might come into play for the Buffalo Bills AFTER this NFL season in 2021… and also with respect to college football. Importantly, this is written on the assumption there WILL be a college football season, albeit, it may be games being played without fans, start date of which, at this time, is uncertain. The second item is, this is all speculation on my part, and it meant to be in fun. With that being said, let's proceed. 
The main issue for the Buffalo Bills after this current season, as it will be for all NFL teams, is that the NFL salary cap is going to go down next season, to a minimum floor of no lower than 175 million, which would be a 23 million decrease from the current cap. 1
This issue will impact the Bills in particular going forward this upcoming season and beyond. Specifically, Buffalo needs to sign LT Dion Dawkins, CB Tre White and LB Matt Milano to extensions. Of those 3 players, Dawkins and Milano require contracts before next season, or risk being UFAs.
Dawkins projected salary, per Spotrac, is estimated to be in the 16 million range. 2 Tre'Davious White, while not needing to be signed right away, as the Bills have used the 5th year option on him, is probably preferable to sign to an extension sooner, rather than later, in hopes of getting him at a lesser rate if possible. Presently, Spotrac pegs his market value at 17.2 million a year 3. Since White and Dawkins play key positions, at corner and LT respectively, they must be signed above all else. That leaves Matt Milano, who I will deal with shortly.
Forbes magazine ranked Buffalo having the least value of all 32 NFL teams 4, and with Buffalo being an acknowledged small market team, this isn't a surprise. This portion of the post will be a bit dry, but bear with me.
Per Forbes, in 2019 Buffalo had revenues of 386 million, of which 192 million went to player salaries. The team had gate receipts of 53 million, and that left them an operating income of 82 million. 5 However, for the upcoming season, it can be expected the team will receive nothing from gate receipts perhaps, or at a greatly reduced rate. Concession sales/parking/merchandise revenues can also likewise figure to be heavily impacted. 
The end result of this, is that Buffalo will have less revenues coming in during the 2020 NFL season than usual, and with the team needing to sign several players going into 2021, with a reduced salary cap to deal with, this may (and I stress MAY) impact the teams decisions going forward beyond this season. 
With that in mind, I'll turn to some personal thoughts about the upcoming college football season, and the prospects who will be eligible for the 2021 NFL draft.
First, I do think there will be a college season, as I previously noted. BUT, and this is key, many college football players are there for college athletics for the experience; to play in stadiums, in big games.
It is true, some are there for the scholarships and for academics, though many players are not. For the sake of argument here, if you are a junior in college for this upcoming season playing college football in empty stadiums, why would you stay for your senior year when you can jump to NFL, perhaps do the same thing but get paid for it, and then finish your degree later in life?
I expect MANY juniors and some highly talented sophomores (hello LB Cam McGrone and S Daxton Hill of Michigan) to declare early, making the upcoming 2021 NFL draft likely a very deep one. 
One more reason for my line of thought concerns ongoing scholarships. Yes, for this season college football scholarships are guaranteed… BUT… beyond this season? Uncertainty, or at least the PERCEPTION of uncertainty is guaranteed.
With vastly reduced revenues coming in, will scholarships for football be honored BEYOND this season, especially at smaller schools? It isn't an issue at places like OSU, Alabama, LSU, but what about places like Memphis, Pitt, Tulane, etc.?
Just the perception of that alone MIGHT convince some players to declare early, considering a school like Stanford cut at least 11 athletic teams for the upcoming year, and coaching staffs will be affected 6. 
So, with all this in mind, particularly the Bills salary cap/reduced revenue situation for next year, this next portion is MY opinion only, and purely speculation on my part. I am of the opinion that before the upcoming season starts, the Bills should make 2 trades. These being: 
-OL Spencer Long to Tampa Bay for their 5th round 2021 choice, #153 overall
-WR Isaiah McKenzie to Tennessee for their 6th round choice, # 192 overall 
Tampa needs OL help urgently NOW, with Tom Brady being there, and Long can play center/guard. As for McKenzie, his position in Buffalo is redundant, given our WR depth, and the Titans need a slot receiver who can play. McKenzie is a veteran who is young and affordable. 
The next portion of my potential trade talk, is concerned with AFTER the 2020 season being played, and before the 2021 NFL draft. In this scenario, forgive me here, but I see 2 trades: One mandated by cap/financial issues, the other being by a replacement being found within. It is important to note, I like the two players I am about to list, a lot, but, hard times call for hard measures.
I think the following 2 trades MIGHT have to be made at the conclusion of the 2020 season. These being: 
-CB Taron Johnson to Atlanta for their 4th round pick #109 overall 
-LB Matt Milano to Washington for their 2nd and 5th round choices, #34 and #130 overall
My thought process is this. Johnson has never been able to stay healthy for a full season. I fully expect Dane Jackson, the Bills 7th round pick from last year, to be able to replace him. IF Johnson cannot stay healthy this upcoming season, then the Bills HAVE to consider the possibility of trading him to a CB needy team like Atlanta while he still has value as an NFL player. As he gets older, if he has injury issues now, they will get worse down the road, making him unlikely being someone the Bills commit to long term.
As for Milano. Tough call here. But, financial uncertainty may make this deal attractive, considering 3 factors: #1- He's not great against the run (PFF ranked him 80th out of 92 LB's in the league last year 7). #2- Cap issues, as I noted; and #3- He's small for the position (used to be a safety at BC, and he WAS a 5th round pick himself) and may be likely to wear down long term.
It is true, the Bills will likely ditch Josh Norman next year, and Trent Murphy will be gone, but those savings will vanish after signing Dawkins and White. It is also important to note that Milano's projected salary number for next season, per Spotrac, is 13 million 8, and there is no doubt the Bills HAVE to sign him before this upcoming season. The potential value is, acquiring as many picks as possible in what I expect will be a very, very deep 2021 NFL draft. 
Now the fun part. A guaranteed to be wrong projected mock draft on my part, knowing the Bills already 1st, 2nd, 3rd round picks, two 5th rounders, a 6th, and a 7th round pick. As above, IF what I noted above plays out, the Bills would also have and additional 2nd, 4th, two further 5th round picks, and an additional 6th rounder. So here goes. Pick numbers, are as projected currently on the Draft Network site. 
ROUND 1- #20- ALEX LEATHERWOOD-OT-ALABAMA
ROUND 2- #34 (From WSH) – CAMERON MCGRONE-LB-MICHIGAN
ROUND 2-#52- ASANTE SAMUEL JR.-CB-FSU
ROUND 3- #84- PATRICK JONES II, DE-PITT
ROUND 4- #108 (From Atl)- TE DARRELL SLATON-DT-FLORIDA 
ROUND 5-#129 (From WSH)- JAKE FERGUSON-TE-WISCONSIN
ROUND 5- #135- JOSHUA ROSS-LB-MICHIGAN
ROUND 5- #147- ANTHONY SCHWARZ-WR-AUBURN
ROUND 5-#155 (From TB)- TODD HARRIS JR.-S-LSU
ROUND 6-#179- TALANOA HUFANGA-S-USC
ROUND 6-#191-TREY DEAN III, CB-FLORIDA
ROUND 7- #195 (From CAR)- TREY HILL-OL-GEORGIA
So, that's purely speculation. But no matter what, developments in the upcoming 2020 NFL season, and the 2021 draft, should be very interesting. 
References
1 https://insidethestar.com/nfl-salary-cap-may-drop-by-23-million-in-2021-impact-on-cowboys/
2 https://www.spotrac.com/nfl/buffalo-bills/dion-dawkins-21805/market-value/
3 https://www.spotrac.com/nfl/buffalo-bills/tredavious-white-21768/market-value/
4 https://www.forbes.com/nfl-valuations/list/#tab:overall
5 https://www.forbes.com/teams/buffalo-bills/#65390974625d
6 https://www.washingtonpost.com/sports/2020/07/08/stanford-discontinue-eleven-sports-programs/
7 https://www.pff.com/nfl/grades/position/lb
8 https://www.spotrac.com/nfl/buffalo-bills/matt-milano-21905/market-value/
Editor's babble: Please welcome Shaun Mousseau to our great staff of writers who contribute their time and expertise to bring you some lively discussion about our Buffalo Bills. Thanks, Shaun and welcome aboard! You can also find Shaun on Twitter @moose7766.